This one was a complete accident, folks, but those are sometimes those happy accidents that create some of the most memorable dishes. This Peanut Red Curry is the perfect mix of creamy and spicy red curry but with the bright, zesty, nutty flavours of a Pad Thai. Don't let your kitchen blunders discourage you; sometimes, the outcome is even better!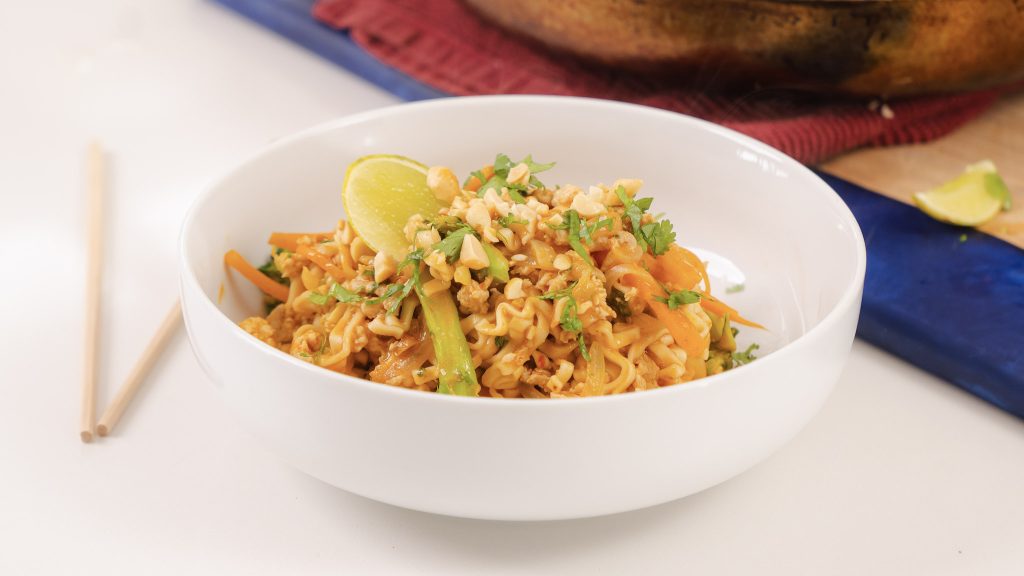 Key ingredients for this Peanut Red Curry.
Ginger, garlic and onion- The backbone of the dish. Each gives an aromatic lift that you'll want to take full advantage of.
Chunky Peanut butter- It could be just me, but chunky peanut butter is somehow less sweet than its smooth counterpart. The chunks of peanut make it a bit more savoury and salty; regardless, it's a great way to add texture, slight sweetness and nuttiness to the sauce.
Red curry paste- There are so many brands and styles of red curry paste. If you have a favourite, use that; if not, I like Cock Red Curry Paste myself.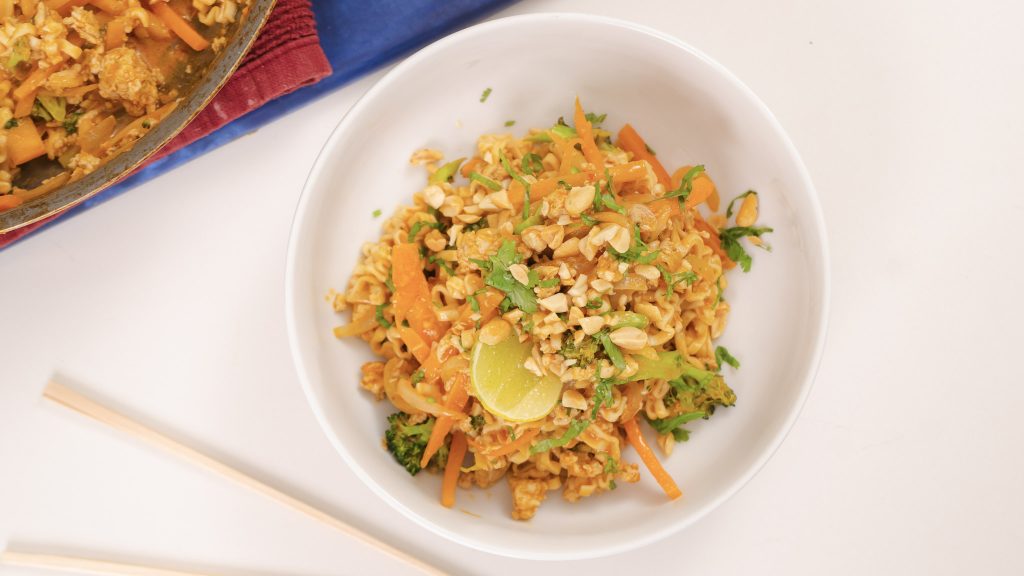 All about the noodles.
You can use any noodle you'd like. I had a few packs of instant ramen kicking around and decided to use them up.
If you wanted to go a more traditional route, a rice noodle would be just as good. I like the way these wavy ramen noodles allow the creamy sauce to cling to them.
When cooking your noodles, make sure to reserve about 1/2 a cup of water to bulk up your sauce and thin it out.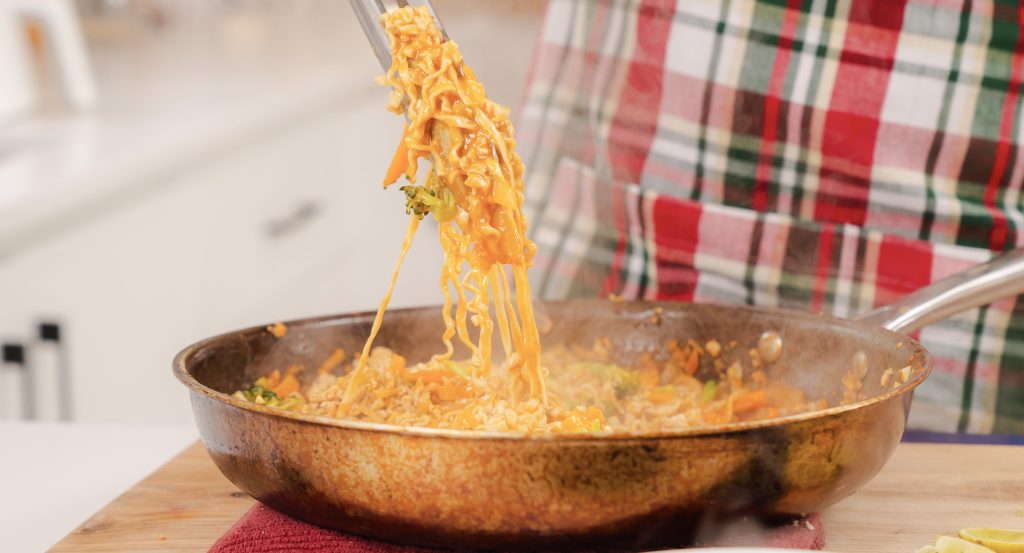 There's lots of texture in this bad boy!
What makes this dish so incredible for me is the layering of textures.
The sauce is creamy but still light; the vegetables should be cooked but still tender. The noodles should get lost in the creamy sauce sauce. Finished off with a healthy layering of crunchy peanuts, you have the making of a great dish flavour-wise, aroma-wise and, of course, texture-wise.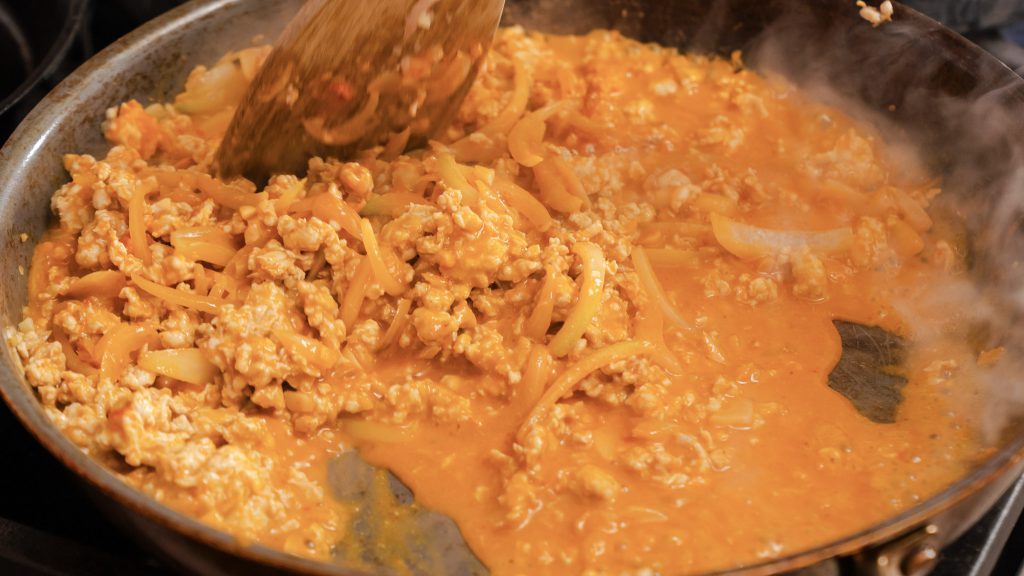 Other Recipes to check out!
If you liked the should others recipe, here are a few other I thin you should check out!
Spiced Salmon Bowl with spicy mayo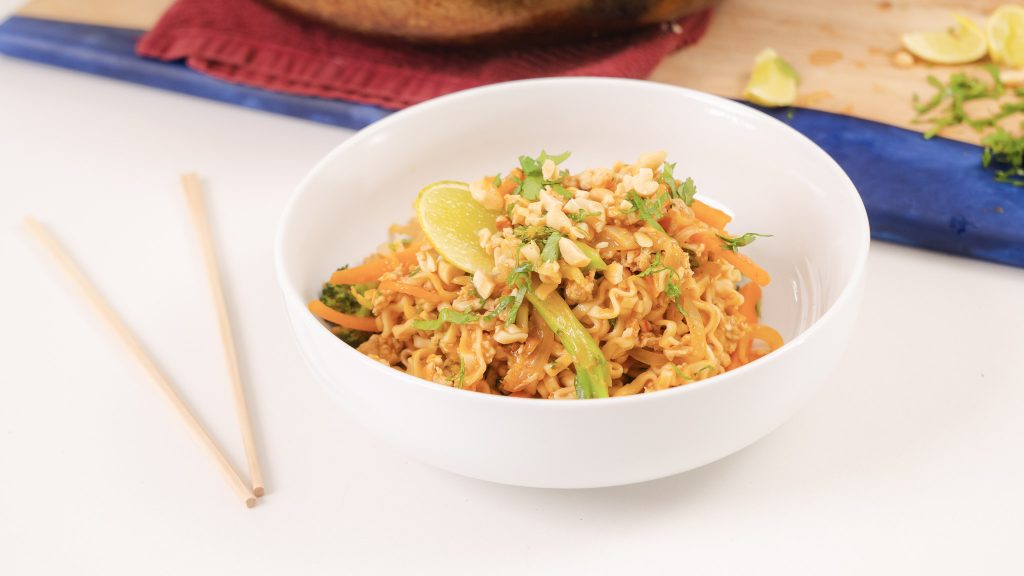 Peanut Red Curry
Print Recipe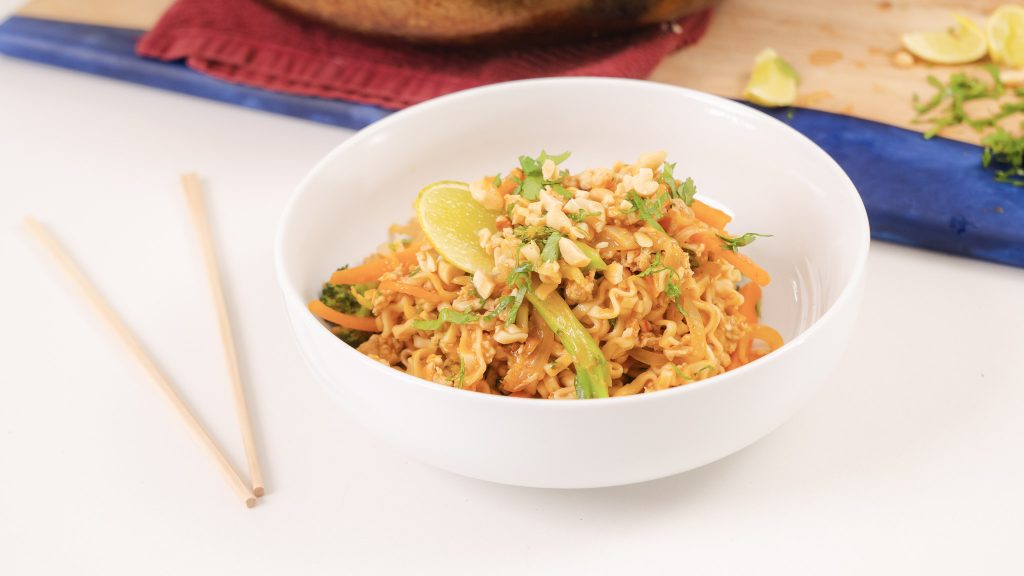 Ingredients
1

tbs

Sesame oil

1

tbs

Olive oil

1 1/2

inch

Fresh ginger

Minced

4

large

Garlic cloves

Minced

1

large

Yellow onion

Sliced

1

lbs

Ground chicken

2

tbs

Red curry paste

2

tbs

Chunky peanut butter

1/2

8oz can

Coconut milk

1 1/2

cups

Carrot

Julienned

1

cup

Broccoli

Chopped

2

tbs

Soy sauce

Low sodium

1

large

Lime

Juiced

2

packs

Instant Noodes

Ramen
To garnish
Fresh cilantro, chopped peanuts and lime.
Instructions
Into a pan over medium heat, add your sesame oil and olive oil. Once heated, toss in minced garlic, ginger and your sliced yellow onion. Give it a stir and saute for 1-2 min.

Next add in your ground chicken. Make sure to break it up, to allow more colour to form. Cook for 3-4 minutes.

Once your chicken starts to brown, add in 2 tbs of red curry paste, 2 tbs of chunky peanut butter and 1/2 a can of coconut milk. Give it a stir and make sure the curry paste and peanut butter is throughly combined into the coconut milk.

Next add in your julienned carrots and broccoli, soy sauce and the juice of 1 lime. Mix that around and let the sauce coat all of your veg. Cook on medium low for 5-6 min or until the carrots and broccoli are nice and tender.

Once our veg is tender, toss in 2 cooked blocks of instant ramen noodles along with about 1/2 cup of the water you cooked your noodles in. This is going to ensure the sauce stays saucy!

Serve hot with an extra helping of crushed peanut, fresh cilantro and as much fresh lime juice as you's like. Enjoy!
Print Recipe
(Visited 9,128 times, 22 visits today)