These 10 minutes, 1 pan, Egg roll ramen noodles are amazing for meal prep and something the whole family will love. Easy to make, delicious, and an instant family classic.
Egg Roll Ramen Noodle key ingredients
Ground Chicken – We like to use ground chicken because its a lighter option compared to ground pork or beef.
Low Sodium soy sauce– We love adding a splash of soy sauce to many of our meals. It adds a depth of flavour that many dishes need. When buying soy sauce we think one of the best brands is Kikkoman Low Sodium soy sauce. All the same great flavour, just a little less sodium!
Instant Ramen– We all have our favourite brands of instant ramen. Grab your preferred pack and start cooking. If you have a favourite instant noodle other than ramen, give it a try!
Cabbage– We want to make sure we get a good range of textures. Adding the cabbage to the dish adds a crunch that it definitely needs.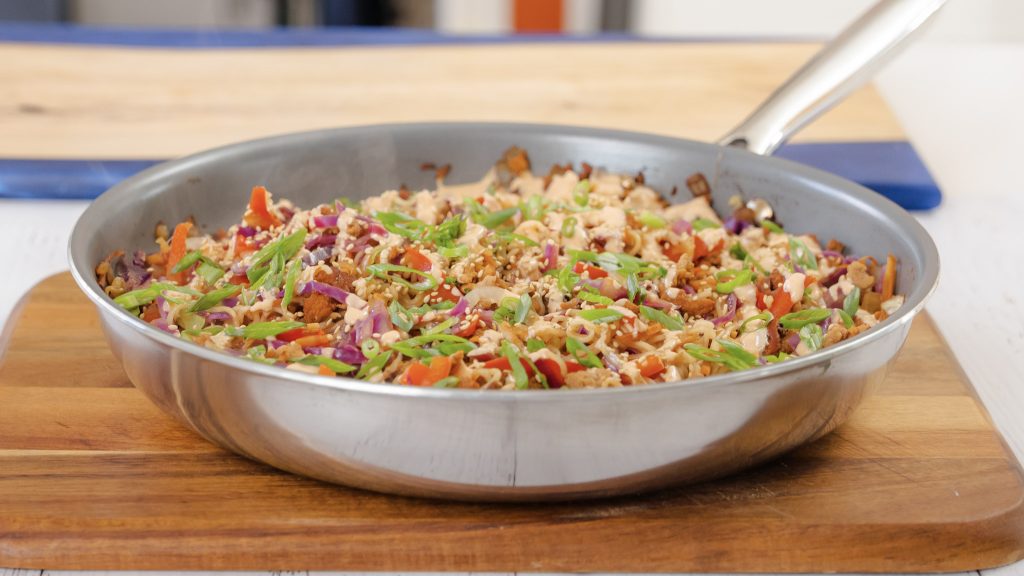 Tips on nailing this!
Keep these tips in mind when making this dish, we guarantee you'll knock it out of the park!
Make sure your ramen isn't over cooked. Test your ramen before you strain it. We want it to be soft but with a slight chew. We don't want it to over cook once it gets added back to the pan!
When you do have the perfect cook on the noodles, drizzle a small amount of sesame oil. This is going to add some great toasty flavour, and keep them from forming into a solid ball of noodles.
When you add any ingredients to the frying pan make sure its ripping hot. When you place the chicken down you should hear it sizzle right away. This is going to ensure that we are building flavour throughout the cooking process.
Other Recipes
If you liked this Egg Roll Ramen Noodle dish we are positive you're going to love these other dishes. Each of them are as easy and flavourful, perfect addition to your weeknight dinner schedule!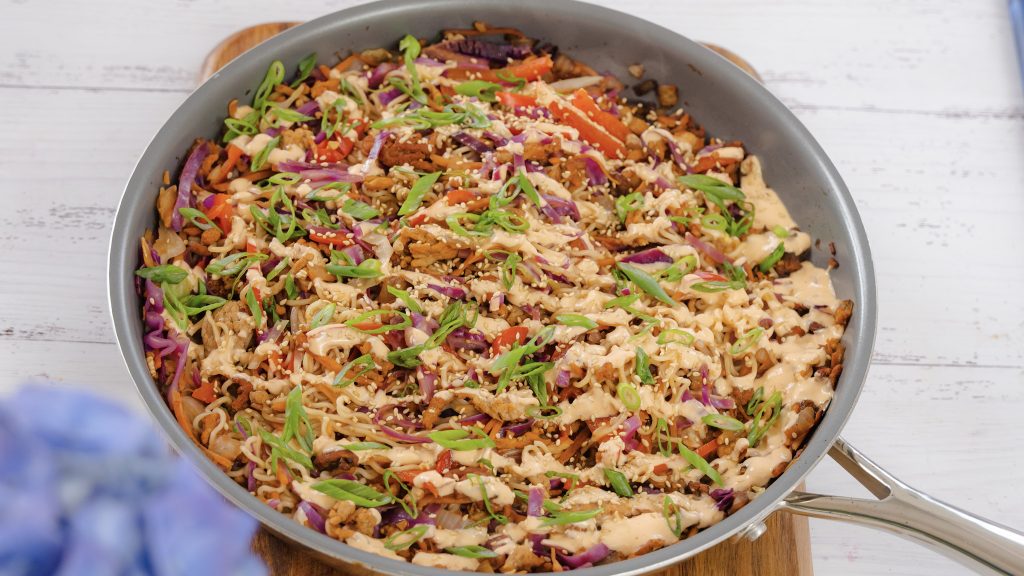 Egg Roll Ramen
Print Recipe
Ingredients
2

packs

Instant ramen

1

lbs

Ground chicken

1

cup

White onion

2

large

Garlic cloves

Minced

1/4

cup

Chicken stock

2

cups

Shredded cabbage

1

cup

Shredded carrot

1/4

cup

Soy sauce

1

tbs

Rice wine vinegar

1

cup

Red bell peppers

Sliced thin

1

tsp

Salt

1

tsp

Black pepper

1

tsp

Sesame oil

1/2

cup

Green onion

Sliced thin

1/4

cup

Toasted sesame seeds
For the sauce
1

cup

Greek yogurt

2

tbs

Honey

2

tbs

Sriracha

1

tbs

Rice wine vinegar
Instructions
Bring a medium sized pot of water to a boil. Drop in ramen noodles and cook until soft. Once cooked, drain out the water and then toss in some oil so the noodles don't stick.

Place a lightly oiled large pan over medium high heat. Drop in garlic, ginger, and onions, and sauté for 90 seconds.

Drop in ground chicken and cook until browned. Toss in the red pepper and sauté.

Next up add in the shredded cabbage, shredded carrot, stock, soy sauce, rice wine vinegar, and sesame oil. Cover with a lid and allow to simmer and the cabbage to soften slightly.

Once cabbage is soft, stir everything together and add salt and pepper. Now add in the noodles and combine everything together. Best to use tongs for this.

In a small bowl mix together greek yogurt, honey, sriracha, and rice wine vinegar. I like to add this into a squeeze bottle.

Squeeze the sauce in thin lines, sprinkle green onions, sesame seeds and enjoy!
Print Recipe
(Visited 19,548 times, 26 visits today)