This is another great meal prep! This cashew chicken with jasmine rice is one of my favourites! This make-a-head meal can make your week more productive, healthy and delicious. Full of flavour, healthy and just as tasty on the third day as the first.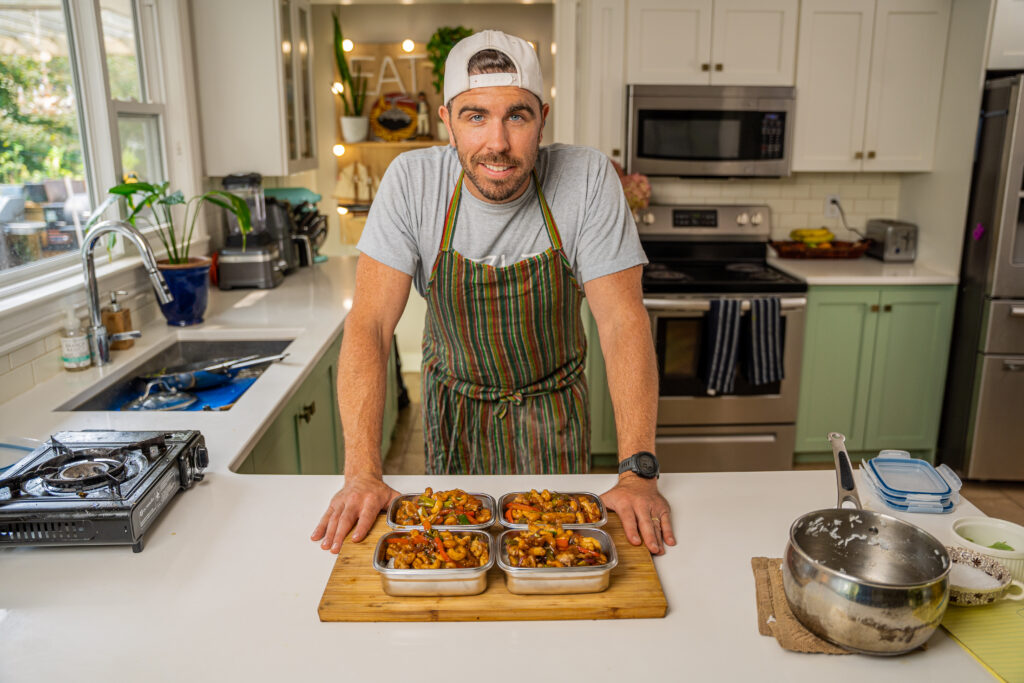 My wife and I travelled to Thailand 10 years ago, where we were introduced to this cashew chicken dish, and the rest was history! We absolutely loved it and ate this dish everywhere we travelled around Thailand and even had the opportunity to learn how to cook it in Northern Thailand.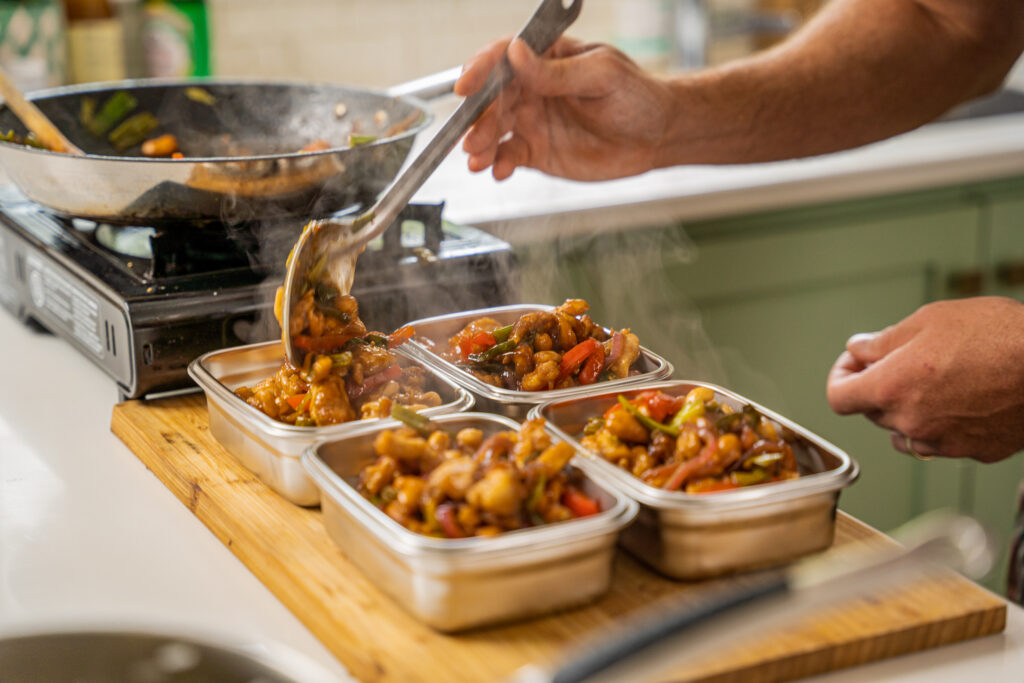 The History of Cashew Chicken
Cashew chicken is a recipe that reflects traditional Thai cuisine with the use of species and chicken breasts. It combines sweet and spicy flavours, which are typically made in a wok using the frying method.
This recipe, like every other Thai recipe, can vary depending on the region of Thailand that which they are made in. The goal of Thai dishes is to create harmonious flavour combinations of sweet, salty, and sour. Cashew is a huge part of Thai cuisine. It's often used to add a rich and mildly sweet tree nut flavour to their dishes.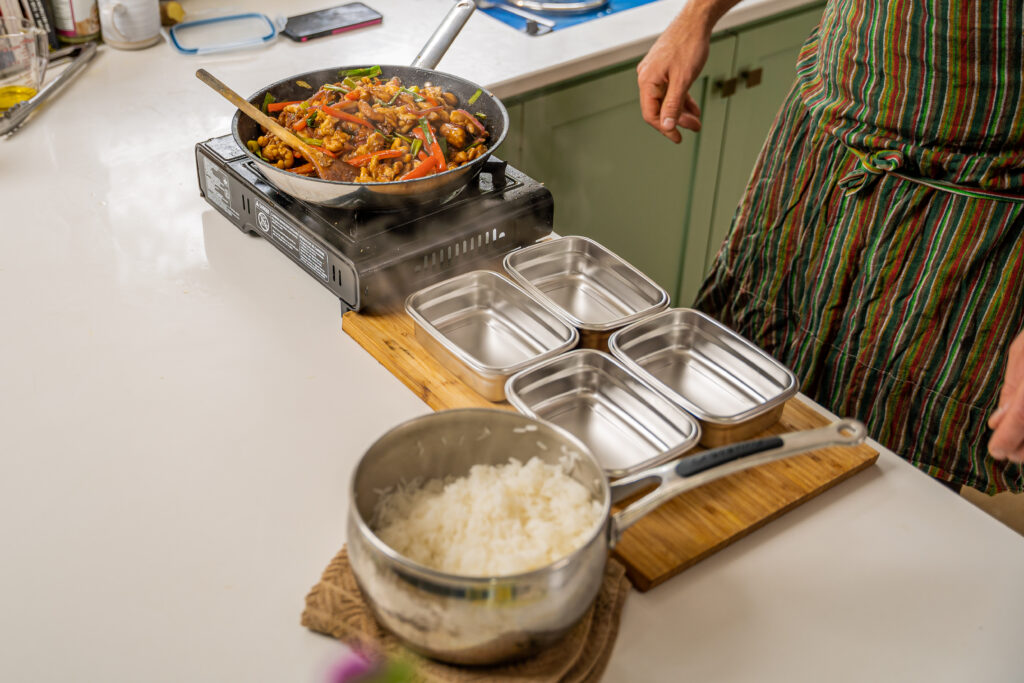 Tips for Nailing This Recipe 
Jasmine rice is essential when making traditional Thai food. It has a great aroma and flavour!
The dark meat of chicken thighs will make it less unlikely to overcook, but you can use chicken breast as well in this recipe.
Coat your chicken in corn starch or rice flour for a crisp texture and to hold on to the sauce better.
You can store these in a batch or individually in storage containers. It is the perfect meal prep to make for your upcoming week!
Cashew Chicken with Jasmine Rice
Print Recipe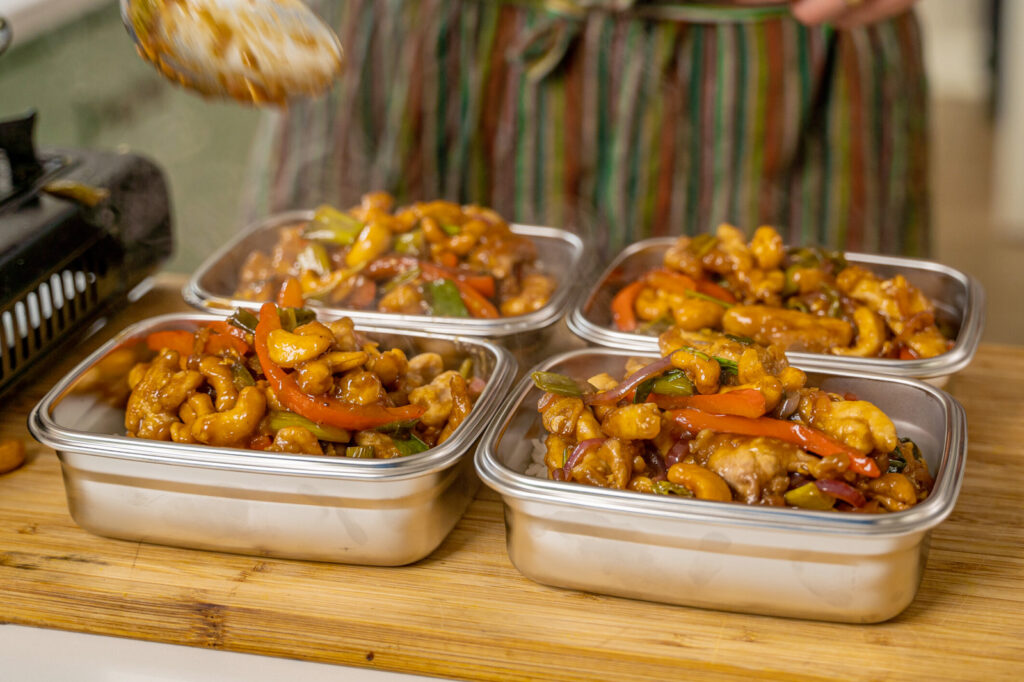 Ingredients
2

cups

jasmine cooked rice

6

chicken thighs, thinly sliced

⅓

cup

corn starch

3

tbsp

minced ginger

4

cloves

garlic, sliced

1

red pepper thinly sliced

1

cup

thinly sliced red onions

1

cup

fresh basil leaves

1

cup

roasted cashews

1

cup

green onion sliced into 1/2 inch sticks
SAUCE INGREDIENTS
7

tbsp

soy sauce

3

tbsp

rice wine vinegar

1

tbsp

sesame oil

1

tbsp

hoisin sauce

1

tbsp

honey
Instructions
First things first add the sliced chicken and corn starch into a bowl. Toss together to make sure all the chicken is covered. The corn starch will make the chicken slightly crispy and will help thicken the sauce. Let chicken sit for 2 minutes.

While the chicken is resting in the corn starch, make the jasmine rice. I used 2 cups of rice and 4 cups of water. Add water and rice to a pot and bring to a boil. Once a boil has been reached, cover and reduce temperature to low and let cook for 12 minutes. After 12 minutes remove from heat and leave covered until ready to serve.

Now let's make the sauce as we have a second or two. In a small bowl add soy sauce, rice wine vinegar, sesame oil, hoisin sauce, and honey. Mix together and set aside.

Next up, heat a non stick lightly oiled pan over high heat and once at temperature toss in the chicken. Cook until chicken is totally cooked through and then remove chicken and set aside.

In the same pan add in a touch more oil if needed and toss in the garlic, ginger, onion, and red pepper. Saute until everything is soft.

Now toss in the cooked chicken, cashews, green onions, and basil. Stir constantly.

Last step, pour in the sauce and mix everything together.

I divided the stir-fry and rice amongst 4 lunch containers. The best lunch ever!!! Will stay in the fridge for 5-7 days or you can freeze it and it is fine for 3 months.
Print Recipe
(Visited 199,318 times, 23 visits today)