I make several recipes in the kitchen, but this has to be one of my favourites. This recipe is outrageously delicious and significantly easier to make without being intimidated by baking with yeast. It is also the perfect snack to have with coffee or tea!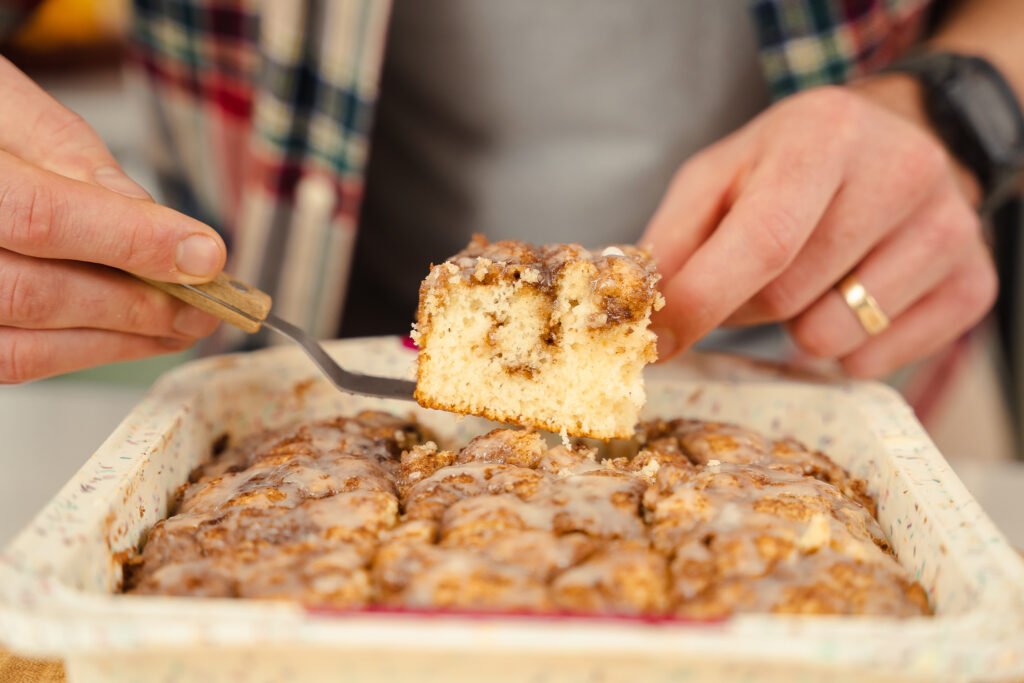 How I Got Into Making This Recipe
My wife and daughter's favourite thing in the world to eat is cinnamon buns. I love to make cinnamon buns for them, but it can be labour intensive. For many people making a yeasted dough, rolling it out, and letting it rise can be highly intimidating, but this recipe is easier, a lot quicker, and wildly delicious.
This coffee cake gives the exact similar flavours and cures the craving for a cinnamon bun! This recipe is three simple components, a sour cream coffee cake, brown sugar crumble, and a glaze.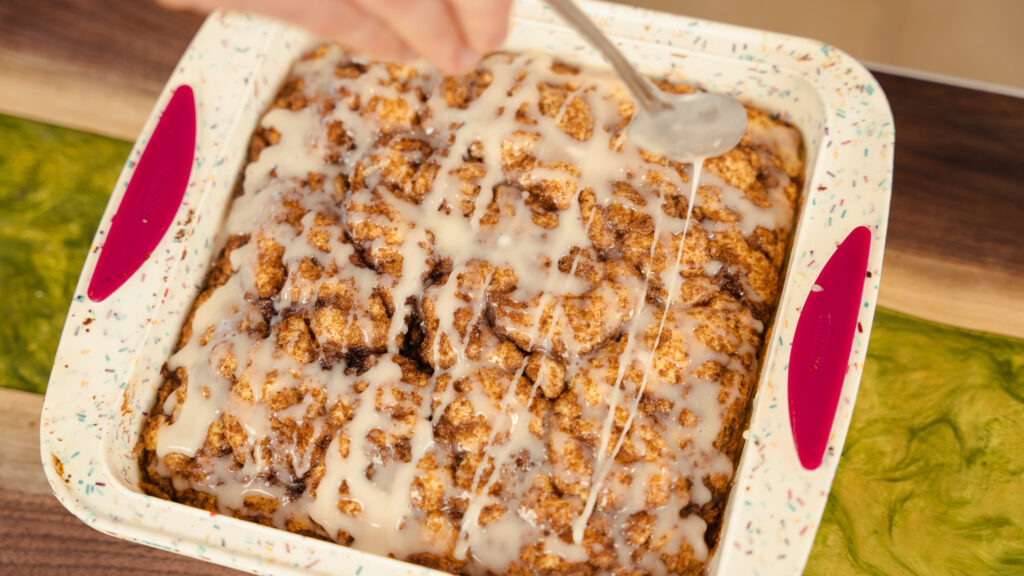 Let's Breakdown the Ingredients!
This delicious cake combines two amazing desserts into one with only three parts to the recipe; a cake, brown sugar crumble and icing.
The first part of making this recipe is the cake batter, which is made with ingredients you would usually use when baking a cake. The one special ingredient added is full-fat sour cream. The addition of full-fat sour cream allows you to add moisture to the cake without thinning out the batter, and the fat is added for creaminess.
The next part is the brown sugar crumble, which gives this coffee cake its cinnamon bun twist! Specifically, the three main ingredients used in this crumble are brown sugar, cinnamon and nutmeg. The brown sugar leaves a result of being softer and moister in the baked goods. The cinnamon and nut both give a warm, woody, nutty, and sweet flavour to the recipe.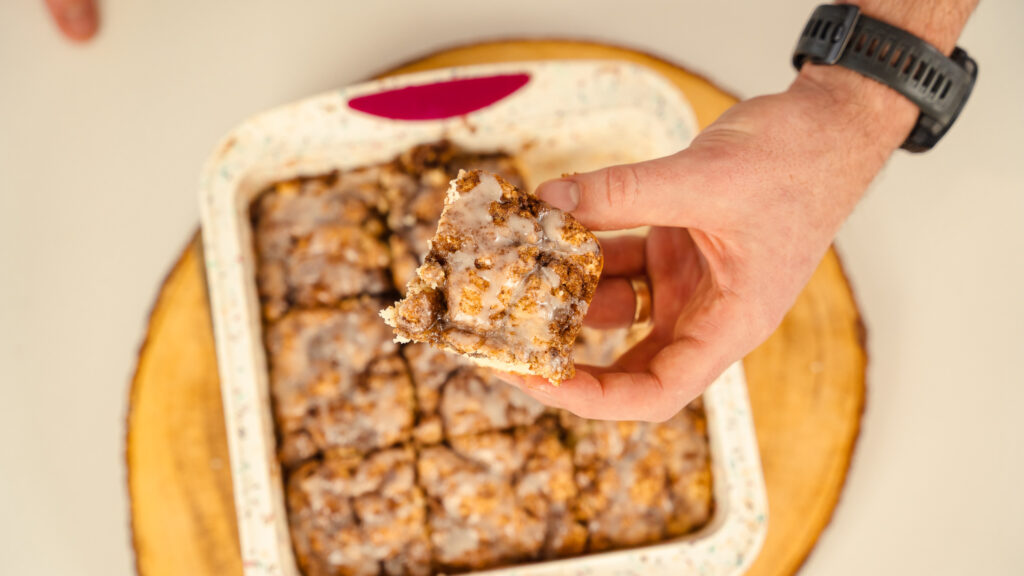 Tip for Nailing This Recipe
Pour the sour cream cake batter evenly into the Silicone Square Cake Pan.
Spread the brown sugar crumble on top of the cake batter. Make sure you use a butter knife to smear the crumble across the dish and try to incorporate it into the batter. 
This cinnamon bun coffee cake freezes really well, but it will be a challenge not to eat it all in one go!
Cinnamon Bun Coffee Cake.
Print Recipe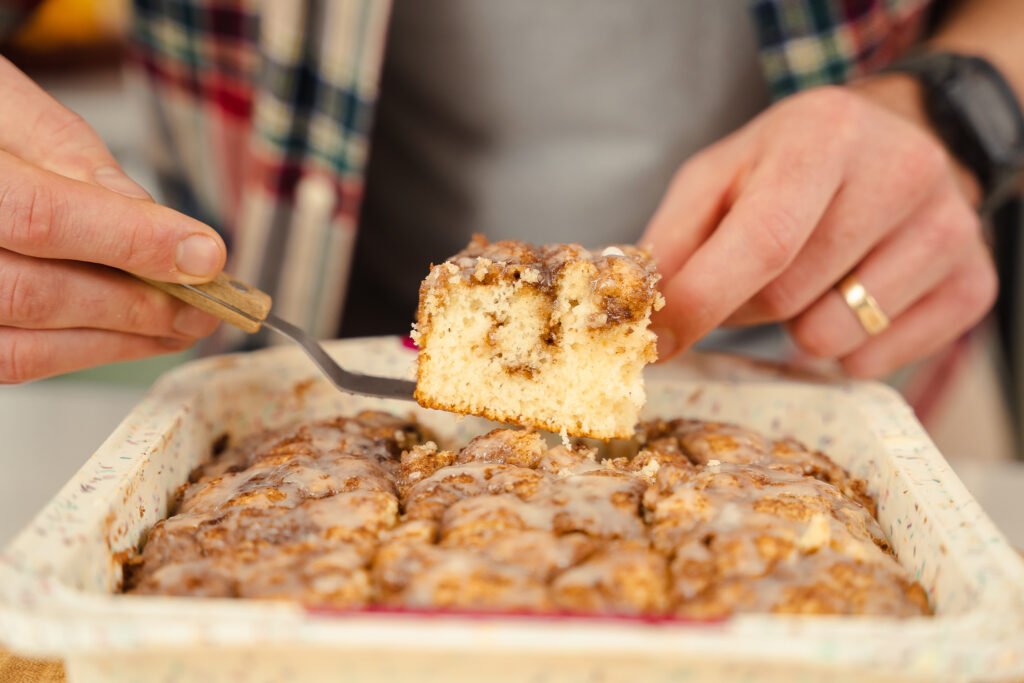 Ingredients
Cake
1 1/2

cups

flour

¼

tsp

salt

2

tsp

baking powder

1/2

cup

sugar

1/2

cup

whole milk

1/4

cup

full fat sour cream

1

egg

1 1/2

tsp

vanilla

1/4

cup

melted butter
Brown Sugar Crumb
1/2

cup

packed brown sugar

2

tbsp

cinnamon

¼

tsp

nutmeg

1

tbsp

flour

1

tbsp

melted butter

1

pinch

salt
Icing
3/4

cups

icing sugar

1

tsp

vanilla

2 1/2

tbsp

milk
Instructions
Here we go! In a bowl add all the dry ingredients for the cake: flour, sugar, salt, baking powder. Whisk together and set aside.

Next, wet ingredients. In a bowl mix together milk, sour cream, egg, vanilla.

Add the dry ingredients into the wet and mix. Careful not to overmix. Once combined, pour in the 1/4 cup melted butter. Mix until combined.

Pour batter into a 8X8 inch greased baking pan.

Now the brown sugar crumb. In a bowl, mix the brown sugar, cinnamon, nutmeg, flour, 1 tbsp melted butter, and salt.

Pour the brown sugar crumb over the top of the cake batter. Using a butter knife, swirl the brown sugar mixture through the batter of the cake. Press the sugar down into the batter gently with a spatula.

Bake at 350 for 20-24 mins. You will know the cake is done when you can poke with a wooden skewer or toothpick and it comes out clean.

While the cake is baking, let's whip up the icing. In a bowl mix together icing sugar, vanilla, milk. Whisk.

Let the cake cool, pour icing over top, cut and eat. Enjoy this one. One of those things you probably shouldn't eat that often so really enjoy it!!! A nice coffee, some Neil Young. Now that, my friends, is self-care.
Print Recipe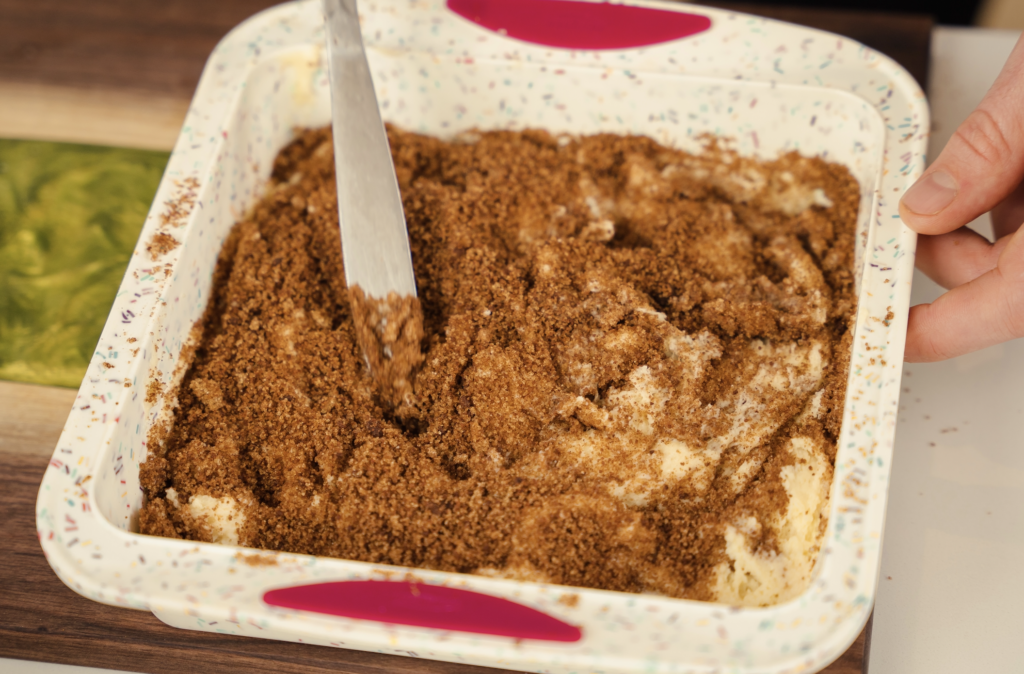 (Visited 51,523 times, 39 visits today)