I feel like a well-executed seafood chowder is one of the world's most remarkable dishes. It's packed with fresh seafood, seasoned with smoked haddock, dill, and bay leaves. This recipe is one you won't forget.
This recipe had made an appearance on Masterchef Canada All-Stars, and it was met with tons of positive reviews from the judges. Beyond its appearance on Masterchef, arguable more important, I make it frequently for my friends and family at home who love it! I think you will love this recipe, but remember to be generous as possible with the seafood!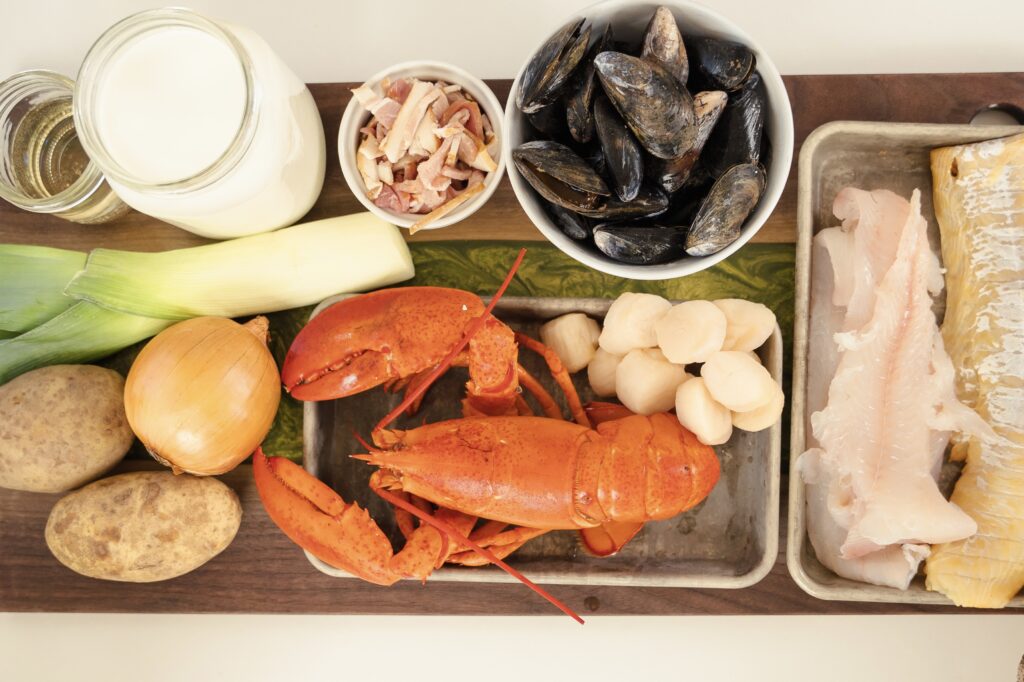 The History of Seafood Chowder
Living on the East Coast, you are surrounded by fresh seafood, and it's only normal that it helps get you creative with different ways to cook with it!
While you can get creative when making seafood chowder, it is a recipe that has been passed down for centuries! Chowder first originated as a shipboard dish hundreds of years ago. When seafood chowder was introduced to North America over 250 years ago, it quickly became a popular dish that many make today.
This dish was originally made with seafood, but various versions with meat or poultry chowder appeared as years passed. With fresh seafood available on the East Coast, it is easier to access multiple different kinds of seafood to make seafood chowder and keep the original version alive!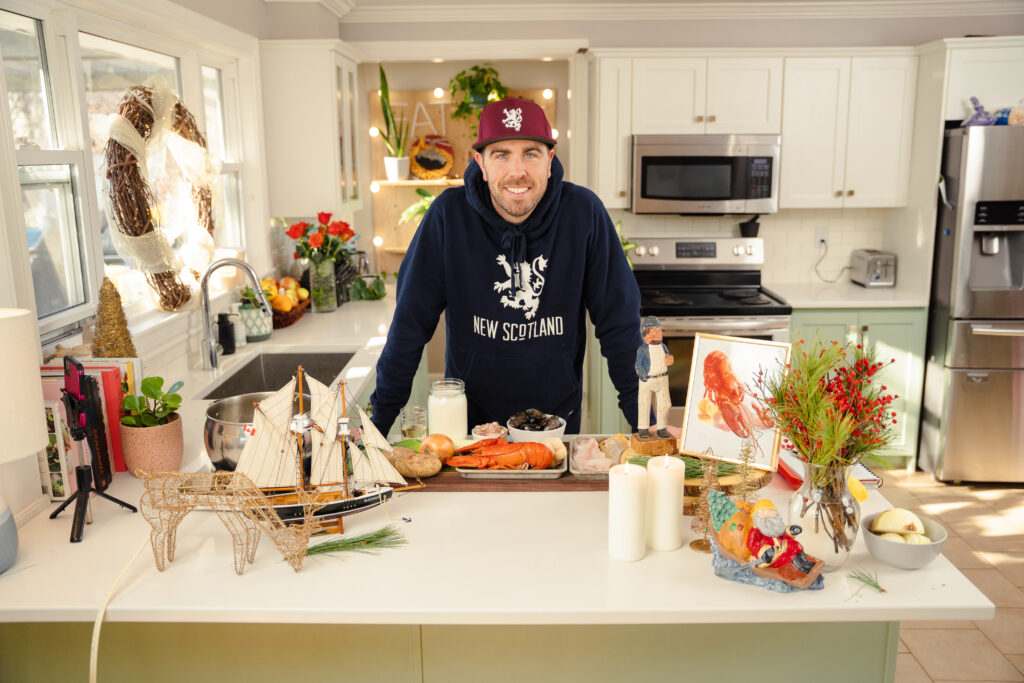 Tips for Nailing this Recipe
The secret ingredient for this recipe lies in the flavour of smoke, and it comes from the smokey bacon and the smoked haddock. These flavours add depth and make me feel like the chowder was cooked over a campfire on the beach. 
As far as seafood goes, use whatever fresh seafood you can get your hands on! I often make this recipe using just haddock and smoked haddock, and I love it just as much as when it's slammed with all sorts of seafood! Remember to be generous as possible, and it's a great way to show your guest you love them! 
Also, I recommend serving this chowder with a freshly baked tea biscuit!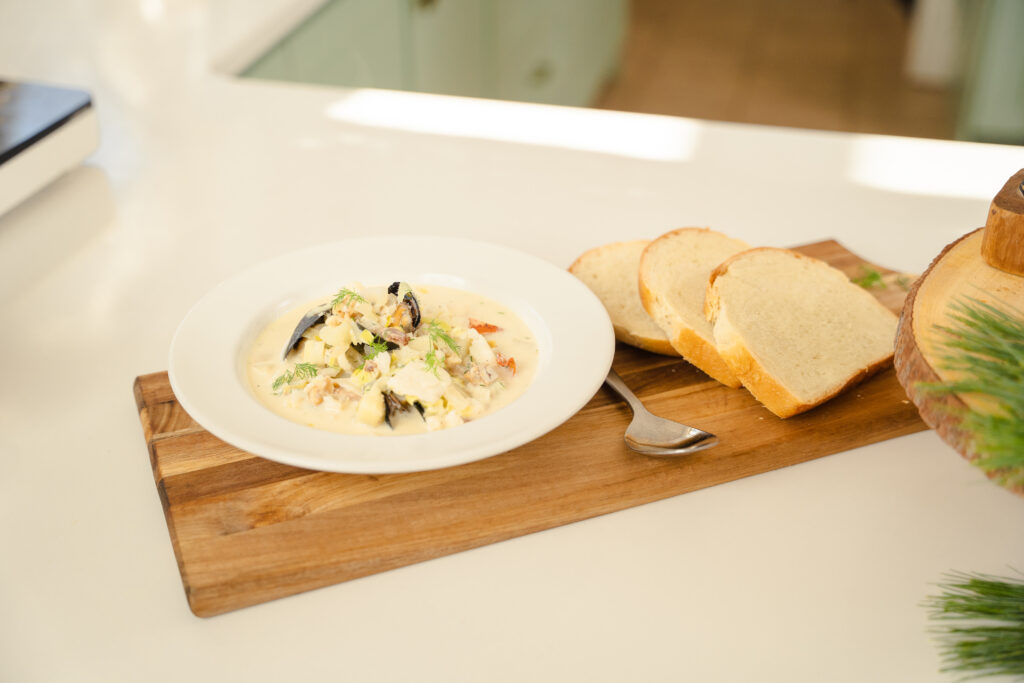 East Coast Seafood Chowder
Print Recipe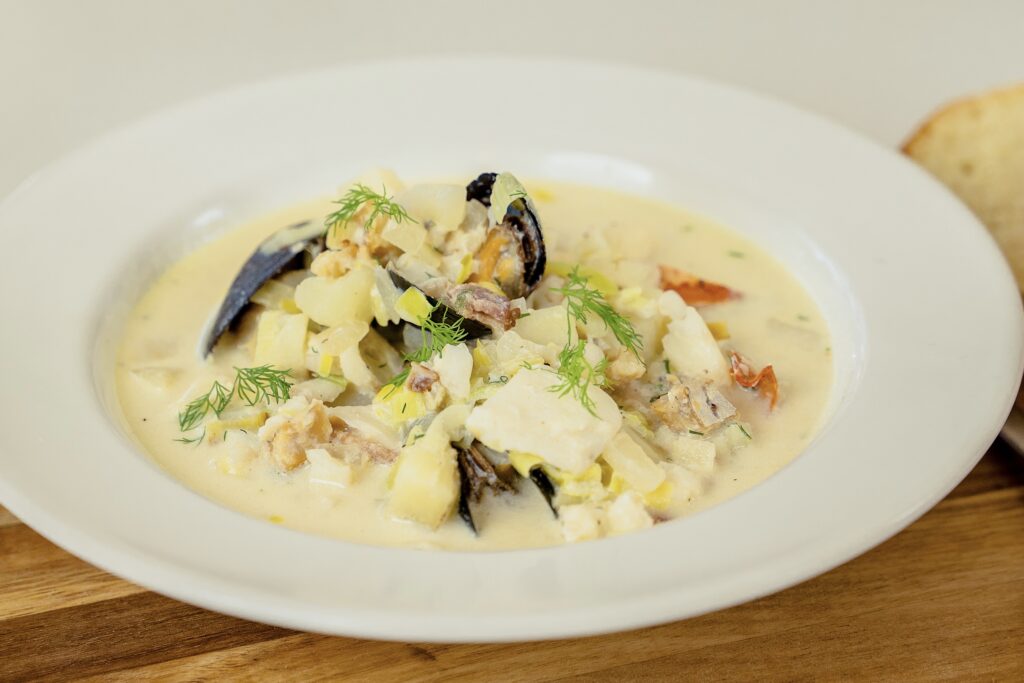 Ingredients
4

slices

smoked bacon

cut into small slices

1

cup

Leek, diced

2

potatos, diced

1

onion, diced

2/3

cup

nova scotia white wine

1

filet

smoked haddock, diced

1.5

litres

whole milk

1/2

cup

cream

1

cup

fresh lobster

3

filets

fresh haddock

1

lb

scallops

2

lb

mussels in shell

5

bay leaves

2

tbs

fresh dill, chopped

1

tsp

fresh lemon zest
Instructions
Place a large pot over medium heat. Add in a tbs of oil and then drop in the diced bacon. Saute until bacon browns.

Next up, add the diced potatoes, diced leeks, diced onion, and bay leaves to the pot. Let that sizzle away and enjoy the smells coming out of the pot!! Stir frequently. You don't want any of the vegetables taking on any colour.

After about 4 minutes of sautéing the vegetables, pour in the nova scotia white wine. You should get a really nice sizzle here. You want to wine to hiss and bubble as we are burning off the alcohol and deglazing the pan. Stir constantly, and again, enjoy to smell.

Now it's time to pour in the milk and cream. You want the mixture to come up to a light simmer but keep an eye on the pot as you don't want the milk to come to a boil or it will split. Nice and gentle cooking here. Keep stirring every now and again. The goal here is to keep the temperature up for long enough to cook the potatoes. Once the potatoes are soft you are all good!

Now that the potatoes are cooked let's start adding in the seafood. Add in the diced smoked haddock, full fresh haddock filets, lobster, scallops, mussels, and any additional seafood you would like to include. Adding all of this cold seafood will drop the temperature of the milk so give it time to come back up to temperature. Once a light simmer has been reached, allow the seafood to poach until you can easily flake apart the fresh haddock. Once that happens you know you are in the clear.

Last step is seasoning. Be sure to taste the broth and adjust as needed. I like to add 2-3 solid pinches of salt and a lot of fresh cracked pepper. Right before serving I also add in the fresh dill and some lemon zest to brighten everything up.
Print Recipe
(Visited 17,797 times, 1 visits today)