I love having freshly made muffins in our house. I always try to make sure I sneak as many nutrient dense ingredients into them as possible into my muffins so that they are satisfying but also keep you full and fueled in the morning. These Cranberry Pumpkin Oat muffins are loaded with all sorts of ingredients like pumpkin, shredded carrots, shredded apple, and pecans, so you can feel good about grabbing one of these while running out the door.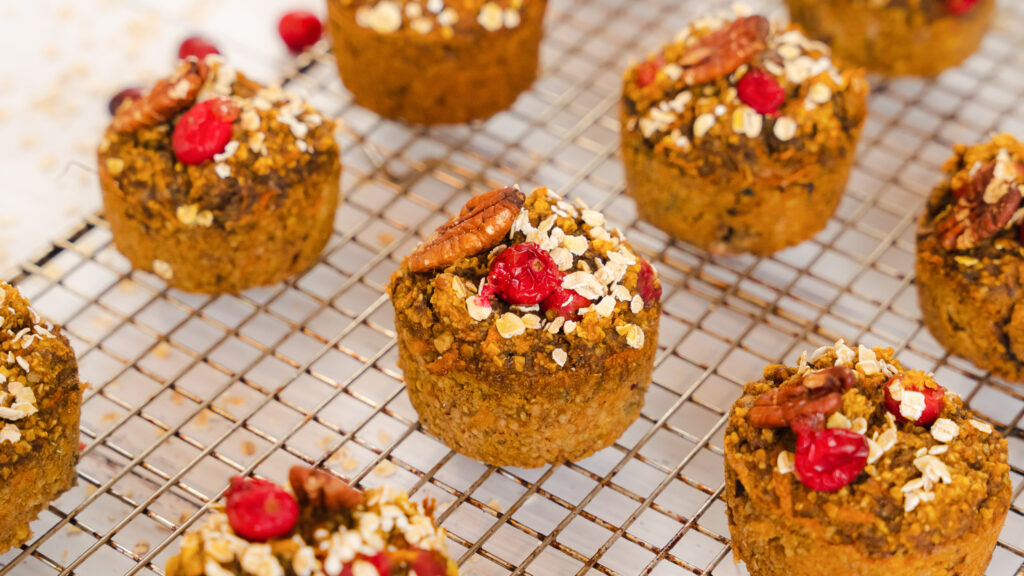 Baking with Oat Flour
I love using oats in my recipes. I love the flour and the additional energy they provide in baking. This recipe uses oat flour which is available in most grocery stores, but if you want to make your own in painfully easy. All you have to do is add some quick oats to your blender and blend on high for about 30 seconds. That's it! You just made oat flour.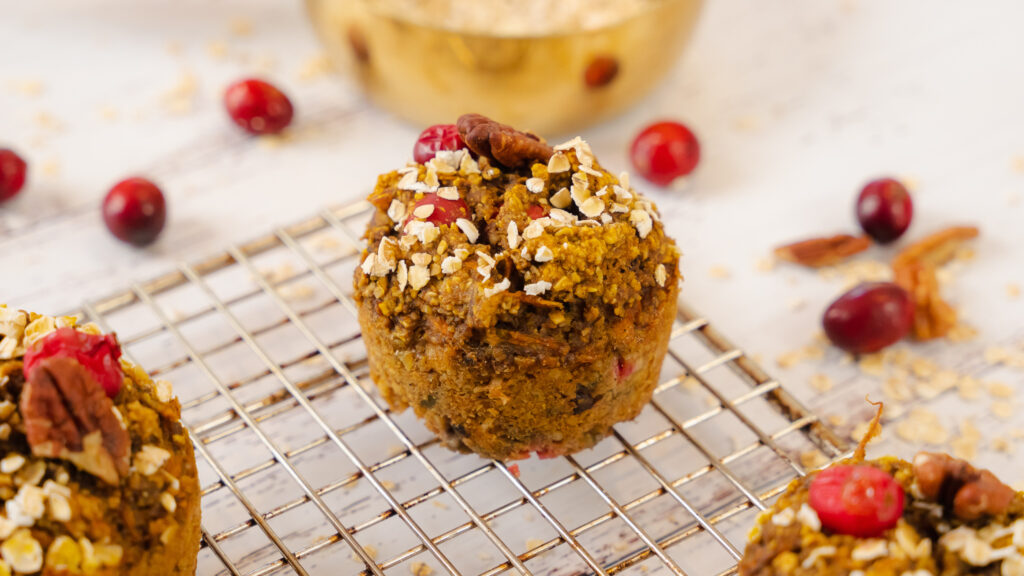 Let's breakdown the ingredients!
Oat Flour- Oat flour is the structural base to this recipe. You can easily make this gluten free if you buy GF oats!
Baking soda- Baking soda helps the muffins rise.
Eggs – There are 3 eggs in this recipe which adds lovely richness as well as helping the baking soda with the rising of the muffins
Apple sauce- I love baking with apple sauce. This adds great moisture and flavour to these muffins
Pumpkin Puree – Rich in iron and other health minerals, pumpkin puree gives a lovely colour and texture to these muffins
Maple syrup – As a canadian, I love baking and cooking with maple syrup. This provides just a hint of sweetness and pairs beautifully with the pecans.
Grated carrot and apple -I love sneaking fruits and veggies into my baked goods!
Cranberries and pecans- You can change these up in favour of other ingredients that you like!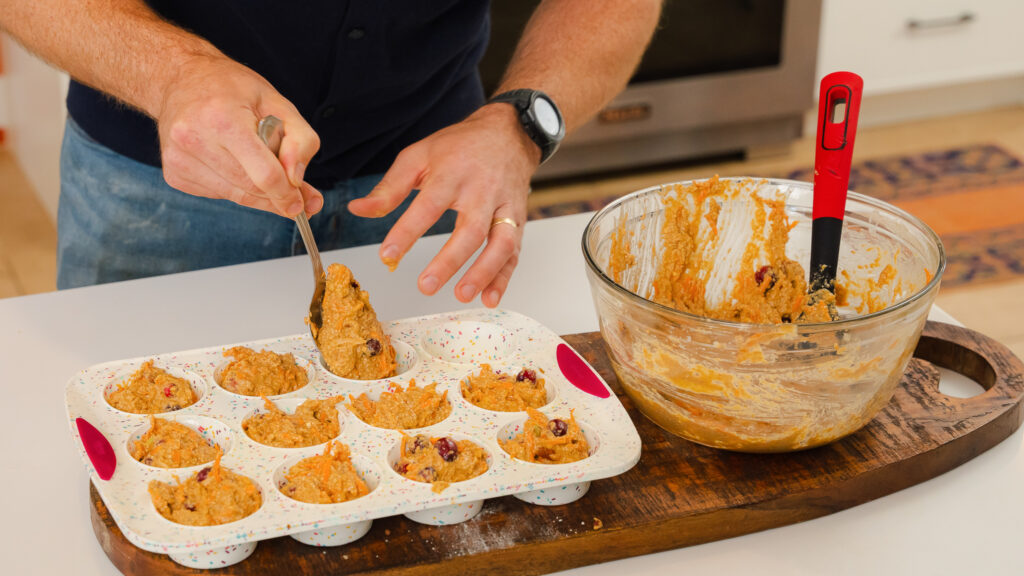 Pumpkin Cranberry Oat Muffins
Print Recipe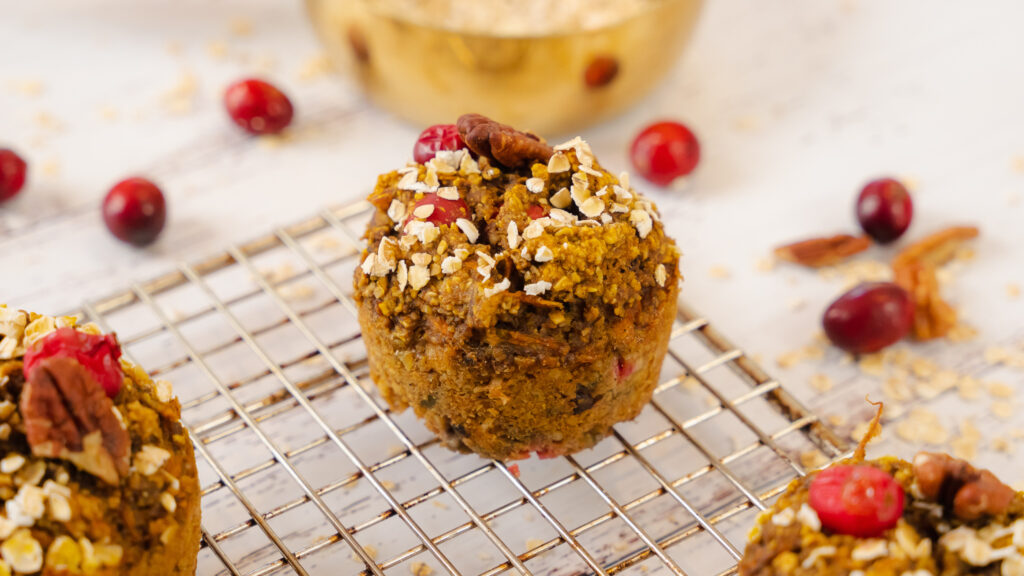 Ingredients
Dry Ingredients
2

cups

oat flour

blend 2 cups quick oats

2

tsp

baking soda

2

tsp

cinnamon

1/2

tsp

salt
Wet Ingredients
3

eggs

1/3

cup

unsweetened apple sauce

1/2

cup

pumpkin puree

1/4

cup

maple syrup

1/4

cup

olive oil

2

cups

Carrots, grated

1

cup

cranberries + 12 extra for topping

1/2

cup

pecans, crushed. + 12 extra for topping

1/4

cup

quick oats, for topping muffins
Instructions
Preheat oven to 425F and grease a muffin pan.

In a bowl whisk together the oat flour, baking soda, cinnamon, and salt.

In a separate bowl mix together the eggs, apple sauce, pumpkin puree, maple syrup, oil, grated carrots, cranberries, and crush pecans.

Combine both dry ingredients and wet ingredients together. Mix together until fully combined.

Spoon about 1/3 cup of mixture into each muffin mould. Top each muffin with a pinch of oats, 1 cranberry, and 1 pecan.

Bake muffins at 425F for 6 minutes and then lower the temp to 350F and bake for an addition 23-25 minutes.

Remove from oven, allow to cool and enjoy!
Print Recipe
(Visited 15,092 times, 11 visits today)