This creamy roasted tomato soup is the perfect way to warm up on a chilli day. Rich flavours from the roasted tomatoes gives this soup incredible depth, and is the perfect soup to dip a freshly made grilled cheese sandwich in.
Creating depth in flavour
One of the best ways to make your soups more delicious is to roast your vegetables. This step allows the vegetables to intensify their flavours. By allowing the veg to take on colour and to caramelize, they release more of their sugars and add another dimension of flavour. For this creamy roasted tomato soup recipe, I quartered some fresh tomatoes and roasted them in a very hot oven until they began to breakdown and take on more colour. This is an easy step, and one that I highly encourage you to do with all of your soups.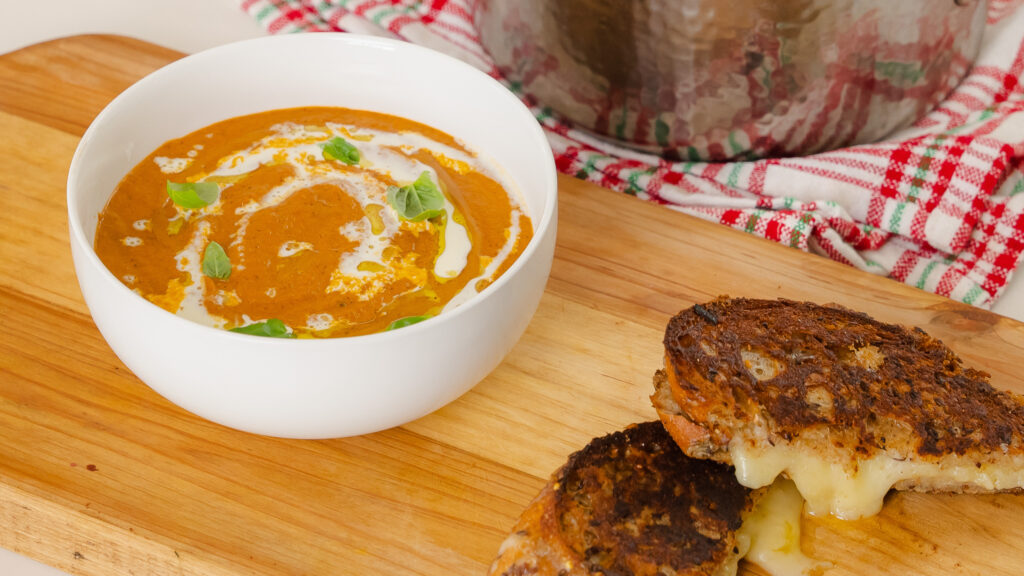 Let's breakdown the ingredients!
Fresh Tomatoes– I always like to buy my tomatoes with their vines still on them. The vine keeps the fresher longer, and I just love the smell of a tomato vine!
Onion and Garlic – These are foundational flavour elements to many dishes. This soup gets deeper and better flavour from sauting the onion and garlic together before adding any other of the ingredients. Plus the smell of sauting onions and garlic is one of the best in the kitchen!
Stock – I used vegetable stock, but you can use whatever you have on hand. The higher the quality, the better the flavour.
Heavy Cream– The creaminess comes from the heavy cream added in. We use 1/2 a cup for this recipe plus another teaspoon for drizzling at the end. Of love the look of the cream on top of the soup when serving.
Fresh basil – As a gardener, I always plant my basil and tomatoes together. Anything that grows together, tastes amazing together.
Chilli Flakes – Bringing a bit of heat to the party!
Butter– The butter adds more creaminess and rounds out the flavours beautifully.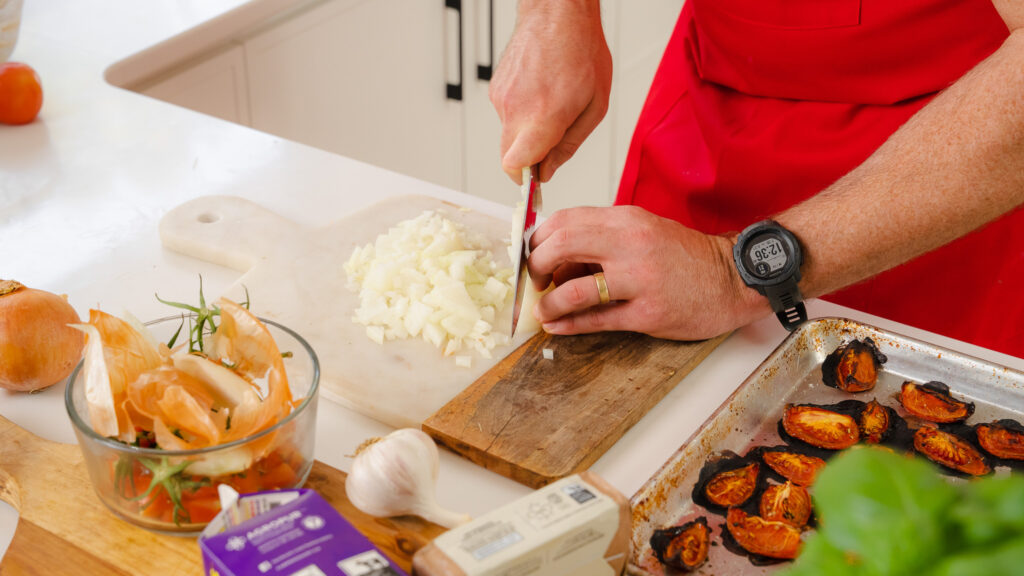 Blending the soup
When blending the soup I used my high powder blender to ensure it was smooth and creamy. If you are using a blender, be sure to start off slow as the last thing you want is hot soup flying everywhere in your kitchen! You can also use a handheld immersion blender as well.
Creamy Roasted Tomato Soup
Print Recipe
Ingredients
10

tomatoes, cut into quarters

1

onion, diced

3

cloves garlic, minced

2

tbs

olive oil

5

basil leaves

1 1/2

cups

vegetable stock

1

tsp

chilli flakes

1

tbs

butter

1/2

cup

heavy cream

1

tsp

black pepper

1

tsp

salt
Instructions
Preheat oven to 450, and place quartered tomatoes onto a baking sheet lined with parchment paper. Season tomatoes with salt and pepper and place in the oven until the tomatoes start to turn slightly charred. Around 30 mins.

Once the tomatoes are done cooking, place a medium sized pot over medium heat and pour in 2 tbs of olive oil. Once oil is at temperature add in the diced onion, and minced garlic. Stir constantly as you don't want the garlic to take on any colour. After 2 minutes add in the roasted tomatoes and stir.

Next up we will pour in the stock, basil, chilli flakes, butter, salt, and pepper. Stir and allow the mixture to come up to a simmer. After the mixture simmers for about 5 minutes it's time to blend. Carefully pour mixture into a blender and blend on low for 30 seconds and then increase the speed carefully. Once smooth pour back into the pot and turn temperature to low. If using a handheld immersion blender, blend in pot until smooth.

Once soup is blended and back in the pot, stir in the cream. Taste and adjust seasoning as needed.

To serve, drizzle on 1 tsp of olive oil, 1 tsp of cream, and fresh basil. A side grilled cheese sandwich wouldn't hurt either. Enjoy!
Print Recipe
(Visited 9,146 times, 4 visits today)