I am always trying to find new interesting, delicious, and healthy dinner and lunch options. These ​​Thai Curry Sweet Potato Fritters really hit the mark! Packed with flavour, healthy, 100% gluten-free, and really really delicious. You will want to make these bad boys weekly for sure!
Meal prep is something I really love. I am always looking for new recipes to add to my meal prep plans, and these fritters have made the cut! I have been making these fritters as part of my weekly meal prep, and they stay in the fridge really well. Place them on a hot oiled pan or throw them in the air fryer before eating them, and they'll last all week!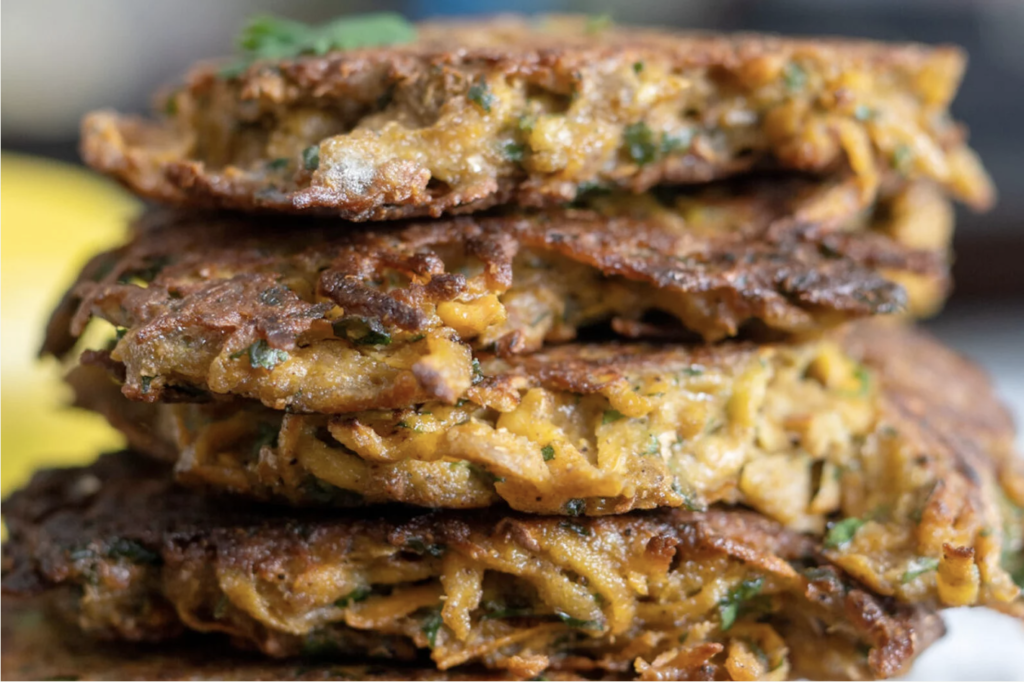 Let's Breakdown the Ingredients!
This recipe is full of deep sweet and savoury flavours that I guarantee you will love. Have a look at the ingredients that make this delicious meal!
The shredded sweet potatoes and eggs are three ingredients that really hold this fritter together. These sweet potatoes are the perfect base for these patties because they have a mild, starchy, sweet flavour that becomes crispy and caramelized when fried. The eggs add protein to this dish and make sure that all the ingredients combine to form a fritter shape. 
Seasoned with fresh ginger, cilantro, full-fat coconut milk, and Thai curry paste gives this recipe this perfectly sweet and savoury combination! Ginger adds notes of a warm, woodsy flavour, and cilantro includes a complex citrus taste. The full-fat coconut milk adds a richly sweet, floral and nutty flavour of coconut and the Thai curry paste adds a mild sweetness and a little bit of spice to the fritters. 
Rice flour (or corn starch), is a great way to make the batter lighter and crispier, and it's also a great way to avoid using gluten in this recipe! 
Red Curry Sweet Potato Fritters
Print Recipe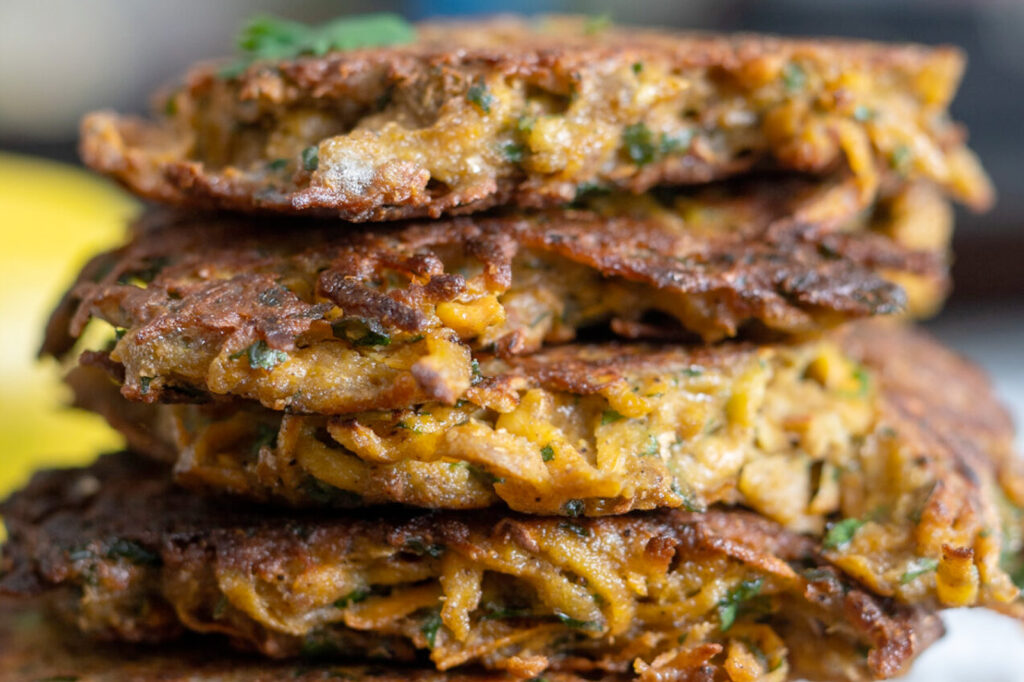 Ingredients
4

cups

shredded sweet potatoes

1

cup

chopped cilantro

3

eggs

½

cup

rice flour (corn starch could be used as well)

1

can

full fat coconut milk

3

tbsp

Thai curry paste

1

tsp

black pepper

1½

tsp

salt

1

tbsp

chopped fresh ginger
Instructions
In a large bowl, mix all ingredients together until smooth.

Place a large pan over medium-high heat and add in a couple of tbs of neutral flavoured oil (grapeseed, canola, avocado). Once the pan is hot, scoop the sweet potato mixture into the pan. You can choose the size of your fritters. Use the back of a spatula to flatted in the mixture onto the pan. Fry each side until deep golden brown.

Once cooked, remove from pan and sprinkle with salt. Serve immediately.
Print Recipe
(Visited 2,990 times, 1 visits today)