Nothing fancy here today! This is a classic for a reason, and one of the most East Coast things you could ever make. The Garlic Finger; if you know, you know.
Up there in the pantheon of East Coast dishes with the Lobster Roll and the Donair, the Garlic Finger holds a distinguished spot in the East Coast Food Hall Of Fame.
Be sure to check out my master dough recipe for how to make your own dough at home. It's easier than you think!
Print Recipe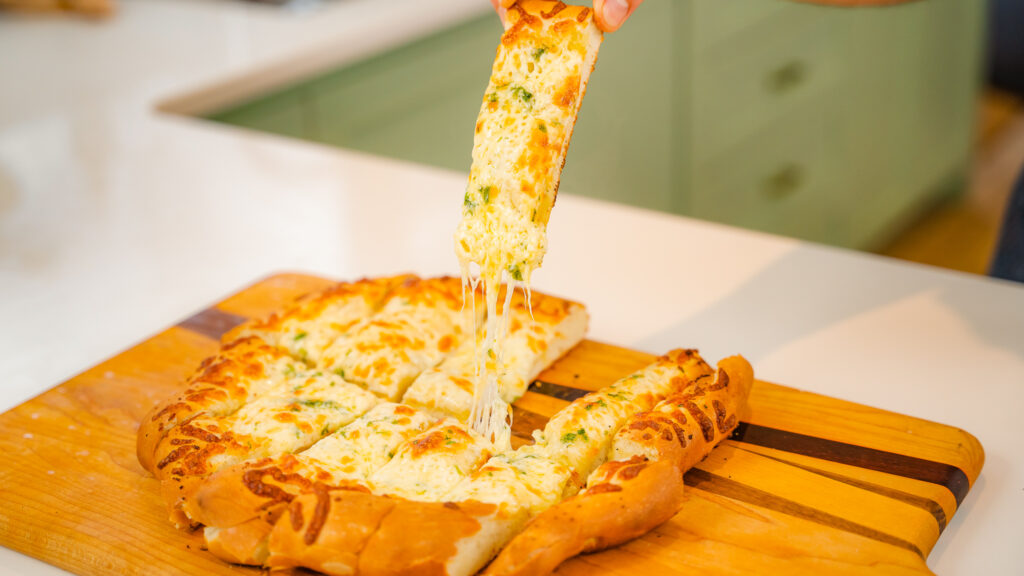 Ingredients
2

tsp

dry active yeast

1

tbsp

honey

1

cup

+ 5 tablespoons warm water

3

cups

flour

2

tbsp

olive oil

1

tsp

salt

¼

cup

butter

4

cloves

garlic

1

tsp

garlic powder

3

cups

shredded mozzarella
Instructions
In the bowl of a stand mixer add yeast, honey, and warm water. Cover and let sit until yeast wakes up and gets bubbly.

In a separate bowl pour flour, salt, and olive oil.

Once yeast is bubbly, place mixer bowl back on stand mixer attached with a dough hook. Turn hook on low, and slowly add in flour mixture. It will initially look too dry but don't panic…you're good. Let mixer do it's thing until a ball has formed and then crank mixer to high for 8-10 mins. You want the dough to look really smooth. Once done kneading, form into a ball and place in a lightly oiled bowl. Cover with a cloth and let the dough proof until it doubles in size, about an hour.

Turn oven to 550 and place pizza stone in oven. It will take about 30 minutes to get hot enough, so plan accordingly!

Chop 4 cloves of garlic and place into a small pot over medium heat. Saute the garlic for 1 minute and then add butter. Once butter is melted remove from heat.

Once dough has doubled, punch it down and divide into two equal balls. Roll the balls out using a rolling pin (or wine bottle). Be sure place final pizza shape on a piece of parchment paper.

Spread garlic butter over dough then cover with cheese. Be sure to avoid the edges.

Place uncooked garlic fingers (which are on a sheet of parchment paper) onto a pizza peel or upside down sheet tray. Open the oven and slide pizza along with parchment paper onto pizza stone and shut oven door. After 60 seconds open oven door and place pizza peel or sheet pan against the crust that is closest to you and then pull the parchment paper out. The pizza stone should be hot enough to make the bottom of the garlic finger crispy enough to easily slide the paper out. Shut door and let cook for 8 more minutes.

After 8 minutes remove from oven and cut…the proper way. Enjoy!!
Print Recipe
(Visited 10,202 times, 7 visits today)