This Homemade Pizza Dough is one of those recipes every home cook should have up their sleeve. It is one of the best and most versatile pizza dough recipes I have come across. While it is perfect for pizza, I've used this dough for pizza, dinner rolls, pretzels, and cinnamon buns. I have used this recipe so many times, and it never fails!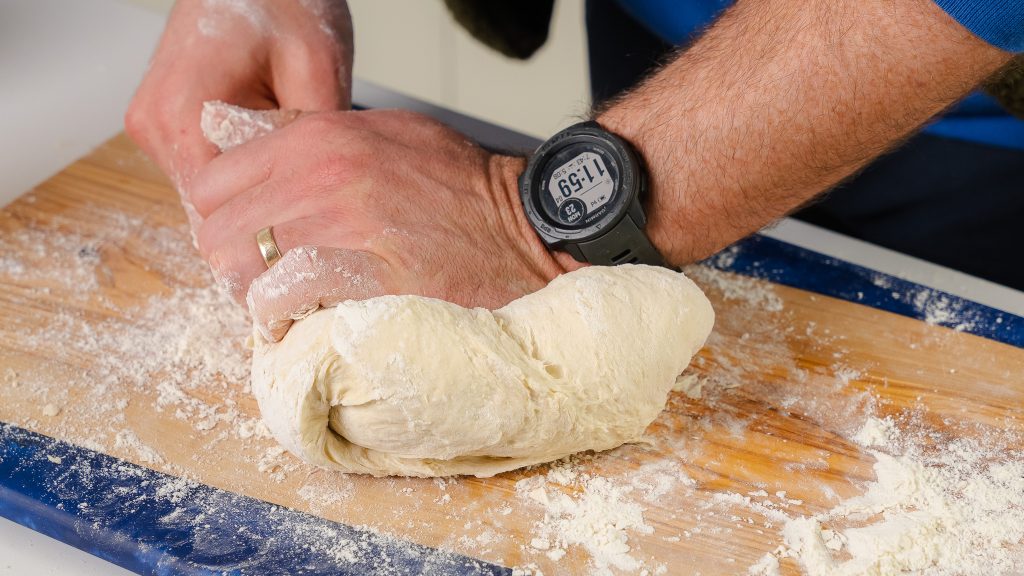 Making Homemade Pizza Dough
Making homemade pizza dough for the first time can be intimidating. I get it! But trust me, it really isn't that difficult and I will be here with you for every step of the way. Also, once you enjoy a bite of freshly made dough, you will be a convert. In? Let's do this.
Let's Breakdown The Ingredients! 
All Purpose flour – Nothing fancy need, AP works for this recipe.
Dry Active Yeast -The most important ingredient in this recipe is dry active yeast. You might be nervous of baking with yeast, but don't be. It's an amazing and forgiving ingredient. The main thing to be cautious of is the temperature of the water. Too hot and it will kill the yeast.
Sugar – Yeast eats the sugar and starts to release gas, this is what gives the dough it rise. Isn't baking amazing??
Warm water – You don't want it to be hot or it will kill the yeast, slightly above room luke warm if perfect. (95F-105F)
Olive oil – This dough needs some fat for flavour and the olive oil provides.
Salt – Salt is flavour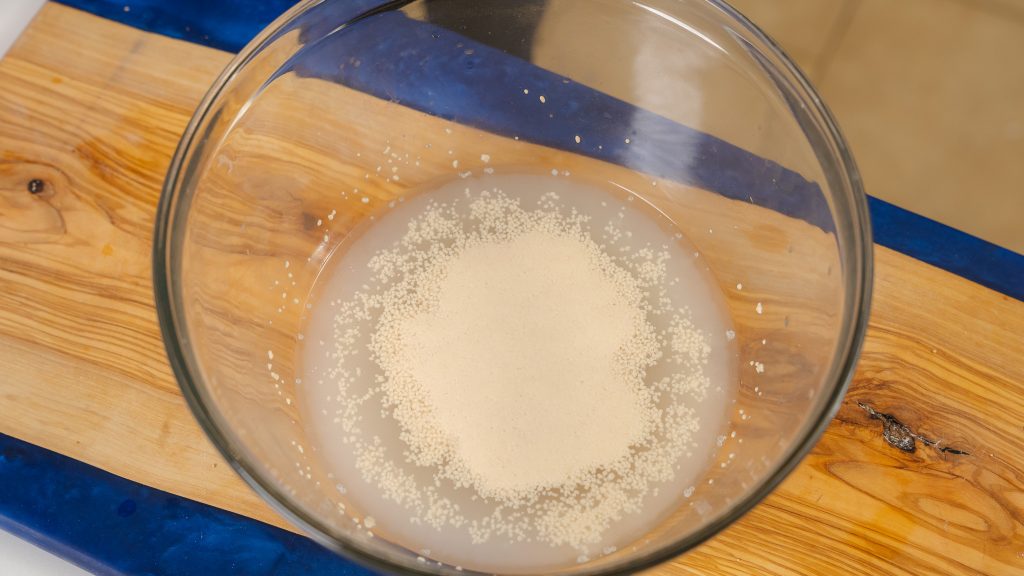 Tips for Nailing This dough
Make sure you are using dry active yeast! Yeast is such an amazing ingredient and is so fun to work with. I know lots of home cooks are scared to make anything that requires yeast, and I am here to tell you that you do not have to be intimidated! 
To activate the yeast, you must use lukewarm water. When I was on Masterchef Canada, I accidentally used boiling water, which immediately killed the yeast! You want the water to be a little warmer than room temperature. 
Really work the dough. If you have a stand mixer with a dough hook attachment, you can let the machine do the work kneading it! If you don't have a stand mixer, use the heel of your hand to push the dough away from you, then flip the far end of the dough over itself and pull it back to you. Repeat this process for about 10 minutes until the dough is nice and smooth.
Don't rush the raising process. You want the dough to double in size, and depending on the temperature of your kitchen, it can take between 75-90 minutes.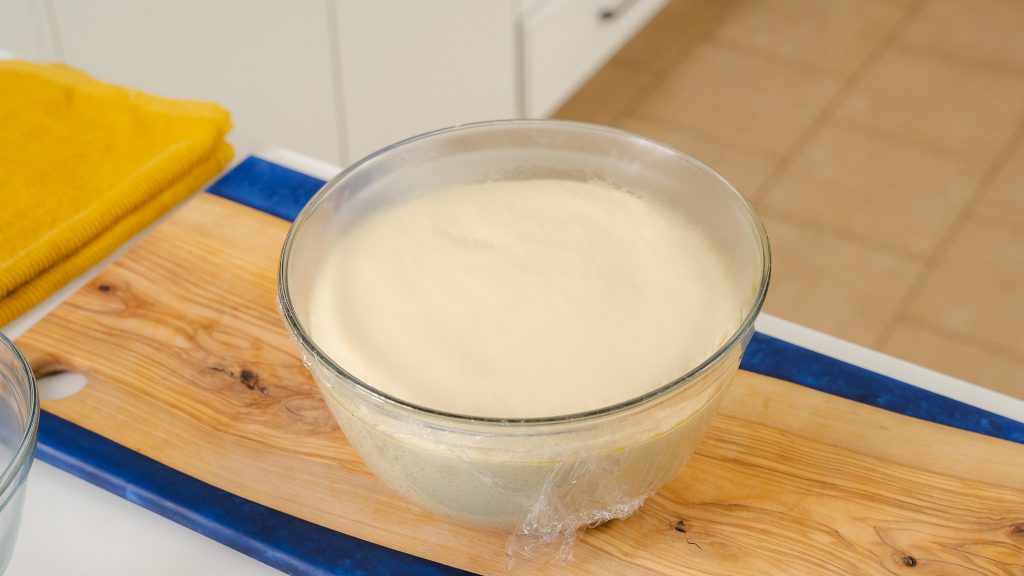 Steps for making this Dough
Activate the yeast.
Add in flour, salt, and olive oil
Knead the dough until smooth
Let the dough rest and double in size
Punch out the air
Divide into two pieces and roll into balls
Make Pizza (Follow this link to learn how to bake your pizza!)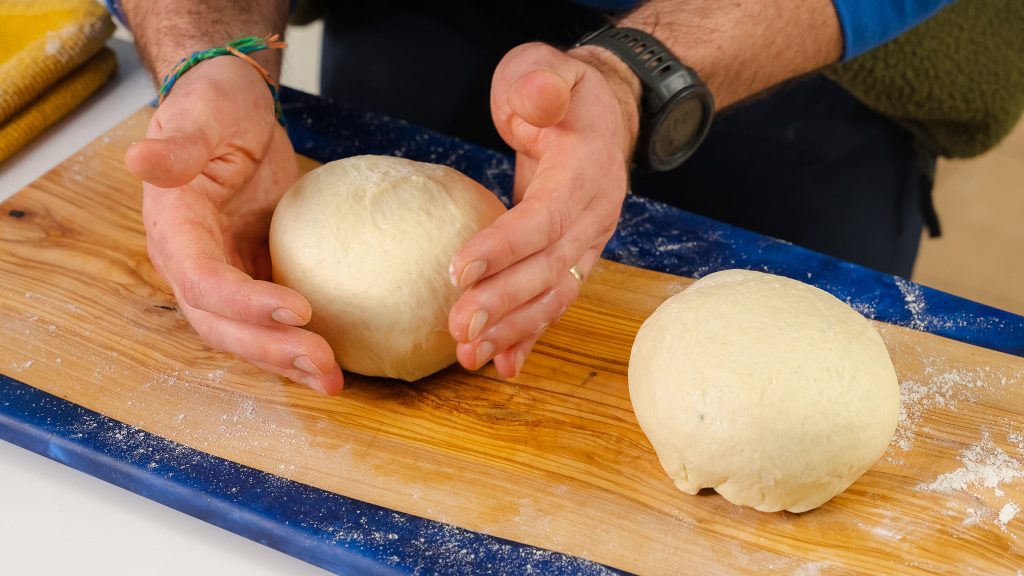 You can also make your homemade pizza dough in advance and freeze it. Go through all of the steps of making the dough and and forming into a ball. Place the dough ball into a ziplock bag, and toss in the freezer. When you are ready to use it simply remove from the freeze, allow to thaw and return to room temperature and then you are good to go!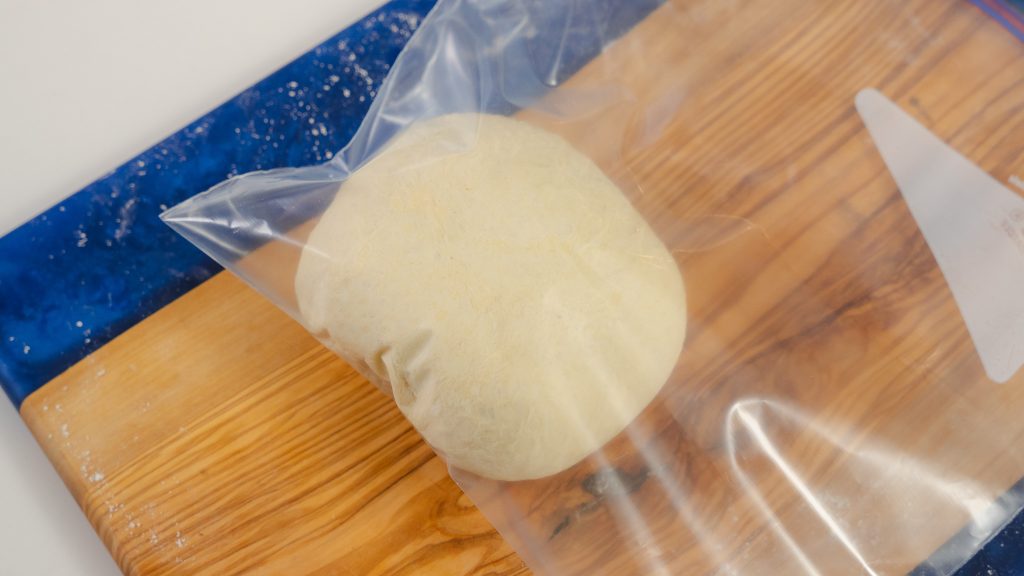 Other fun bread and dough recipes you should try
Homemade Pizza Dough
Print Recipe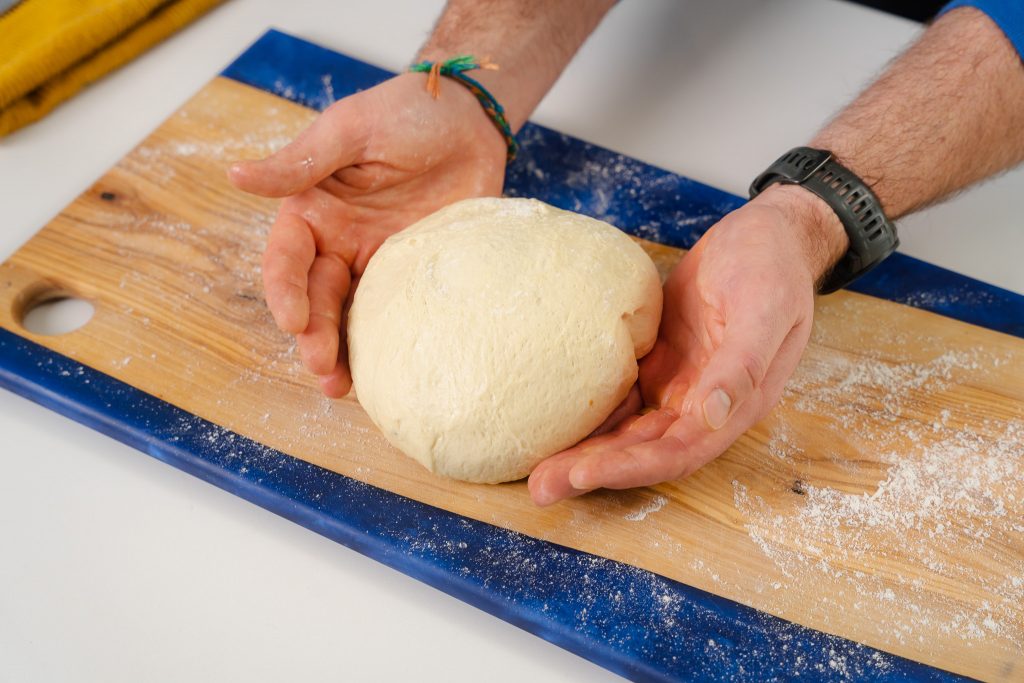 Ingredients
2

tsp

dry active yeast

1

tbs

sugar

1 1/3

cup

warm water

3

cups

flour

2

tbs

olive oil

1

tsp

salt
Instructions
Into a bowl add in the yeast, sugar, and water. Give a stir and let the mixture rest in a cosy spot in your kitchen for around 10 minutes or until the mixture gets nice and frothy.

While the yeast is activating, grab a large bowl and mix together the flour, salt, and oil. Once the yeast mixture is frothy, pour it into the flour mixture and mix with a wooden spot or your hands until a shaggy dough forms.

If you have a stand mixer, you can drop the shaggy dough into the mixing bowl, attach the machine with the dough hook attachment turn the mixer on high for 8-10 minutes. If you do not have a mixer, simply pour dough onto the counter and work with your heal of your palm. Really take out some frustration here. You want to dough to be smooth. If the dough feels too wet, add a sprinkle of flour. Too dry, wet your hands slightly under the tap and work the dough. It's a feel thing that you will develop. Do not rush this process. It will take about 10 minutes.

Once dough is smooth, form into a ball and place into a lightly oiled bowl. Cover with plastic wrap or a tea towel and let it rest in a cosy spot in your kitchen until it doubles in size.

Once dough has doubled in size, remove plastic wrap or tea towel and punch the air out of the dough. Roll the dough onto a lightly floured surface and cut the dough into 2 pieces and then form into 2 dough balls. Use immediately for pizza or freeze.
Print Recipe
(Visited 85,195 times, 6 visits today)