This recipe really pulls my heartstrings. My mother is originally from Newfoundland and comes from a long line of amazing bread bakers. The Blackwoods, my Nan's side of the family, were amazing cooks and bakers, and this recipe really connects me with that side of the family.
It would warm my heart so much for you to make this for someone you love. A freshly baked loaf of brown bread is like a warm hug from the soul!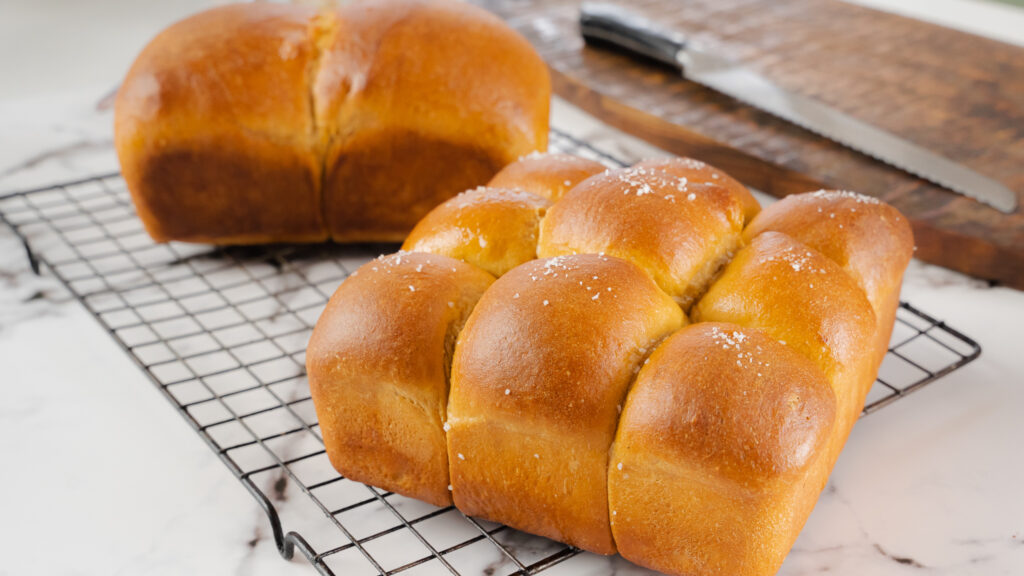 If you've lived in Nova Scotia, there is a chance you've come across one of the many versions of this brown bread before! While the ingredients have stayed the same for decades, the amounts of each of them are varied from family to family. This is the reason it is a classic in the maritime.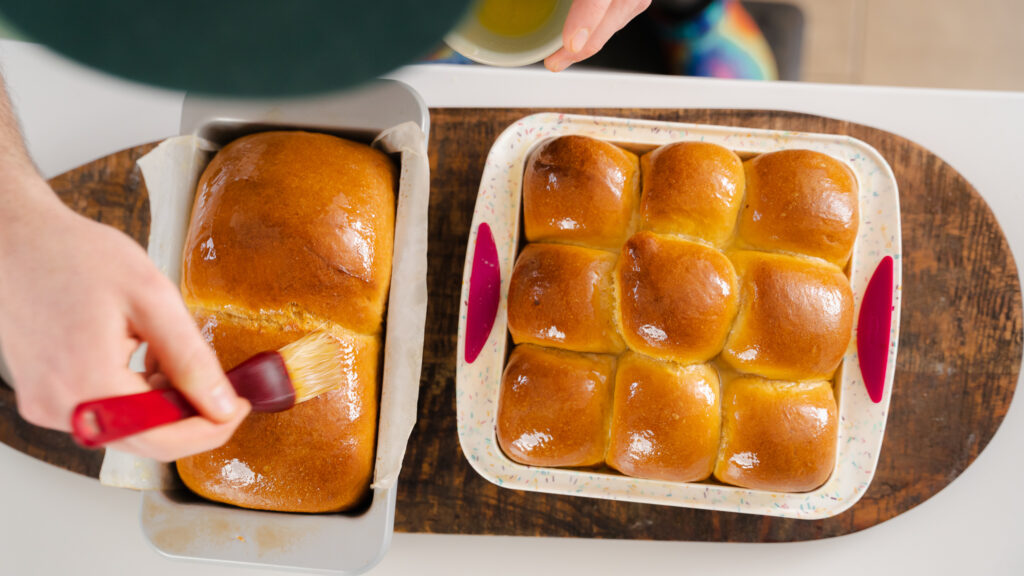 We have baked our fair share of bread here at the East Side Kitchen, and this recipe is no more complicated than my master dough recipe, which we've used for bagels, pretzels, and pizza dough, with a few substitutions and additions to the ingredients! 
The beautiful brown colour comes from using brown sugar instead of white sugar and the addition of molasses. Molasses are such an incredible ingredient and give that loaf of bread a lovely, deep flavour.
Tips for Nailing this Recipe
When making bread or dinner rolls, we must form the dough and then let it rise in the loaf pan or any other vessel you will bake them in. This is different from our master dough recipe, where we allow the rise to happen in a bowl, and then we form it. 
Butter or margins is your friend. Before baking, brush on some melted butter or margarine on top of the rolls or loaf. This gives a beautiful colour to the crust. I also like to brush some melted butter immediately after I remove the loaf from the oven, and it gives a beautiful shine to the crust!
This is an important step in all bread-making. Give the bread a moment to cool before cutting. If you cut the bread while it's still hot, you will lose moisture. Try to be patient! 
Brown Bread
Print Recipe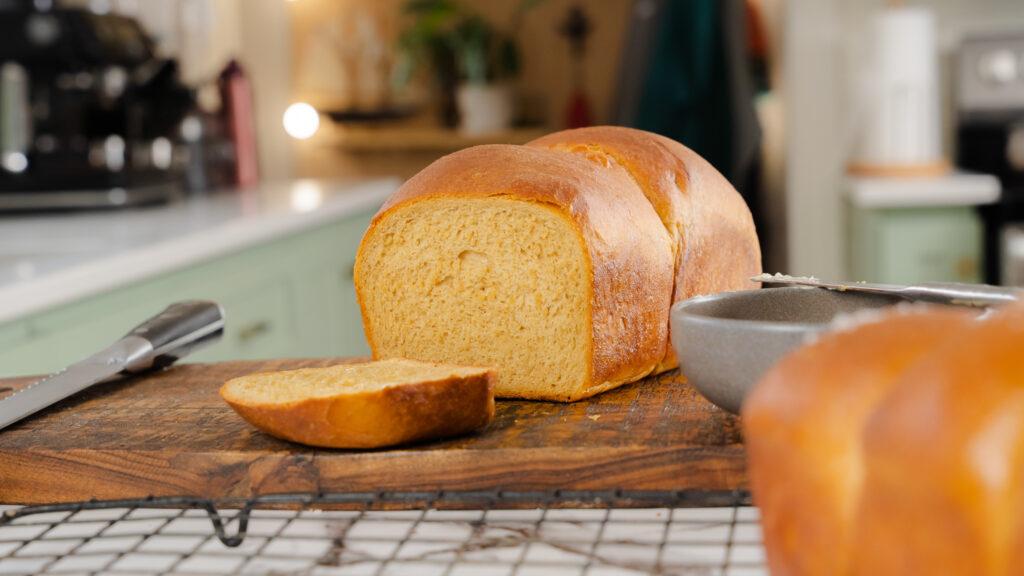 Ingredients
2

tsp

dry active yeast

1

tbs

packed brown sugar

1

cup

plus 5 tbs warm water

3

cups

AP flour

You may need a tbs or 2 extra if too wet

3

tbs

molasses

1

tsp

salt

1

tbs

oil

any oil works

2

tbs

melted butter or margarine

for brushing
Instructions
In a bowl add yeast, brown sugar, and warm water. Mix together and set off the side for 10 minutes. Yeast should begin to wake up and froth.

In a separate bowl add flour, molasses, salt, and oil. Once yeast mixture is nice and frothy, pour into flour mixture and mix together until a shaggy dough forms. Once dough is shaggy, pour onto lightly floured work surface and knead the dough for around 10 minutes or until the surface of the dough is nice and smooth. If you have a stand mixture with a dough hook ,you toss it in there and let the mixer do the work.

After the dough is smooth, cut in half and form two nicely formed dough balls. (Or 9 smaller dough balls if making dinner rolls). Place dough balls into parchment lined loaf tin if making bread, or 8×8 inch brownie pan for dinner rolls. Cover with a tea towel and let the dough rest and rise until it has doubled in size. Around 90 minutes. Don't rush this process as this is what gives light, airy dough.

Once dough has doubled in size, preheat the oven to 375F and brush the dough with melted butter or margarine. Place loaf pan into oven for 30-35 minutes or until the crush is deep golden brown.

Once cooked, remove from oven and immediately brush on more butter. Pause here and enjoy the smell. Doesn't get better than that.

Allow the loaf too cool in the loaf tin for 10 minutes before removing. Grab a bread knife, cut your self a thick slice and slather with butter. Pour a cup of tea, and really enjoy this moment. This is happiness to me.
Print Recipe
(Visited 42,139 times, 28 visits today)