There's truly nothing better then freshly made, right out of the oven Homemade Focaccia. It may seem like a daunting thing to make, but trust me, it couldn't be easier. Crispy, airy and soft; use it for the best sandwiches, on the side of a bowl of soup or as a base for homemade pizza. This is going to be the bread recipe of the summer we just know it; lets get baking!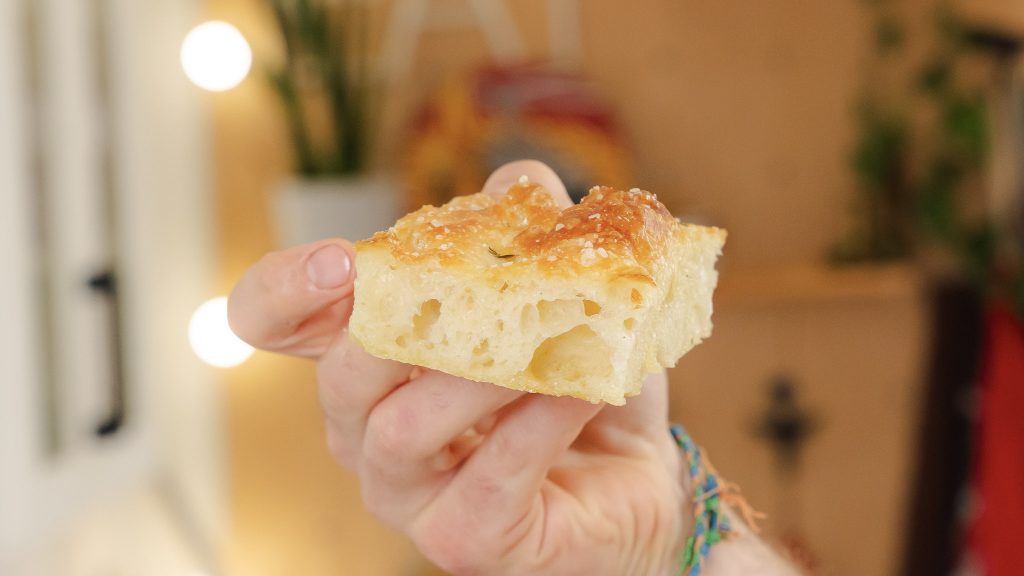 Tips on making the perfect Homemade Focaccia.
While this recipe does takes up to a day, we promise it's super easy, just keep these steps in mind and you'll have perfect Focaccia every time.
Don't over-knead your dough– In the first step, make sure the dough has come together enough that it's sticky but not smooth, this will help to make the much desired air bubbles.
Oil your dough– Focaccia dough if famous for being very sticky, the oil is going to make sure the dough won't stick to every surface or bowl you use. The oil is also going to keep your dough from drying out as it rests over night.
Let it rest– Focaccia dough needs to be very wet without adding a large amount of water, we make that happen by letting it rest in the fridge overnight and letting the flour continue to hydrate.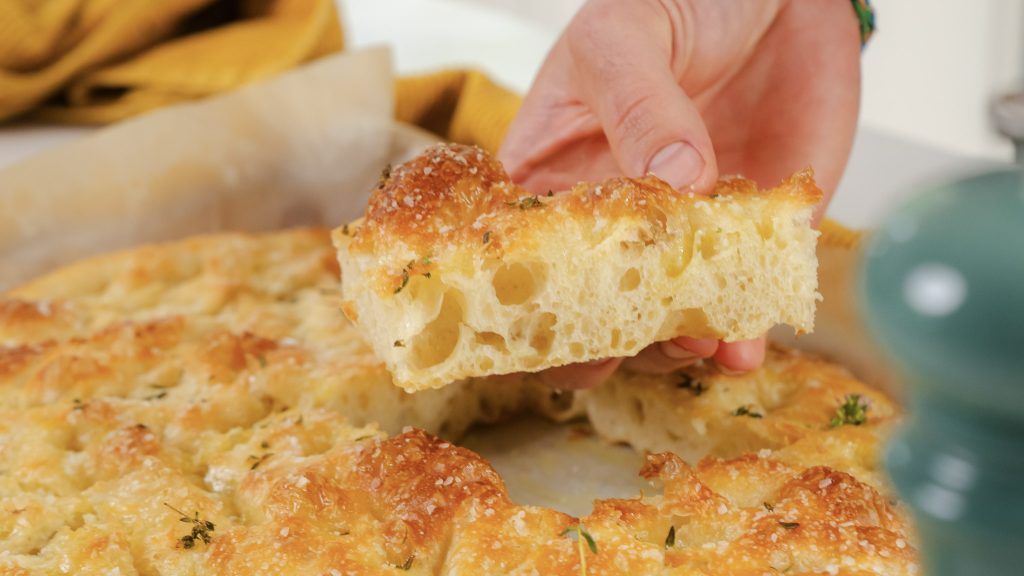 Key ingredients for Homemade Focaccia.
So much more than flour and water, this Focaccia recipe has a few ingredients that really make it shine.
Honey– A little bit of sweetness really goes a long way, helping balance out the fatty oils and lending a hand with creating that beautiful thick crust.
Olive oil– Like we said above, the olive oil is super important to this recipe; so why use a low quality oil that might not taste the best? When you're in the store, look for olive oils that say EVOO or Extra Virgin Olive Oil- these will usually have a more rounded flavour and be less bitter.
It's all about the toppings– The best part about making your own focaccia is how much you can customize it. We love using fresh or dried herbs, adding some chilli flakes or cheese is a great way to more out of each bite!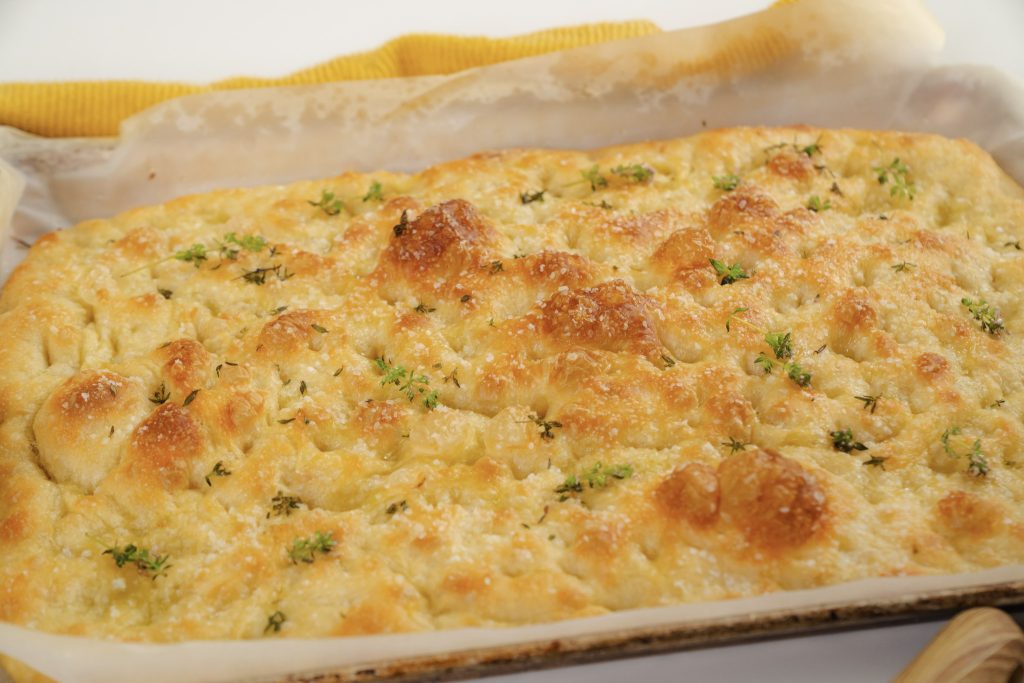 Focaccia might just go with everything.
Like we said above, there is so much use for this bread. Served on its own right out the oven is incredible in its own right, add a little bowl of quality olive oil and balsamic and you have a great start to your meal.
If you're looking to up your sandwich game, fresh focaccia is the king of the sandwich breads. So many nooks and crannies for mayos and aioli to sit, a hearty slice means you won't get soggy lunches anymore!
Because there is a decent amount oil in this bread it can be frozen for a while. Make a few loaves and pull it when you need it! A perfect quick side for any hearty or creamy soup.
Other recipes we think you should check out.
If you liked the sound of this Homemade Focaccia Bread, here are a few other recipes we think you should check out!
Two Ingredient Flatbreads (With Cheddar and Green onion)
Homemade Focaccia Bread
Print Recipe
Ingredients
450

ml

Water

Warm

1

tsp

Yeast

1

tsp

Honey

1

tbs

Olive oil

2

tsp

Salt

2 3/4

cups

Flour

600g

2

tbs

Olive oil
Instructions
In a large bowl, mix warm water, yeast, honey, olive oil, and salt. Using a wooden spoon mix.

Add in flour and mix with a wooden spoon until a shaggy dough forms. The dough will be very sticky. Let rest in a bowl covered with a towel for 10min.

After ten minutes fold the dough over itself 4 times. Allow to rest again for 10 minutes and repeat.

Now cover dough ball with olive oil, cover bowl with plastic wrap and then let sit in fridge overnight.

The next day remove dough from fridge and pour onto a well oiled baking tray. Allow dough to sit on tray for 2 hours. It will spread out.

After 2 hours add an additional ¼ cup of olive oil on top of dough and poke fingers into dough to spread dough to the edges. Top with salt.

Preheat oven to 425f and bake for 18-23 minutes. Remove, cut and enjoy.
Print Recipe
(Visited 14,809 times, 43 visits today)