These 3 ingredients, no yeast, no knead homemade bagels are protein packed and ready in 30 minutes. I wasn't sure how these would turn out, but they really blew my mind and my kids LOVE them. Made with just flour, greek yogurt, and baking powder, these homemade 3 ingredient bagels are easy and delicious which is a combination I love.
Lets bread down what you'll need
Flour- We used regular AP white flour
Greek Yogurt – This is whats going to give it some body. We like the texture of
Baking powder – A key ingredient that is going to give the bagels their required texture!
Egg- A great tip is to use a scrambled egg to give the bagel some colour and help you coat them with your favourite spices.
There is so much more than cream cheese
While a healthy spread of your favourite cream cheese is a classic go to (don't get us wrong we love it too!), this quick and easy 3 ingredient recipe is going to free you up for so many more flavour possibilities. Pick up a pack of smoked salmon , fresh dill and a red onion. Or maybe a a few slices of Montreal style smoked meat and spicy mustard. But why stop there, the world is your bagel!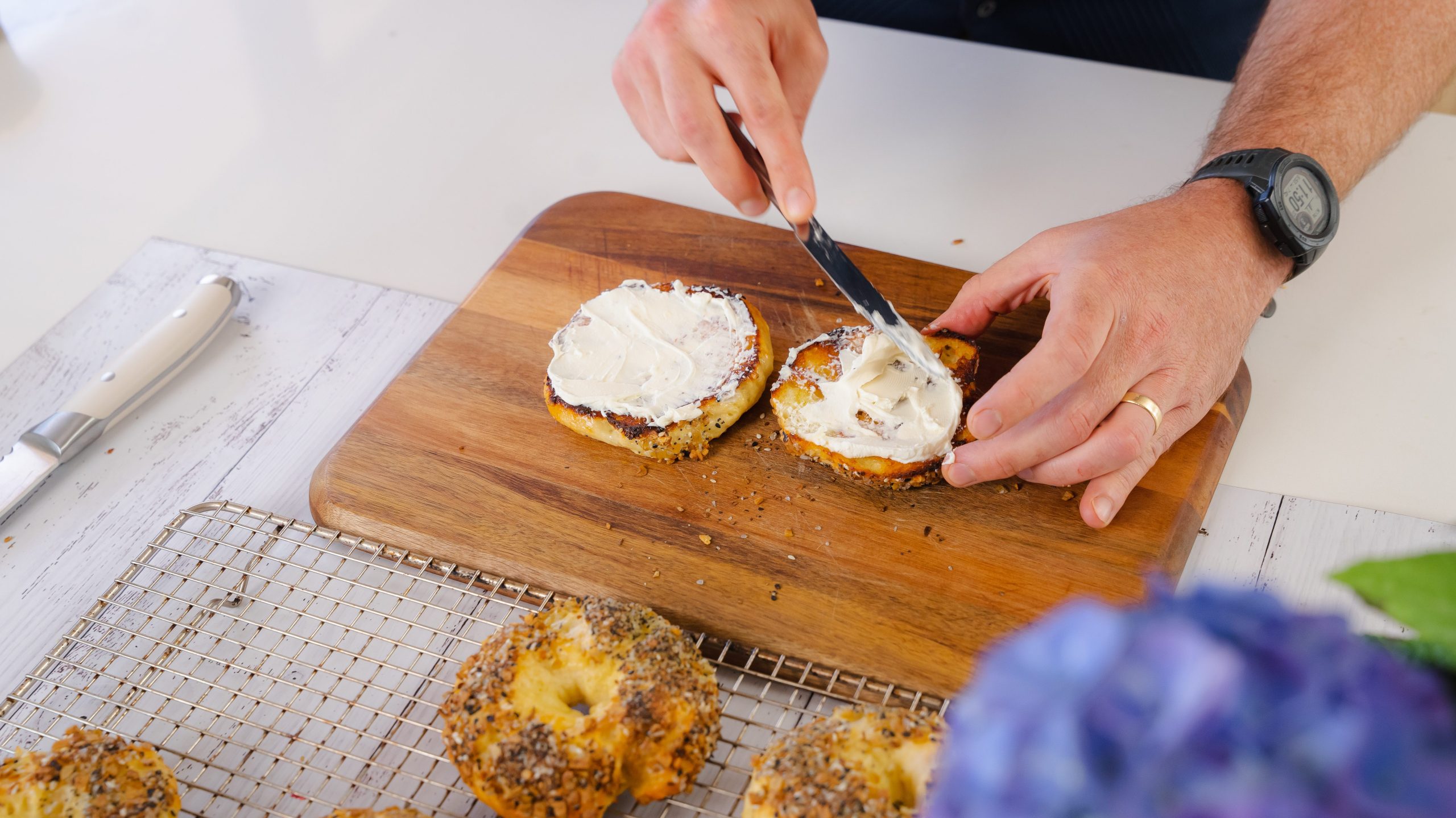 Not sure how you want to dress up your bagels? Click here to see some our other easy breakfast recipes and get inspired!
3 Ingredient Bagels
Print Recipe
Ingredients
3

cups

All purpose flour

3

cups

Greek yogurt

4 1/2

tbs

Baking powder

1 1/2

cups

Everything bagel spice

2

tsp

salt

1

large

Egg
Instructions
Preheat over to 400F and line a baking sheet with parchment paper.

Into a bowl pour in flour, greek yogurt, salt, baking powder, and salt. Using a wooden spoon mix together until a shaggy dough forms. Pour out onto a lightly floured surface and knead the dough with your hands for about 2 minutes. 

Divide the dough into 9-12 equal sized balls. Using your thumb and index finger pinch through the middle to form a hole in the middle of each ball. Gently stretch them and then place on a parchment lined baking sheet.

Brush on egg wash and them gently drop the egg washed side of the bagel into the everything bagel seasoning. Feel free to use any flavouring you like. 

Place the bagels on the baking sheet and bake for 30 minutes. Remove from the oven and allow to cool. Toast and enjoy.
Print Recipe
(Visited 68,362 times, 58 visits today)