This french toast casserole is an amazing brunch idea when hosting a crowd. Delicious, budget-friendly and easy to whip up in advance, you will find yourself coming back to this recipe anytime you have a crew coming for brunch.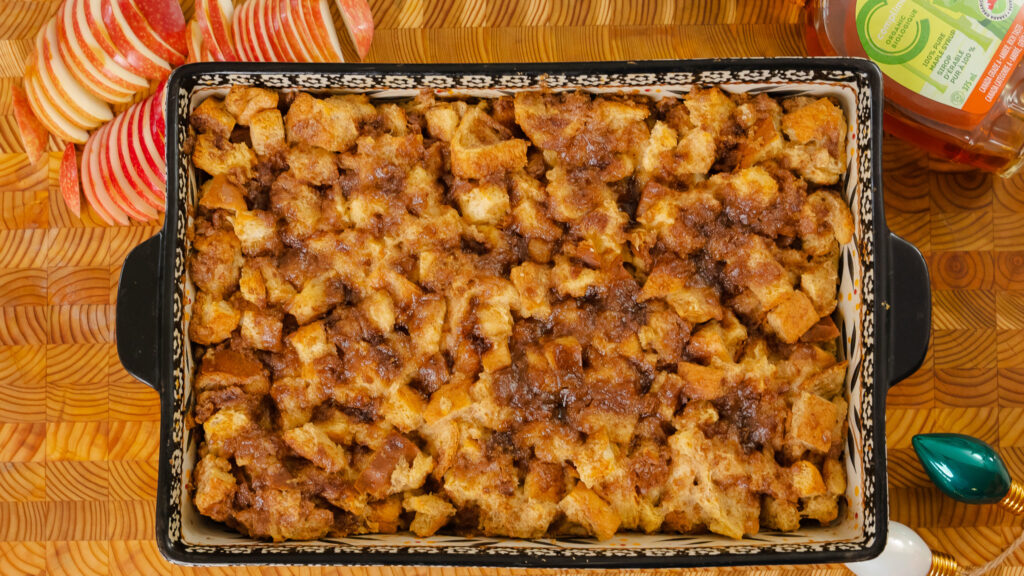 Similar flavours to the classic french toast, but in fact, I enjoy this recipe even more. The crispy edges from baking and the brown sugar crumble really make this casserole a delicious brunch option. Serve with fresh whipped cream, Canadian maple syrup, and bacon, and you are set up for a pretty amazing day!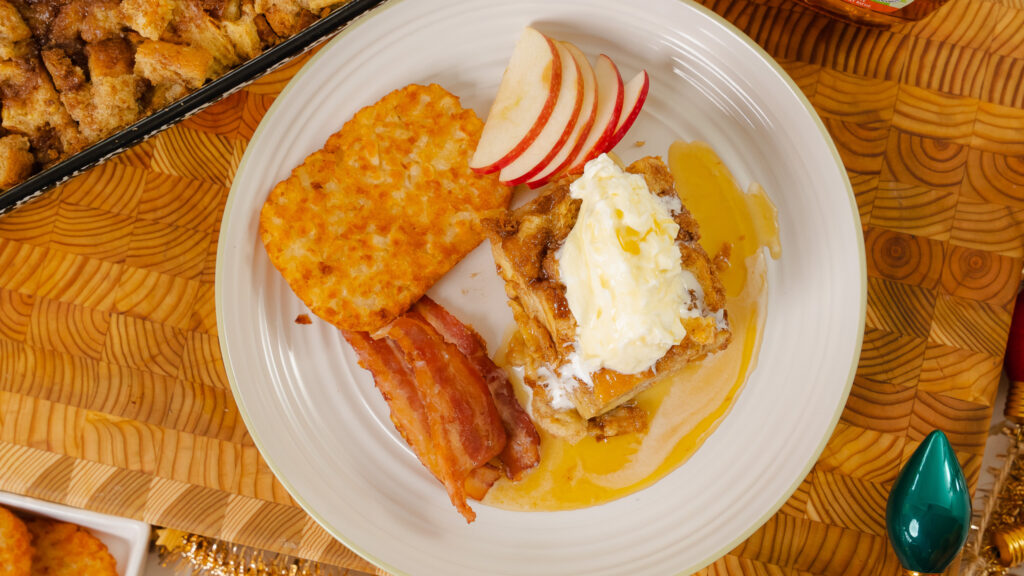 Let's Breakdown The Ingredients!
French toast is a classic breakfast and brunch dish. You only need a few key ingredients to make regular french toast, but today I've added a little twist to this to make this a fun one!
To make this french toast casserole recipe, you will need a loaf of bread, eggs, milk, maple syrup, vanilla extract, cinnamon, nutmeg, and salt.
You can't make french toast without bread, and for this recipe, I used a loaf and half of white bread, diced up, to make this unique morning casserole.
To help create a structure for this dish, I used the classic ingredients of milk and eggs to combine the ingredients and flavours together.
Maple syrup adds a wonderful natural sweetness and woodsy flavour to the casserole. And the vanilla extract helps enhance those ingredients like milk and gives the dish an overall beautiful vanilla taste and smell.
To give this recipe a bit of spice, I used cinnamon, nutmeg, and a pinch of salt. The cinnamon has a slightly sweet and woodsy taste that helps balance the other sweet ingredients. Nutmeg is a very aromatic spice that adds a bit of warmth and nutty flavour.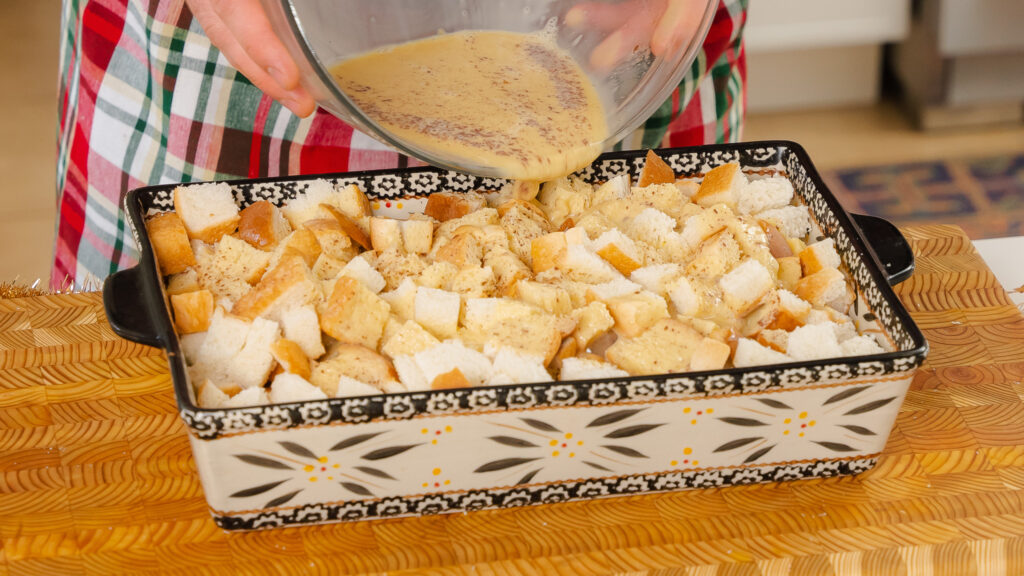 Brown Sugar Crumble
This french toast casserole is topped with a delicious brown sugar crumble. It is made simply with brown sugar, cinnamon, and grated butter. The sweetness of the brown sugar is balanced with the warm and woodsy flavour of cinnamon and creamy butter.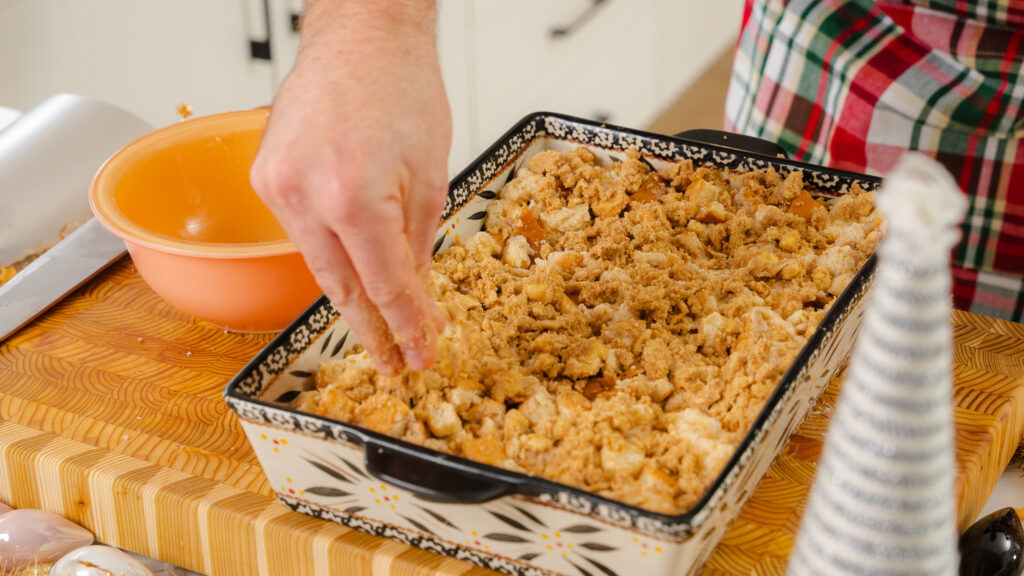 Give this one a try, and enjoy it!
French Toast Casserole Recipe
Print Recipe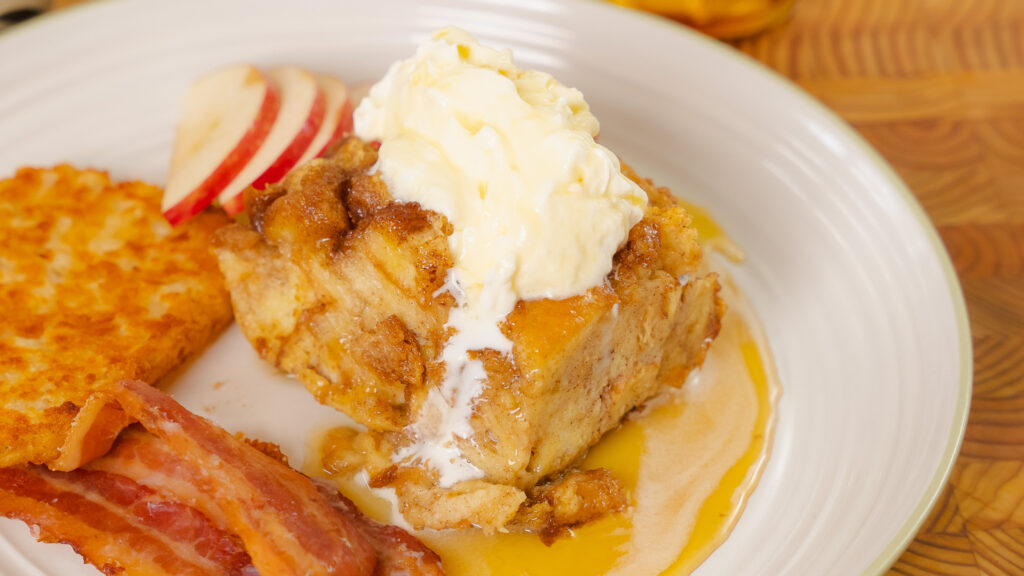 Ingredients
1 1/2

Loaf Bread

10

Eggs

2

cups

Milk

1/2

cup

Maple Syrup

1

tsp

Vanilla Extract

2

tsp

Cinnamon

1/4

tsp

Nutmeg

Pinch

Salt
Brown Sugar Crumble
1/2

cup

Brown Sugar

1

tsp

Cinnamon

1/4

cup

Grated Butter
Instructions
Cut bread into bite-sized pieces and drop into a greased 13X9 inch casserole dish.

In a bowl, whisk together eggs, milk, maple syrup, vanilla, cinnamon, nutmeg and salt. Pour over bread.

In a small bowl, mix together brown sugar, cinnamon, and grated butter. Sprinkle this mixture over the top of the casserole.

Cover the casserole with tin foil and allow to rest in the fridge for 2 hours or up to overnight.

After the casserole has set, place into an oven preheated to 350 F and bake covered for 25 minutes. Next, remove tin foil and bake for another 20 minutes or until the top is nice and golden brown.

Remove from the oven, and serve with whipped cream and maple syrup.
Print Recipe
(Visited 14,358 times, 2 visits today)