I have been getting asked for a long time to work on a bread recipe that can be enjoyed by my gluten-free followers. Well, here it is! This gluten-free country-style bread is super delicious. Great airy texture, fairly easy to make, with great flavour and a beautiful crust. I have tried a lot of gluten-free bread, and this is by far my favourite!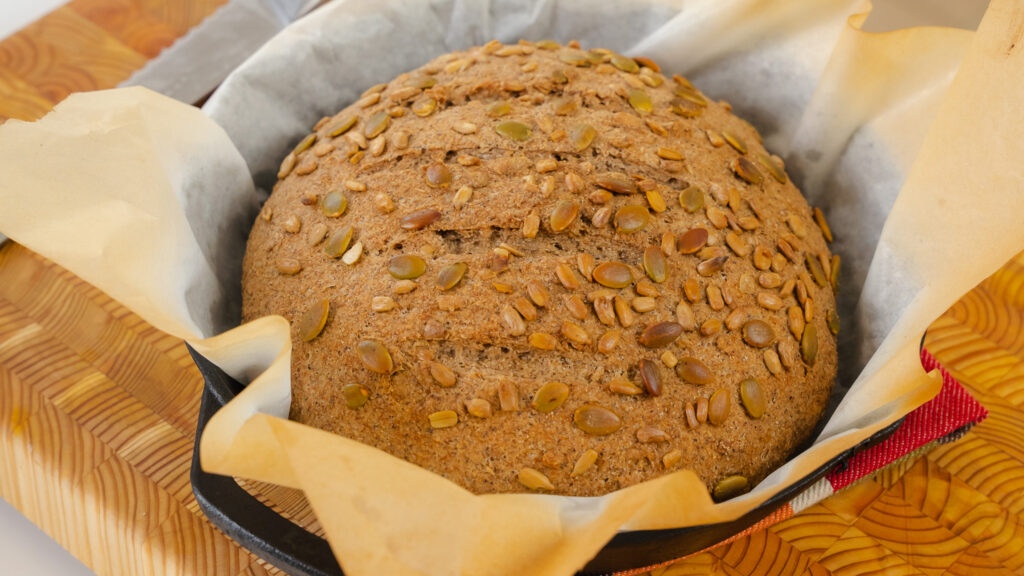 Bread is one of the great pleasures of life. I am not Gluten free, but I would imagine that not being able to enjoy bread would be really challenging. As such, I really wanted to do some recipe testing to find a recipe that people who cannot have gluten could enjoy, and I really think this Gluten-free country-style loaf is a winner!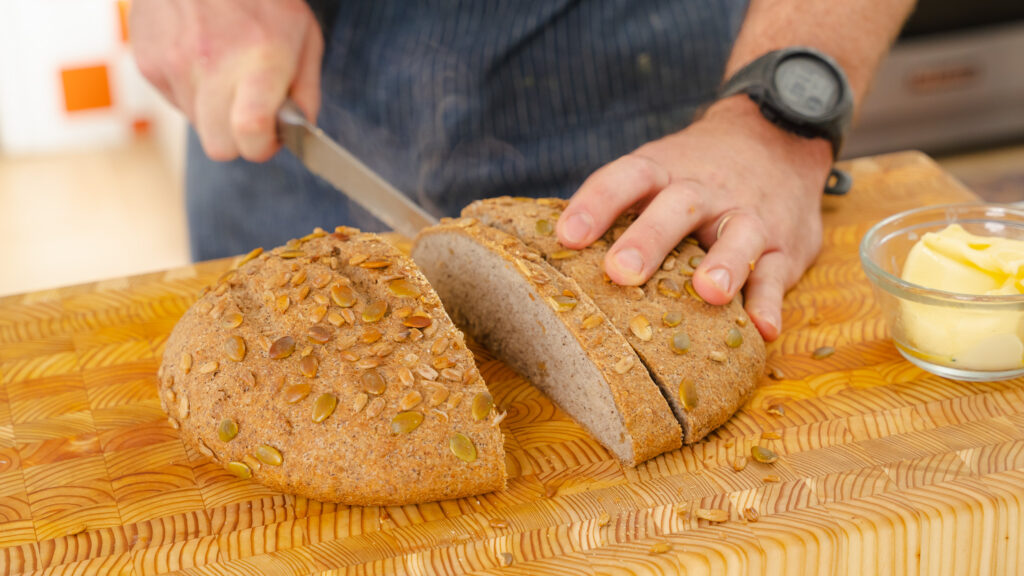 Let's breakdown the ingredients!
Buckwheat flour
Cornstarch
Brown rice flour
Psyllium husk
Instant yeast
brown sugar
sunflower seeds
olive oil
salt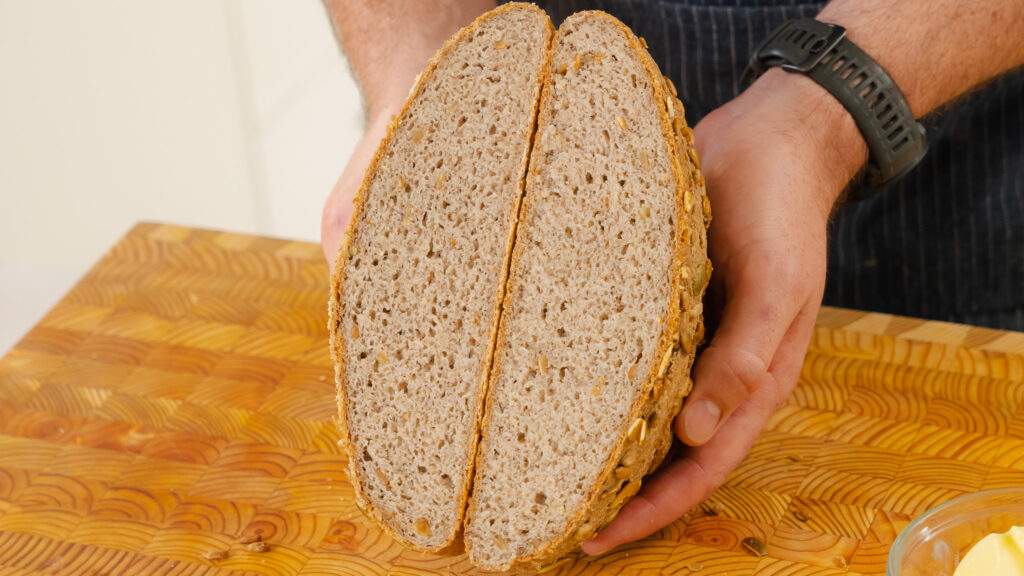 The secret ingredient!
The secret ingredient for this country-style loaf is psyllium husk. Psyllium is a form of fibre that can also be used as a thickening agent in cooking. Without going to deep into the science, psyllium husk and water is used as a replacement for gluten. When you mix psyllium husk with warm water, it turns into a putty that mimics gluten. The mixture gives the bread a stretchiness that gluten-free mixers usually are lacking.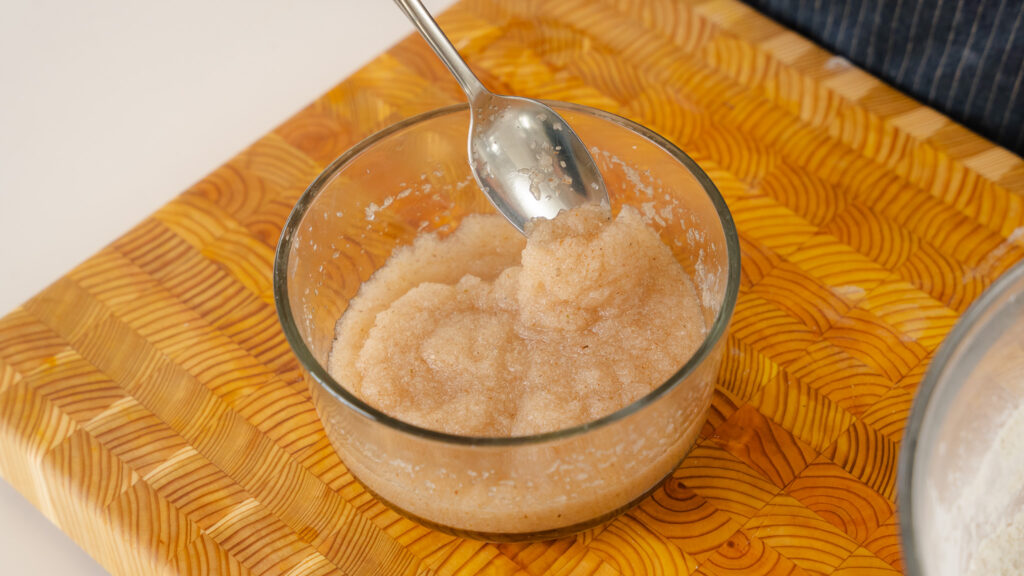 Tips for nailing this Gluten free bread
Make sure you purchase psyllium husk and not psyllium powder. I was able to buy mine at Bulk Barn locally.
Don't go shy on the mixing. Once you have all of the ingredients mixed together in the bowl, really work the dough with your spoon. The mixture will seem like a paste but trust the process here.
Heavily flour your working surface. Once you pour the dough out onto your work surface, it still may feel fairly wet. Don't be shy to sprinkle on up to an additional 1/2 cup of buckwheat flour as needed. You want the dough to still be sticky.. but not too sticky.
Preheat your oven and a cast iron pan for 30-40 minutes. Any heat-absorbing pan will do the trick. Don't skip this step as you really need a HOT pan to help the bread rise and give you a sturdy, crunchy crust.
Create a humid oven for the first 30 minutes. A humid, steamy oven makes the bread "spring" or rise. Prior to placing the bread in the oven for the first 30 minutes, place a baking pan on the bottom rack of the oven and cover it with water. The steam will help the baking process. You can remove it after 30 minutes.
Slice the top of loaf for even baking
Let the bread rest after baking. Never cut bread that is right out of the oven. As tough as it is, give the loaf 10 minutes to cool on the counter before slicing!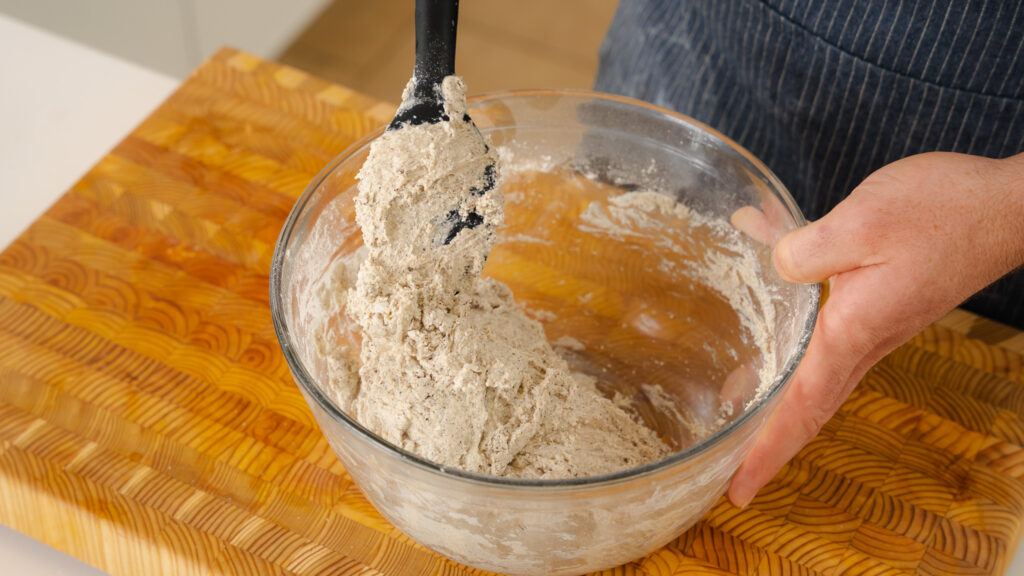 Buying gluten-free ingredients
Most of these ingredients should be available at most grocery stores. Specialty stores will absolutely stock these ingredients. If shopping for ingredients in Canada, check Bulk Barn, as that is where I bought mine 🙂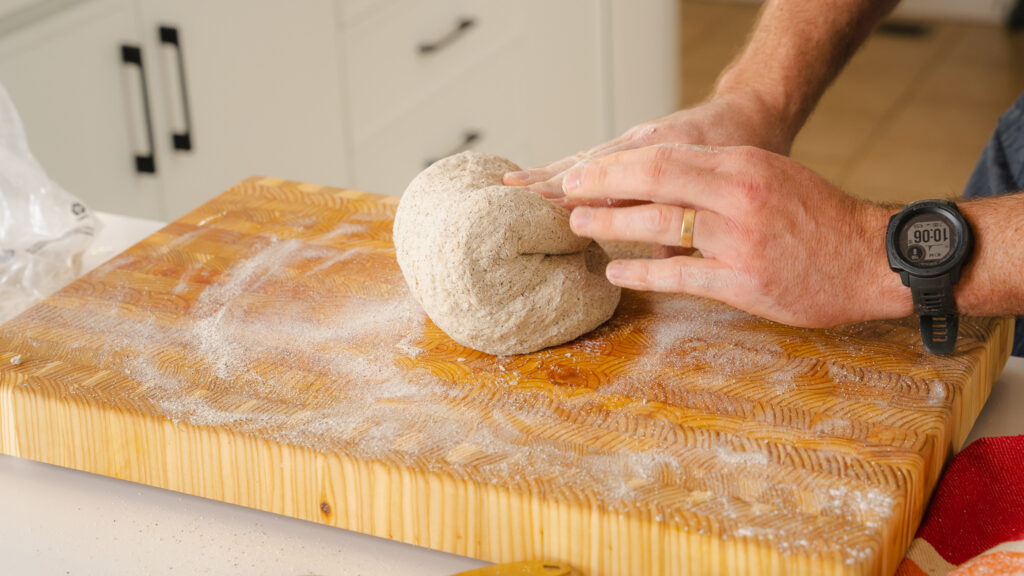 Gluten free country style bread
Print Recipe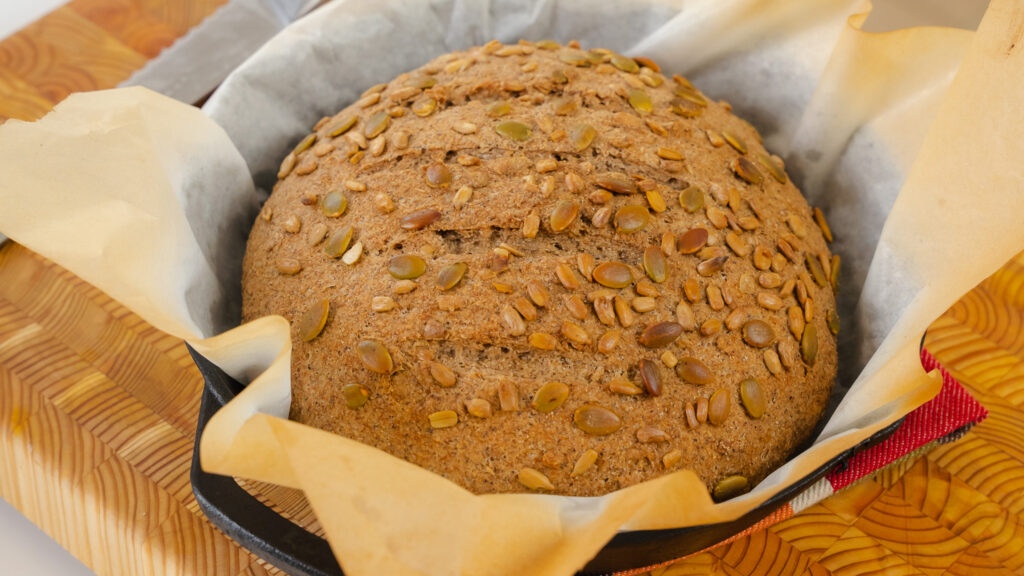 Ingredients
Dry ingredients
2 1/2

tsp

instant yeast

2

tsp

brown sugar

1 1/2

cups

buckwheat flour

3/4

cup

cornstarch

potato starch works as substitute

2/3

cup

brown rice flour

2

tsp

salt

1/3

cup

sun flour seeds (optional)
Psyllium husk gel
1/4

cup

psyllium husk

1

cup

warm water
Wet ingredients
1 1/2

cups

warm water

2

tsp

apple cider vinegar

1 1/2

tbs

olive oil
Seed topping (optional)
1/4

cup

pumpkin seeds

1/4

cup

sunflower seeds
Instructions
In a bowl whisk together yeast, sugar, buckwheat, corn starch, brown rice flour, and salt.

In a separate small bowl mix together psyllium husk and 1 cup of warm water. Continue to stir until a gel like mixture forms.. how cool is that? Add the gel to the dry ingredients.

Next up pour 1 1/2 cups warm water, olive oil, and 2 tsp of apple cider vinegar into the dry ingredients. Using a spatula mix the dough. At first it will seem more like a paste than a dough, trust the process here. Continue to stir the mixture for about 5-10 minutes until the dough easily comes off the sides of the bowl.

Now heavily flour your working surface with buckwheat flour and plop the dough out on to the counter. Flour your hands and start kneading the dough over itself on the counter. The dough may feel very sticky and that is ok. Add additional flour as needed. Dough should be sticky, but shouldn't stick to your hands while kneading. Work dough into a ball shape. You are doing great!

Next up pour pumpkin and sunflower seeds onto the counter top and drop the top smooth side of the dough ball on top of them. Flip dough over and place on a parchment paper lined baking try. Cover dough with a clean tea towel and let the dough rise for 60-90 minutes or until it has doubled in size.

After the dough has been rising for about 40 minutes, preheat the oven to 450F. Place a cast iron pan (or any pan that absorbs heat) into the oven. Once dough is done rising place a baking sheet or pan into the bottom rack of the oven and fill with water. This creates a humid, steamy environment which helps the bread rise.

Once dough has doubled in size, remove tea towel, and with a sharp knife create small slits on top of the bread loaf. Now, VERY CAREFULLY remove hot cast iron pan from oven and place the parchment paper and dough onto the pan. Place pan into the humid oven and bake for 30 minutes.

After 30 minutes of baking remove the water pan at the bottom of the oven and bake the loaf for another 30 minutes or until it is nice and browned.

Let loaf cool for 10 minutes and then slice and enjoy!
Print Recipe
(Visited 16,276 times, 10 visits today)