This crunchy, spicy, sweet, happy hour snack is a major crowd pleaser. A perfect, shareable snack to make for when you are having people over, or a fun meal to enjoy yourself!
I love cooking with cauliflower. Cauliflower is a vegetable that can withstand high heat, and is really good at absorbing flavour. For this recipe we will break the cauliflower into bit sized florets. Making sure the cauliflower florets are not too big as it really impacts the eating experience. The last thing you want is a massive hunk of scalding hot cauliflower in your mouth. Keep the bites smaller as this increases the crunchiness, and ensures a more lovely eating experience.
Gochujang Maple Sauce. You are going to want to make this!
This gochujang maple sauce is amazing. Sweet, spicy, and the perfect sauce for these cauliflower bites or for chicken wings. The base of the sauce is gochujang, a Korean condiment made from fermented red chillis. You can now find this in most major grocery stores, but if you are having trouble be sure to check your local asian grocer as they will likely have it. Gochujang has a sweet, spicy, funky flavour that is really crave-able. I find it balances really well with maple syrup and the combination is incredible. Sweet + Spicy = Lovely!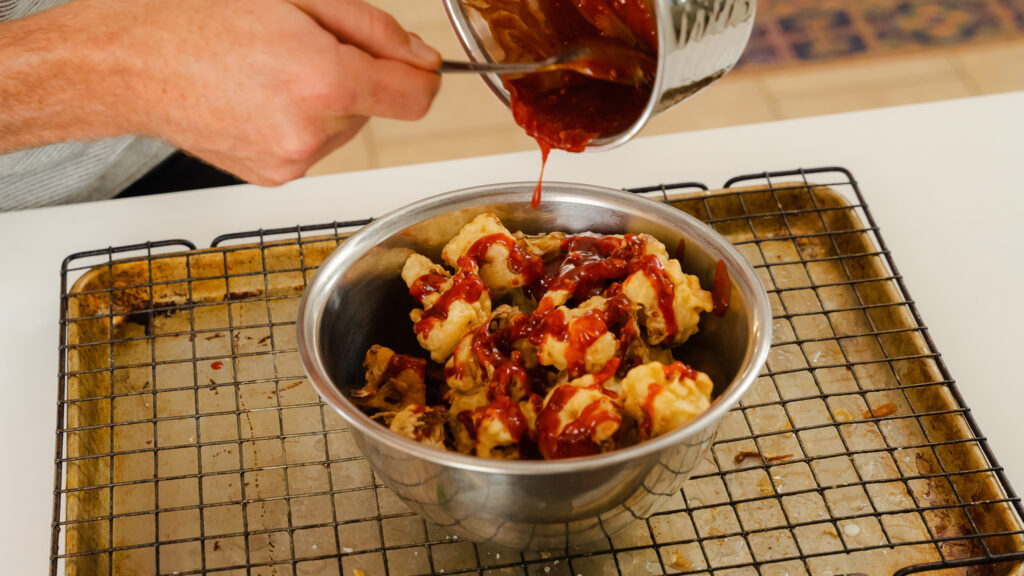 Crunchy cauliflower batter
These cauliflower bites are crazy crunchy. The key here is to use rice flour. Rice flour has become one of my favourite ingredients to have in my party as it makes everything SO crispy. The batter is made using rice flour, corn starch, salt, onion powder, water and an egg.
First-time deep frying? Here is what you need to know.
Deep frying can be intimidating, especially if it's your first time, but I'm here to give you some tips to show it won't be as scary once you follow some basic ground rules!
Water and hot oil do NOT get along. It's important to never put water, even wet utensils, in oil as it will start to splatter like crazy.
Use a candy or digital thermometer to check the temperature of the oil.
Using a high smoke point oil such as canola, peanut, or vegetable oil, but NOT olive oil. 
Use a high-walled pot or dutch oven. This helps prevent the unlikely event of oil bubbling too aggressively and helps keep the oil contained.  
Don't overcrowd the pot. It's important to maintain the temperature of the oil, and overcrowding the pot will cause the temperature of the oil to drop, which can result in soggy, oil-soaked fish. 
Place a wire cooling rack or paper towel beside your pot so that you can drain what you're frying when it comes out of the oil. 
In the absolutely worst-case scenario, if the oil somehow caught fire, stay calm and sprinkle baking soda over the pot or use a fire extinguisher to stop the flames. I have never seen this happen, but it's sometimes good to know what to do in the worst case!
Gochujang maple cauliflower wings
Print Recipe
Ingredients
1

head

cauliflower, broken into bite sized florets
Cauliflower Batter
2

cups

rice flour

1

tbs

corn starch

1

tsp

salt

1

tbsp

onion powder

1

egg

1 1/4

cup

water
Gochujang Maple Sauce
6

tbsp

gochujang paste

4

tbs

soy sauce

low sodium

4

tbs

maple syrup

Honey works

2

tbs

rice wine vinegar

2

cloves

garlic, minced

1

inch

ginger, minced
Topping
1

cup

green onions, sliced

1/4

cup

sesame seeds
Instructions
Let's start with the oil. Pour about 3-4 cups of oil into a large, high walled pot. You want about 2 inches of oil. Slowly bring up the temperate of the oil to 375F. While oil is heating, let's kick on to the rest of the prep.

Break apart your cauliflower into bite sized florets. I like smaller florets as it results in a more crispy bite.

In a large bowl whisk together rice flour, corn starch, salt, and onion powder. Then crack in the egg and pour in the water. Whisk until smooth. You want the consistency of a loose pancake batter. If it seems too thick add in a tbs of water. Too runny? Add in a tbs of rice flour.

Next the sauce. In a small sauce pan add in the gochujang, soy, rice wine vinegar, maple syrup, garlic, and ginger. Place over medium low heat. Stir regularly until everything combines.

OK, frying time. Before you start grab a baking sheet and line it with paper towel. Now dip the cauliflower florets into the batter. I do this one of two at a time. Remove from batter and allow excess to drain off. Gently drop the battered cauliflower into the oil and allow to fry until a deep brown. The longer you can wait, the crispier it will be. Do not over crowd the pot as it will drop the temperature of the oil.

Once you have fried all of the cauliflower place in a bowl, season with salt, and then pour over the warmed gochujang sauce. Toss the cauliflower bites until fully covered.

Place coated cauliflower bites onto plate or in a bowl and top with sliced green onions and sesame seeds. Enjoy with a cold beer if that is your thing.
Print Recipe
(Visited 9,495 times, 7 visits today)