In our house we drink a lot of smoothies. It's one of the few times I am able to slam my kids full of vegetables and "healthy stuff" without them knowing. My oldest daughter can be.. specific in her desires and loves having her smoothie in a cup with a spoon. This gave me the idea of doing a proper smoothie bowl recipe!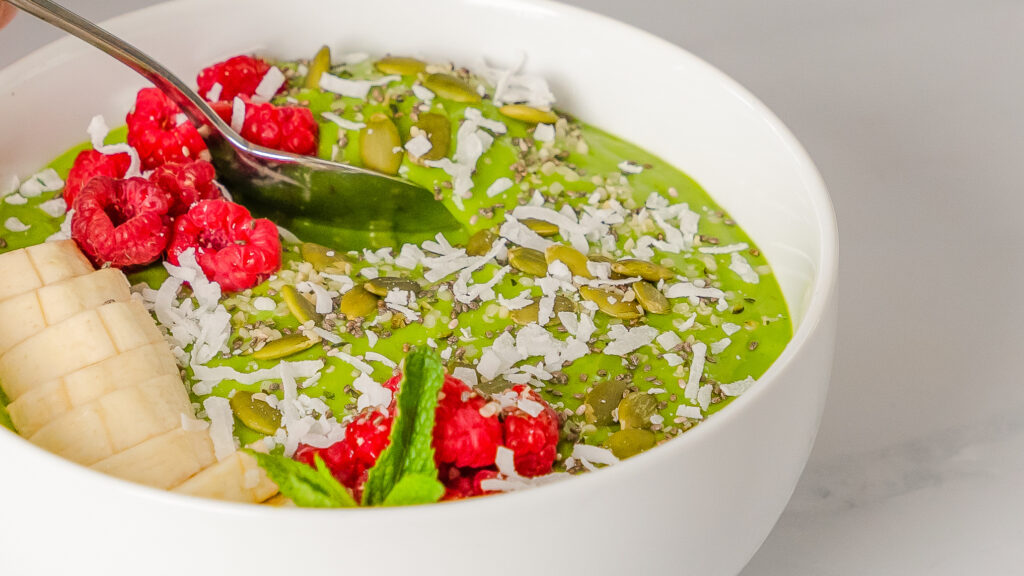 How are smoothie bowls different than normal smoothies?
Great question! Short answer is that they are basically the same thing except one is served in a bowl and one is served in a cup. Beyond that there are a few key differences. Firstly, the consistency of the mixture for a smoothie bowl is thicker. I like to have mine close to a frozen yogurt style thickness. I achieve this by adding in ice cubes while blending. This thickens the mixer. Beyond the consistency, the smoothy bowl offers an amazing opportunity to add more texture and flavour with the addition of toppings. I love adding on more fruit, seeds, and nuts in an effort to make the smoothie bowl eat more like a meal.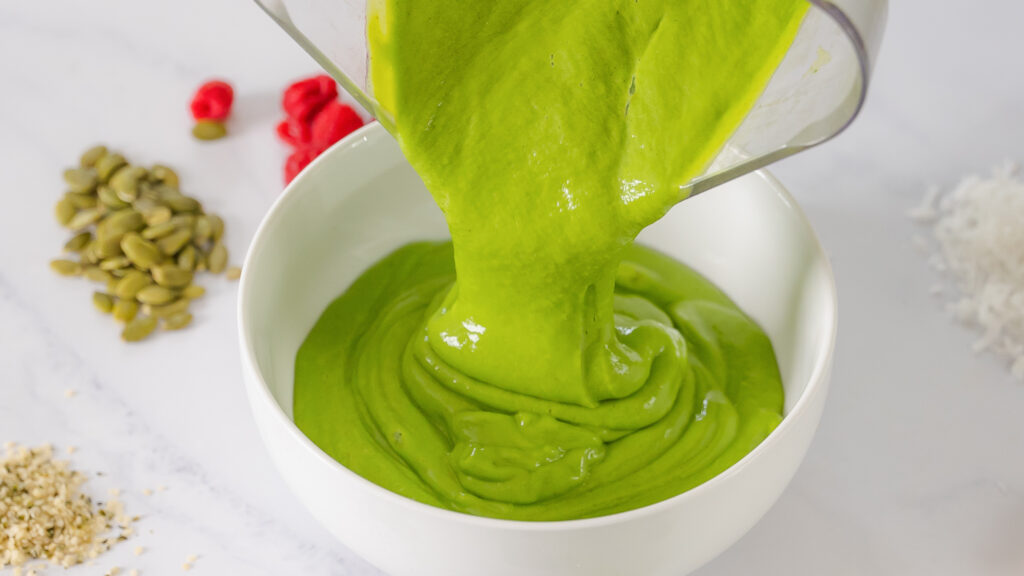 Let's breakdown the ingredients!
I wanted this smoothie to be PACKED with greens and be a light, bright, fresh way to start the day. So the first, and most important, ingredient is spinach. I used fresh but you could absolutely use frozen as it's significantly cheaper and will mean you can add less ice to your mixture. From there I added a handful of mint for both its colour, but more importantly for the freshness it brings. From a sweetness perspective we use frozen mango which lightens up the colour and brings a lovely texture and sweetness that this smoothie bowl needs.
I chose to use almond milk, but feel free to use whatever milk you have on hand. I also tossed in a banana, lemon juice, ice, hemp seeds, and chia seeds,
Toppings. You can take this in any direction you choose, but I decided to add on raspberries, banana, pumpkin seeds, chia seeds, hemp seeds, and shredded coconut.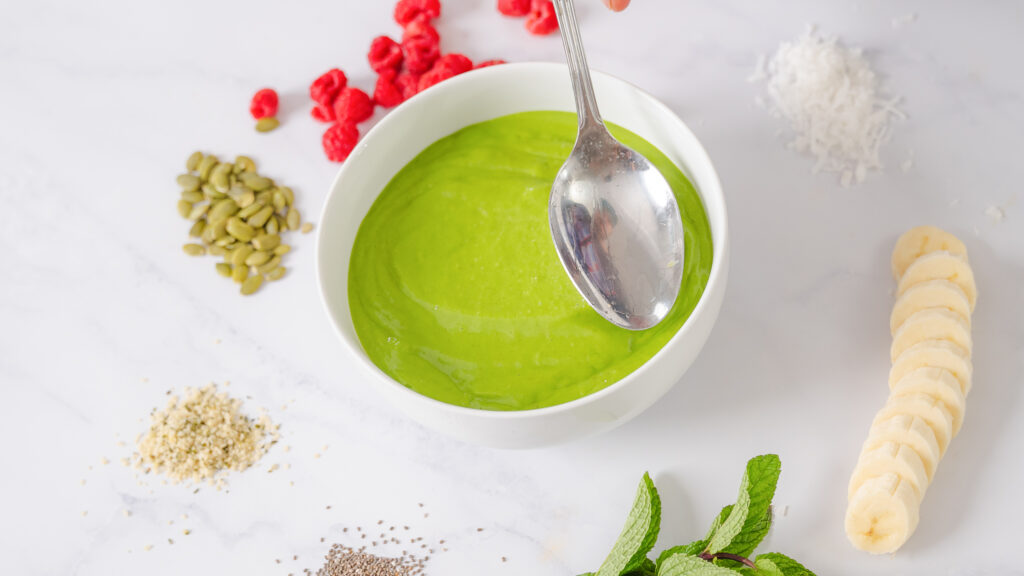 Green Machine Smoothie Bowl
Print Recipe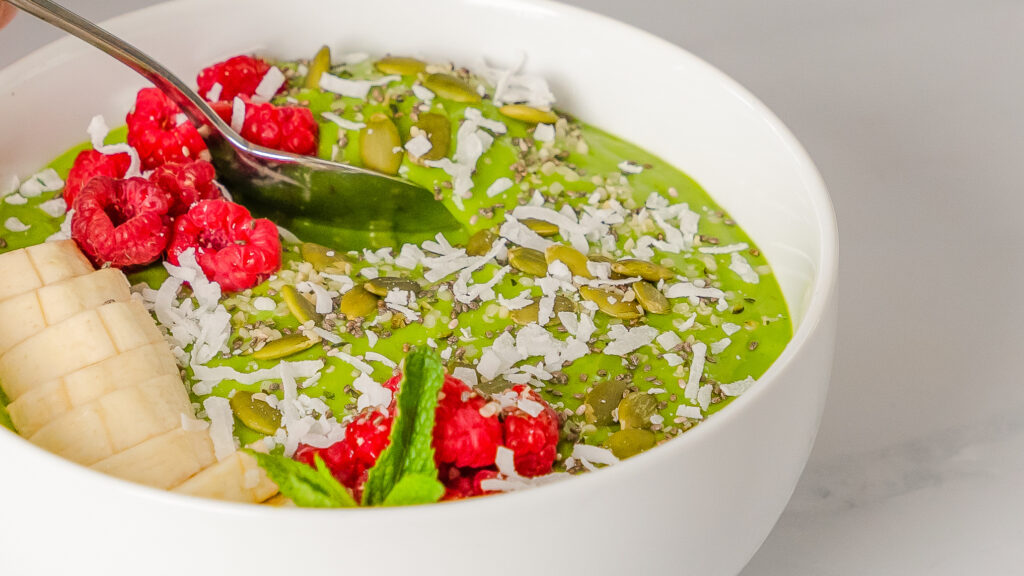 Ingredients
2

cups

spinach

Frozen or fresh is fine

1

cup

fresh mint

2

cups

frozen mango

1

cup

almond milk

1

tbs

lemon juice

1

banana

2

tbs

hemp seeds

1

tbs

chia seeds

1

cup

ice
Topping
1/2

cup

raspberries

1

banana, sliced

1/4

cup

pumpkin seeds

1/4

cup

shredded coconut

1/4

cup

chia seeds
Instructions
Add spinach, mint, mangos, almond milk, lemon juice, ice, hemp seeds, chia seeds to the blender. Turn on high and blend. If mixture gets stuck you can push down with a wooden spoon or add a small amount of water. Blend until smooth.

Top with toppings and serve!
Print Recipe
(Visited 2,880 times, 1 visits today)