Nothing marks the end of a great beach day more than a basket of fresh french fries. French fries are really one of the greatest comfort foods out there!
Making your own french fries is a very satisfying process, and I believe it results in the best fries you will ever taste. It's a labour of love, but that's the secret ingredient!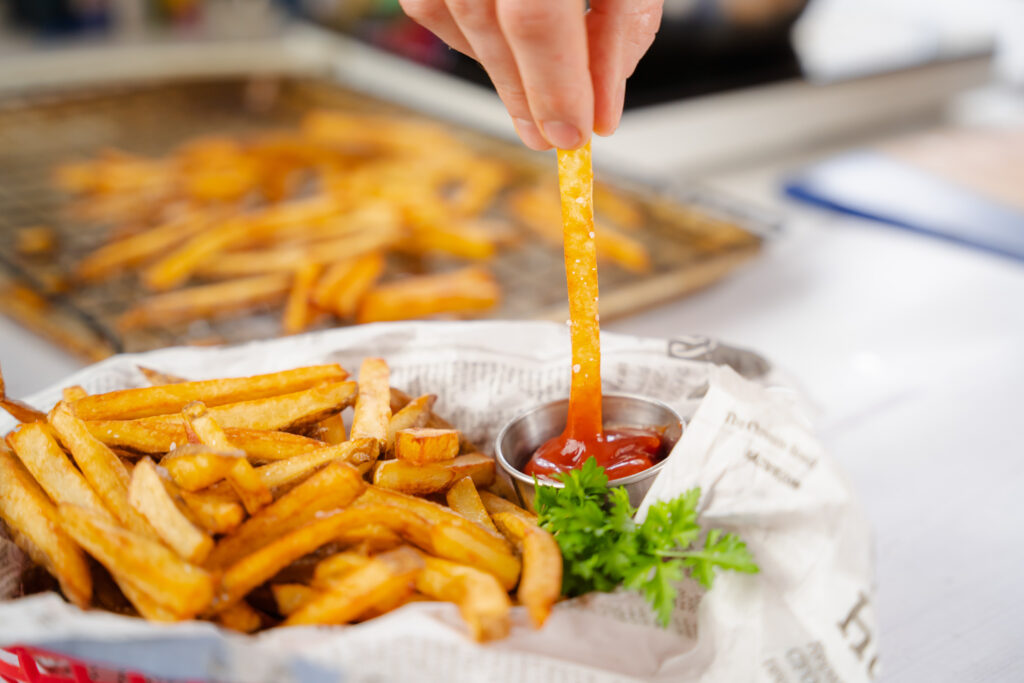 Homemade Hand Cut French Fries Process
There are a couple of key steps to take when making your own fries for the best results! It's nothing complicated, but if you are in search of the crispy "food truck" style fries, you'll want to follow along.
Use baking potatoes, also known as Russet potatoes. These are your best bet!
Cut your potatoes into ¼ inch– think match thicks.
Place the cut potatoes into the bowl of cold water and allow them to soak for about an hour. This helps removes the excess scratch and results in a more crispy fry.
After soaking, remove the potatoes from the water and pat dry them with a paper towel.
Fry the french fries once at a lower heat of 325 degrees Fahrenheit for around 5 minutes, this is to cook the potato. Remove fries and place on a cool rack or piece of paper towel to drain.
Let's get crispy! For the second, turn the heat up on the oil to 375 degrees Fahrenheit. Once the temperature has reached 375F, drop the fries in and let them fry for about 5-7 minutes or until dark golden brown.
Remove the fries from the oil, season with salt and enjoy!
These french fries are perfect to pair with my Beer Battered Fish!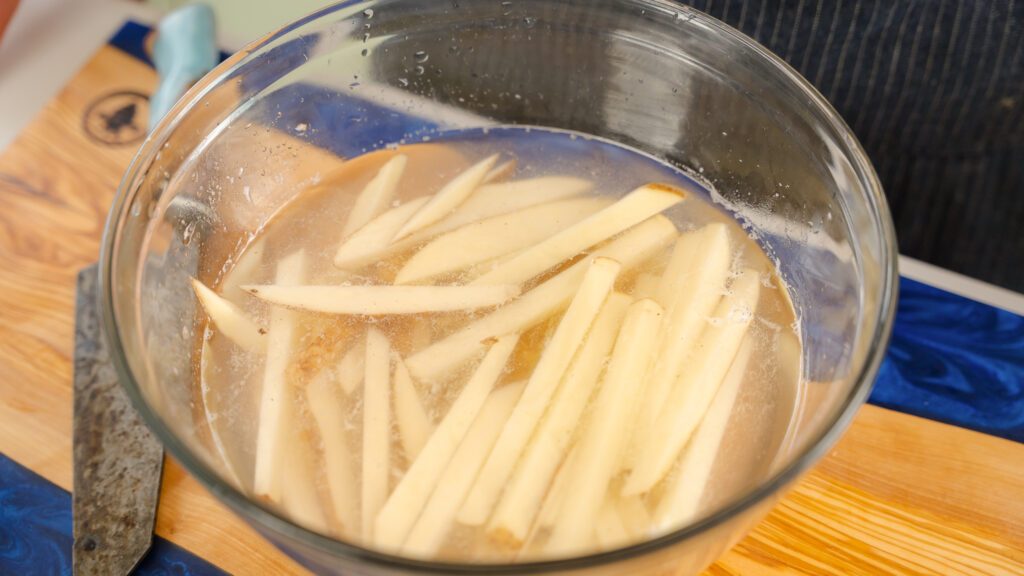 First-time deep frying? Here is what you need to know.
Deep frying can be intimidating, especially if it's your first time, but I'm here to give you some tips to show it won't be as scary once you follow some basic ground rules!
Water and hot oil do NOT get along. It's important to never put water, even wet utensils, in oil as it will start to splatter like crazy.
Use a candy or digital thermometer to check the temperature of the oil.
Using a high smoke point oil such as canola, peanut, or vegetable oil, but NOT olive oil. 
Use a high-walled pot or dutch oven. This helps prevent the unlikely event of oil bubbling too aggressively and helps keep the oil contained.  
Don't overcrowd the pot. It's important to maintain the temperature of the oil, and overcrowding the pot will cause the temperature of the oil to drop, which can result in soggy, oil-soaked fish. 
Place a wire cooling rack or paper towel beside your pot so that you can drain what you're frying when it comes out of the oil. 
In the absolutely worst-case scenario, if the oil somehow caught fire, stay calm and sprinkle baking soda over the pot or use a fire extinguisher to stop the flames. I have never seen this happen, but it's sometimes good to know what to do in the worst case!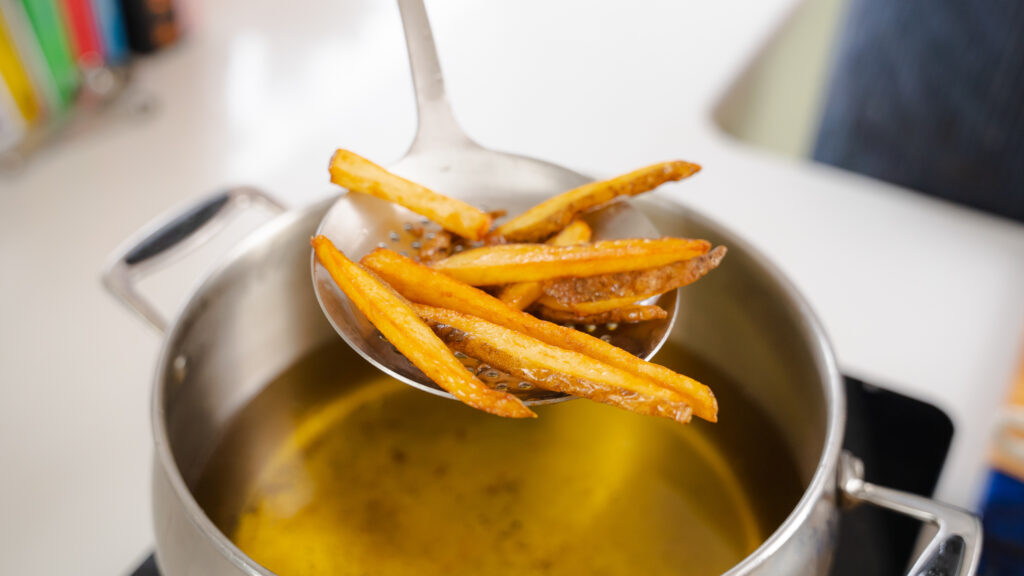 Hand Cut French Fries
Print Recipe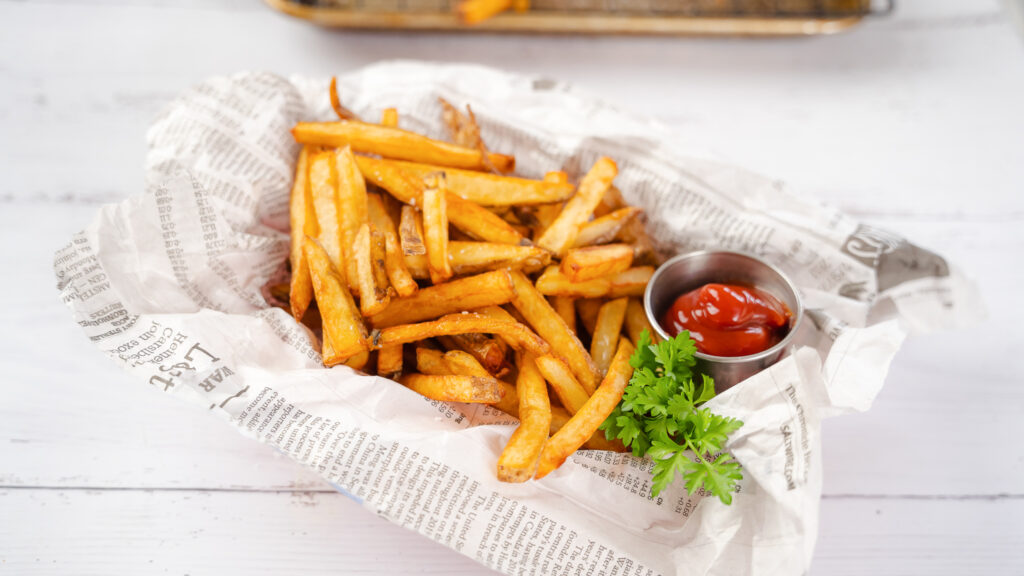 Ingredients
3

russet potatos

2

litres

canola oil

for frying

1

tsp

salt
Instructions
Cut your potatoes into 1/4 inch thick match sticks. Place the cut potatoes into a bowl and cover with cold water. Let sit for 1 hour. This removes the starch and results in crispier fries.

After the hour soak, remove potatoes from water and pat dry with paper towel.

In a large pot or dutch oven, heat 3 inches of oil to 325F. Once temperature has been reached drop in the fries and cook for 5 minutes. This is the first cook which is softening the potatoes. Remove from oil and place on paper towel of wire rack. Immediately increase the temperature of the oil to 375F.

Once the oil has reached 375F, drop the fries back in for their final cook. Fry for 5 minutes or until deep golden brown. Once done, remove from oil with a slotted spoon and place on paper towel or cooking rack. Season immediately with salt. Serve with ketchup!
Print Recipe
(Visited 7,357 times, 1 visits today)