Want to change up your breakfast game? These crispy rice pancake topped with fried egg, herbs, hoisin and bean sprouts is sure to become one of your new favourite brunch menu items. The secret for nailing this breakfast is to use leftover rice. This allows you to get a very crispy pancake which gives just the best texture even. Crispy, chewy, and the perfect vessel for a sunny-side-up egg.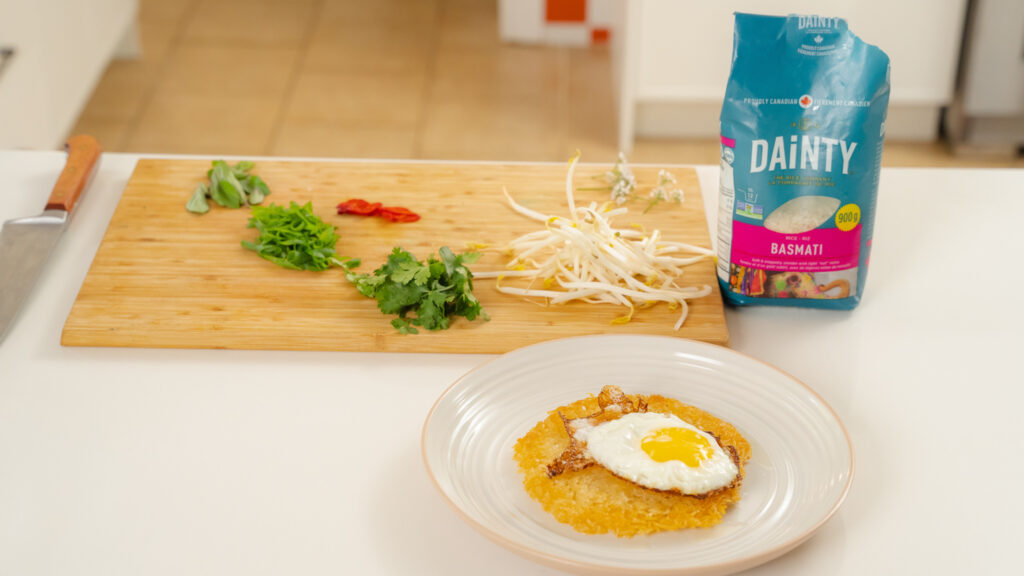 What Rice Should I Use?
The type of rice you use doesn't fully matter. For this recipe, I had leftover basmati rice kick around, but you could use jasmine or sushi rice for equally delicious options.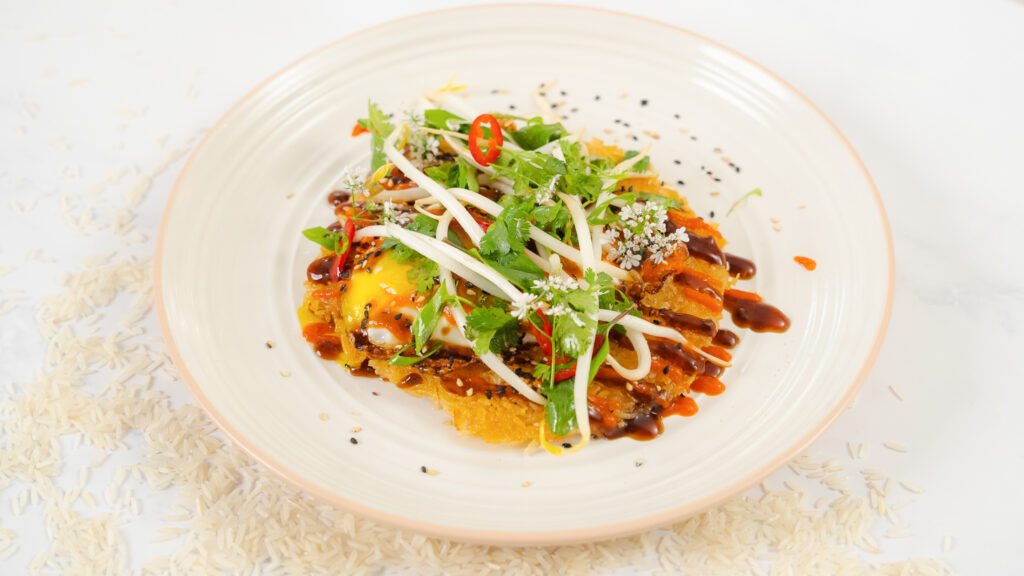 Let's Breakdown the Ingredients!
Leftover rice is an important ingredient in making this delicious rice pancake. And it is essential for making recipes like this one where rice needs to be fried. Leaving rice overnight in the fridge lets the ingredient become firm and prevents the rice from becoming mushy when cooking it.
I used canola oil when frying the rice to help crisp up the outer surface of the rice pancake.
I love topping these rice pancakes with a ton of tasty vegetables; of course, you can add your favourite vegetables! Basil, cilantro, bean sprouts, and red chilli were used when making these hoisin crispy rice pancakes.
The basil adds a nice balance of sweet and savoury with hints of mint and pepper-like flavours. The cilantro has a fresh and citrusy flavour, while the bean sprouts a clean and vegetal taste with a slight crunch. The red chilli adds a bit of a sweet and peppery punch to the dish.
The sauces I used to top rice pancakes are hoisin sauce and hot sauce. Hoisin sauce has a strong salty and slightly sweet flavour, and the hot sauce adds an extra punch of spicy flavour to the rice pancakes.
To top and garnish the dish, I made a sunny-side-up egg and sprinkled sesame seeds on top of it.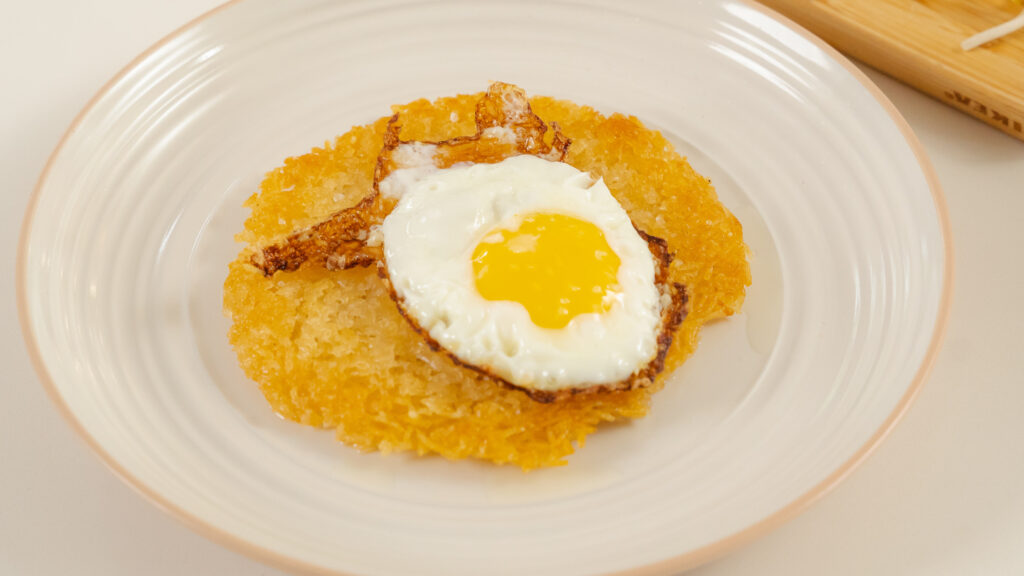 Forming The Pancake
In order to ensure you get a solid pancake that sticks together, you must use leftover rice. From there, I like to get an oiled pan ripping hot and then drop in about 1 cup of the rice. Using the back of a spatula, I push down on the rice until it forms about a 1 ½ centimetre thick pancake. Really give the rice time to cook and crisp up. You might want to add more oil into the pan to help make the pancake cook and get super crispy.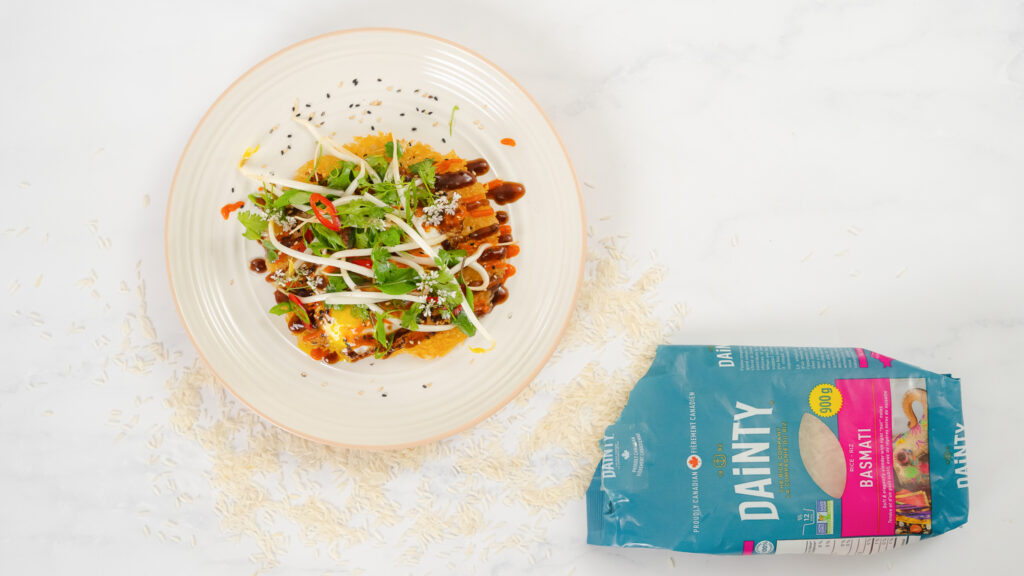 What To Put On Your Rice Pancake?
You can take this recipe in a ton of different directions. I personally love topping with an egg, herbs such as basil and cilantro, chillies, bean sprouts, as well as hoisin and sriracha.
Hoisin Crispy Rice Pancake
Print Recipe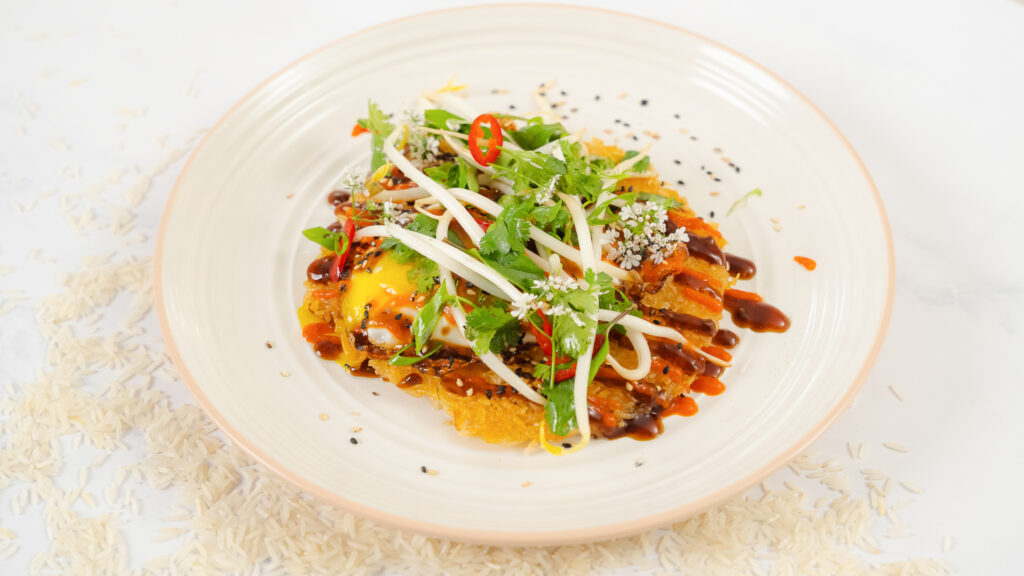 Ingredients
1

cup

Leftover Rice (basmati, jasmine, or sushi rice are best) 

2

tbsp

Canola Oil

1

Egg

1/4

cup

Basil

1/4

cup

Cilantro

1/2

cup

Beans Sprouts

1/2

tbsp

Hoisin Sauce

1/2

tbsp

Hot Sauce

1

tsp

Sesame Seeds

1

Red Chilli, sliced
Instructions
Place an oiled non-stick pan over medium-high heat. Once you have reached the temperature, drop in 1 cup of left over rice. Using the back of a spatula press down on the rice to form a pancake shape that is about 1 ½ cm thick. Allow the rice to fry until totally crispy. About 5+ minutes. Don't rush this process. Once the rice is a deep yellow colour, gently flip and fry the second side. Once second side is crispy, remove from pan and set aside.

Using the same pan, crack in an egg. I prefer my eggs sunny side up as the yolk makes a lovely sauce for this dish. Once egg is done cooking remove it from the pan and place ontop of the crispy rice pancake.

Now drizzle over the hoisin and sriracha, followed by the herbs, sesame seeds, and chillis. Serve warm!
Print Recipe
(Visited 2,511 times, 3 visits today)