These flakey, easy to make, cinnamon rolls require no yeast or rising. Ready in about 30 minutes, these are the perfect treat to make on a weekend morning or for a special occasion!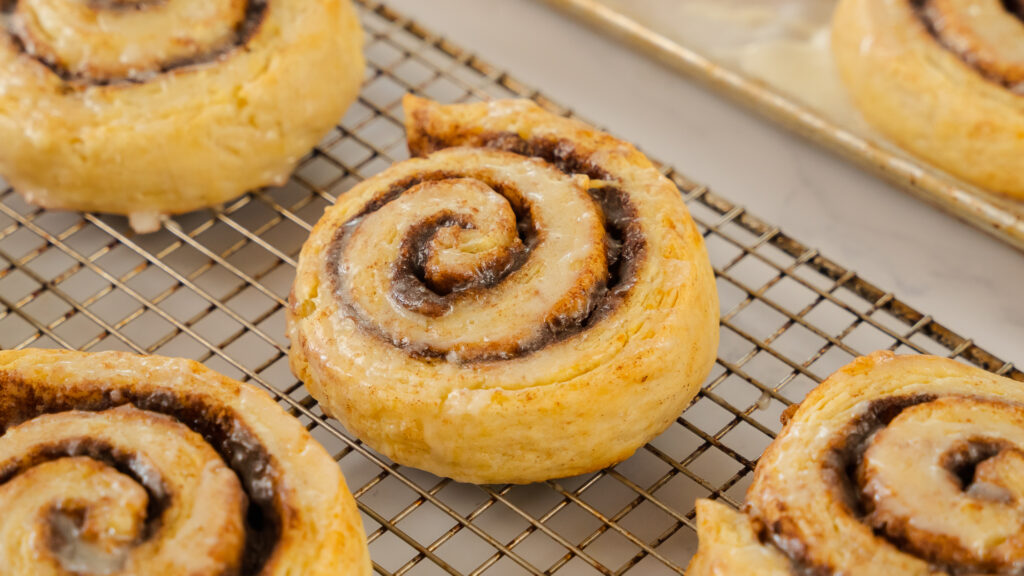 In our house, we are enormous cinnamon roll fans. There is no cinnamon roll that we don't love. It is a treat we always pick up at the farmers market, and it is a baked good I have made with my two daughters for years on special occasions. While I do like every cinnamon roll I have tried, the best ones for me are these biscuit cinnamon rolls. Beyond the flakey, sweet, spiced, taste, they are really easy to make. Some home bakers get very intimidated by baking with yeast, which makes baking these no yeast cinnamon rolls that much more appealing! No yeast, no rising. About 40 minutes from measuring ingredients to eating a fresh cinnamon roll!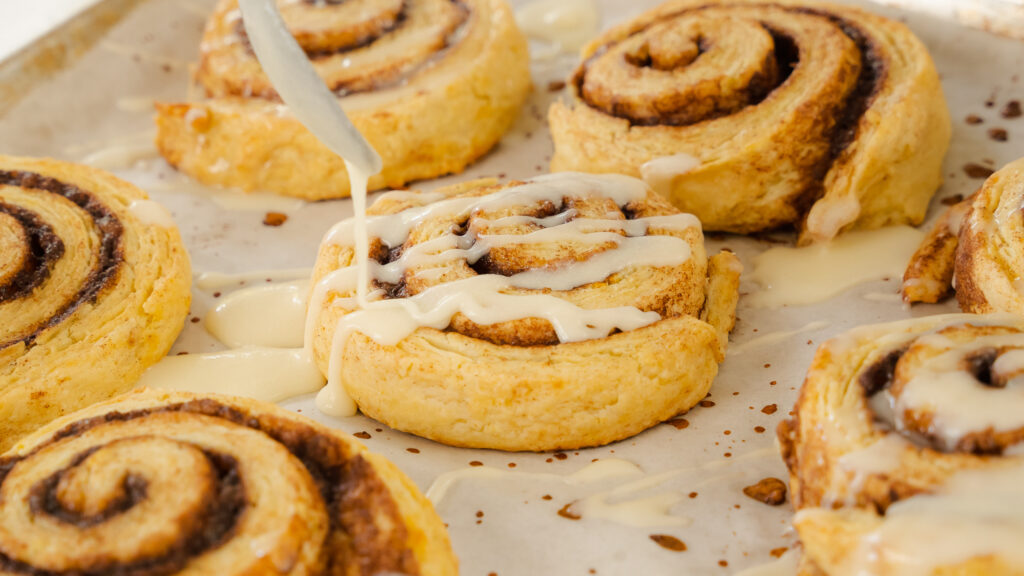 Let's chat about dough.
Let me be very clear and reassure you that even if you are a novice baker, you can make these! For the dough I simply doubled the ingredient quantity from my famous tea biscuit recipe. This dough is tender, flakey, and absolutely perfect for these Cinnamon rolls. The process of making them is not difficult, but there are a couple key steps you will want to follow.
Grated Frozen Butter- You will need to use 1 cup of butter for this dough recipe. I highly suggest grating the butter with a cheese grater. This allows the butter to get totally incorporated into the flour which results in more flake dough.
Fold your dough like an envelope – This is a key step to take to ensure you have lovely flake layers. Once you have all of the ingredients mixed together drop the dough out onto your countertop. Using a rolling pin, roll out the dough into a rectangle. From there, fold the top layer of the dough (short end) to the middle of the rectangle, and then fold the bottom end up over the folded top layer. Flip the dough over and repeat this process 2 more times.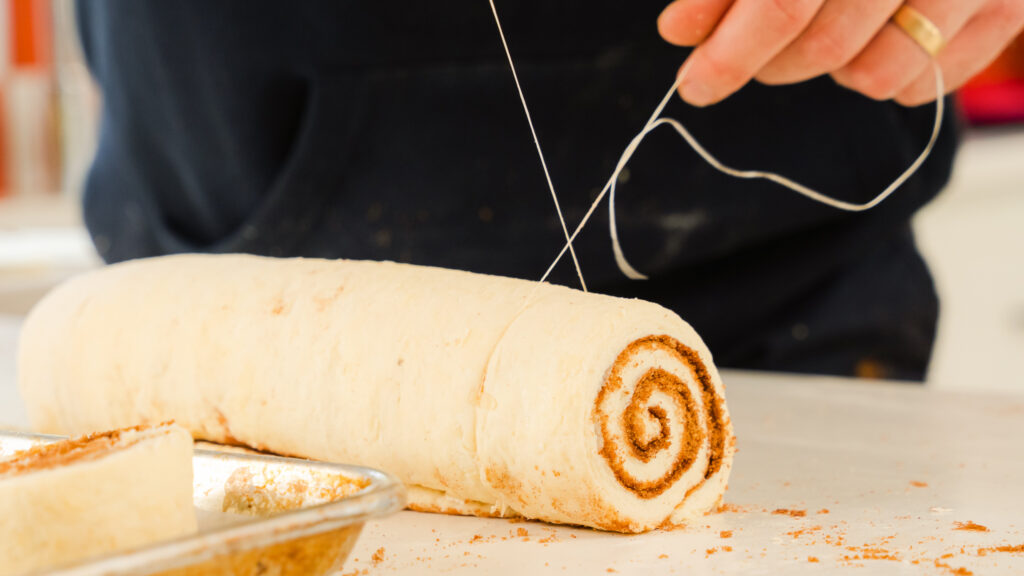 Rolling your dough into cinnamon rolls.
Once you have your dough folded 3 times you can then roll the dough into a large rectangle. The next step is to brush on some melted butter and then generously sprinkle brown sugar and cinnamon over the entire rectangle of dough. From here you will roll the long side of the dough over itself creating a log of dough. From here it's time to cut the dough into individual rolls. The best way to do this is using a piece of string, or dental floss. Slide the string under the log, cross the strings over the top of the log and pull each thread in its opposite direction. This is by far the best way to cut the rolls as it doesn't squish down on the dough. Place each cinnamon roll onto a parchment lined baking sheet, brush with some milk, and then pop them in the oven!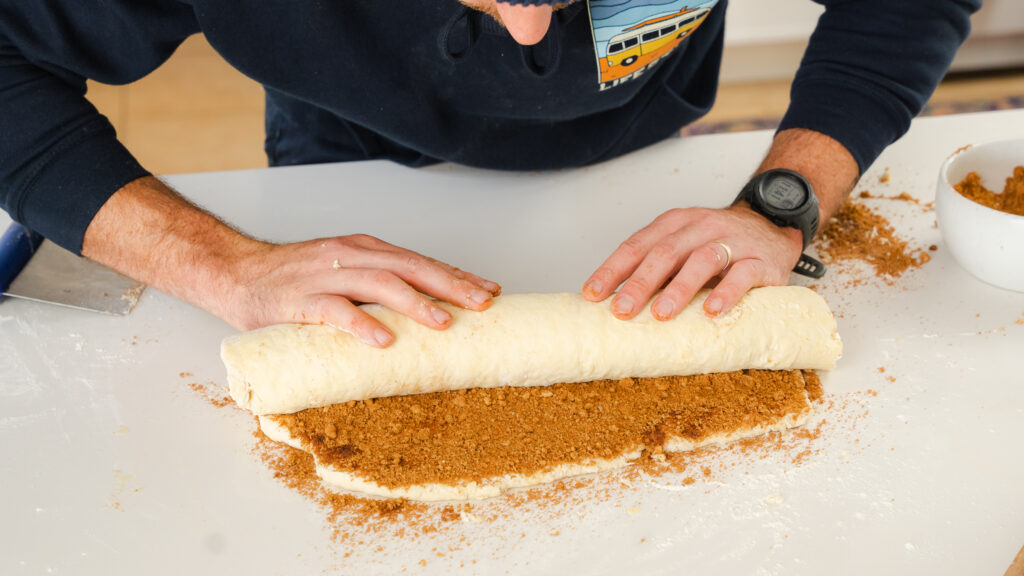 These cinnamon rolls are our family recipe and we make them every single Christmas eve. This is a special activity that I do with my two little girls that I just love so much. Beyond the amazing quality time spent with them, we are all rewarded with fresh, warm, cinnamon rolls at the end. Nothing better!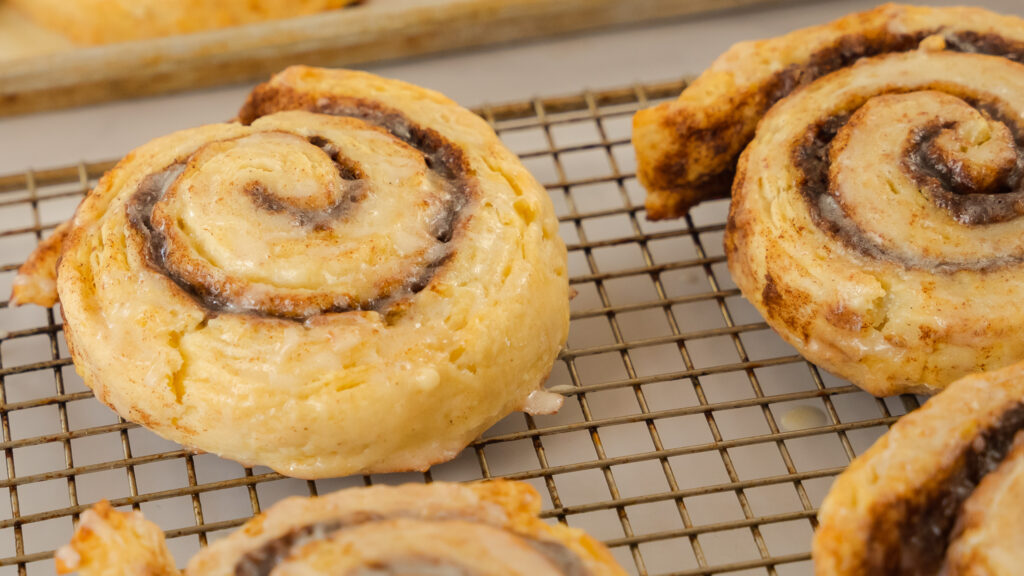 Homemade Buttermilk Biscuit Cinnamon Rolls (No yeast, no rising)
Print Recipe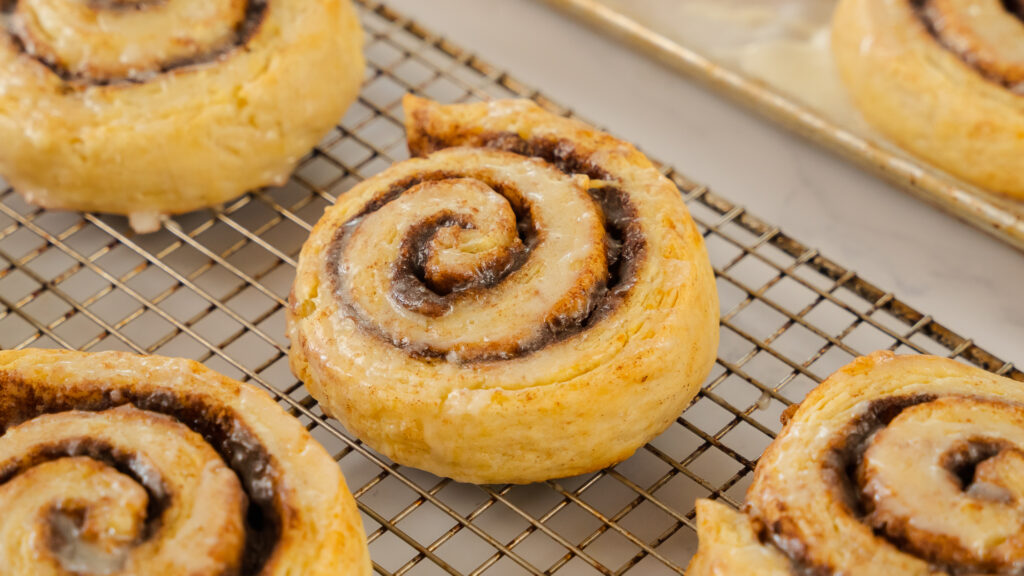 Ingredients
Dough
4

cups

Flour

4

tsp

baking powder

1

tsp

baking soda

2

tsp

salt

1

cup

frozen butter, grated

2

cups

butter milk

make your own by adding 1 tbs of vinegar to 2 cups milk

2

tbs

milk for brushing top and sides of rolls
Cinnamon Sugar
3

tbs

cinnamon

1

cup

brown sugar

1

tsp

salt

3

tbs

melted butter for brushing
Icing
2

cups

icing sugar

1/4

cup

melted butter

2

tbs

milk

may need more if stiff

1/2

tsp

vanilla
Instructions
Preheat oven to 425F and prepare two baking sheets with parchment paper.

In a bowl whisk together flour, baking powder, baking soda, and salt. Add in grated butter and mix together using your hands. Make sure butter is coated with flour. Make a well in the centre of the bowl.

Pour in the butter milk and mix together until a shaggy dough forms. Tip out dough onto a lightly floured surface, lightly bring dough together and then and shape into a rectangle using a rolling pin. Using the rolling pin, roll the dough out until it's about 1/2 inch thick. Starting with the end of the rectangle closest to you (short side of rectangle), fold end to the middle. Repeat with end of the rectangle farthest away from you. You should now have a square. Turn the square a half turn and then roll back into a rectangle; repeat the folding process two more times. This is what creates nice flaky layers.

Next up roll the dough into a large rectangle that is about 1/4 to 1/2 inch thick. Brush on the melted butter and then mix the brown sugar, cinnamon, and salt together in a bowl. Generously sprinkle the sugar mixture over the entire dough rectangle.

Next step is to roll up the dough into a log. Working from the long side of the rectangle, roll the dough over itself. Once you have the "log" formed, you can use a sharpe knife or a piece of string to cut the dough into individual logs. If using string or dental floss, slide the string under the log, cross the strings over the top of the log and pull each thread in its opposite direction. Place the individual rolls onto a baking sheet and brush outside dough with milk. This helps with browning. Be sure to give about 2 inches between each roll as the spread while baking.

Place baking sheet in oven and bake for 20 minutes.

While cinnamon rolls are baking, make the icing. In a bowl mix together icing sugar, melted butter, vanilla, and milk.

Once cinnamon rolls are done baking, remove from oven and allow then to cool for 5 minutes. Drizzle on icing and BOOM! You are done. Enjoy!!!
Print Recipe
(Visited 20,259 times, 4 visits today)