Do not throw away those turkey carcasses folks! One of life's great pleasures is a bowl of soul satisfying turkey soup. Honestly for me there is something magic about sitting down and enjoying a hot bowl of homemade turkey soup. I don't know if its instinctual, but there is something deeply satisfying about a hot bowl of broth. I find it meditative in someways.. Ok Andy, you are losing us here.. haha ok on to the recipe.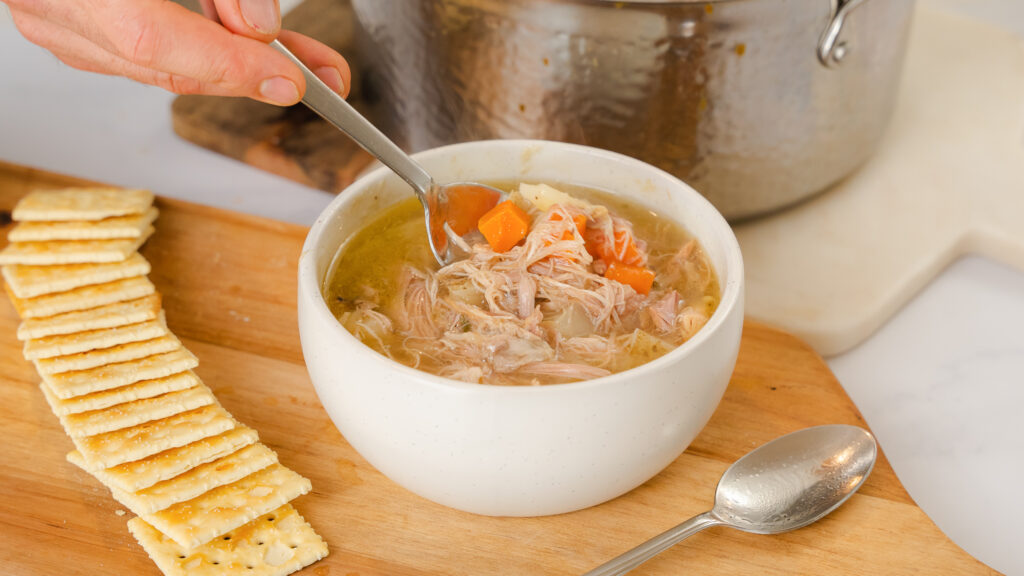 Secret ingredient for great Turkey Soup?
When it comes to making great soups and stocks, the best secret ingredient is Time. You can't rush the process of making stock. The turkey carcass needs time to break down and release nutrients, flavour, and collagen. If you have a pressure cooker or an instapot, you can speed the process up, but if not you want to let your turkey bones simmer for between 3-6 hours.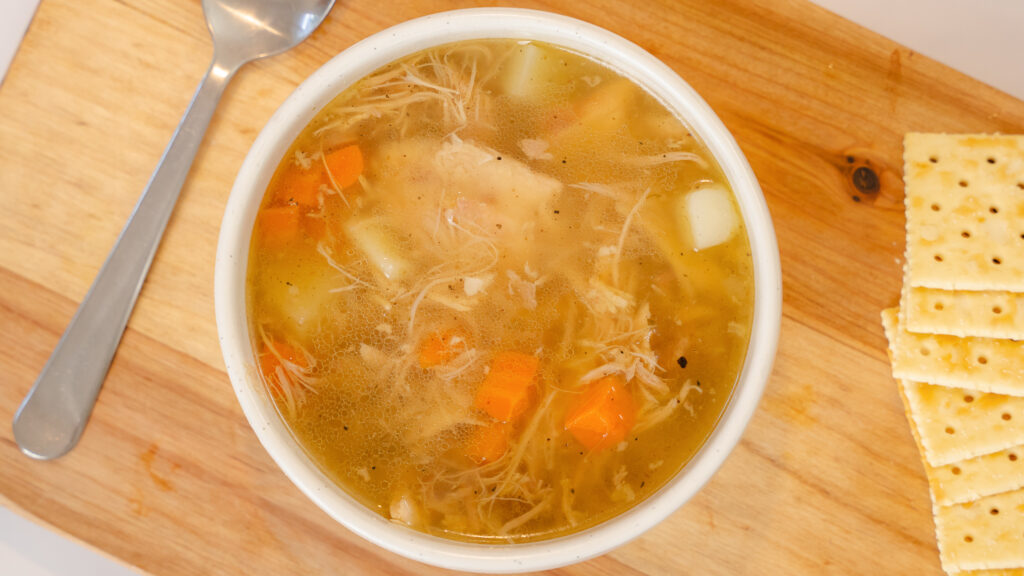 How you can amplify the flavour of your Turkey Soup?
If you are looking to amp up the flavour of your soup here are a few small steps that you can take to take your soup to the next level.
Roast your turkey bones. By roasting your turkey bones in the oven you can add additional depth of flavour to your soup. If you own a smoker you can smoke the bones for some deeply satisfying smoke notes.
Left over gravy? This is my Mom's trick which I love! If she has any left over gravy she will add it into the pot.
Herbs and spices. You can take the flavouring of your turkey soup in all sorts of directions here. I love keeping it simple with bay leaves, rosemary, and some savoury. Feel free to add in thyme, smoked paprika, chillies. The sky is the limit.
Seasoning the water
Making your turkey soup is actually incredibly easy. All you need to do is place your turkey bones into the largest pot you have. From there I like to toss in some onions, bay leaves, and rosemary. Then fill up the pot with water until the turkey bones are completely covered. Place over high heat and bring the pot to a boil. Once the boil is reached, reduce the heat to low and allow to simmer away for 3-6 hours. Feel free to skim the top of the soup with a spoon to remove any scuz that accumulates on top.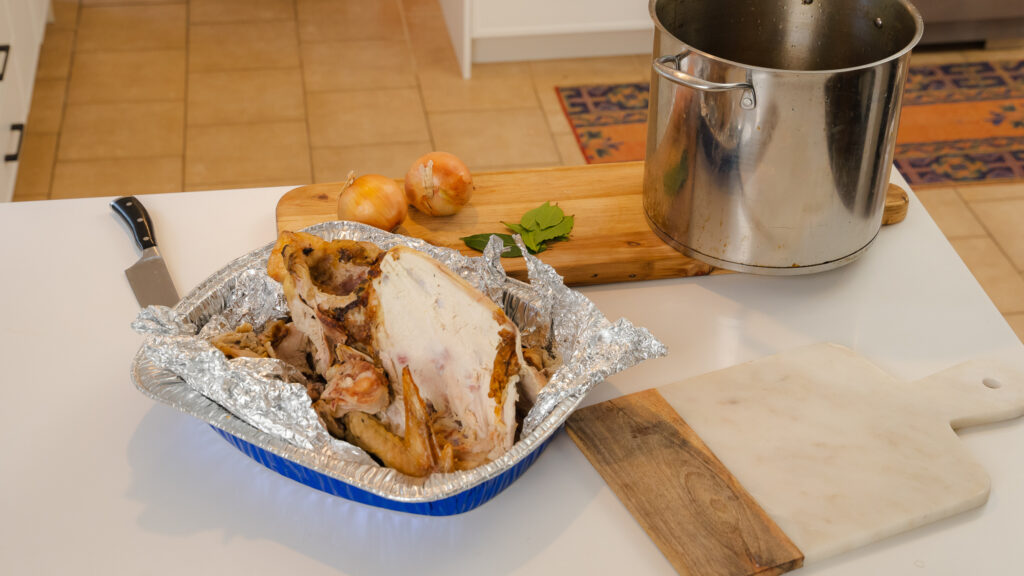 Once the turkey is done simmering for the 3-6 hours, turn off the heat and strain the stock into another large pot. Now you will need to pick out the bones of the turkey and remove from the remaining meat. Once the bones are removed drop the meat back into the stock and place the soup over medium high heat again. Add in carrots, potatoes, and cook until both are soft. From here taste the soup and add seasoning as needed. Salt and pepper are a must.
Homemade Turkey Soup
Print Recipe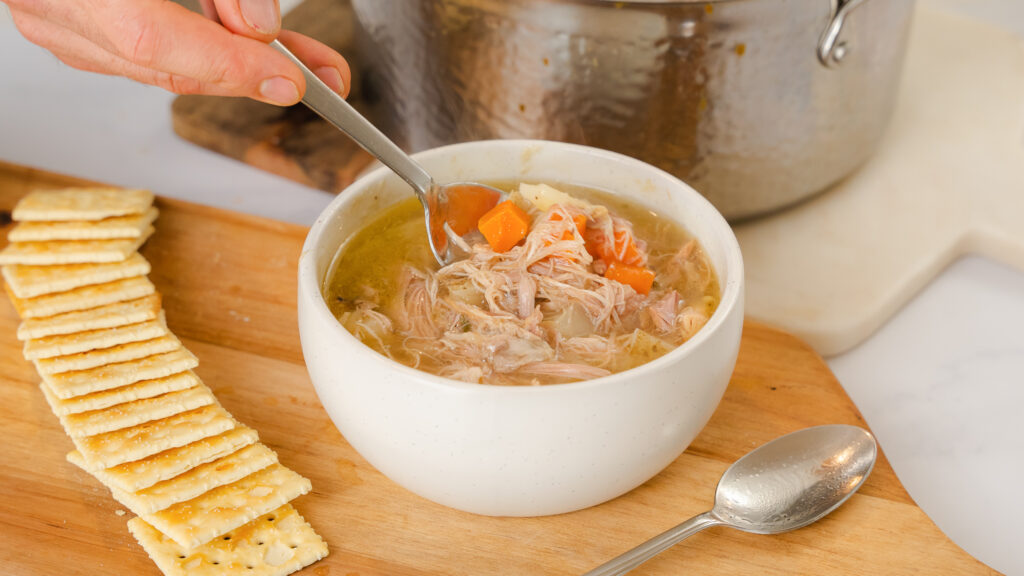 Ingredients
1

Turkey Carcass

3

yellow onions, skin removed & halved.

5

bay leaves

1

sprig

rosemary

3

russet potatoes, diced.

6

carrots, diced

3

celery stalks, diced

3

pinches

salt

3

pinches

pepper
Instructions
Place your turkey bones into a large pot. Toss in halved onions, bay leaves, and rosemary. Add enough water to completely cover all of the turkey bones. Place pot on stove over high heat and bring the mixture to a boil. Once boil has been reached, reduce temperature to low and allow to simmer for 3-6 hours.

Once simmer is completed, remove from heat and strain stock into another large pot or container. Pick out the turkey bones and then drop the remaining meat into the the stock. Now add in the diced potatoes, carrots, and celery, and place the pot over medium high heat. Allow the soup to simmer until the potatoes and carrots are soft. Once soft, taste the broth and season as needed. I added 3 pinches of salt, and three pinches of pepper. Trust your pallet and season to your taste.

Enjoy the meditative power of a good bowl of soup!
Print Recipe
(Visited 8,935 times, 1 visits today)