These no bake cheesecake squares are light, airy, and a perfect treat to make for guests or bring along for potluck. No baking required! Simply assemble and then let your refrigerator or freezer do the work!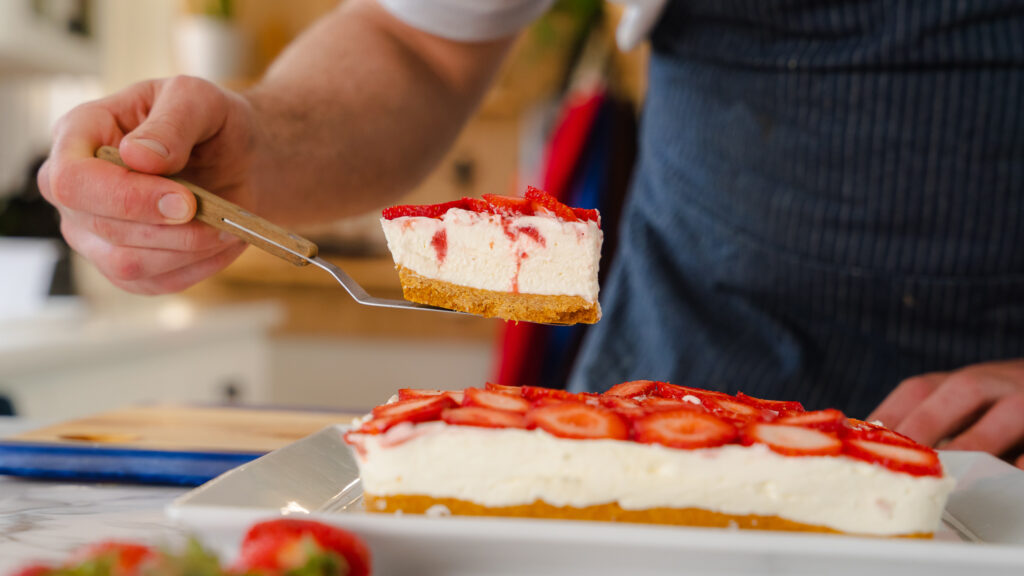 What is a no bake cheesecake?
Traditional cheesecakes are rich, moist, and and cooked with eggs. This no bake cheesecake version still has a similar flavour profile, but the texture is much lighter. Instead of using eggs, you create a light mouse using whip-cream as the base. Once you have whipped the cream, you simply fold in the other ingredients to add flavour and additional richness. That's really it. Fire everything into a pan and pop it into the fridge overnight. I personally like to place this into the freezer and eat it frozen!!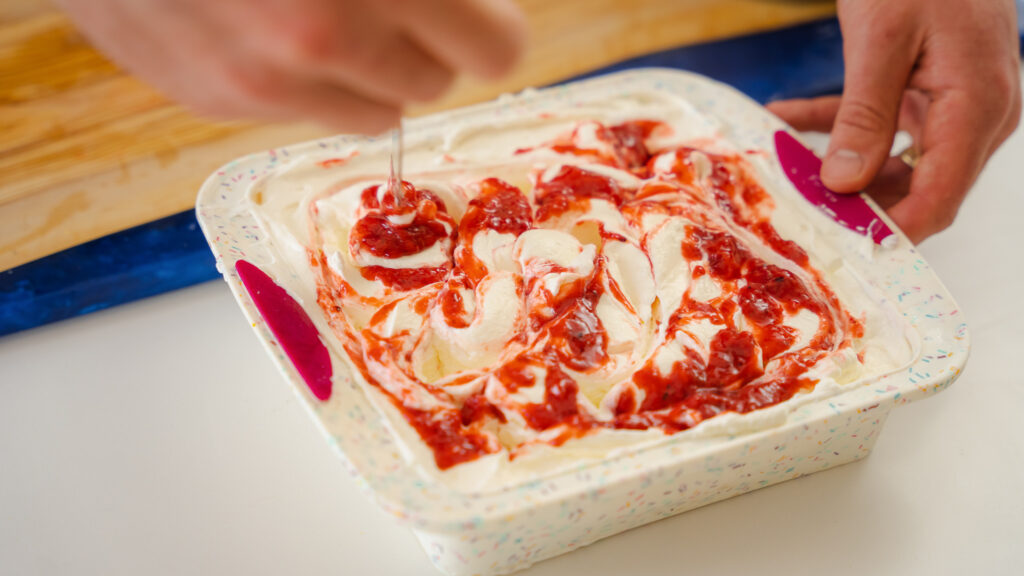 Building your graham cracker crust
I kept things very simple with this crust. I grabbed crushed graham crackers and mixed in a bit of melted butter. From there, I pressed the crust into the bottom of a 9X9 brownie pan and placed it in the freezer while I made the cheesecake filling. Doesn't get any easier!
Flavouring your no bake cheesecake
For this recipe I decided to go the strawberry route by making a basic strawberry compote to swirl into the cheesecake mixture. The beauty of this recipe is you could take it in any direction you choose! Below are a few other fun and delicious ideas!
Blueberry
Butterscotch
Peach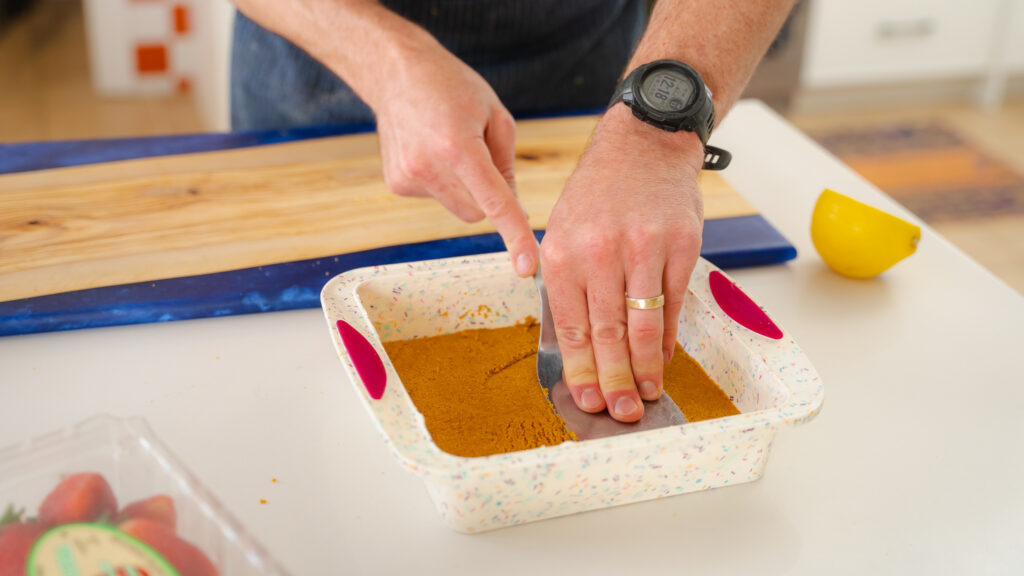 Let's breakdown the ingredients!
There are three specific components to this recipe. Firstly we have the graham cracker crumb. Secondly the cheesecake mousse, and finally the strawberry compote and strawberries for topping.
The crust is very basic. Nothing fancy here. All you are going to need is crushed graham crackers and melted butter. If you wanted to go a chocolate route you could easily substitute Oreo crumbs!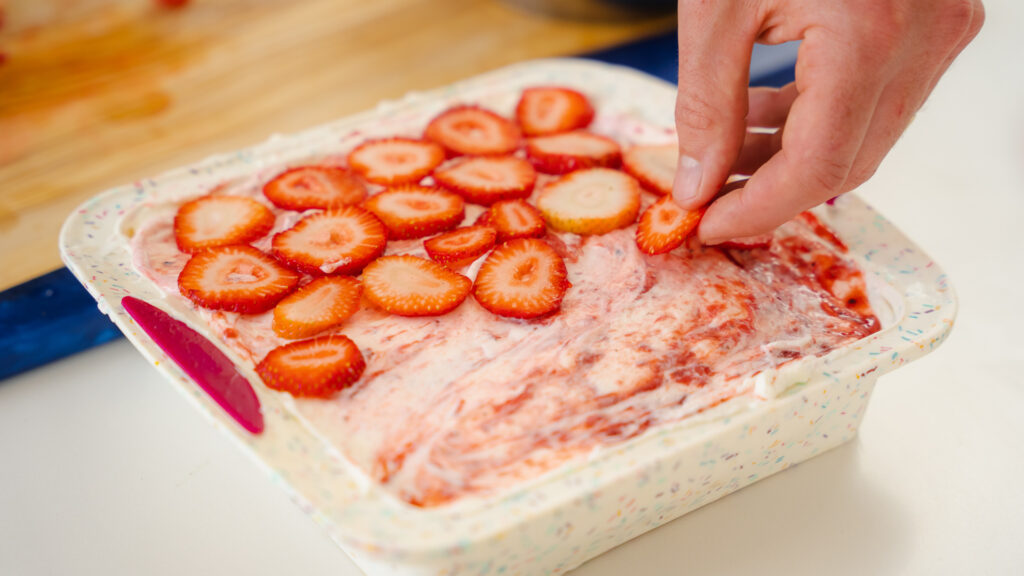 Next up let's look at the cheesecake mousse. Whipped cream really is the major component of this recipe. You are going to want to buy heavy cream (aka whipping cream, 35% cream) and whip it until it forms stiff peaks using a stand or hand held mixer. You will also need cream cheese, the major flavour of this cheesecake mousse, and you will also need a bit of sugar, sour cream, powdered sugar, lemon juice, and vanilla.
The last component is the strawberry compote. This is incredibly simple as all I did was chop up a handful of strawberries, drop them into a pot that is set over medium heat. I added a splash of water to help stew the strawberries and thats it. Let the heat cook the strawberries until they start to break down. Once that happens I mashed up the cooked strawberries with a fork and then removed from the heat to allow them to cool.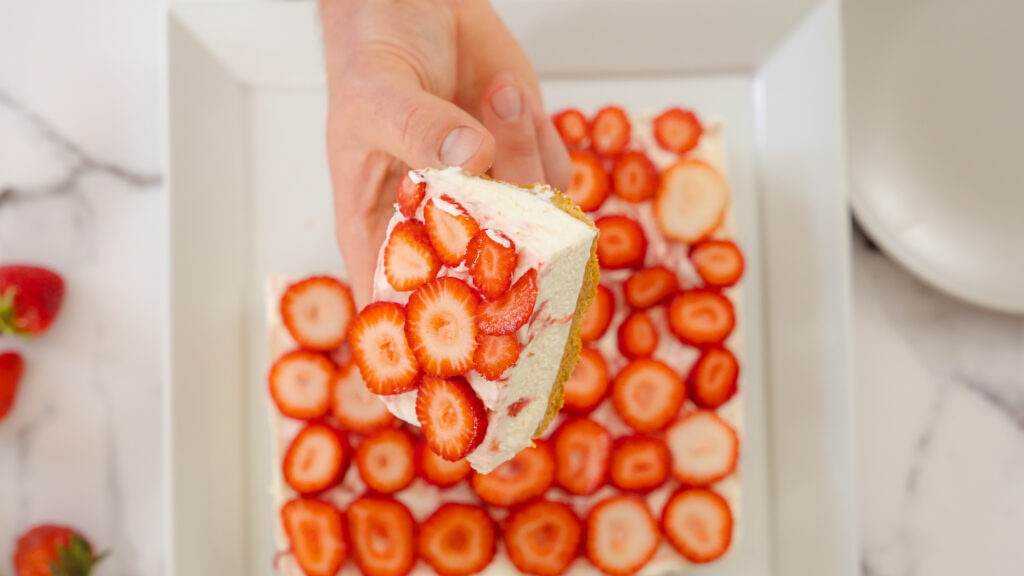 No Bake Strawberry Cheesecake Squares
Print Recipe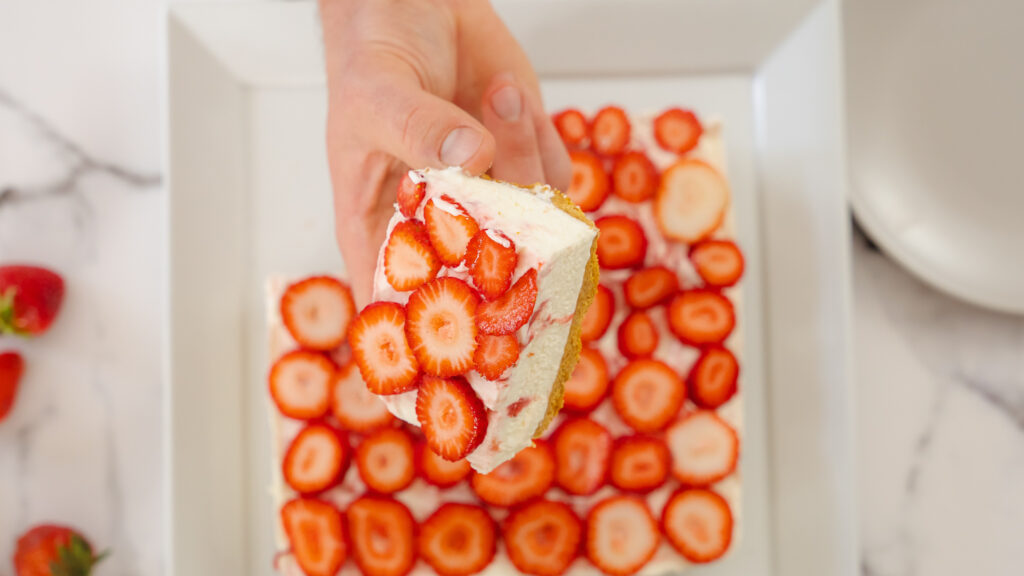 Ingredients
Graham Cracker Crumb
1 1/2

cups

graham cracker crumbs

1/3

cup

melted butter
Cream Cheese Mousse
1 1/4

cup

whipping cream

2

8oz

Blocks of room temp cream cheese

Use full fat

1/2

cup

sugar

1/4

cup

sour cream or greek yogurt

1

tsp

lemon juice

1

tsp

vanilla

2

tbs

powdered sugar
Strawberry Compote & Topping
2

cups

strawberries, chopped

1

tsp

sugar

2

cups

strawberries, sliced

use these ones for topping
Instructions
Let's get started with the graham cracker crumb. In a bowl mix together graham crackers and melted butter. Stir until the mixture looks like wet sand. Pour into a 9X9 inch brownie pan and press it flat using a spatula or the bottom of a measuring cup. Place into the freezer.

Place chopped strawberries and tsp of sugar into a small pot and place it over medium high heat. I like to add a tbs of water into the pot to help the cooking process. Allow the strawberries to cook away for about 10 minutes or until the breakdown and form a compote. Remove from the heat and allow to fully cool. You can spread the mixture out onto a baking pan to speed the cooling process up.

Next up let's tackle the cheesecake mousse. Pour the whipping cream into the bowl of a stand mixer and whip on high the whipping cream until it forms into stiff peaks. About 2 minutes.

In a separate bowl mix together the cream cheese blocks, sour cream, sugar, lemon juice, powdered sugar, and vanilla. Mix until totally smooth. You really don't want and chunks of cream cheese here. Dont rush!

Now using a spatula, fold together the whip cream mixture and the cream cheese mixture. Fold until combined. Next, spoon the mixture out of the bowl into the graham cracker crust. Evenly spread the mousse around the pan.

Spoon the cooled stewed strawberries over the cream cheese mousse. Using a butter knife swirl the strawberry compote through the mousse. After that is done use a spatula to smooth the top.

Optional step is to add sliced strawberries to the top of the mousse.

Place entire pan into the freezer for at least three hours to set. Alternatively you can place in the fridge overnight. If placed in the freezer, prior to serving I recommend removing from the freezer for 20 minutes to allow it to slightly thaw. Enjoy!
Print Recipe
(Visited 16,484 times, 2 visits today)