I am a big chicken wing guy. If push came to shove, I would say that they are one of my top 3 food of all time! These oven-baked chicken wings are perfect for happy hour, weeknight dinner or anything that chicken wing craving hits!
This shareable handheld food is full of flavours and textures. I've tried multiple methods of cooking wings, but I find myself coming back to this recipe. I love this recipe for its speed, convenience and lack of deep-frying.
Chicken Wing Dry Rub
If anything, I am a resourceful cook and always try to use what I have on hand, and that's exactly what I did for this recipe. Feel free to get creative with your own species, but here is what is in mine!
Garlic powder. I use garlic powder in everything – the same way I use salt in basically all of my cooking.
Cumin. I love to use cumin for its great flavour. But don't be too heavy-handed with it; a little will go a long way!
Curry powder. More specifically, I love to use the Lalah's Madras Curry Powder.
Chilli powder. I always have chilli powder on hand and basically use it every time I use cumin. You can also use smoked paprika, which is also one of my favourite spices!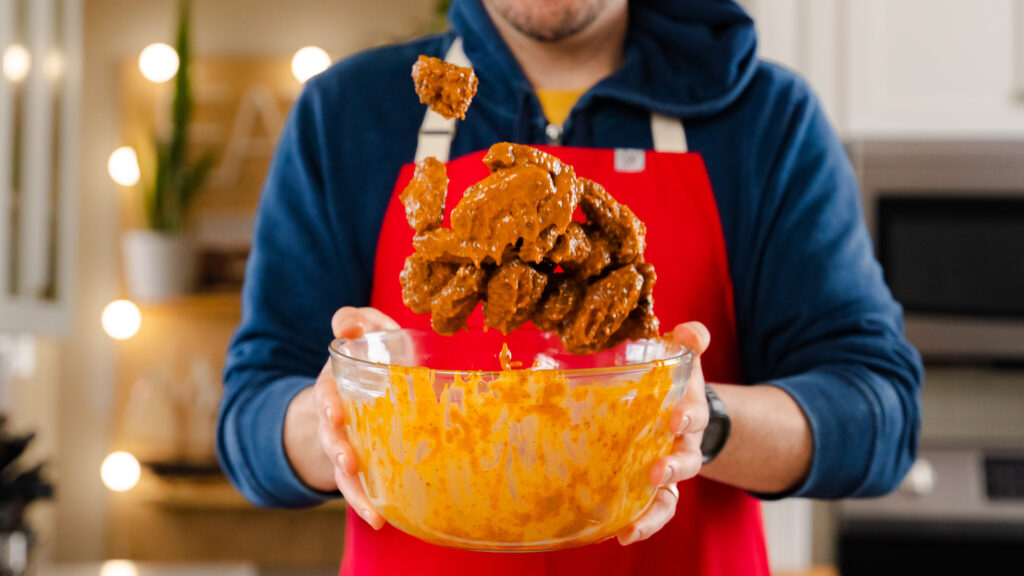 Let's Breakdown the Ingredients
Panko Crumbs, garlic powder, cumin, curry powder, chilli powder
These oven-baked chicken wings have an incredible texture and are packed with tons of flavours you'd never guess comes from a few key ingredients.
The use of panko crumbs in these oven-baked chicken wings adds a crunchy texture to this recipe. Panko crumbs are made from crustless white bread that's processed into flakes and then dried, and this allows it to have a dryer and flakier consistency than regular breadcrumbs.
The dry rub part of this recipe is packed with tons of flavours from spices such as garlic powder, cumin, chilli powder, and curry powder.
Garlic powder is powdered dry garlic with a milder flavour and smell than actual garlic cloves. Cumin is a slightly sweet and warm flavour that adds a nutty element to the recipe. The chilli powder adds a mild to moderate spice level to the wings, depending on the amount of cayenne pepper in the mixture of spices.
Curry powder combines both sweet and savoury spices such as cumin, turmeric, bay leaves, cinnamon and cloves. The Lalah's Madras curry powder heat level may be spicier than the usual standard curry.
Tips For Nailing This Recipe
Heavily season your wings. Above you will find my dry rub and breading recipe, but feel free to change the spices based on what you like and have on hand. I would suggest trying the curry powder as it adds an unexpected flavour that I really love!
Make this recipe Gluten-Free. If you want to use rice flour, corn starch or GF flour, go for it! Use your choice of alternate flour, and the same goes for panko crumbs as well!
Toss your wings in a bowl. Choose your favourite wing sauce and toss it in a bowl. This makes the process easier and is fun to do!
Cook wings on a metal rack. It is really important to allow heat to circulate around the wings while cooking. These racks are cheap and easy to find; I saw one yesterday at the dollar store for $3. I suggested spraying the rack with cooking spray to avoid sticking.
Oven Baked Chicken wings
Print Recipe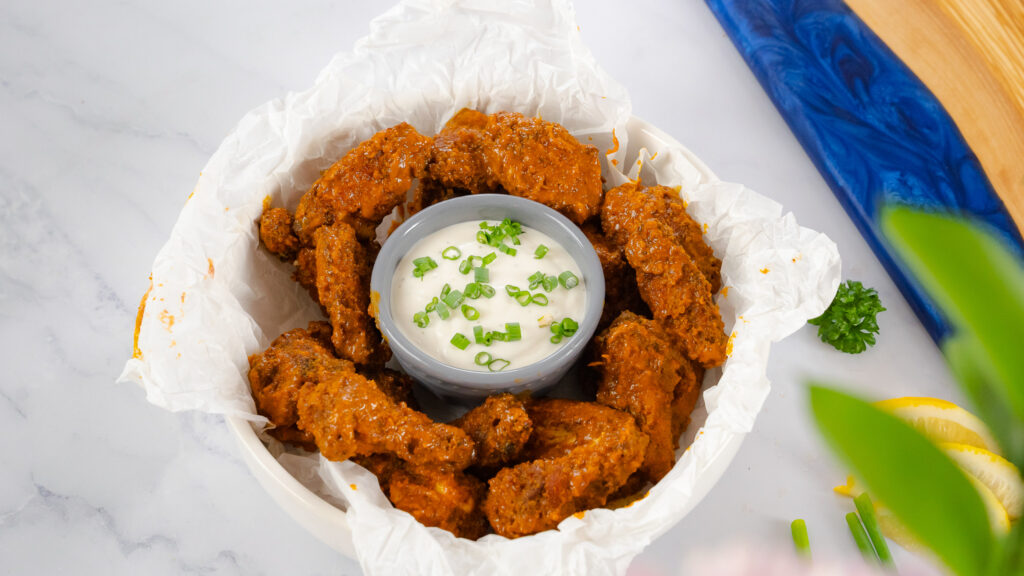 Ingredients
1

kg

Chicken wings

1

tbs

olive oil
Spiced breading mixture
1 1/2

tbs

garlic powder

1

tbs

cumin

1

tbs

curry powder

I like the Lalah's brand

1

tsp

chilli powder

1/2

tbs

salt

1/3

cup

panko crumbs

1/4

cup

flour
Wing Sauce
1

cup

Franks red hot sauce

1

tbs

melted butter

1

clove

minced garlic
Instructions
Preheat oven to 425F and lightly spray a baking sheet and a wire rack with cooking spray. If you do not have a wire rack, line the baking sheet with parchment paper.

Place chicken wings in a large bowl and add in all of the ingredients listed for the spiced breading mixture. Using your hands toss together. I like to squeeze the chicken wings in an effort to get more of the breading to stick to the wing.

Place breaded wings onto the wire rack and then place the wire rack onto the baking sheet. To avoid a major clean up you can place parchment paper on the baking sheet as it is only there to catch the drippings.

Slide the wings into the oven and bake for 60 minutes. If not baking on a wire rack, be sure to flip half wings after 30 mins.

After the wings are done cooking, place them into a large bowl and pour over the hot sauce, melted butter, and garlic. Toss until all wings are covered. ** Feel free to use any wing sauce you like**

Serve with ranch dip and a cold drink of your choosing. Enjoy! It was fun to cook wings with you 🙂
Print Recipe
(Visited 18,966 times, 1 visits today)