Here is another weeknight meal for you! This Peanut Ginger Noodle Stir Fry is quick, delicious, and definitely a crowd-pleaser. You are 100% going to want to add this to your reoccurring list of recipes!
This sauce is a great way to add a big flavour punch to this really easy-to-make dish. From start to finish, you are looking at about 20 minutes, so a perfect meal idea to add to your weeknight repertoire!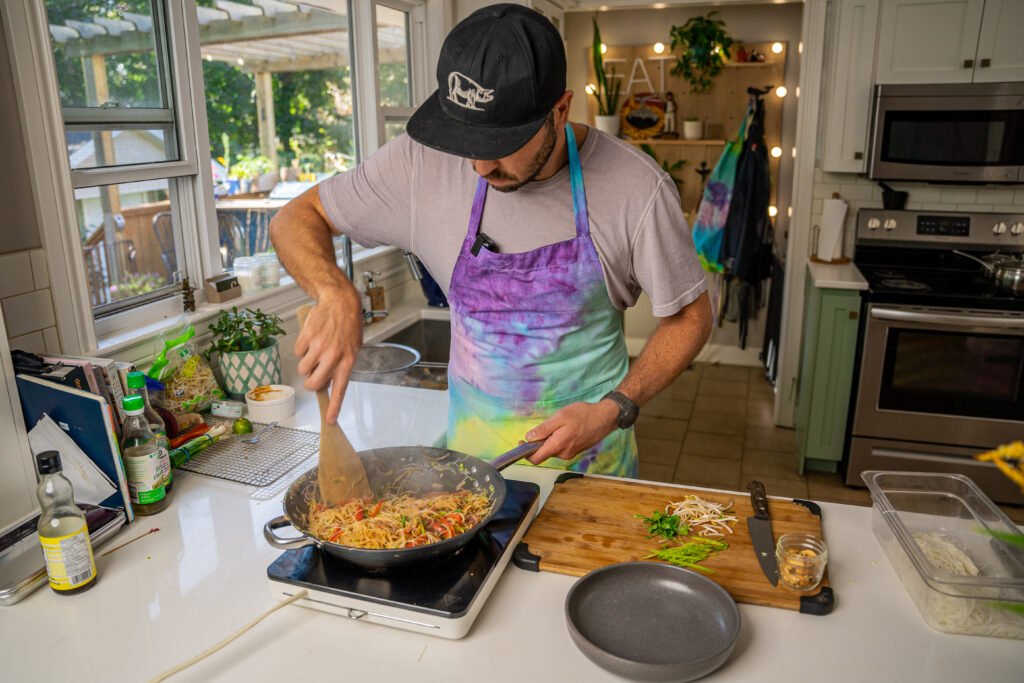 Let's Breakdown the Ingredients!
With this recipe, I would not get hung up on the extract veggies I used. I would suggest using what you have on hand! While what vegetables you use is solely up to you, this sauce is full of flavour that really brings this recipe together. 
The Sauce
This recipe gives you a punch of flavour with this sauce. The sauce is made from tons of flavouring liquids and have additional flavour from fresh ingredients.
The main ingredient in this sauce is natural peanut butter. Peanut butter is rich in omega-3, fibre, and protein, more than any other plant food. It also gives this quick and easy meal its wonderful peanut flavour! 
The liquids used to make this sauce are sesame oil, soy sauce, sriracha, and rice wine vinegar. The sesame oil has a deep and rich nutty flavour that pairs well with the peanut butter flavour. Soy sauce is from fermented soybeans, which gives a mixture of sweet, salty, bitter and savoury flavour. Sriracha adds a bit of a spice to the recipe and the rice wine vinegar balances the flavour with a sweet and acidic taste.
The sauce also includes garlic, ginger and lime that adds tons of warm and citrus flavours to the recipe.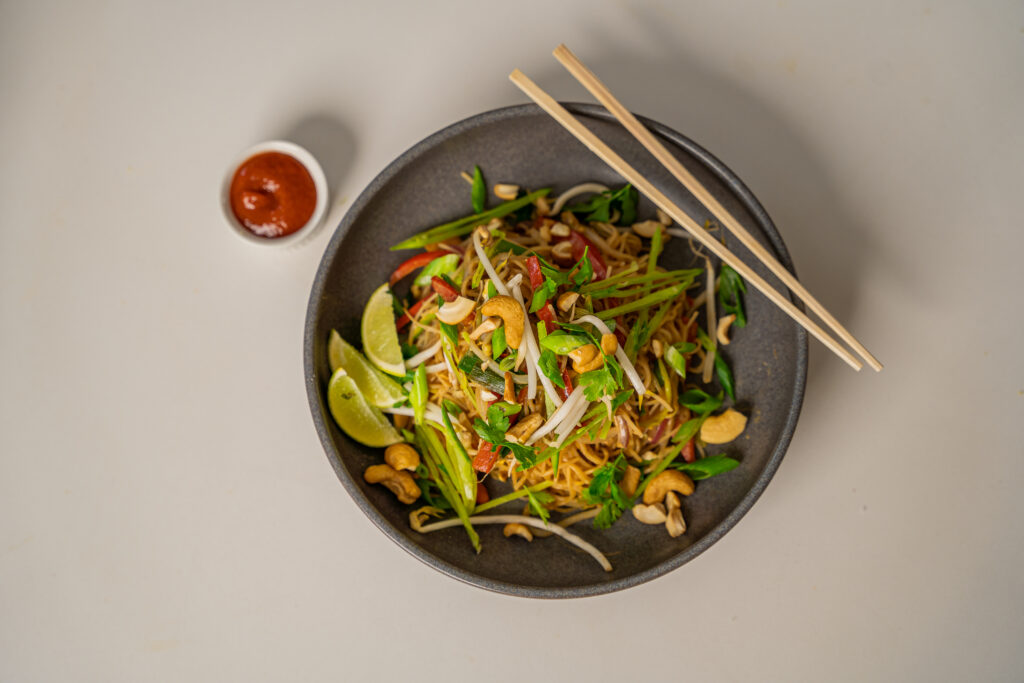 Peanut Ginger Noodle Stir fry
Print Recipe
Ingredients
1 bag of vermicelli noodles

½

cup

sliced red onion

1

thinly sliced red pepper

1

cup

sliced green onions

½

cup

thinly sliced sugar snap peas

1

cup

bean sprouts
SAUCE INGREDIENTS
¼

cup

+ 1 TBS natural peanut butter

1

tbsp

sesame oil

2

tbs

minced ginger

1

clove

garlic

½

cup

soy sauce

1

tbsp

sriracha or hot sauce

1

tbsp

rice wine vinegar

juice of 1 lime
GARNISH
Cilantro

Bean sprouts

¼

cup

roasted cashews
Instructions
First things first let's start with the vermicelli noodles. Place noodles in a heat safe container and pour over boiling water until noodles are covered. Let noodles sit until soft. About 10 minute or so. Once soft, drain and set aside.

Next up, let's mix together the sauce. In a bowl mix together the peanut butter, soy sauce, rice wine vinegar, sesame oil, fresh ginger, garlic, lime juice, and sriracha. Whisk until combined and set off to the side.

Now, place a lightly oiled pan over high heat. Once temperature has been reached add in the peppers, onions, bean sprouts, green onions. Be sure to keep the vegetables moving with a spatula or by tossing in the pan. After about 2-4 minutes add in the drained noodles. Continue to toss and combine everything in the pan.

Finally, pour in the sauce and mix all ingredients together thoroughly. Remove from heat.

Divide noodles into bowls and garish each dish with bean sprouts, cilantro, and roasted cashews.. a couple chillies would be fun on here as well!
Andy's Notes
Tips for nailing this recipe
Get organized. Cooking and assembling this dish happens really fast so I suggest having all of your ingredients prepped and in front of you before you start cooking. This is referred to in the cooking world as your mise en place.
Use all natural peanut butter. If you use a peanut butter with too much sugar the result will be very sweet. If that is all you have just taste your sauce and adjust with more soy and lime juice.
Make sure your pan is ripping hot before tossing in the noodles. The cook time is fast with any stir fry and this is no different.
Print Recipe
(Visited 22,950 times, 1 visits today)