These Pizza Swirls are an incredible kid-friendly snack that is ready in under 10 minutes, thanks to the Cosori Air Fryer. Easy to make too! Grab some homemade or store-bought pizza dough, roll it out into a rectangular shape, add on toppings, then roll up like a cinnamon bun, cut, and pop into the Cosori air fryer for 10 minutes at 400F. Done! These are so tasty, and you will just love them!
I really love my Cosori Air fryer! It's compact, stylish, and 30% faster than my traditional oven!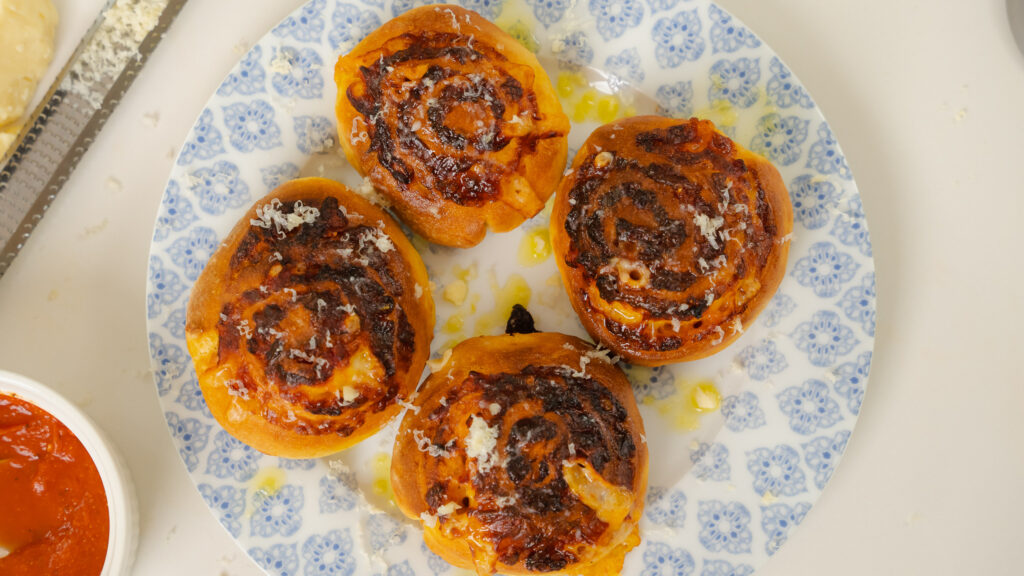 Let's Breakdown The Ingredients
This is a fun recipe that doesn't require many ingredients to make. It is the perfect quick and simple recipe to make when you're low on time!
You can use store-bought pizza dough for these pizza swirls or my homemade master dough! Either way, these swirls will come out tasting delicious!
I used regular pizza sauce for that classic tomato sauce with herbs and garlic to recreate that original pizza taste. And I kept the ingredients simple by only adding shredded mozzarella cheese!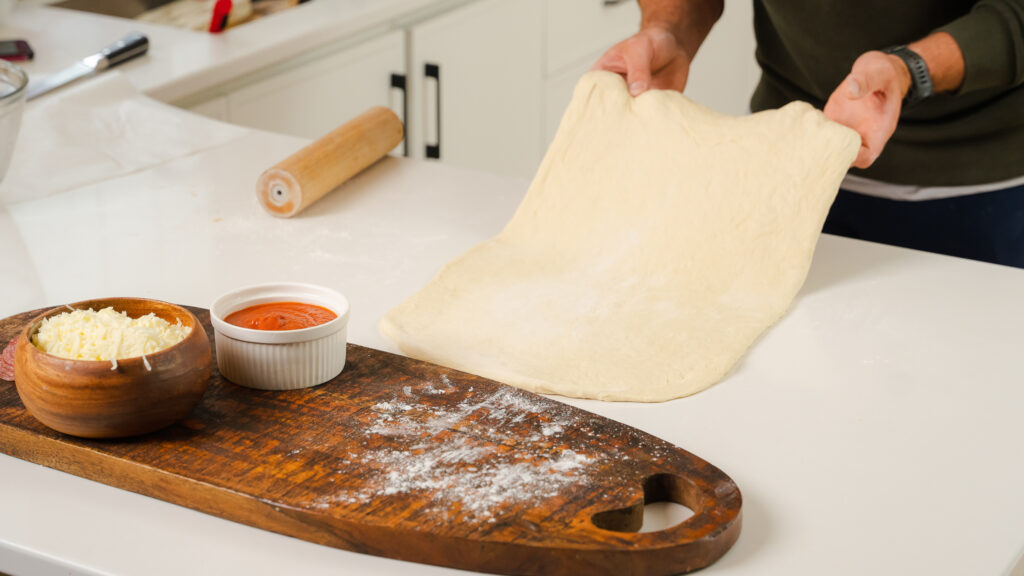 Add Your Favourite Toppings
But of course, you can add any pizza topping of your choice and liking! Here are a few other toppings you can add to these pizza swirls:
Mushrooms
Onions
Green pepper
Fresh basil
Pepperoni
Black olives
Tomatoes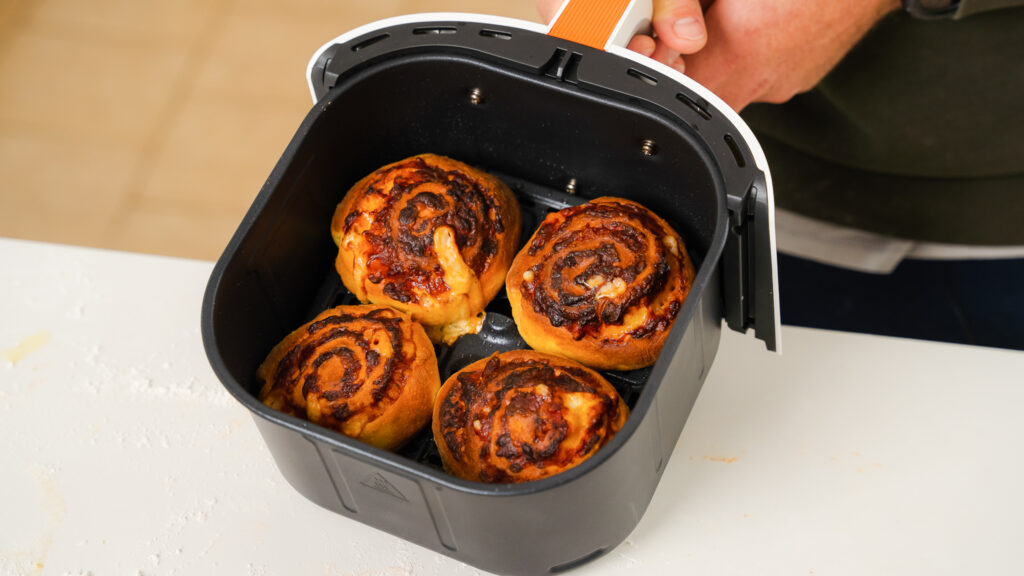 And the list can go on! Go ahead and make this recipe your own with your favourite veggies and choice of protein!
Pizza Swirls
Print Recipe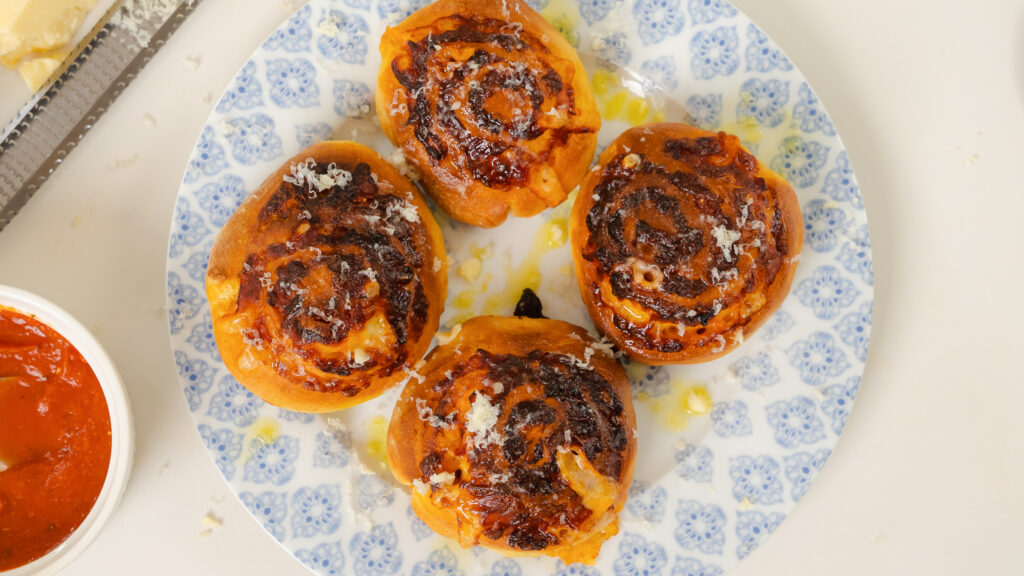 Ingredients
Pizza Dough (store bought or homemade)

2

cups

Pizza Sauce

4

cups

Shredded Mozzerella Cheese

Pizza toppings of your choice!
Instructions
Over a lightly flowered surface, roll your thawed pizza dough into a large rectangle keeping the dough thickness to around ¼-½ inch. Using a spoon, spoon on pizza sauce across the whole dough rectangle. Next add the cheese and whatever other toppings your heart desires.

Now, starting at one of the short ends of the rectangle, roll the dough over itself like you would for a cinnamon roll. Be sure to pull back on the dough after each rotation to keep the roll as tight as possible.

Once you have the rolled log, grab yourself some string or dental floss. Slide the string under the log, cross the strings over the top of the log and pull each thread in its opposite direction.

Let cut swirls rest, stuffing side facing up, for 10 minutes.

Place pizza swirls in the air fryer (or 9X9 in a baking pan if using standard oven). Lightly drizzle with olive oil. Be Careful not to over crowd.

Preheat air fryer to 400F or conventional oven to 350.

Once temperature has been reached you can air fry the pizza swirls for 10 minutes or until golden brown and melted.  If you are using regular oven back for 20-25 minutes or until golden brown.
Print Recipe
(Visited 2,638 times, 3 visits today)