One of my favourite menu items to order at a restaurant is fried brussels sprouts. They're crispy, salty, and I can't get enough of them! I know brussels sprouts can be hard to sell to some, but once they're properly cooked they can honestly be one of the best-tasting vegetables out there.
There are many ways to cook brussels sprouts, but I love how crisp they get when deep-fried! I cook this vegetable a ton at home, generally in a hot pan, but deep frying really takes them to a whole new level.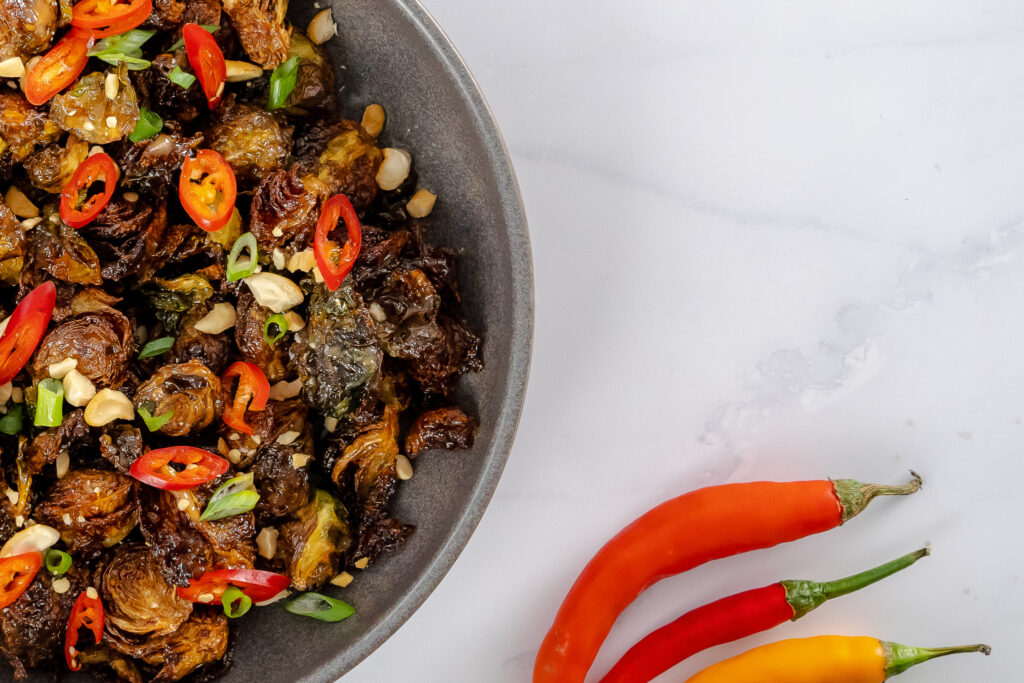 Let's Breakdown the Ingredients!
This recipe really highlights the amazing texture and flavours brussels sprouts can have with a simple glaze.
I feel as if brussels sprouts get a bad reputation as a vegetable. Not only is it possible for the vegetable to taste incredible, but it is packed with many health benefits! brussels sprouts are naturally high in fibre, minerals, vitamins K and C, rich in antioxidants, contains ALA omega-3 fatty acids, and may help in reducing inflammation.
This recipe tops the main ingredient, brussels sprouts, with a sweet and savoury glaze. This glaze is made from miso paste, maple syrup, and rice wine vinegar.
Miso paste is a traditional Japanese condiment that is a thick paste made from soybeans that are fermented with salt and a koji starter (Aspergillus oryzae, a noble fungus). Miso has a flavour of a deep savoury, with a toasty funky salty-sweet richness. Maple Syrup in the glaze adds a sweetness to the recipe that balances the salty and savoury flavours of the miso paste. The rice wine vinegar adds both sweetness and acidity to the recipe.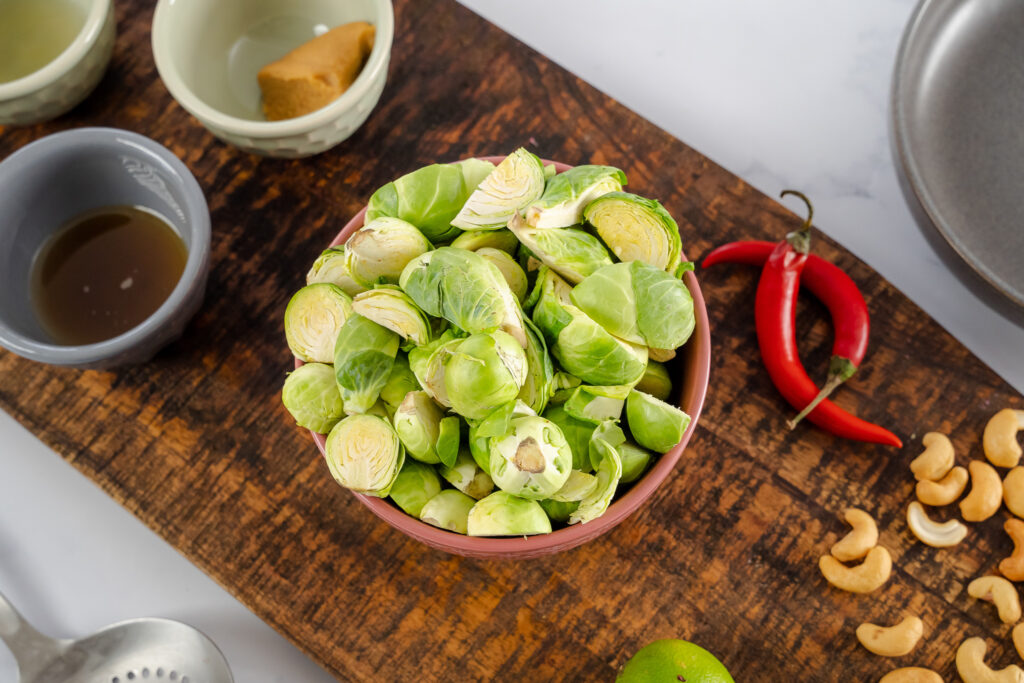 How Do You Make Deep Fried Brussels Sprouts?
If you haven't deep-fried anything before, don't stress; I will walk you through the dos and don'ts! The first thing you will want to do is trim up the brussels sprouts by cutting off the woody end. Before, I will then quarter each brussel sprout since I like them a bit smaller as this creates more surface area, making each bit crispier!
Once you have the sprouts quartered, I will pour about two inches of oil into a high wall pot. You are going to want the temperature of the oil to reach between 350-400F. A key utensil in this recipe is a high wall pot that will contain any splatters of oil that may happen.
Once the oil temperature has reached, you can carefully lower the sprouts into the pot. Brussels sprouts have a lot of moisture, so they will heavily splatter for the first minute or two.
Suggestion: Cover the pot with a mesh strainer to keep your countertop relatively oil-free. I say this from experience!
Once the sprouts are a deep golden brown (after frying for 8-9 minutes), use a slotted spoon, remove them from the oil and allow them to drain on a piece of paper towel. Remember to season with salt while it's still hot!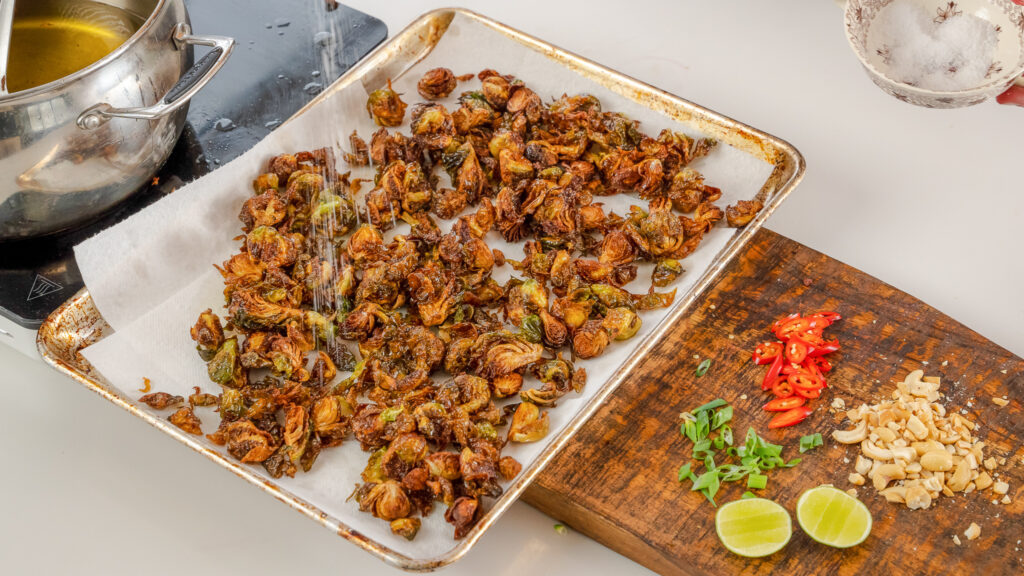 Maple Miso Dressing
I love the combination of miso paste and maple syrup! I am a massive fan of anything sweet and salty, and these two ingredients together five a wonderful one-two punch that I just love. Miso paste is available in most major grocery stores, or you will definitely find it at your local Asian grocery store. To balance out the sauce, I like to add a small amount of rice wine vinegar or a squirt of lime juice to brighten things up!
Maple Miso Fried Brussel Sprouts
Print Recipe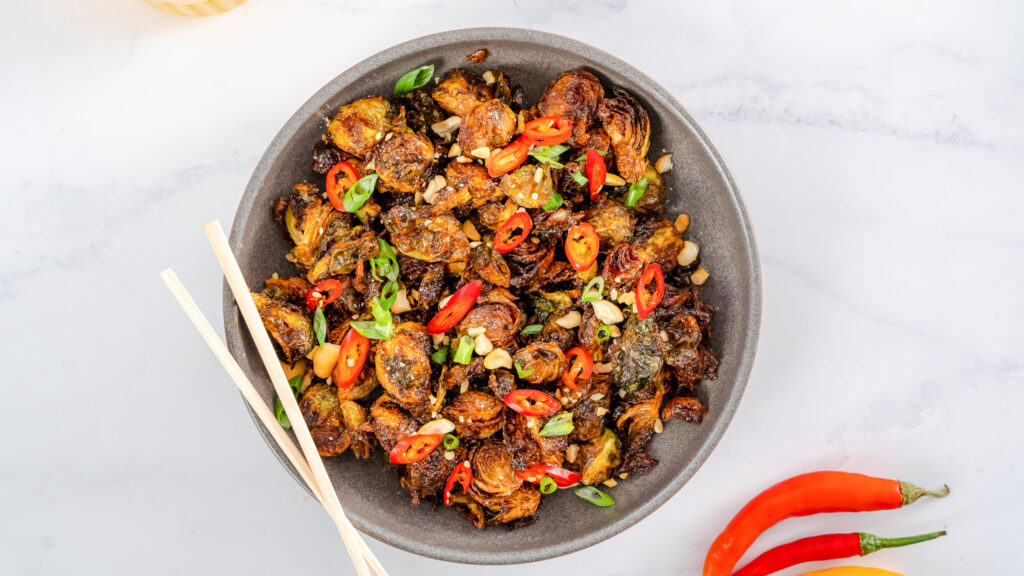 Ingredients
2

lbs

Brussel Sprouts, quartered

1.5

litres

canola oil for frying
Miso Maple Glaze
1 1/2

tbsp

miso paste

2

tbsp

maple syrup

2

tbs

rice wine vinegar
Toppings
1

long red chilli, thinly sliced

1/4

cup

crushed cashews

1/4

cup

green onions, thinly sliced

1

lime, cut into wedges
Instructions
Pour oil into high walled pot or dutch oven and place over medium high heat. Heat oil until temperature reaches approximately 350F.

While oil is heating, let's get the dressing ready. In a bowl mix together miso paste, maple syrup, and rice wine vinegar. Mix until smooth and set aside.

Once oil has reached temperate, CAREFULLY lower cut Brussel sprouts into the hot oil. Brussel sprouts contain a lot of moisture which results in lots of splattering for the first 60 seconds. I suggest covering top of pot with large mesh strainer to avoid a mess. Fry sprouts until they are a deep golden colour, around 8-9 minutes.

Once sprouts are golden, remove from oil using a slotted spoon and place on paper towel to drain. Season with salt while they are still hot.

Once sprouts have drained, place them in a large bowl and spoon on dressing. Toss until the sprouts are covered.

Last step, pour dressed sprouts onto a serving plate and top with sliced chilis, crushed cashews, green onions, and lime wedges. Serve with a cold beer.. if that's your thing.
Print Recipe
(Visited 6,699 times, 1 visits today)