Yesterday Nova Scotia experienced incredible violence. It has shaken the whole province – the whole country – to the core. I wasn't planning on cooking a chowder today, and really didn't have all the ingredients, but I couldn't stomach cooking anything else. My offering to you of Nova Scotian soul food…
Smoked Haddock Chowder…Nova Scotian Soul Food
Print Recipe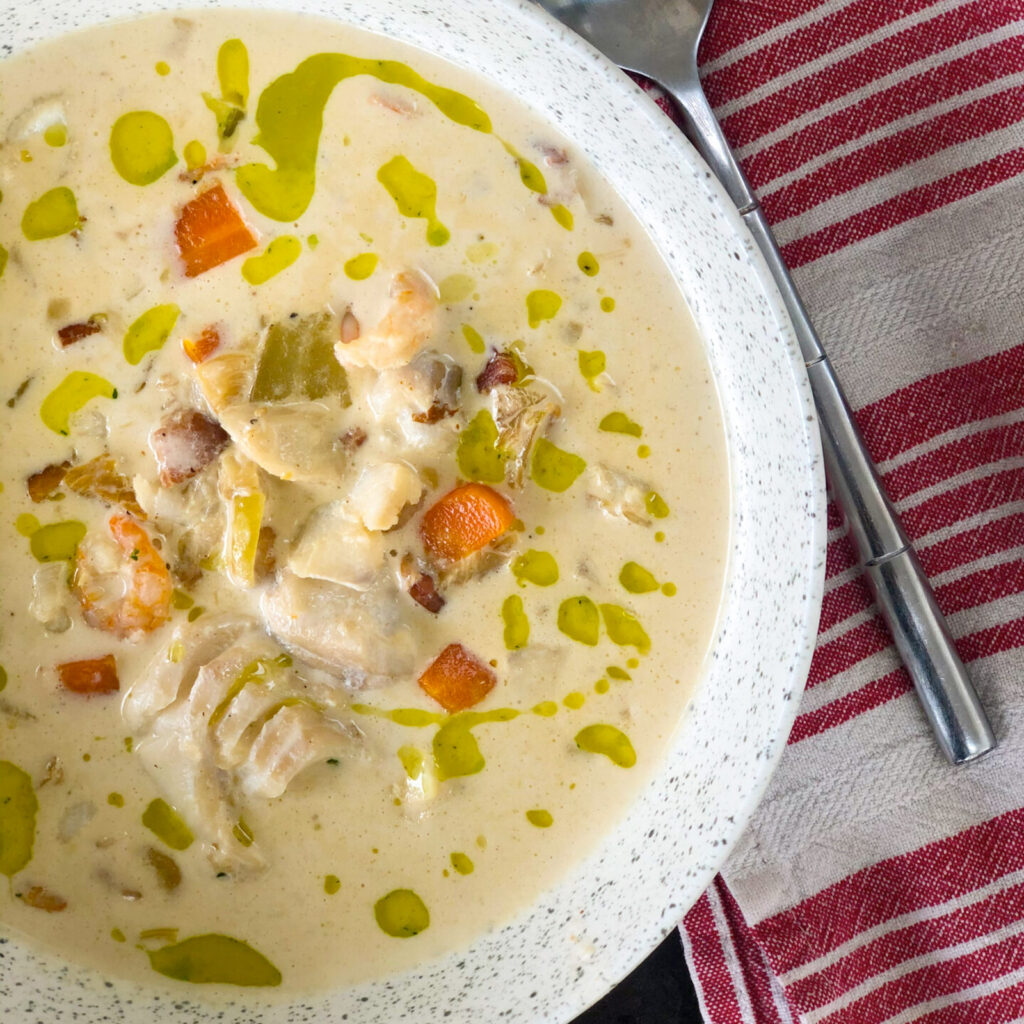 Ingredients
3

strips

smoked bacon, diced

4

cloves

garlic, minced

1

small

white onion, diced

¼

cup

Nova Scotian white wine

500

ml

cream

1

leek, diced

1

carrot, diced

1

wwhite potato, diced

2

bay leaves

1

fillet smoked haddock

2

tsp

salt

1

tsp

pepper
Instructions
In a large pot over medium heat add diced bacon and allow it to render and become crispy. Remove crispy bacon from pot and place on paper towel.

Add garlic and onions to the bacon fat and saute until onions are translucent. Increase heat to high and add in potatoes, carrots and leeks. Stir for 3 minutes and then add in the white wine to deglaze the pan. The alcohol will burn off.

Add in bay leaves, crispy bacon, milk and cream. Turn heat to medium and allow to simmer until potatoes are soft. Keep an eye on it so it doesn't boil over…this can happen quickly if the heat is too high.

Once the potato is soft, add in diced smoked haddock, whole fresh haddock, and any other seafood you have on hand, or choose to use. Simmer until the fish flakes apart.

Herb oil (if using): Simply put fresh herbs in a blender and add in 1/4 cup vegetable oil. Blend on high for a minute and then strain into a squirt bottle. Finish your serving bowl with a little bit of this green oil for flare.

Enjoy a warm bowl of Nova Scotian Soul Food.
Print Recipe
(Visited 397 times, 1 visits today)