These air fryer Spiced Cauliflower Tacos must be added to your weeknight meal rotation. They are spicy, fresh, super crave-able, and easy enough to throw together any weeknight. Simply chop up the cauliflower, coat with a bit of olive oil, toss on some spices, and then fry in the Cosori Air Fryer for 14 minutes. The result is amazing.
I love my Cosori Air fryer. It's stylish and compact but large enough to feed my family of four. If you are interested in learning more or buying your own, check the link in my profile for more information.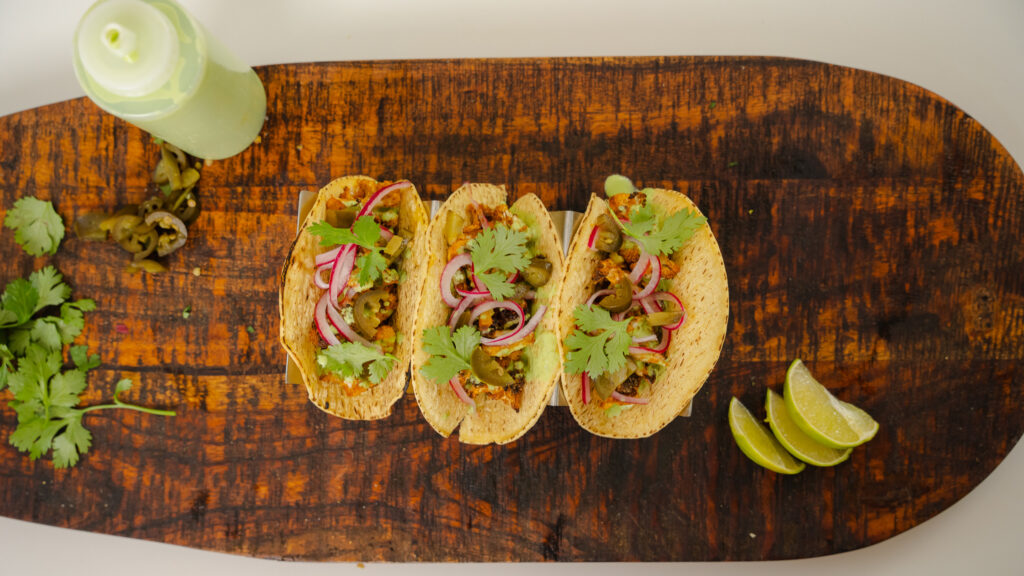 Let's Breakdown The Ingredients!
I love cooking with vegetables and sharing veggie-forward recipes packed with a ton of flavour! With the spices and ingredients I used, these spiced cauliflower tacos will amaze you!
Starting with the main ingredient for today's recipe is a head of cauliflower. It is a nutritious ingredient that is naturally high in fibre and vitamin B. And the cauliflower had a mild nutty and almost sweet taste to it when cooked!
For this recipe, I used a ton of spices and herbs such as cumin, paprika, garlic powder, onion powder, oregano, salt, and rice flour!
Cumin has a rich, earthy, warm taste, with a slight citrus flavour. Paprika is an ingredient that can either have a mild and sweet flavour or a very hot flavour, but it always adds a beautiful smokey taste to your dishes.
Garlic powder has a lot sweeter and less intense taste than fresh garlic. Similar to garlic powder, onion powder is a lot sweeter than fresh onion, but it adds an almost roasted flavour. Oregano has an intense earthy and slightly woodsy flavour to any dish. And, of course, I always add salt to taste.
Rice flour is an ingredient as it is that does not absorb too much oil and fry up crisper!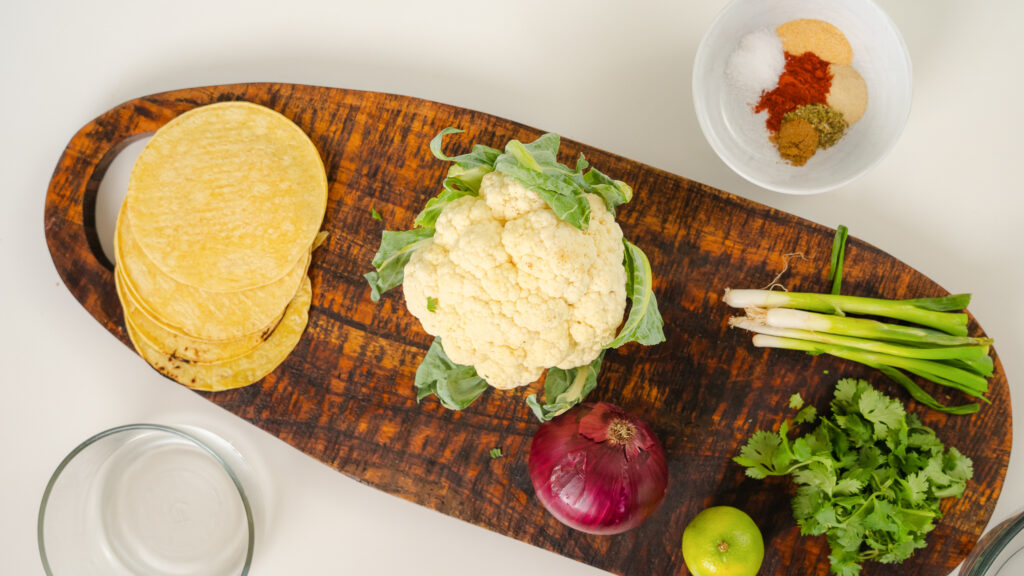 Herb Crema
Herb crema is a delicious sauce with a fresh and creamy taste to any recipe!
Greek yogurt is thick and creamy and has a tangy taste to it. The cilantro has a fresh and citrusy flavour that pairs well with the tangy flavour of the greek yogurt and the citrus, tart, and acidic taste the juice and zest of lime also have.
The green onion has a mild and gentle flavour that differs from a regular onion's strong aroma and taste. And the garlic adds a slightly spicy and earthy flavour to the sauce.
And, of course, always add a pinch of salt to the recipe!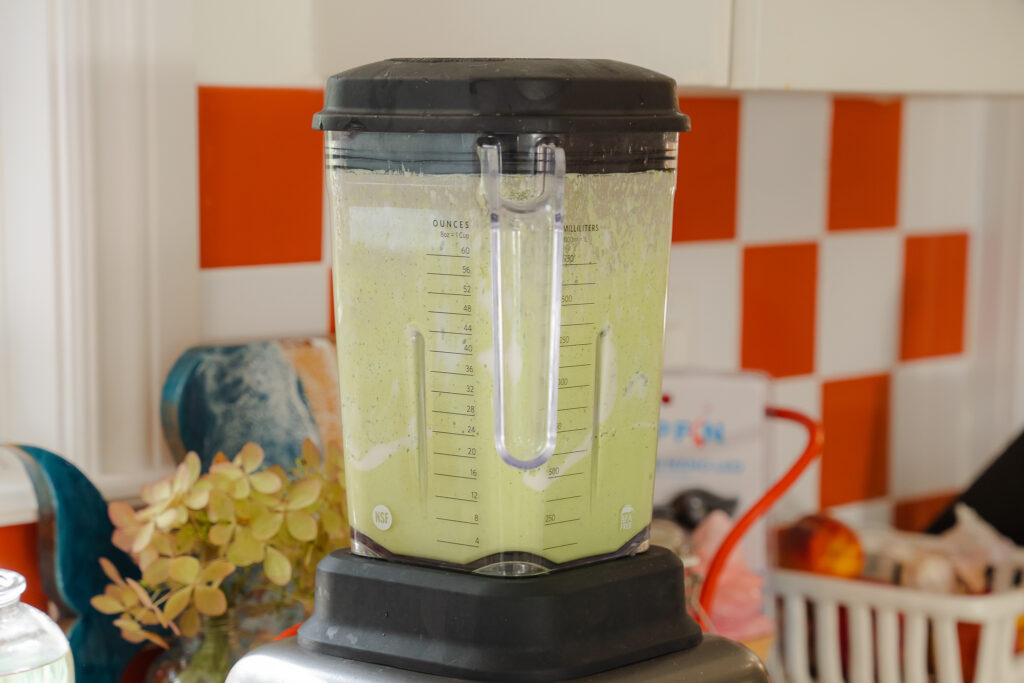 Spiced Cauliflower Tacos
Print Recipe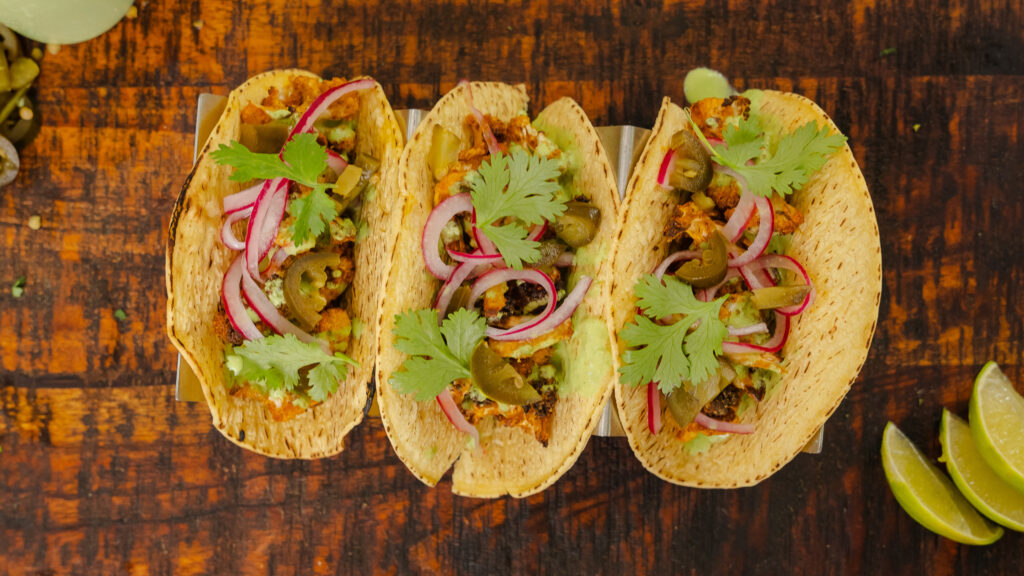 Ingredients
1

Head of Cauliflower

2

tbsp

Olive Oil

1/2

tsp

Salt

1

tsp

 Smoked Paprika

1

tsp

Garlic Powder

1

tsp

Onion Powder

1

tsp

Oregano

1

tbsp

Rice Flour
Herb Crema 
1/2

cup

Greek Yogurt

1

cup

Cilantro

Juice and Zest of Lime

Salt

1/4

cup

Green Onions

2

Garlic Clove
Instructions
Toss the cauliflower, oil, and spices together into a bowl. Then place it into Cosori Air fryer for 14 minutes at 400F.

While the cauliflower is cooking, place all of the greek yogurt, cilantro, salt, green onions, garlic clove, and the juice and zest of a lime into a blender and blend until smooth to make the herb crema.

Assemble tacos and serve with pickled red onions. Enjoy!
Print Recipe
(Visited 2,153 times, 1 visits today)