This recipe was inspired by the work I'm doing with the Marine Stewardship Council (MSC), check out the video we did with them here.
This restaurant-style scallop risotto is the perfect dish to make when you are trying to impress. Creamy, decadent, and a perfect meal for that special occasion.
Risotto is one of those dishes that is synonymous with "fancy dinner." While I agree that I generally only eat it at nice restaurants, it really is a dish that is pretty easy to make. It takes some time to assemble, but nothing to be intimidated by.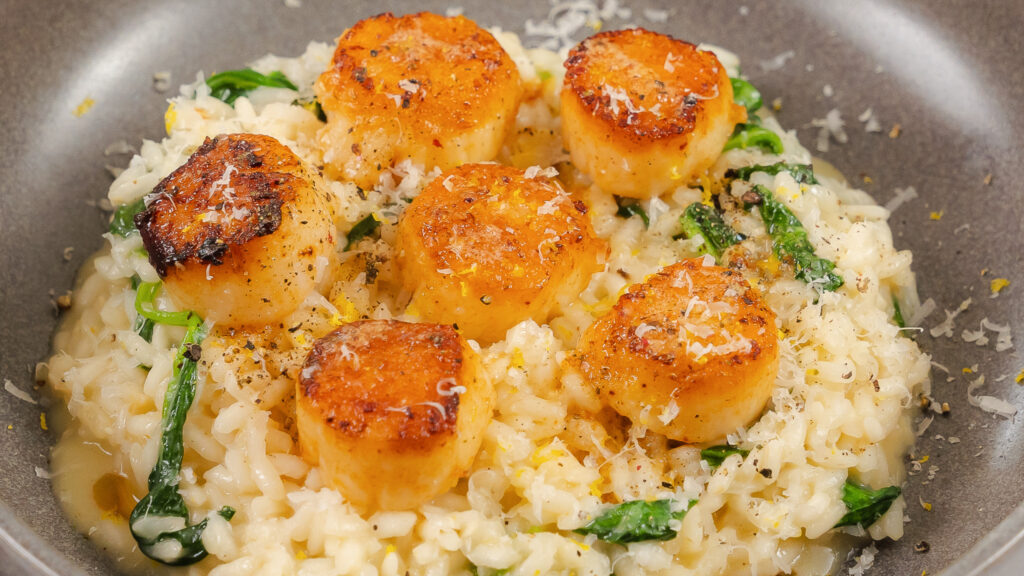 Let's Talk Scallops
Scallops are my favourite seafood. They are sweet, have amazing textures, and are one of my favourite foods to cook. A perfectly seared scallop is a piece of art, in my opinion. Getting that perfect sear doesn't need to be intimidating. You can definitely nail it if you follow the below steps.
Dry the scallops and remove the abductor tender (little rubbery tendon on the side)
Add a high smoke point oil to a pan and place over high heat.
Place scallop top side down on the pan and allow to sear for 90 seconds. Be sure not to overcrowd that pan as it will drop the temperature too much, and you won't get the sear you are looking for. Do not move the scallop once it hits the pan.
After 90 seconds, drop in 2 tbs of butter and allow the scallops to sear for another 20 seconds.
Flip the scallops and spoon over the hot butter on the seared side. Remove from pan after 20 seconds.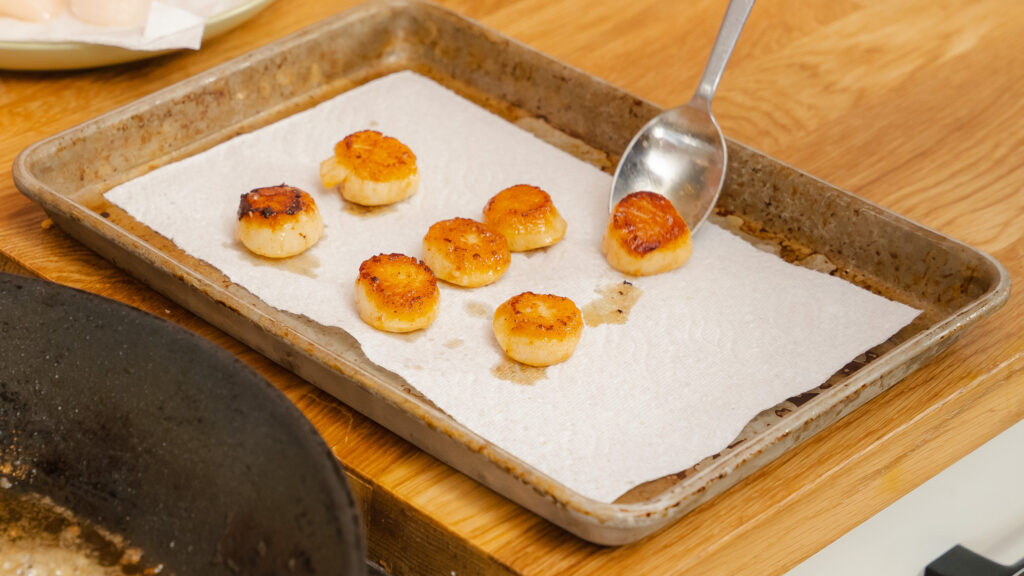 Let's Breakdown The Ingredients!
This risotto is made with a handful of key ingredients that makes this wonderful and delicious dish!
One of the most important ingredients when making risotto is making sure you are using short-grain rice. For this recipe, I used Arborio rice, which is high in starch, which makes the rice firmer, chewier, and creamier than any other kind of rice.
Parmesan is another key ingredient in risotto since the natural saltiness of this cheese helps balance the creaminess of the dish.
White wine is a classic original ingredient used when making risotto. It adds a bit of acidity to the dish, which helps balance the richness of the other ingredients.
And, of course, the star of this recipe is seared scallops. Scallops are saltwater shellfish that are briny, have a nutty flavour, and are slightly sweet and buttery.
To make this delicious risotto, I also used fresh ingredients such as garlic, shallots, and spinach. The garlic adds a bit of spice and nutty flavour to the dish, while the shallot has a sweet flavour with a hint of sharpness to its taste. The spinach is a great way to add some greens and add a mildly sweet flavour to the dish.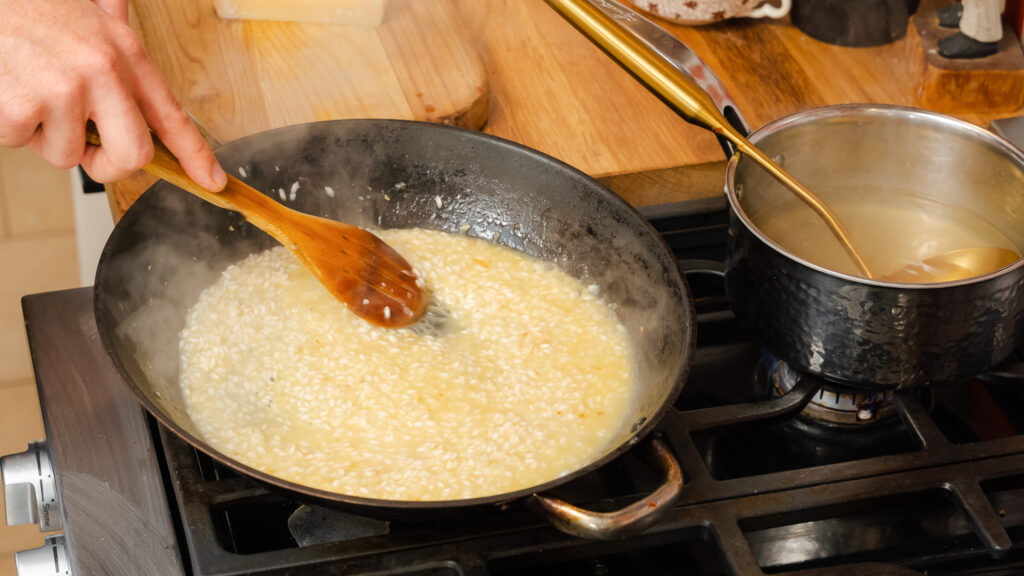 Spinach and Parm Risotto with Seared Scallops
Print Recipe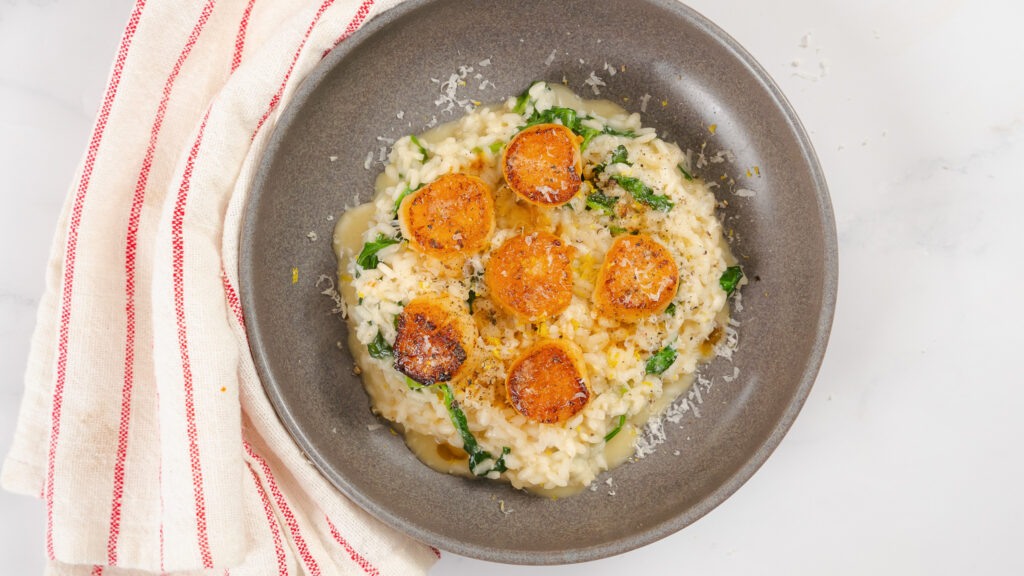 Ingredients
1

cup

Arborio Rice

2

Garlic Cloves, minced

1

Shallot, minced

2

tbsp

Olive Oil

1

tbsp

Butter

1/4

cup

White Wine

1

litre

Stock

1/2

cup

Fresh Parmesan

1

handful

Spinach

1

tsp

Salt
10

Scallops

2

tbsp

High Smoke Point Oil

2

tbsp

Butter
Instructions
In a medium sized pot, bring the stock to a light simmer. Have a ladle close by as well.

Place a large pan over medium heat and pour in olive oil and butter. Once butter has melted add in the garlic and shallot and saute for 2 minutes. You don't want the garlic to brown.

After 2 minutes drop in the rice and stir. You want the rice to get covered in the oil and butter and "toast" in the pan for 2 minutes. After two minutes pour in the white wine. It should sizzle and bubble. This is good as it is burning off the alcohol.

Now comes the fun part, add 1 ladle at a time of the warm stock. After you add one ladle of the stock stir the risotto constantly until the stock is absorbed. Once absorbed, add another ladle. Continue this process until the rice is nice and stoft. Don't be shy to add in more stock than you think. The rice is very absorbent and you want a creamy risotto. Once rice is soft, add in the spinach and parm, and one final ladle of stock.

Now let's kick on to the scallops. Dry you scallops with a paper towel. Remove abductor tendon and discard. Place a pan over high heat and add in high smoke point oil. Once temperature has been reached place the scallops into the pan, be sure not to over crowd, and sear the top side of the scallop for 90 seconds. After 90 seconds drop in the butter and allow to sear for another 20 seconds. Flip the scallops and spoon the hot butter over the top side of the scallops. After 20 seconds remove from the pan.

Now it up! I like to top my risotto and scallops with parm, lemon zest, and some of the butter from the scallop pan! Enjoy!
Print Recipe
(Visited 1,384 times, 1 visits today)