These strawberry tea-biscuits are perfect way to add a little excitement to your tea biscuits. It is strawberry season here in Atlantic Canada and I just love making strawberry shortcake as a dessert this time of year. While I was making my tea biscuits I thought it could be cool to put strawberries directly into the dough. It worked amazingly and I thought I would share!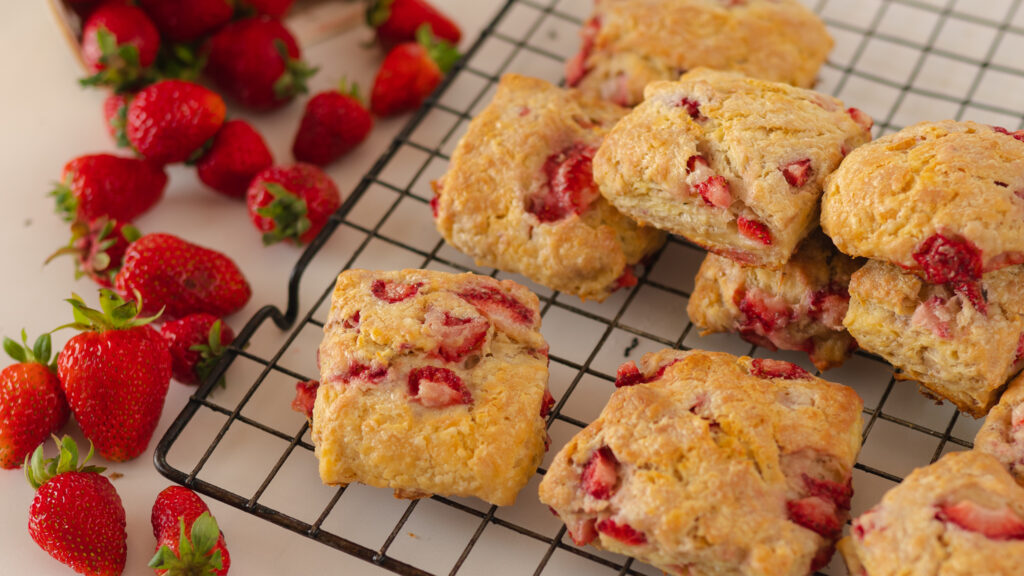 In my opinion the tea biscuit is one of the greatest foods. It's my ultimate comfort food. My mom and her side of the family have been making this recipe for many years and I can just taste the memories. The tea biscuit is also important to me as a chef as it gained me much praise while I was competing on Masterchef Canada. If it's good enough for the judges, I hope it's good enough for your family.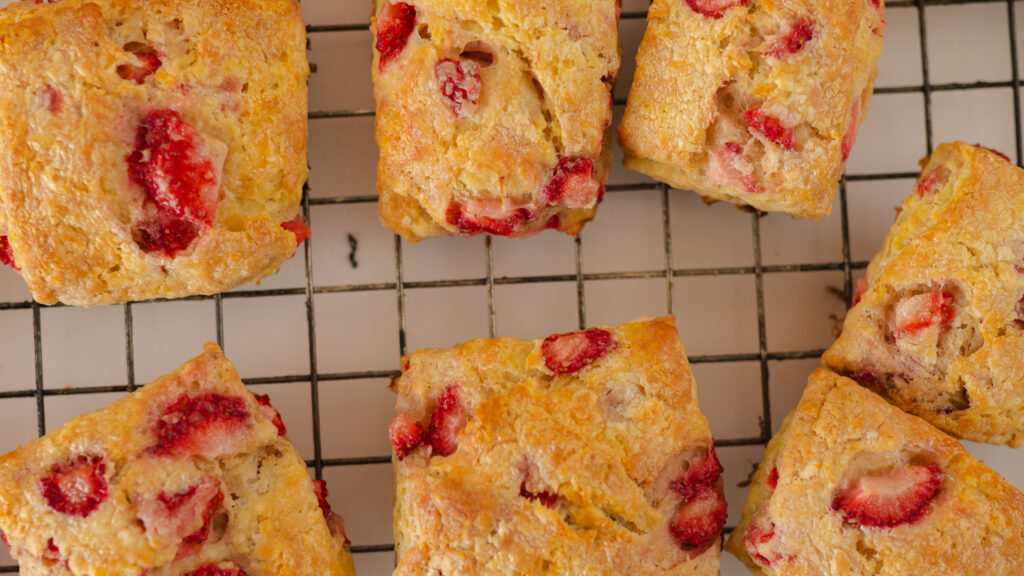 Tips for nailing Tea Biscuits
Use frozen butter. This is crucial step for these Tea Biscuits. The frozen butter will release steam while cooking which improved the texture of the biscuits.
Shred butter using a cheese grater. This just makes life that much easier and you can ensure butter is full incorporated throughout all of the dough.
Use buttermilk. Don't have any butter milk? No worries. All you need to do is add a tbs of white vinegar to 1 cup of milk and let it sit for about 2 minutes. The milk will curdle which results in moister biscuits.
Cut into square if you want to avoid wasting dough. This took me a long time to realize. Worth while tip.
DON'T SKIP THE FOLDING. Tea biscuits are all about those flakey layers. Don't skip that step. It's worth the small amount of extra work.
Brush the biscuits with butter milk before baking. This will add extra beautiful colour to the tops of the biscuits.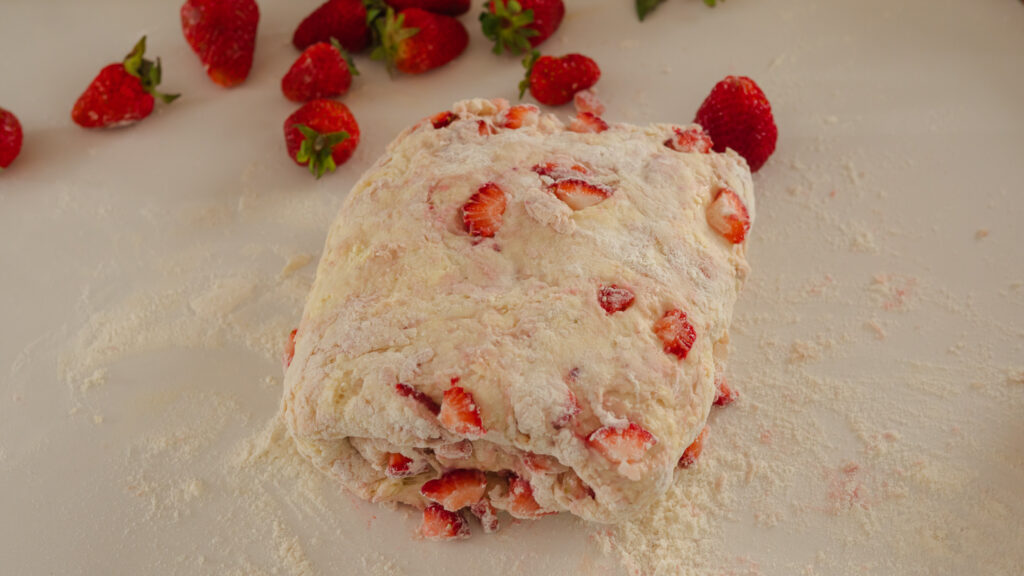 Adding the strawberries to the dough
You can add really any fruit to your tea biscuits. I chose strawberries as they are fresh this time of year. I simple sliced them into bite sized chunks and tossed them in right after I added the milk. Feel free to add in blueberries, peaches, raspberries or what ever you have on hand or is seasonal.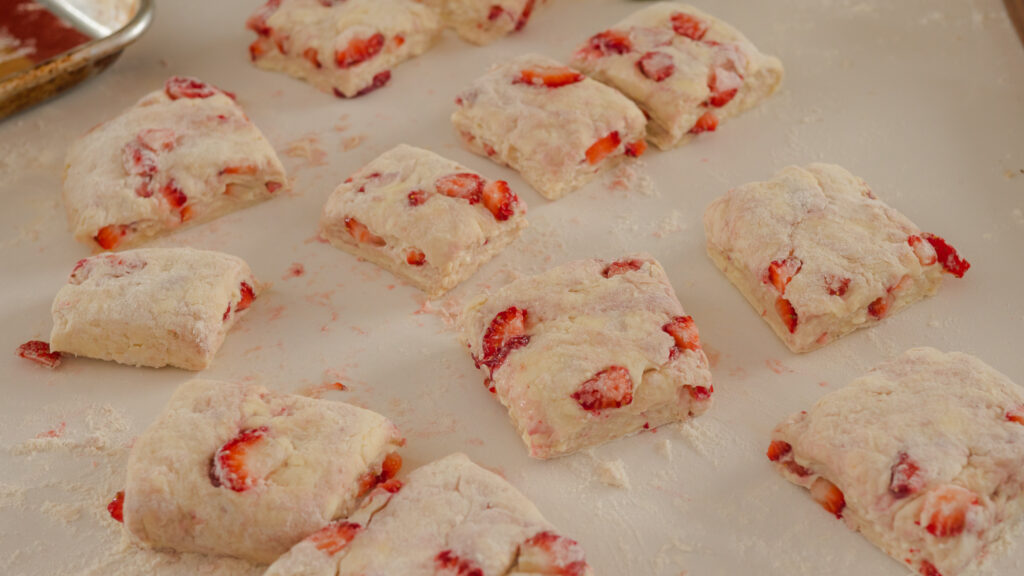 These tea biscuits are begging to be served with macerated strawberries, fresh whipped cream and a lovely summer evening. I hope you and your family enjoy this recipe for years to come! Enjoy!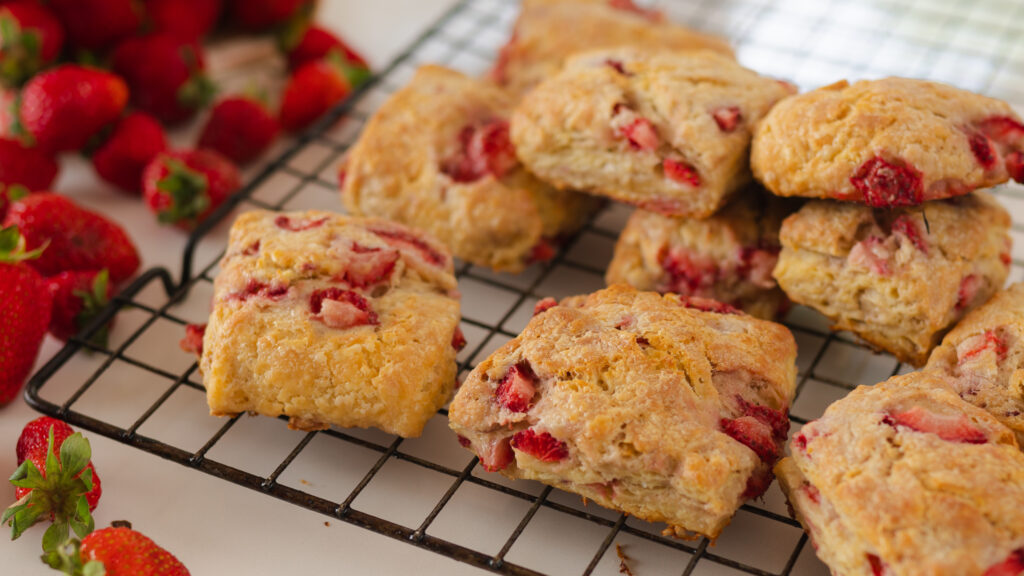 Strawberry Tea Biscuits
Print Recipe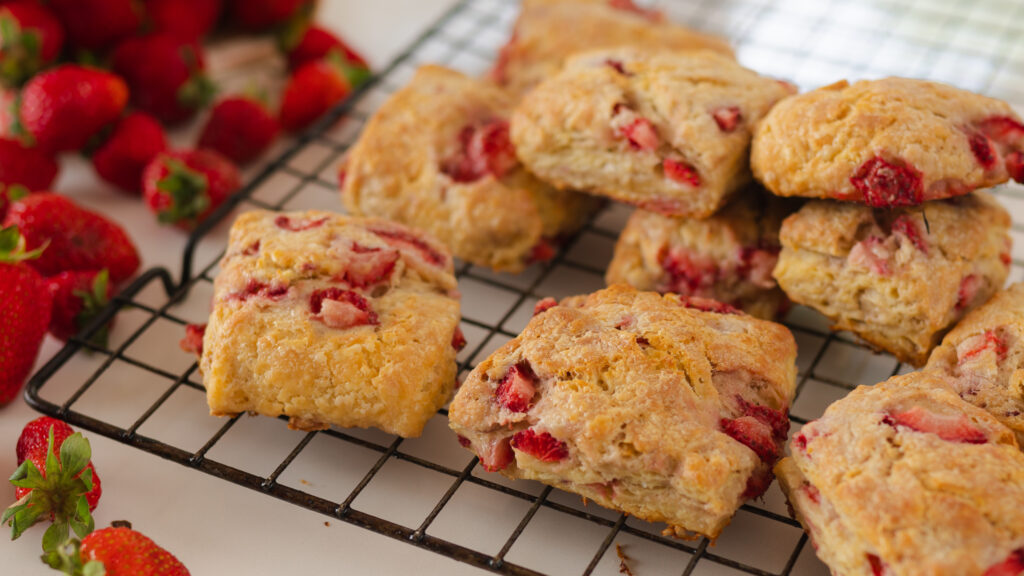 Ingredients
2 1/4

cups

flour

2

tsp

baking powder

1/2

tsp

baking soda

1/2

tsp

salt

1

tbs

sugar

1/2

cup

frozen butter, grated

1

cup

milk or butter milk

1

tsp

vanilla

1

cup

strawberries, sliced

1/2

cup

milk, for brushing biscuits before baking
Instructions
Preheat oven to 425F and prepare a baking sheet with cooking spray or parchment paper.

In a bowl mix together flour, baking powder, baking soda, sugar, and salt. Add in shredded butter and mix together to make sure butter is well distributed.

Create a well in the flour (a small hole) and pour in buttermilk and add strawberries and vanilla. Mix together until a shaggy dough forms. Tip out onto a lightly floured surface, lightly bring dough together and then and shape into a rectangle using a rolling pin. Using the rolling pin, roll the dough out until it's about 1/2 inch thick. Starting with the end of the rectangle closest to you, fold end to the middle. Repeat with end of the rectangle farthest away from you. You should now have a square. Turn the square a half turn and then roll back into a rectangle; repeat the folding process two more times. This is what creates nice flaky layers.

Roll dough to about 1/2 to 2/3 of an inch thick.

Using a knife, cut out biscuits. If you want to use a cookie cutter go for it, I have now started cutting the biscuits into a square share to avoid any waste.

Place the biscuits onto the baking sheet and lightly brush the tops with butter milk. If you do not have a pastry brush just dip paper towel into the butter milk and lightly spread on top.

Bake for 21-23 minutes or until tops are nice and brown.

Remove from oven and allow to cool for 5 minutes on the baking pan. Now Enjoy!
Print Recipe
(Visited 8,691 times, 8 visits today)