This fresh, delicious, low carb dinner comes together in about 15 minutes and is absolutely packed with flavour! Big, bold classic thai flavours come screaming through on these amazing Thai chicken lettuce wraps. Perfect for quick and easy weeknight meals, but also a really fun and interactive recipe to make for guests!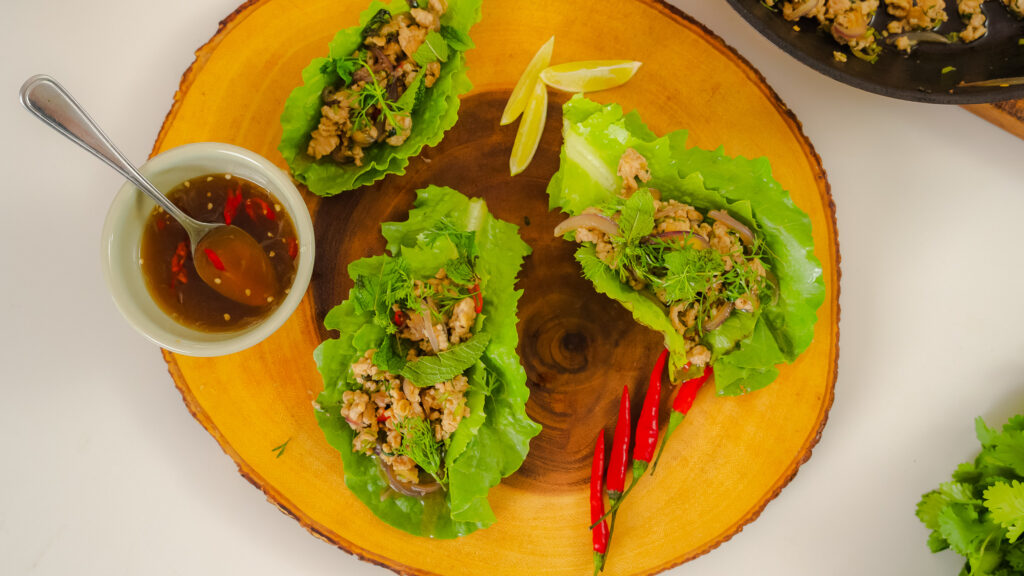 Foundational flavours of a lot of Thai Cooking
Aromatics and herbs are super important in Thai cooking. After traveling to Thailand and tasting their food, I totally changed the way I eat and cook. Since coming home, I find myself adding huge amount more herbs to my dishes, and I will build a lot of my dishes using onion, ginger, lemongrass, garlic, thai chilis, and cilantro stems. Using these flavours as foundational blocks to this dish, guarantees delicious results!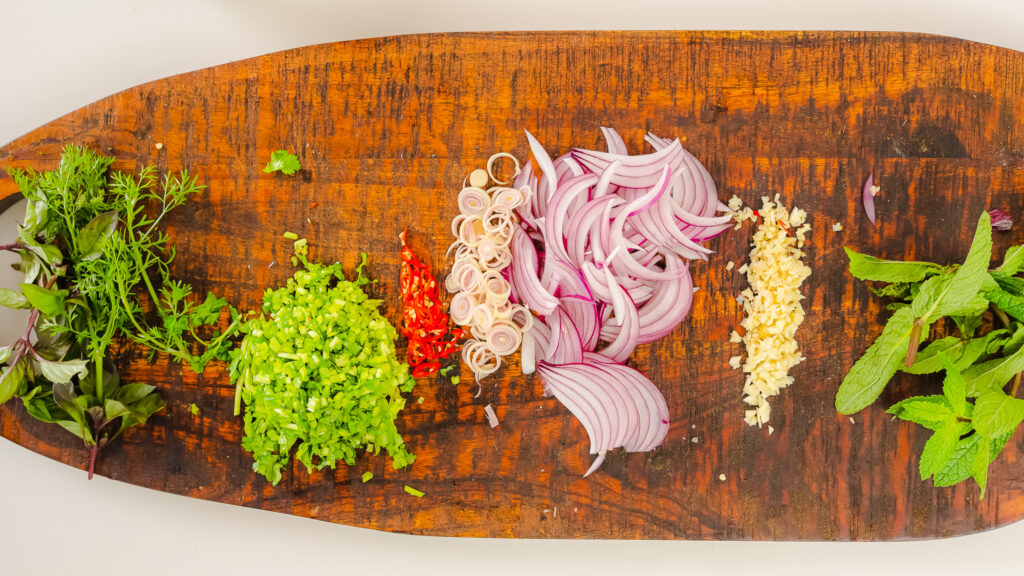 What is Larb?
Larb is a Thai salad that is made using ground meat (could be chicken, pork, beef, or lamb), herbs, lemongrass, onions, ginger, chilis, garlic, and seasoned with limes and fish sauce. This dish is fresh, bright, salty, funky, and soooo crave-able.
Let's breakdown the ingredients!
Thai Larb is made by mixing together ground meat with tons of herbs and aromatics. It can be eaten on top of rice or by using lettuce wraps like we do here.
I chose ground chicken for this recipe but you could use pork as a great substitute. Browning the meat takes only 5-10 minutes and then you season it heavily with lemongrass, onions, garlic, chilies, and cilantro stems. Saute everything together and just enjoy that smell! So Amazing!
Ok now lets talk dipping sauce. The dipping sauce is made using lime juice, fish sauce, chilis, and brown sugar. The result is delicious. Sour, spicy, funky, with a ton of umami. This sauce is perfect to drizzle over ever bit of these lettuce wraps.
Herbs are crucial for this dish. You can not have too many. I used mint, thai basil, and cilantro. This brings an amazing herbaceous, freshness to that just makes you want to keep eating more!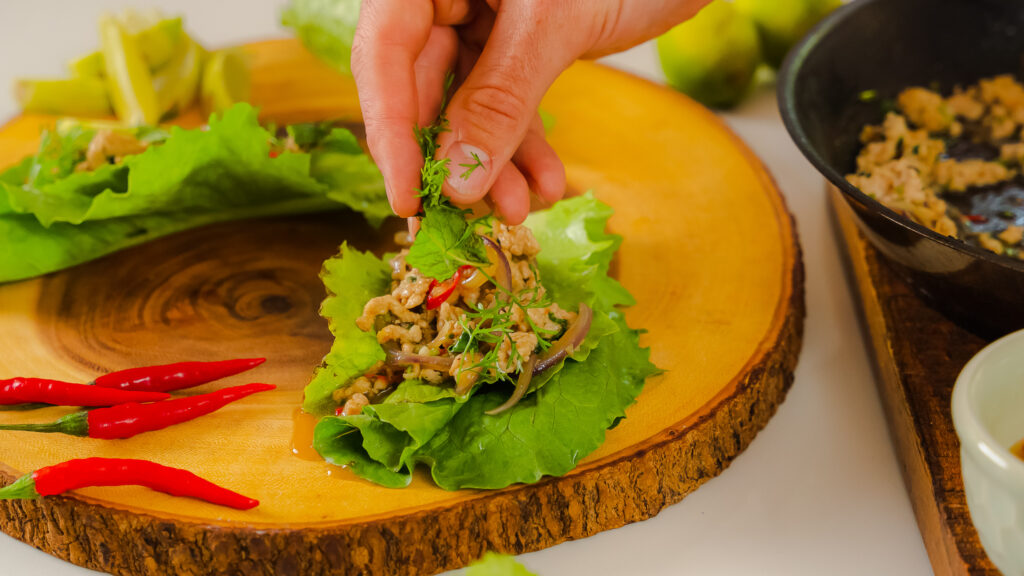 Thai chicken Lettuce Wraps (Larb)
Print Recipe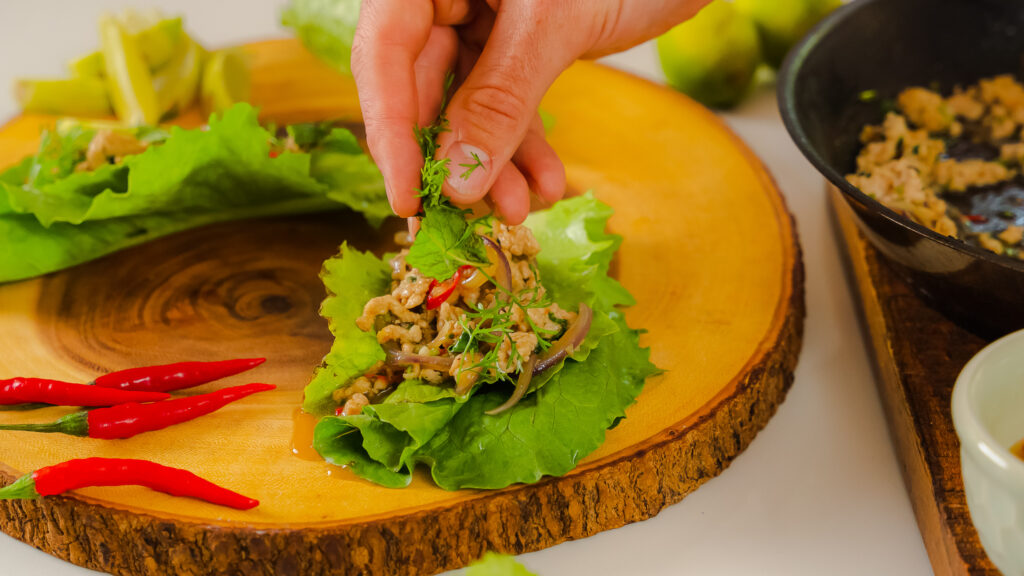 Ingredients
Ground Chicken Mixture
1

lb

ground chicken

2

cloves

garlic, minced

I

inch

ginger, minced

2

tbs

lemongrass, sliced

1

Thai chili, sliced

2

tbs

cilantro stems

1/2

cup

red onion, sliced

1

lime, juice and zested

2

tsp

fish sauce

1

tbs

thai basil, chopped.

1

pinch

salt
Dipping sauce
2

limes, juiced

2

tbs

fish sauce

2

tbs

brown sugar

1

clove

garlic, finely minced

1

chili, thinly sliced
For serving
12-15

Lettuce leaves.

Romain or Boston lettuce work great.

1

cup

thai basil

1

cup

mint

1/2

cup

cilantro
Instructions
Ok let's prep all of our aromatics for the ground chicken mixture. Mince and slice garlic, ginger, onions, lemongrass, chili, and cilantro stems.

Place a lightly oiled pan over medium high heat. Once at temperature, saute garlic, ginger, onions, lemongrass, chili, and cilantro stems for 1-2 minutes. From here drop in the ground chicken and using a wooded spoon break up the chicken and fry until lightly browned. Season with salt. Once chicken is browned add in the lime juice, zest, fish sauce, and the Thai basil. Stir and then remove from heat.

Now let's tackle the dipping sauce. In a small bowl add in the lime juice, fish sauce, brown sugar, thai chili, and garlic. Mix until sugar dissolves.

We are ready to eat. Grab yourself a lettuce leaf, load it up with chicken, top with herbs, and then drizzle on the dipping sauce. Enjoy!!!
Print Recipe
(Visited 8,010 times, 1 visits today)