Who doesn't love a brownie? One of the great pleasures in life. I felt a serious amount of pressure coming up with a brownie recipe, since I feel you can learn a lot about someone based on how they answer the question "What makes the perfect brownie?" I thought about that question a lot when coming up with this recipe and I am really happy with the results. Personally, I like a very fudgy brownie, a good amount of salt, and when the occasion calls for it, a rich chocolate buttercream icing. That's the route I went for this recipe. I hope you enjoy it!
The Best Brownie Recipe Ever. MAKE THIS.
Print Recipe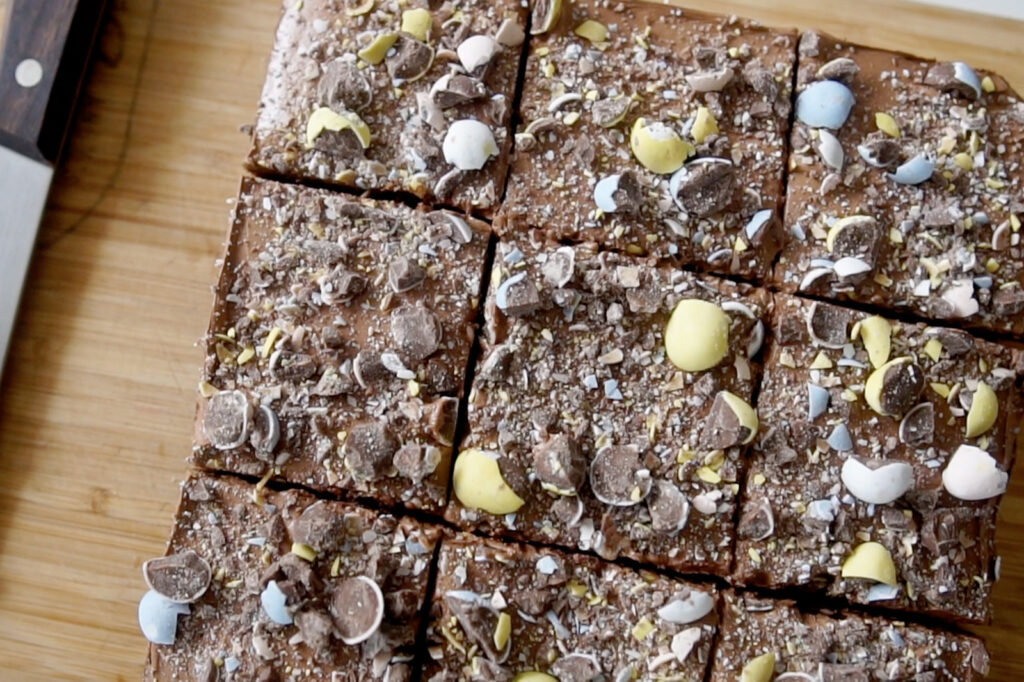 Ingredients
½

cup

butter, melted. Keep warm

1

tbsp

olive oil

1

cup

plus 2 tbsp white sugar

2

large eggs

2

tsp

vanilla

⅓

cup

crushed Cadbury mini eggs

½

cup

flour

½

cup

cocoa

2

pinches

salt
Chocolate Buttercream
1

cup

room temperature butter

1

tsp

vanilla

½

cup

icing sugar

5

tbsp

cocoa powder. If you want it even more chocolatey feel free to add another tablespoon

1½

tbsp

cream or milk

1

cup

crushed mini eggs for topping
Instructions
Preheat the oven to 350 and prepare an 8X8 inch baking pan with cooking spray and parchment paper. Make sure you have enough excess parchment paper on the sides of the pan to be able to lift the brownies out of the pan to cool.

In a bowl, add hot butter, oil, and sugar. Using a hand mixer, or a stand mixer fixed with the paddle attachment, beat the butter-sugar mixture for 2 mins. Don't rush this step. This creates the shiny top to the brownie.

Add eggs and vanilla to the butter-sugar mixture. Beat again for 2 minutes or until pale and creamy.

In the same bowl, sift in the cocoa, flour, salt, crushed mini eggs, and shaved chocolate. Fold mixture together. Be careful not to over mix.

Pour batter into the 8X8 baking pan, sprinkle with salt, and place in the oven for 20-23 minutes. You want the center to be set, but still fudgy.

Let the brownie cool fully. Option to place brownie on a cooling rack to speed up the process. While the brownie is cooling, kick on with the buttercream icing.

Add butter, cocoa, icing sugar, vanilla, and cream to a bowl. Using a hand mixer or a stand mixer fixed with the paddle attachment, mix the icing together. It may seem dry at the beginning but keep going. Beat on high for 2 minutes.

Once the brownie is fully cooled spread on icing, and then sprinkle on the crushed mini eggs. I found using the side of a knife or the bottom of a cup is the best way to crush the mini eggs. Be sure to get a mixture of finely crushed and coarsely crush mini eggs. The texture is key.

Sprinkle with salt. DO NOT SKIP THIS STEP. Chocolate gets even better with salt.

Take a moment to really enjoy these brownies. These are a once-in-a-while treat, so really just give yourself permission to enjoy. These are insanely good. You deserve it.
Andy's Notes
Keys for nailing this brownie recipe:
Heat the butter before adding in the sugar. You want the butter to be warm, if not hot when you add it into the bowl with the sugar. This will help with the shiny top crust.
Take your time mixing the sugar, oil, and butter together. DO NOT RUSH THIS STEP. Mix on high for about 2 minutes. This is a very common mistake with most home bakers.
When eggs and vanilla get added into the butter & sugar, be sure to mix really well. I used a hand mixer and mixed for about 2 minutes. Don't rush as once the cocoa and flour get added in you can't mix as much, so take your time and mix away! You want the mixture to be pale yellow and creamy.
Sift the flour and cocoa into the bowl for best results.
Cook the brownies on a rack placed in the upper third of the oven.
Let the brownie fully cool after coming out of the oven or the icing will melt when you try to spread it. Patience is a virtue.
Use an 8X8 inch pan
Print Recipe
(Visited 382 times, 2 visits today)