This rich, moist, super chocolaty cake should be your go to recipe for any celebration. Birthdays, retirements, any special occasion deserves this chocolate cake!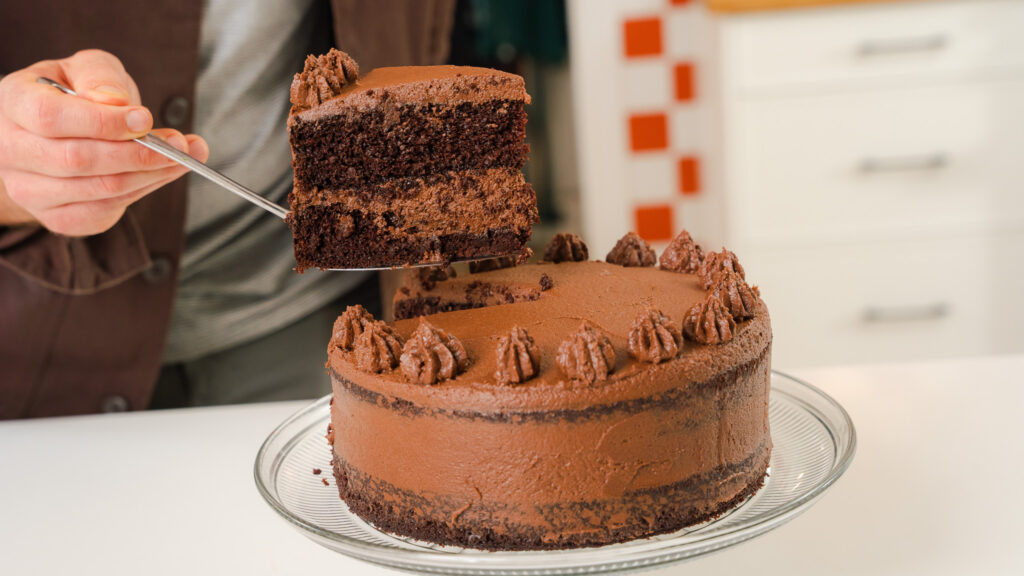 I have been making this recipe for many years. When I ran a catering company, cakes became one of my calling cards. There is really something special about serving a beautifully made cake. I hope you make this recipe and treat your guests to the excitement of a beautiful chocolate cake!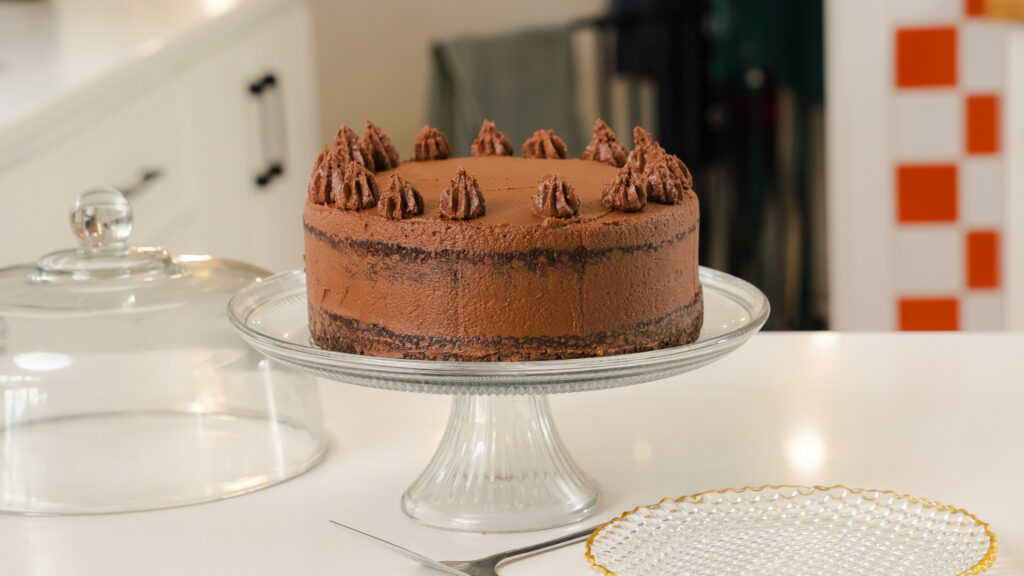 Keys for nailing this chocolate cake
Sift the flour and cocoa powder- This is a really easy step that results in a lighter more fluffy cake crumb. All you need to do is pass the flour and cocoa through a fine strainer. This helps get rid of any clumps! If you don't have a strainer, just whisk the dry ingredients and the result will be the same.
HOT coffee – The recipe calls for adding in hot coffee (hot water can do the trick too if you want to avoid the caffeine). The reason you need a hot liquid is to help the cocoa "bloom", which refers to cocoa powder releasing more of its rich deep flavour.
DON'T OVER MIX – Once you add the dry and wet ingredients, it is super important to not over mix. This will result in a denser, tougher cake. Who wants that?
Prepare your cake pans- Be sure to cover the bottom of your cake pans with parchment paper and cover the sides with cooking spray or butter.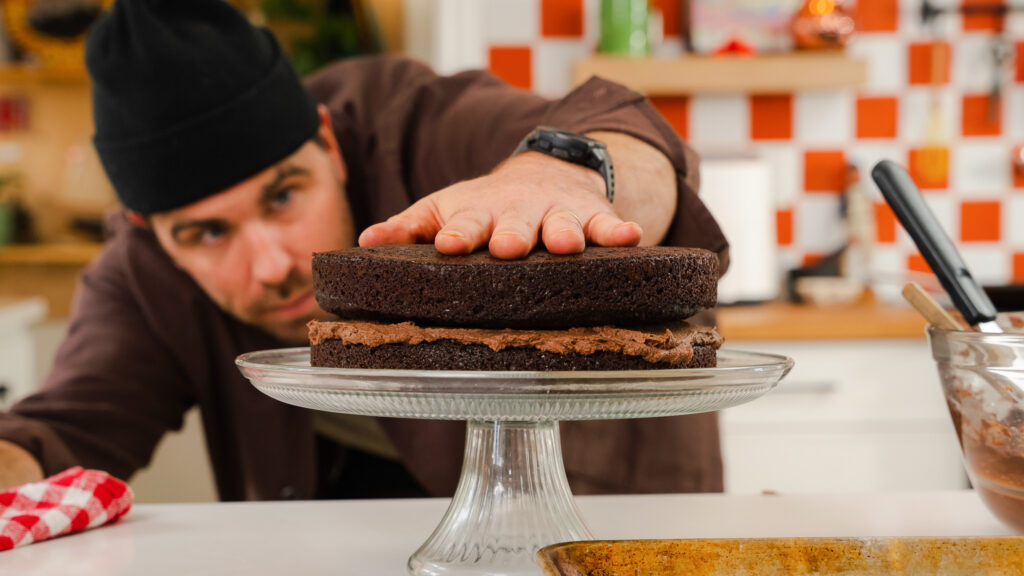 Let's break down the ingredients!
All purpose flour – This gives the cake structure.
Unsweetened Cocoa powder – The higher quality the better the flavour. The cocoa powder is what gives this cake it's rich chocolaty flavour. Be sure to use hot coffee or hot water to get the most flavour out of your cocoa powder.
White sugar – Sugar is bringing the sweetness!
Baking Soda & Baking Powder – Leavening agents at work! Baking soda and baking powder help your cakes rise.
Eggs – 2 room temperature eggs. This brings moisture and fat to the cake.
Buttermilk – Buttermilk brings extra moistness to the cake and is a lovely ingredient. Don't have butter milk on hand? No worries, simply add 1 tbs of white vinegar to milk and you have made butter milk!
Hot Coffee – Coffee brings out the flavour of chocolate. The temperature is important as hot liquids will help "bloom" the cocoa powder which refers to releasing more of the rich, deep, chocolate flavours. If you don't want the caffeine, use decaf coffee or even hot water!
Olive oil – Added fat and flavour
Vanilla
Salt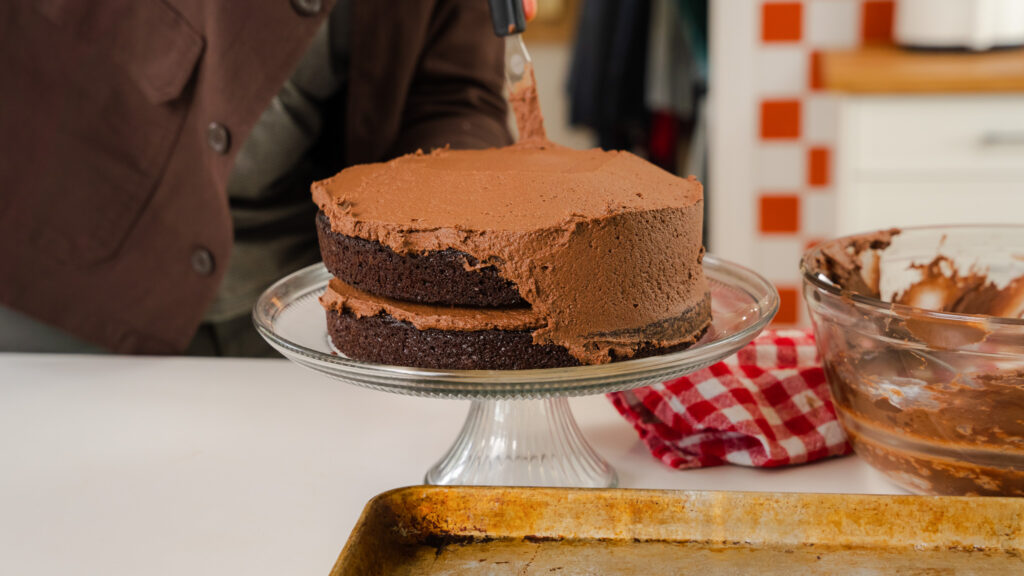 Chocolate Butter Cream
A creamy, rich butter cream can really make the cake. This buttercream is easy to make and is so lovely. Chocolatey, rich, and smooth. The perfect icing for this cake.
No fancy ingredients needed. All you will need is room temperature butter, cocoa powder, heavy cream, salt, and vanilla extract. Mix all together until smooth. That is it!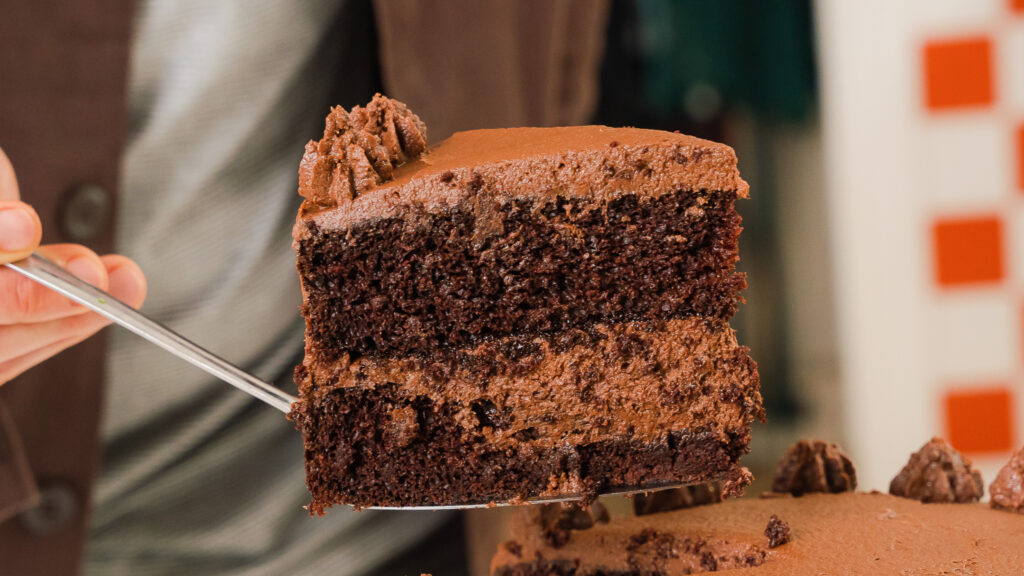 Homemade Chocolate Cake
Print Recipe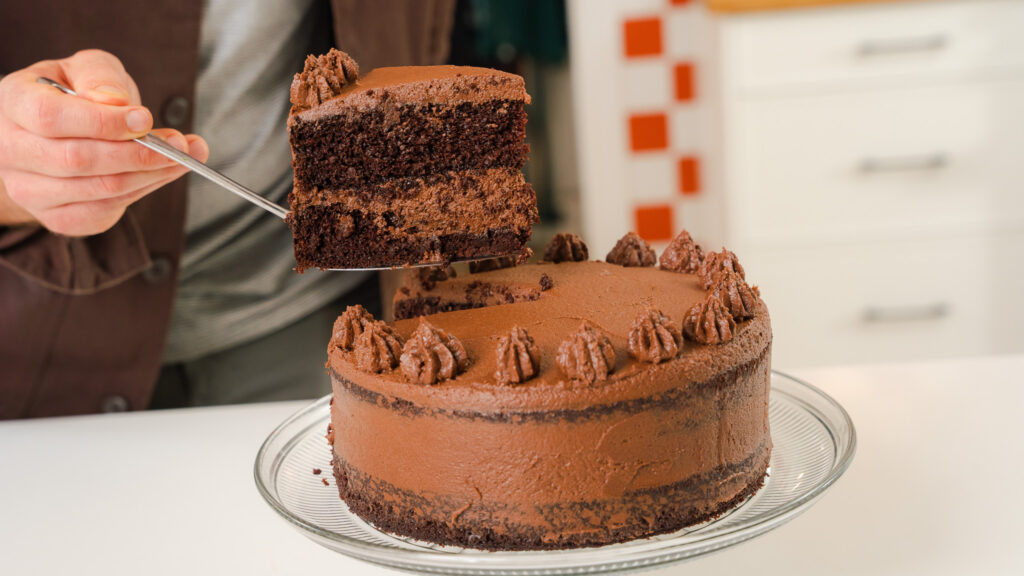 Ingredients
Chocolate Cake
1 3/4

cup

All Purpose Flour

3/4

cup

Unsweetened Cocoa Powder

2

cups

sugar

2

tsp

baking soda

1

tsp

balking powder

1

tsp

salt

2

eggs, room temperature

1

cup

hot coffee

hot water works too!

1

cup

buttermilk

1 cup milk + 1 tbs white vinegar works too

1/2

cup

olive oil

1

tsp

vanilla
Chocolate Buttercream
1 1/2

cup

Room temperature butter

3

cups

powdered sugar

1/2

cup

cocoa powder

10

tbs

heavy cream

1/4

tsp

salt

2

tsp

vanilla
Instructions
Preheat oven to 350 and get two 8-inch spring pans sprayed with cooking spray; line the bottoms with parchment.

In a large bowl add the flour, sugar, cocoa, baking power, baking soda, salt and whisk together to remove any clumps.

In a separate bowl whisk together eggs, oil, buttermilk, and vanilla. Now pour hot coffee into the flour mixture, followed by the oil, egg, buttermilk mixture. Using a spatula mix everything together. Be careful not to over mix.

Pour batter evenly into prepared pans. If you want to be exact, use a scale to make sure each cake weighs the same, approximately 720 grams per pan. It's around 3 cups per pan. If you want to pour into a 9X13 inch baking tray that will work too!

Place cakes in oven for 30-40 minutes or until toothpick inserted into centre of cake comes out clean.

While cake is baking, let's whip up the butter cream. In a bowl add the butter, powdered sugar, cream, salt, and vanilla. Using a hand mixer, mix together until nice and smooth. If icing is too stiff feel free to add in an additional tablespoon or two of cream.

Remove cakes from oven and place on a cooling rack; let cool completely in the pans.

Once cakes are totally cooled, remove from pans. Place one of the cakes on a serving tray and add a layer of icing. Next flip the second cake upside down and place on top of the iced cake. Add the rest of the icing on top of the cake and spread evenly!

Thats it! Enjoy your celebration!!!
Print Recipe
(Visited 31,601 times, 661 visits today)