Impress someone special with this decadent molten chocolate lava cake. Ooey, gooey, and just so unbelievably indulgent. Just a lovely way to satisfy that chocolate craving, let me tell you!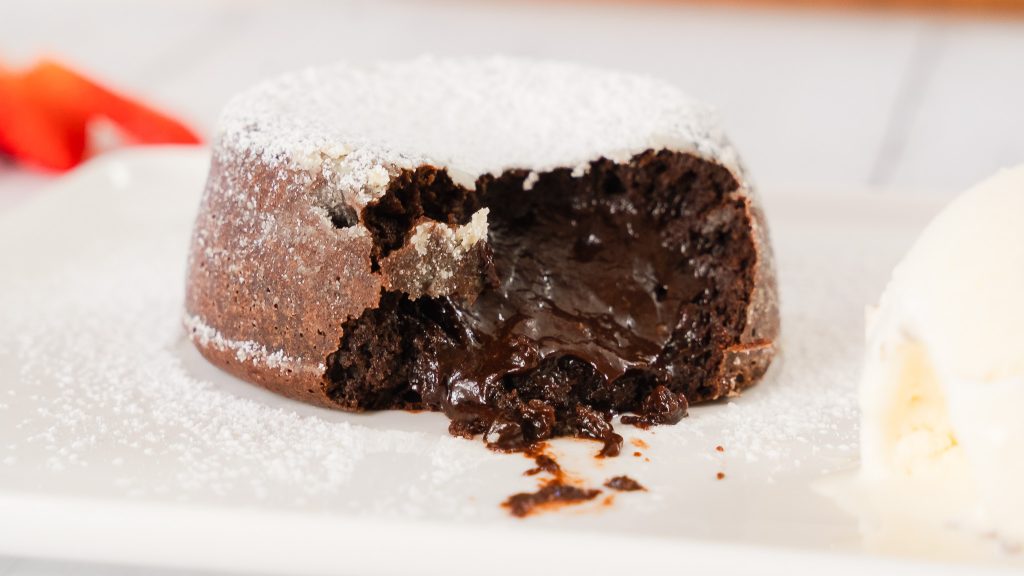 Molten chocolate lava cake
Molten chocolate lava cakes are famous for their beautifully fudgey, undercooked middle. The second you scoop your spoon through, the molten chocolate should slowly start to spew out just like molten lava running down a mountain. And instead of needing to run for your life in the instance of real lava, this molten chocolate should run right into your mouth!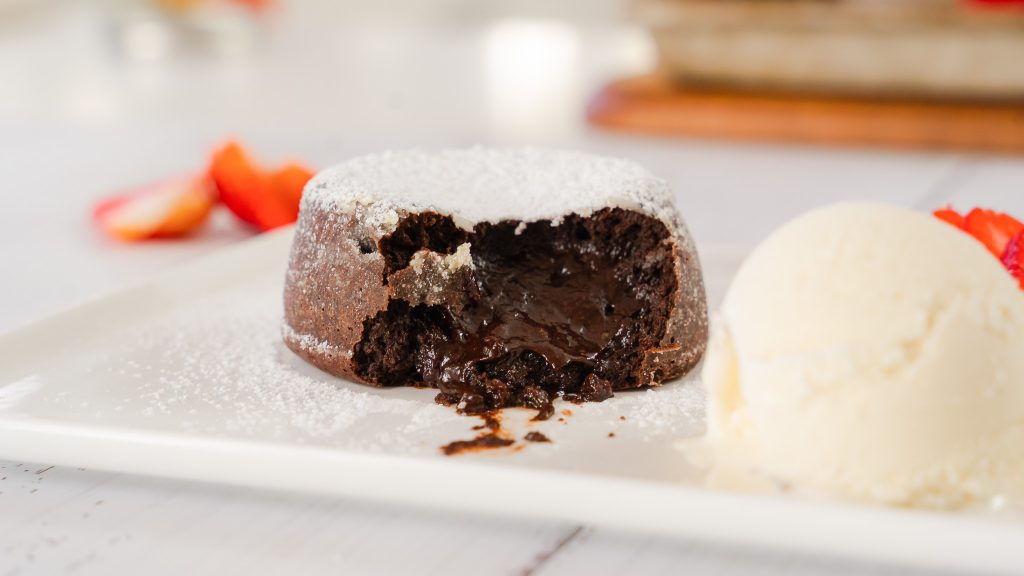 A major bonus is that Making this Molten Chocolate Lava cake is actually easier than you think it would be. It requires very few ingredients, very basic techniques, and is absolutely something you can make. Yes you!
Let's breakdown the ingredients
dark chocolate – I like to use 70% dark chocolate.
eggs + egg yolks – you can save your egg whites to make a chocolate soufflé!
flour – not much is needed. Just enough to help hold the batter together.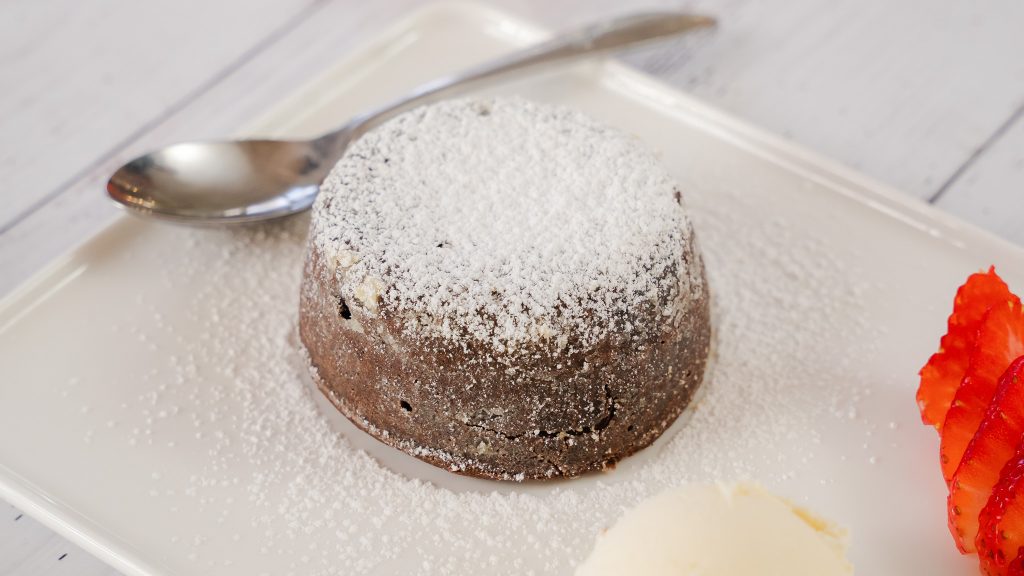 Process for making this Molten Chocolate Lava Cake.
Over a double boiler melt chocolate and butter.
In a bowl mix together eggs, yolks, sugar, and salt until the are fluffy and pale yellow in colour.
Mix together melted chocolate and egg mixture
Fold in flour.
Pour into 5 oz ramekins prepared with butter and flour
Bake!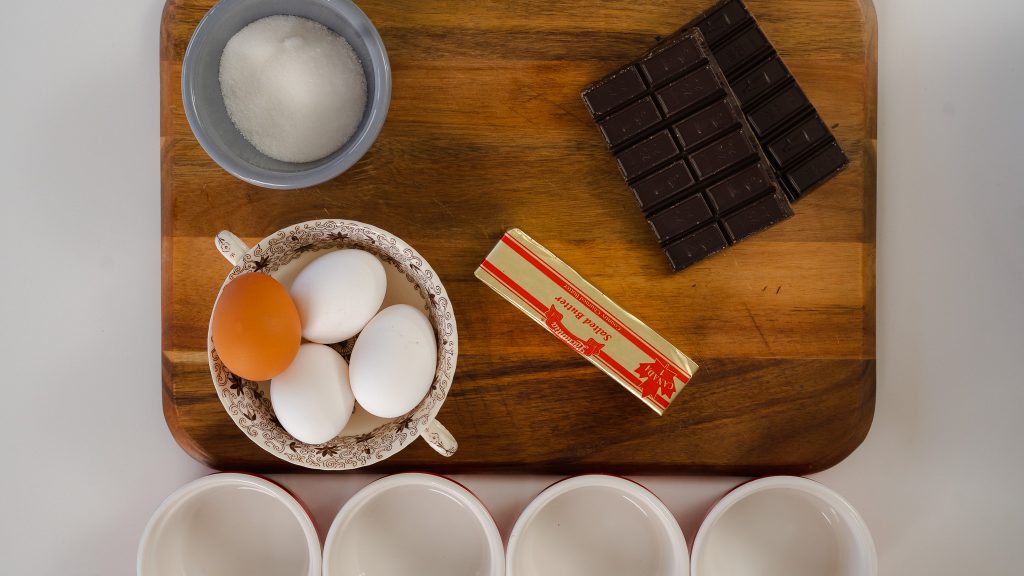 Preparing your ramekins
This recipe will make 4 cakes if you use a 5oz ramekin. Before pouring the batter into the ramekin you will want to prepare it to make sure the cake easily falls out after cooking. Using a paper towel or your hands, smear butter on the inside of the ramekin. Make sure you don't miss any spots. Next, drop in a tablespoon of flour and turn the ramekin to allow the flour to fill coat the inside. Once coated, turn ramekin upside down to discard the excess flour.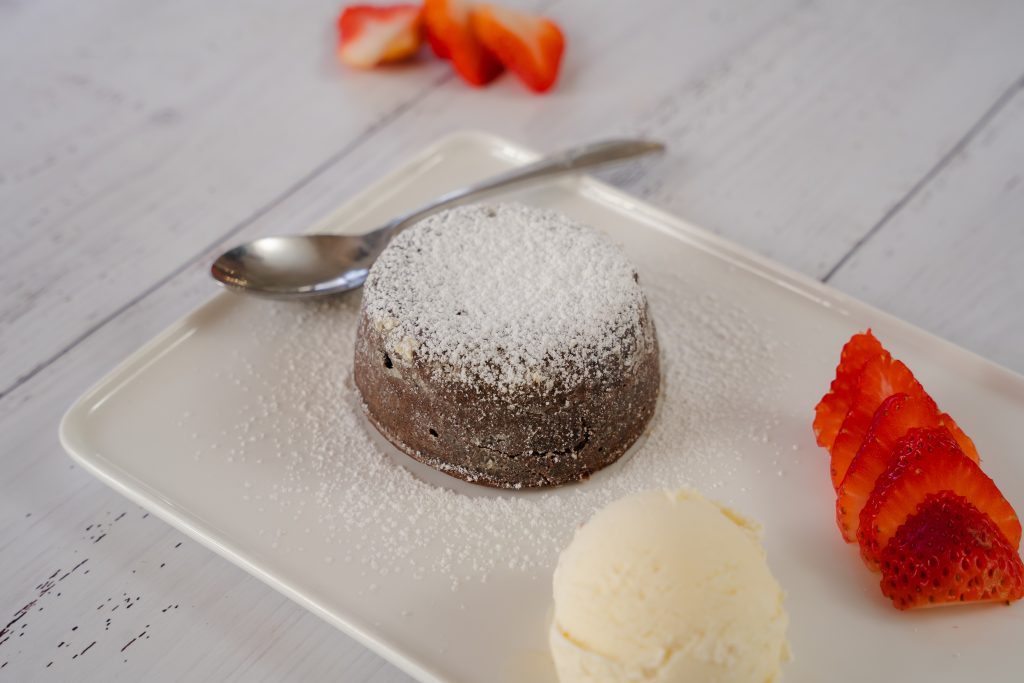 Other desserts you may enjoy
Molten Chocolate Lava Cake
Print Recipe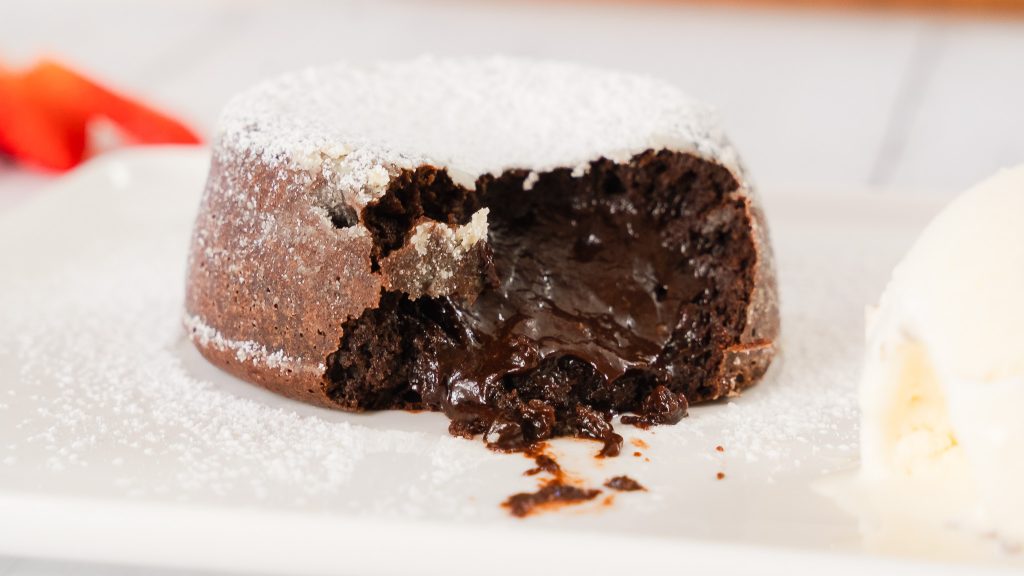 Ingredients
1/2

cup

unsalted butter

6

oz

dark chocolate

approx a cup

2

eggs

2

egg yolks

1/4

cup

sugar

pinch

salt

2

tbs

flour
For serving
2

tbs

butter for ramekins

2

tbs

flour

2

tbs

powdered sugar for dusting
Instructions
Preheat oven to 450F and prepare 4 4oz ramekins by greasing insides with butter followed by flour. Discard excess flour by tipping upside down. 

Place a small pot filled 1/4 of the way with water over medium high heat. Once water has reached a simmer place a heat safe bowl into the pot. You don't want the bottom of the bowl to touch the water. Now add in the chocolate and butter and allow to melt. Stir occasionally to help the mixing of the chocolate and butter. 

In a bowl whisk together eggs, egg yolks, sugar, and salt until frothy and a pale yellow. 

Pour melted chocolate into egg mixture and add in the flour. Using a spatula fold the mixtures together until fully incorporated.

Pour chocolate batter into prepared ramekins. Fill at least 3/4 of the way up. 

Place ramekins into preheated over for 8 minutes. This is just long enough for the outside to cook and hold the cake together, while keeping the inside molten and undercooked. 

After 8-9 minutes remove from the oven and all to cook for 1 minute. Next, grab the plate you will be serving on and place it upside down over a ramekin. Invert the plate and the ramekin and carefully remove the ramekin. Cake should easily slide out if ramekin was properly prepared. 

Dust cakes with powdered sugar and enjoy!! 
Print Recipe
(Visited 3,045 times, 3 visits today)