Wow. I am so freaking excited to have made these oatcakes! I have such great memories of eating these delicious treats for breakfast back in my university days. I can clearly remember heading down to the Bridge Street Cafe in Sackville, New Brunswick, and grabbing an oatcake and coffee before class. I think I used to even trick myself into thinking these were healthy…they aren't, but they are so, so delicious!
This is a lovely treat to enjoy on a rainy day with a hot cup of coffee.
Chocolate-dipped peanut butter oatcakes
Print Recipe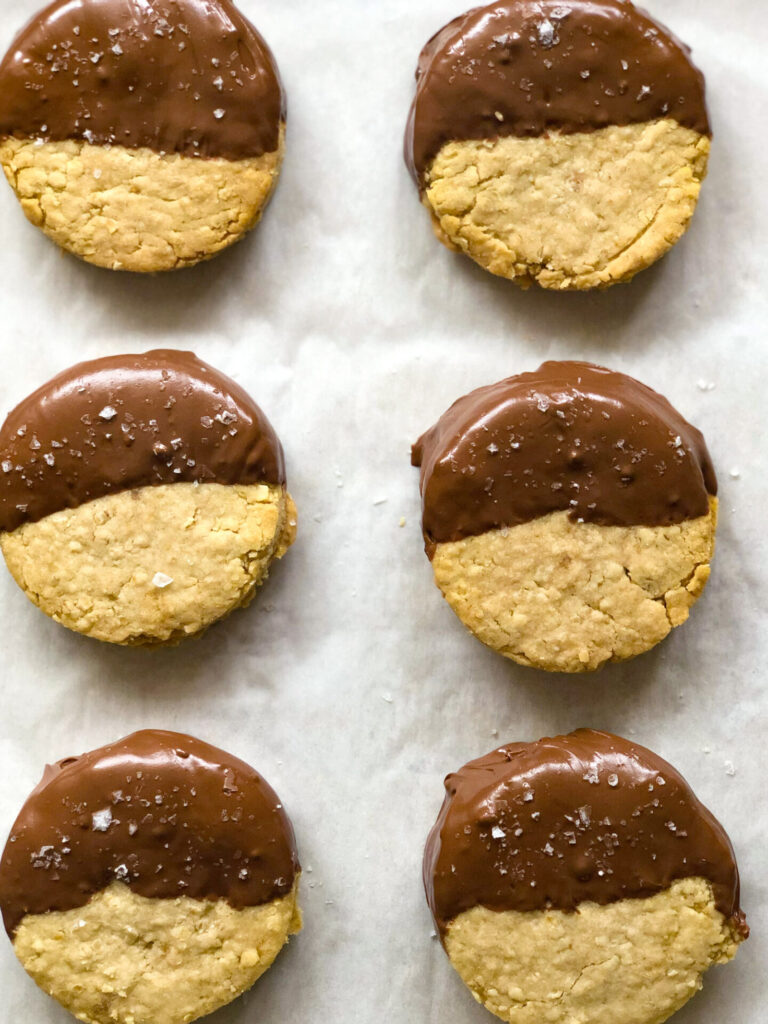 Ingredients
2½

cups

flour

2

cups

oats

½

tsp

baking soda

1½

cups

butter

1

cup

brown sugar

¾

cup

peanut butter

½

cup

butter

¼

cup

powdered sugar

1

tsp

vanilla extract

2

cups

chocolate for melting…I used my kids' Easter chocolate…use what you have.
Instructions
Preheat oven to 350 and line two baking sheets with parchment paper.

Put butter and brown sugar in stand mixer with paddle attachment. Turn mixer onto medium and cream the ingredients together until smooth.

In a bowl mix together flour, oats, and baking soda. With mixer on slow, add in flour mixture until it forms a dough.

Once dough is formed, divide into 4 sections and roll out dough until it's 1/4 inch thick. Dough will be very crumbly and dividing mixture into four makes it easier to work with. Once dough is rolled out, use a 2 1/2 inch cookie cutter and cut out cakes. Place on baking sheet. Once all of the cakes are cut out, place in oven for 20 minutes, or until cakes are golden brown. Let cool completely on a cooling rack.

Peanut butter filling: Put peanut butter and butter into stand mixer and mix together on medium. Add in powdered sugar and vanilla and then turn mixer on high for 1 minute. Set aside.

Chocolate: You are going to need a pot of boiling water and a metal bowl that can fit over the pot. Place chocolate in the bowl and reduce heat to medium. Let chocolate melt. Stirring will help speed the process.

While chocolate is melting, spread the peanut butter icing on one side of an oatcake and place another oatcake on top to make a sandwich. Once chocolate is totally melted dip one half of the oatcake sandwich into the melted chocolate. If you have any finishing salt you can sprinkle on now. Lay the oatcake back on the bake sheet and let cool until chocolate is solid. Serve.
Print Recipe
(Visited 16,612 times, 1 visits today)