Folk's today we are making one of my favourite all time desserts, the classic Coconut cream pie using Crisco All-Vegetable Shortening. This is the perfect dessert to make in advance to bring to a summer BBQ or Potluck.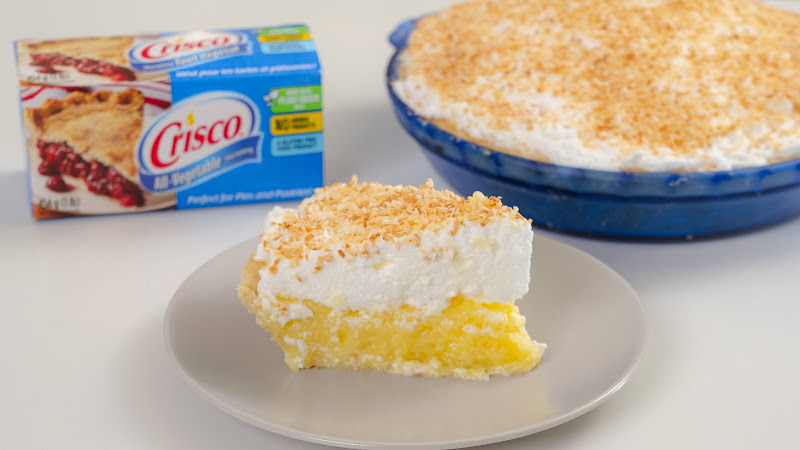 The crust always comes first!
The first thing we should talk about is pie crust. This recipe uses Crisco. I was really impressed with the flaky layers and the structure of the crust. It cooked beautifully and was able to maintain it's shape even after the pie was assembled. Crisco is made with only plant based products so it's the perfect option when looking to make a vegan dessert!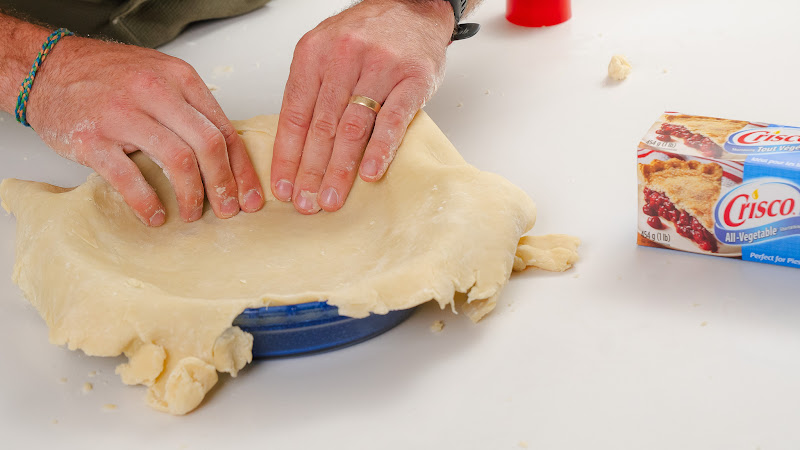 Making the perfect pie crust every time.
Start by adding flour and salt to a bowl. From there drop in cubes of the Crisco and then using a fork or pastry cutter, blend in the Crisco until it forms into a sand like consistency. From there add in 5-10 tbs of ice water until the dough starts to come together. Once you can form into a ball shape, place into a piece of plastic wrap, push dough into a disk like shape and then all for it to chill in the fridge for 30 minutes or over night. Once done chilling we can remove plastic and roll the dough flat. Aim to work quickly here as we want the dough to remain cold. When the dough is rolled, place it into a pie plate and then poke the crust with a fork to allow steam to escape while it cooks. You can leave a 1 inch overhang of the dough, or trim the dough, and then fill with pie weights. The last step is to pop into a pre heated oven for around 15-20 minutes!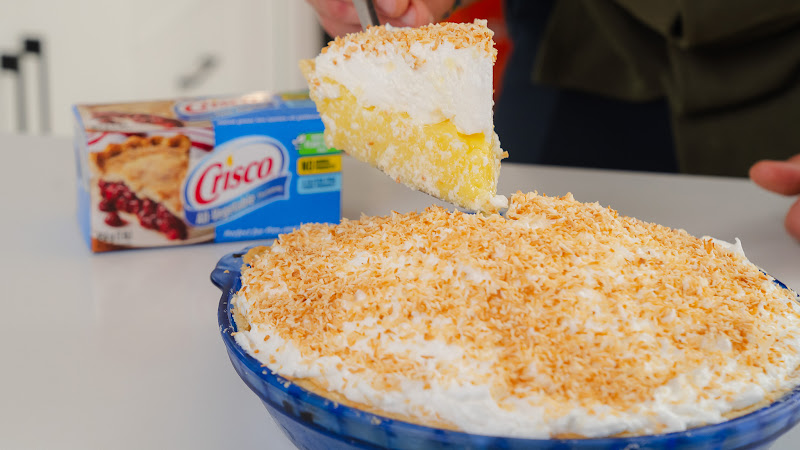 Can't forget about the filling.
This coconut filling is lovely. Perfect texture and really quite simple to make. All we need to do is mix egg yolks, sugar, butter, corn starch, and milk into a pot and then heat over medium high heat. As the mixture heats up it will thicken and bubble. Once that happens toss in some vanilla and flaked coconut and then allow to cool fully! That's it.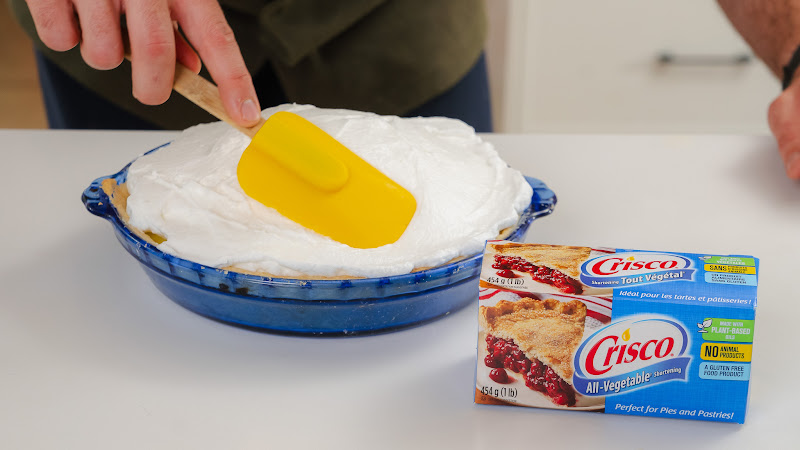 The perfect meringue topping to finish it off!
Some coconut cream pies are topped with whipped cream, which you can easily do with this recipe. Given that I had 5 egg whites left over from coconut custard, I decided to make a basic meringue. All you need to do to make a meringue is whip together egg whites and sugar. Don't rush this process as you want to make sure the two ingredients get fully incorporated together!
Assemble the coconut cream pie!
That's it! You can make each component a day in advance and assemble on the day of serving. This pie is a lovely dessert that I know your guests will love!
Classic Coconut Cream Pie
Print Recipe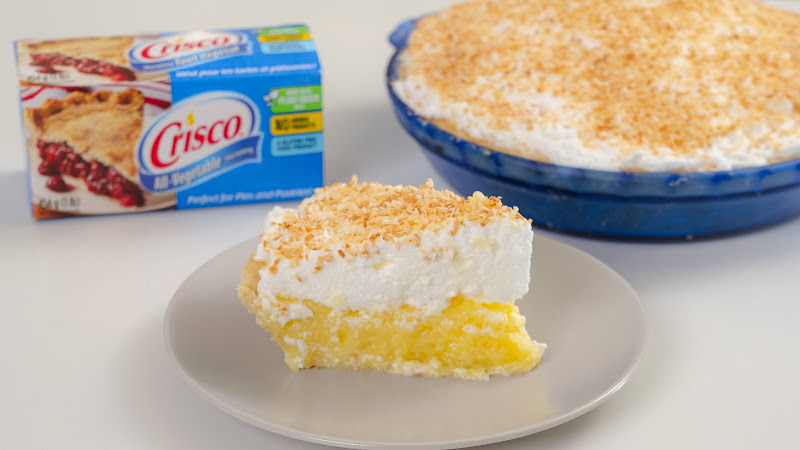 Ingredients
For the crust
2

cups

All-purpose flour

3/4

tsp

Salt

3/4

cup

Crisco® All-Vegetable Shortening

Cold

4-8

tbs

Ice cold water
For the coconut filling
5

large

Egg yolks

Beaten

1 1/2

cups

Granulated Sugar

3

tbs

Corn starch

3

cups

Whole milk

1/4

cup

Butter or Margarine

1

tsp

Pure vanilla extract

1

cup

Flaked coconut
For the meringue
5

large

Egg whites

4

tbs

Granulated sugar
Instructions
For the crust
Let's start with the crust. STIR flour and salt in large bowl until blended. Cut shortening into flour mixture using pastry blender or fork until shortening pieces are the size of peas. Gradually add just enough water, 1 Tbsp. at a time, stirring with fork just until dough holds together and forms a smooth ball.

SHAPE dough into a ball for single pie crust. Divide dough in half and shape into two balls for double crust pie. Flatten into 1/2-inch thick disk(s). Wrap disk(s) in plastic wrap. Chill 30 minutes or up to 2 days.

ROLL dough on lightly floured surface, rolling from center outward. Transfer to pie plate.

Fold edge under and press to form a standing rim.

HEAT oven to 425°F. Thoroughly prick bottom and sides of unbaked pie crust with fork. Bake on lowest rack in oven 15 minutes or until golden brown. Cool completely on wire rack before filling.
For the coconut filling
Mix together beaten egg yolks, sugar, corn starch, milk and butter in saucepan over medium heat. Cook, stirring constantly until thick and bubbly. Remove from heat. Add vanilla and coconut and allow to fully cool.
For the meringue
Beat 5 egg whites, slowly adding sugar. Beat whites until stiff. Place meringue on top of pie, making sure you spread to sides, covering crust, so meringue doesn't shrink when baked.

Bake at 350 F for 3 to 5 minutes, until soft brown spots form on meringue.
Print Recipe
(Visited 1,748 times, 14 visits today)