I have another pie square recipe for you folk today! This recipe is based on the classic flavours of an apple pie.
Just like my previous Strawberry Rhubarb Pie Squares recipe, this apple pie dessert has the same flavour of the pie we know and love, but way easier to make and much easier to eat while on the go!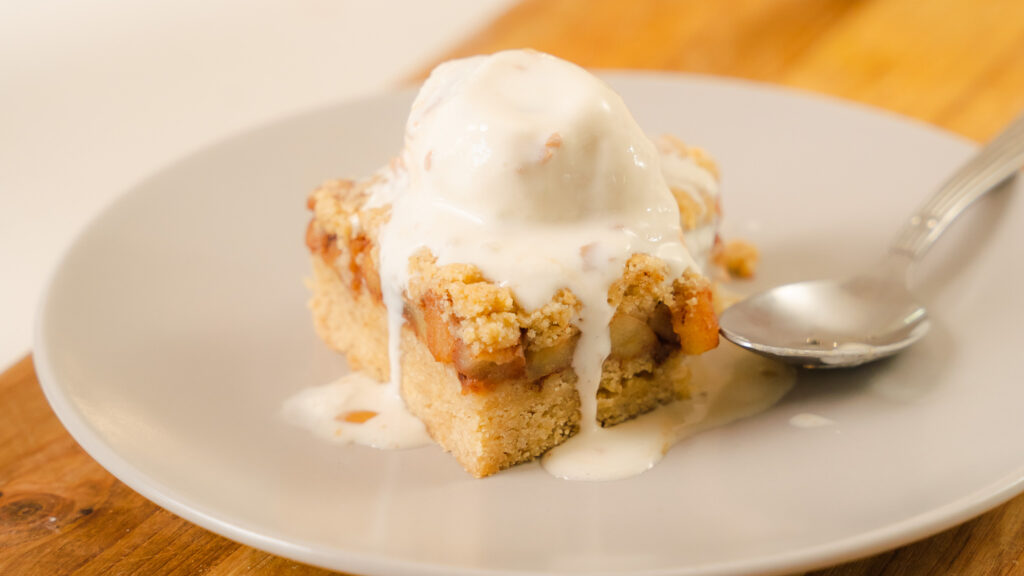 All the pie flavour, none of the headache!
Pies can be intimidating and are a big undertaking at times. With this recipe, you can have that delicious apple pie flavour without the stress. The crumb itself is really cool as it follows some of the same cooking processes as a pie dough, where you use shredded cold butter – which gives it a lovely flakey texture. The crumb mixture acts as the bottom layer as well as the top layer. They both take on different textural elements, as the bottom layer is sturdy while the top layer is more crumbly.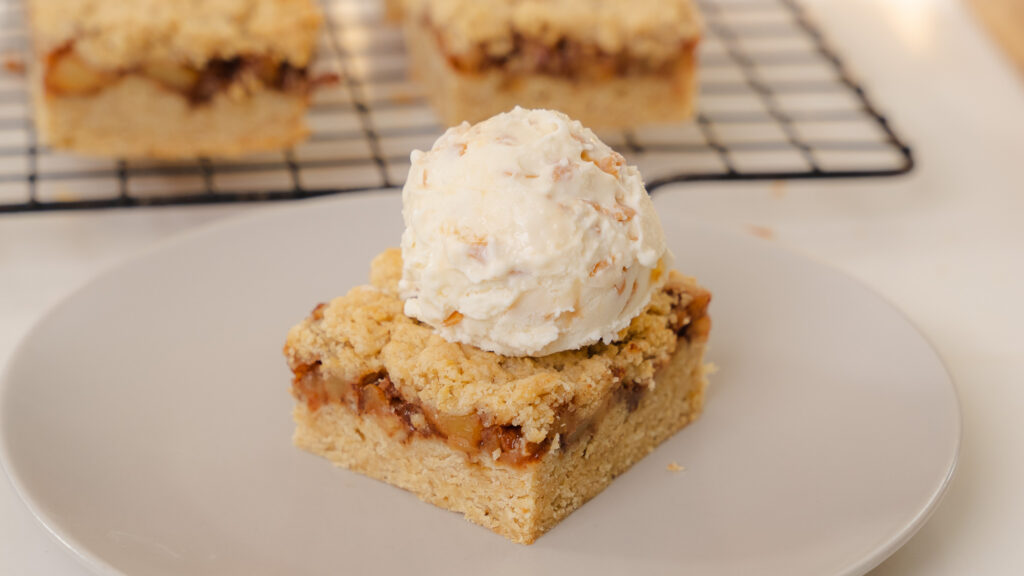 Let's Breakdown The Ingredients!
The Crumble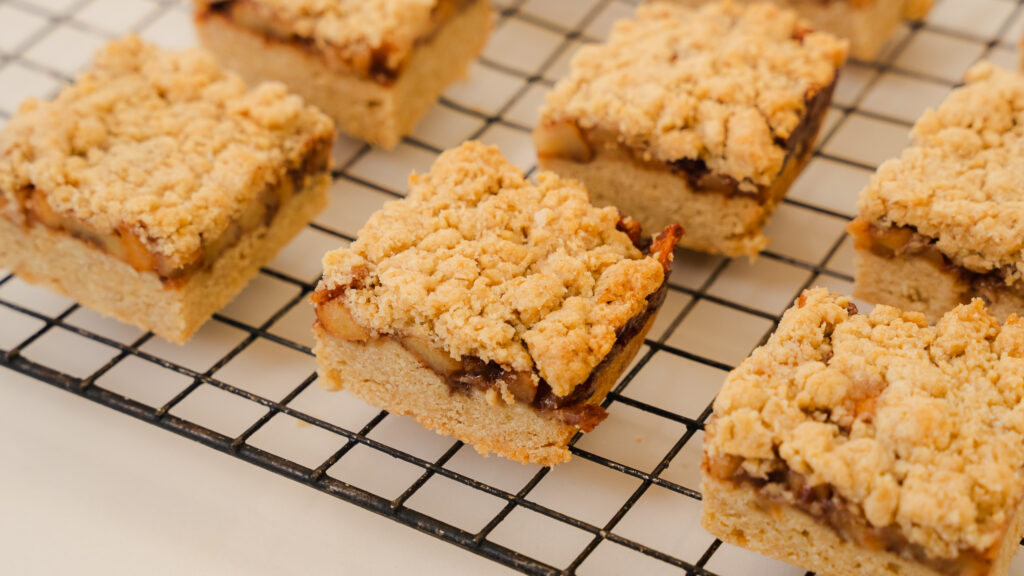 Starting with the crumble, as I mentioned above, this crumb is a bit different as its goal is to act and taste like a pie crust, which we can achieve by adding shredded cold butter. I simply use frozen butter and cheese grater. Other ingredients used in the pie dough crumb are flour, white sugar, brown sugar, baking powder, cinnamon, salt, egg, vanilla, milk, and a pinch of salt.
The Filling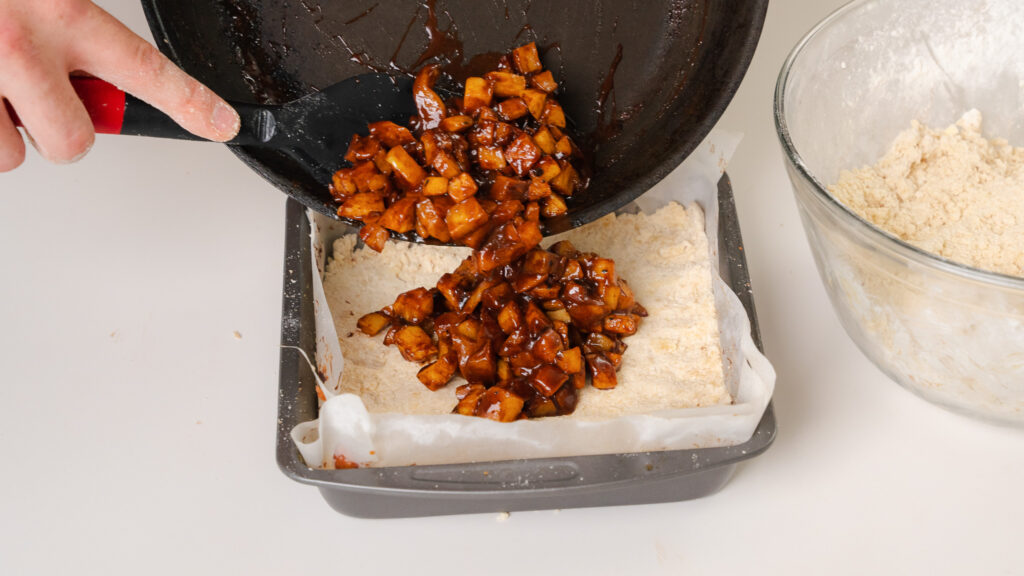 The apple filling is really simple to make with only 6 ingredients! For these pie squares, you will need 4 apples – usually, granny smith or delicious golden apples are best for making pies and tarts!
To add that warm and earthly flavour, I used cinnamon. And, of course, you can't make a pie filling without some sweetness, so I used sugar when cooking the apples on the stovetop. To help thicken the filling, I used cornstarch and butter.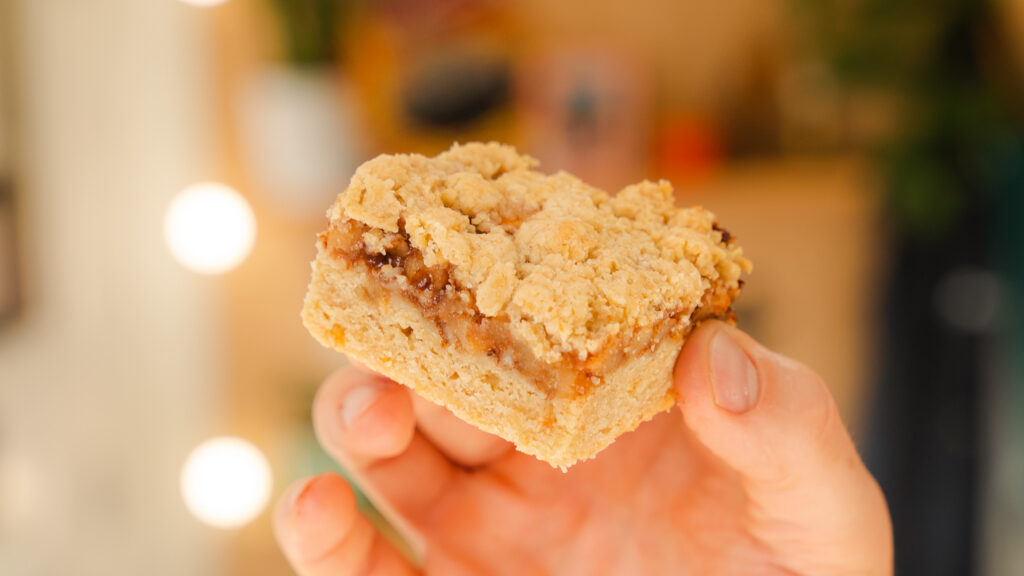 Apple Pie Bars
Print Recipe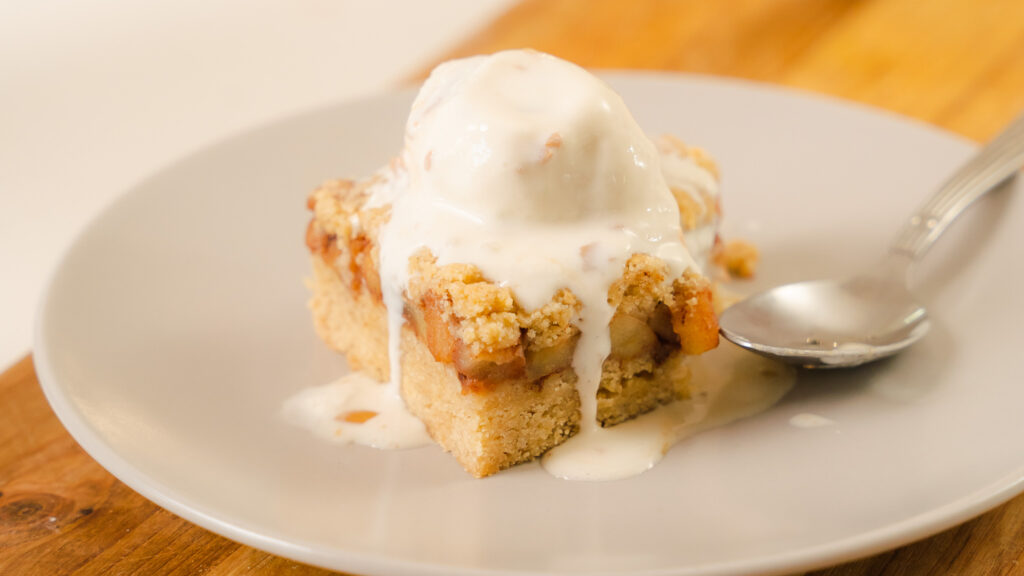 Ingredients
Pie Dough Crumble Dry Ingredients
2

cups

Flour

1/3

cup

Sugar

1/3

cup

Brown Sugar

1

tsp

Baking Powder

1/2

tso

Cinnamon

pinch

Salt

2/3

cups

Frozen Butter, shredded using cheese grater
Pie Dough Crumble Wet Ingredients
1

Egg

1/8

cup

Milk

1 1/2

tsp

Vanilla
Apple Pie Filling
4

Apples, peeled and diced

1

tbsp

Cinnamon

Pinch

Salt

1/2

cup

Sugar

1

tbsp

Corn Starch

2

tbsp

Butter
Instructions
Line a 9X9 inch brownie pan with parchment paper and preheat oven to 350F

In a large bowl mix together all of the dry pie dough crumble ingredients. Using your hands, mix together and make sure all of the shredded butter is coated with flour.

Add all of the wet ingredients together in a small bowl and whisk. After whisking, pour the wet mixture into dry bowl and stir. The mixture should be clumpy and feel like wet sand.

Scoop about 2/3rd's of the pie dough crumble into the prepared brown pan. Press mixture down using a spatula or bottom of measuring cup. Be sure to really press down on the corners and sides of the crust. This will help it be very sturdy.

In a bowl, toss together the apples, cinnamon, salt, sugar, and cornstarch. Place a pan over medium-high heat and drop in the butter. Once the butter is melted, toss in the apples and saute for 4 minutes until the apple is slightly softened.

Place pan in preheated over and bake for 50 minutes. When done, remove from oven and allow to fully cool. This is key or it will just fall apart. It needs time to congeal.. just like a pie! I let mine cool for 1 hour and then popped it in the freezer for 15 minutes. If you can leave it for a couple hours on the counter you should be good to go!
Print Recipe
(Visited 7,586 times, 12 visits today)