This Newfoundland Five Star Cookie Bar is one of my childhood favourites! Each holiday season, my nan from Newfoundland would send a parcel filled with different squares, cookies, and treats in Nova Scotia.
This is a straightforward recipe to make with only eight ingredients! Condense milk, coconut, Quaker® Large Flake Oats, graham crackers, vanilla, melted butter, and chocolate. This recipe is so easy and incredibly tasty!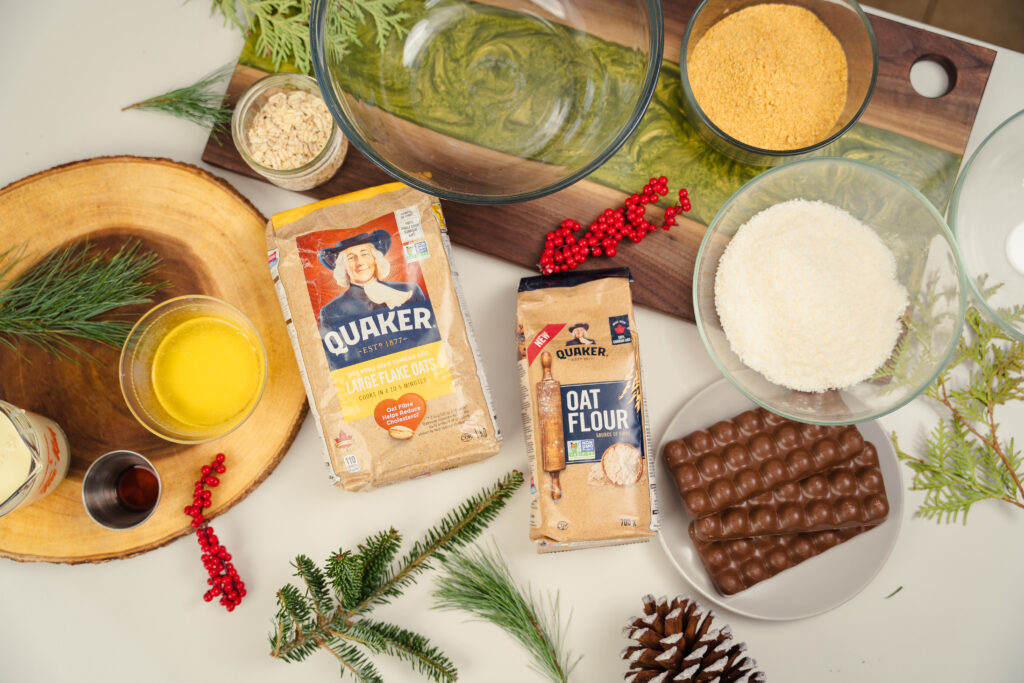 Newfoundland Baking History
My mom, nan, and pop are all from Newfoundland, so I'd love to share this nostalgic recipe with you all!
Cookies and squares are very much a part of Newfoundland's culture. Predominantly, women would make these around Christmas time with ingredients that they had available to them.
Specifically, where my mom lived, and my nan still lives, fresh ingredients are hard to come by, and those available are expensive. Historically, when making these squares, they are often made with many canned goods ingredients like sweetened condensed milk.
The sweetened condensed milk is thickened condensed milk made with added sugar, which helps bind together the ingredients when baking.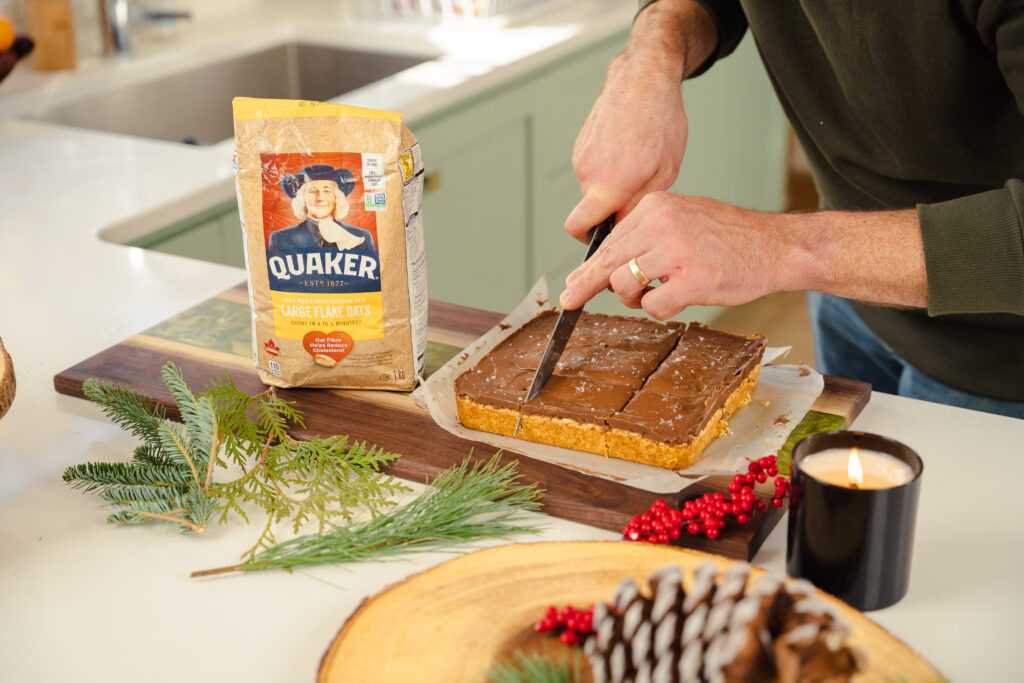 Tips for Nailing This Recipe 
The Trudeau Silicone Square Cake Pan will be a saving grace for this baked recipe.
First, you bake the biscuit part of the cookie, and while it is hot, you lay chopped chocolate on top and let them melt on its own.
Once the chocolate is melted, spread it around for an even layer.
Then pop the pan into the freezer, just to allow the chocolate to congeal over the cookie so you can cut and serve once fully cooled!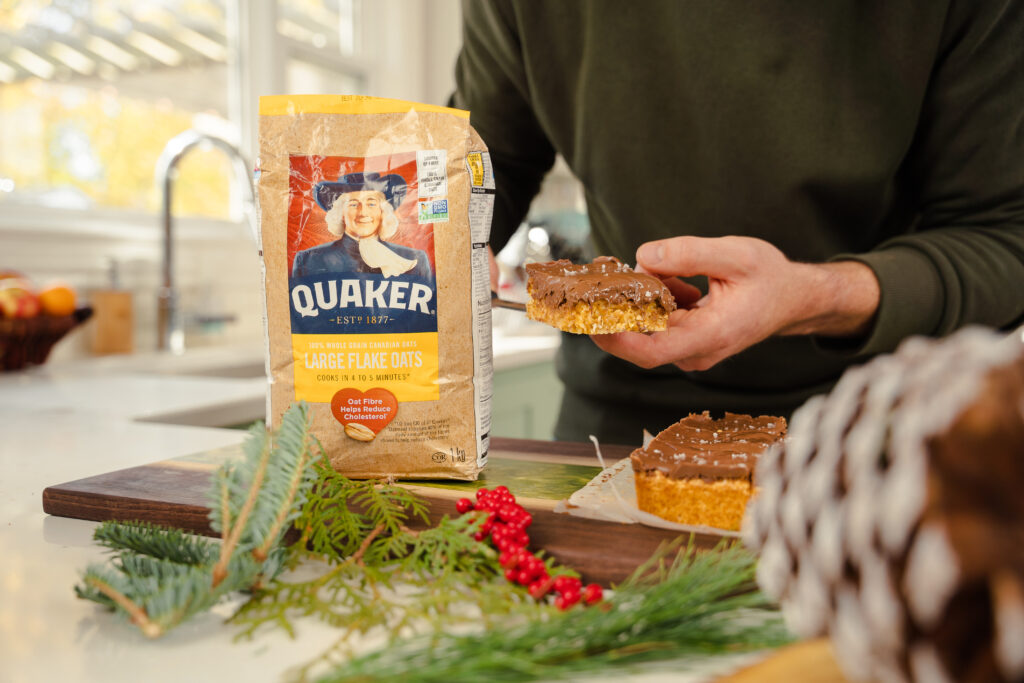 Newfoundland five star bar cookies
Print Recipe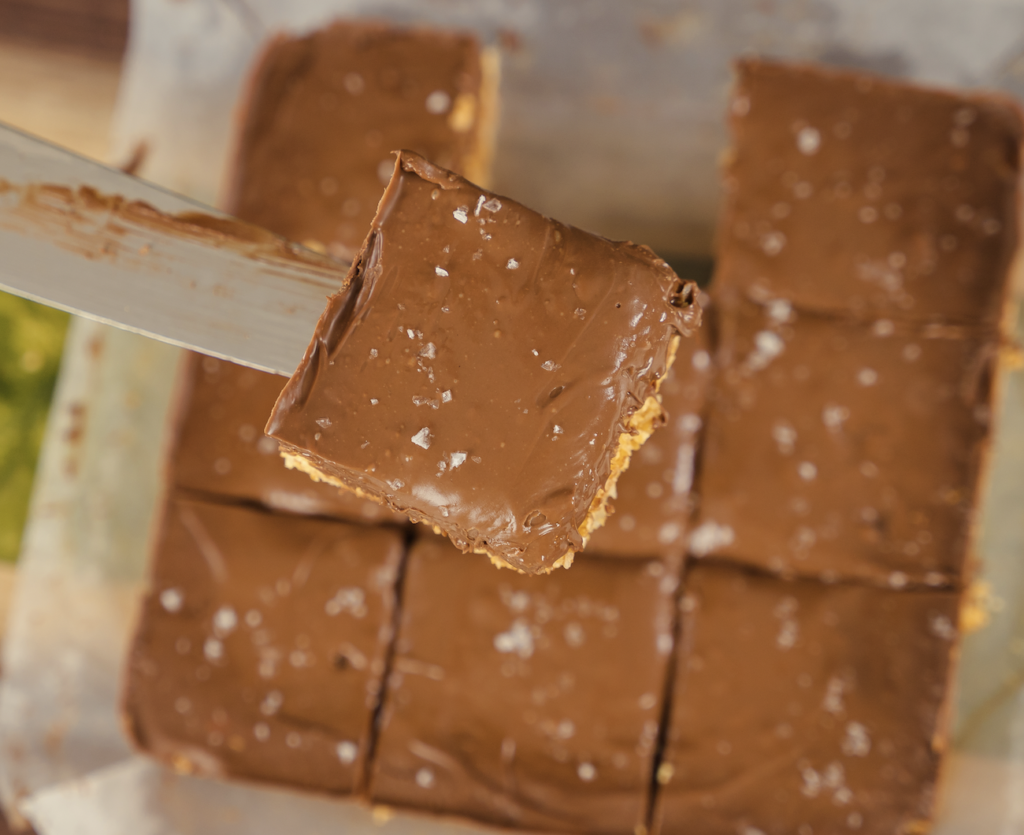 Ingredients
1 1/2

cups

cup graham cracker crumbs

1/2

cup

Quaker® Large Flake Oats

2

cups

unsweetened shredded coconut

¼ 

cup

melted butter 

1

can

sweetened condensed milk 

1

tsp

Vanilla extract

3

large milk chocolate bars, chopped

1

pinch

Flakey salt to finish
Instructions
Preheat oven to 350 and prepare an 8X8 inch baking pan with parchment paper.

In a bowl mix together condensed milk, melted butter, and vanilla.

In a separate bowl, mix together coconut, Quaker Large Flake Oats, and graham cracker crumbs.

Combine both mixtures together in one bowl and then fold into the prepared brownie pan. Using a spatula, press down to make sure the squares are evenly spread out right to the edges

Bake in the oven for 20 minutes

After 20 minutes, remove from the oven and sprinkle on the chopped chocolate bar. Cover with a baking sheet for 5 minutes and then smear the chocolate across the top of the bars. Allow to fully cool and enjoy!!!
Print Recipe
I really hope you make these for someone you love this holiday season!
(Visited 74,282 times, 223 visits today)