This recipe takes me down a nostalgic memory lane back to when I was a kid. This is one of my easiest recipes that really hit the mark on that chocolate craving, with an amazing flavour combination of chocolate and coconut.
My memories bring me back to the summertime, going to a cottage or in the wintertime playing hockey and stopping in the local bakery to get my hands on these treats. Grabbing this treat from a small bakery in rural Atlantic Canada really hits me with great memories of growing up on the East Coast. 
This recipe is packed with chocolate and coconuts, and I've even added a bit of oat to hold everything together. The great thing about this recipe is that you can play around with the flavouring to get the perfect flavours you want. You can even add mint extract to make a chocolate mint flavour.
Tips for Nailing This Recipe
To form these haystacks, use a cookie scoop to make even portions of the batter and place them on a tray of parchment paper.
Sprinkle kosher or flakey sea salt on top to enhance the chocolate flavour, and let it fully cool for 10 minutes.
These HAYstacks have left a lasting impression on me that I've carried the memory in my name. I know you will all love this one!
Chocolate Coconut Haystacks
Print Recipe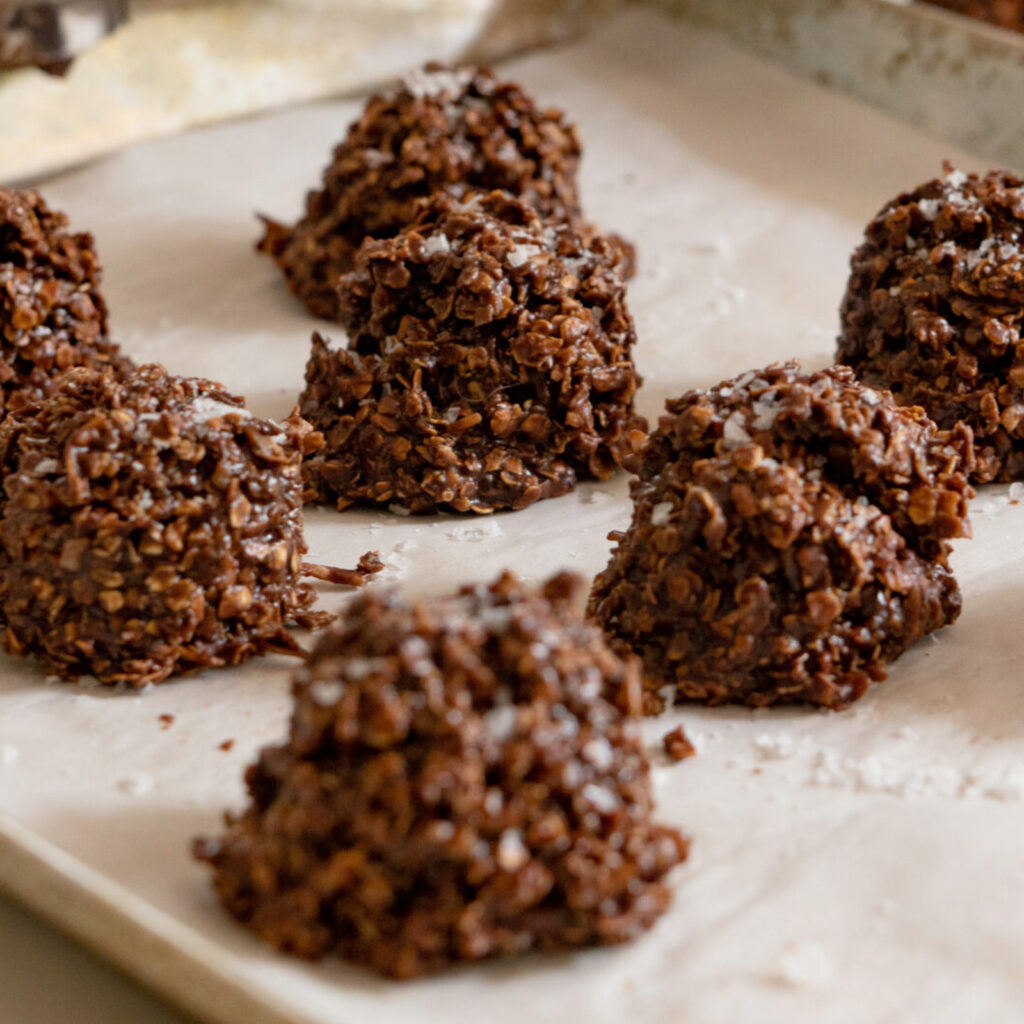 Ingredients
2

cups

sugar

½

cup

milk

½

cup

butter

½

cup

unsweetened cocoa powder

½

tsp

vanilla

½

tsp

flaky salt + more for sprinkling at the end

3

cups

quick cooking oats

1

cup

unsweetened coconut
Instructions
In a medium pot over medium high heat, add the butter, milk, cocoa, salt, and sugar. Bring mixture to a boil but be sure to be whisking constantly. Let boil for 2-4 minutes while whisking.

After 4 minutes, turn off the burner and add in the oats, vanilla, and coconut. Immediately fold the mixture together using a spatula. Once everything is totally mixed together, use an ice cream scoop to scoop out haystacks and place on a baking sheet lined with parchment paper. Let fully cool for 10 mins. Finish with flaky sea salt. Enjoy!
Print Recipe
(Visited 40,796 times, 55 visits today)