Looking to sneak a bit more veg into your weekly diet, but still want that little sweet treat after dinner? These Quick and Easy Zucchini Brownies are exactly what you're looking for. Filled with three cups of veg, school-lunch safe these brownies are exactly what the doctor called for, even the pickiest of eaters wont be able to resist the soft, gooey texture and rich flavour. Keep this one handy folks, it's a crowd pleaser!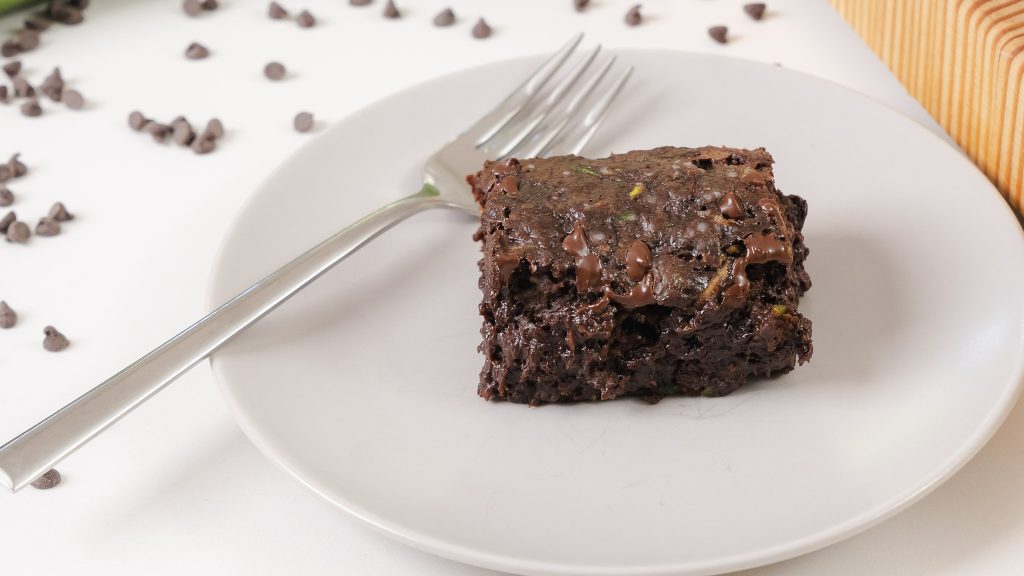 Key ingredients for these Quick and Easy Zucchini Brownies.
These brownies might seem like just another simple treat, but hidden inside is a secret ingredient that turns them into something really special, shredded zucchini! It might sound crazy to those who haven't explored the world of vegetable packed desserts, but trust us, you wont want to go back!
The key reason we used zucchinis in this recipe was was to add a deeper level of moisture and richness without making them incredibly heavy and dense. They add a creamy lightness that really makes eating half a tray even easier! The added nutrition is obviously a great reason too!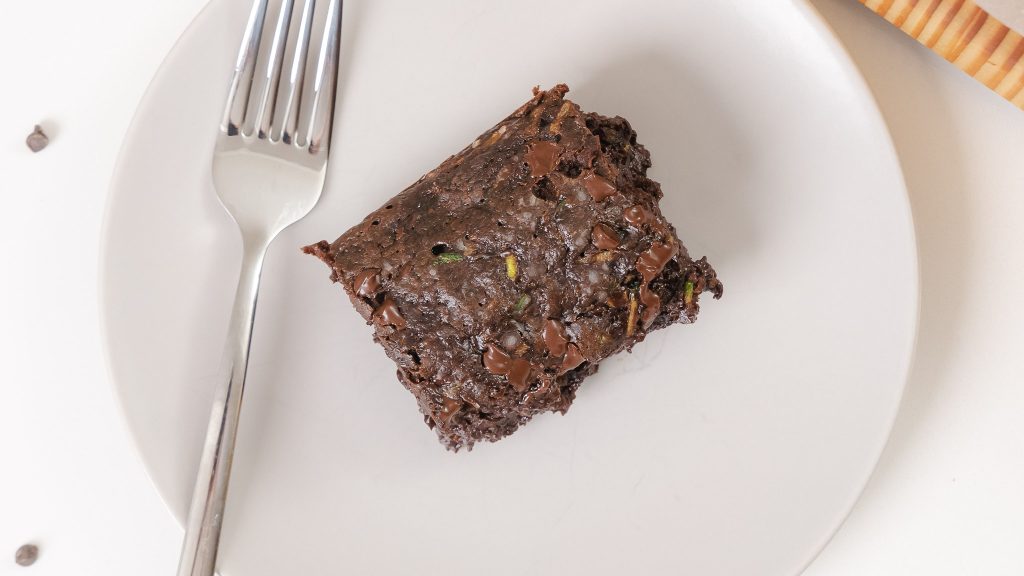 Keys to nailing this every time.
Using vegetables in baked goods might be a new concept to many people, when it comes to these Zucchini Brownies, follow these tips and you'll have the best batch every time.
Keeping your brownies moist- We want to make sure that these brownies have a ton of moisture, we do that by grating the zucchini on the largest side of a box grater. Everything you grate, including the liquid from the zucchinis needs to be added into your mixing bowl.
An easy removal – When we line our baking dishes with parchment, we want to leave a few inches on paper hanging over the edges, this is going to make removing the soft, moist brownies easier, and ensure nothing sticks.
Getting creative with vegetables.
Carrot cake is definitely the most popular vegetable dessert, but there is a whole world of veg based desserts for you to explore and experiment with. Sticking with local, farm fresh vegetables is always going to yield the best results, so get out there and get creative. Here is a list of other vegetables that you can use to up your veggie baked good game!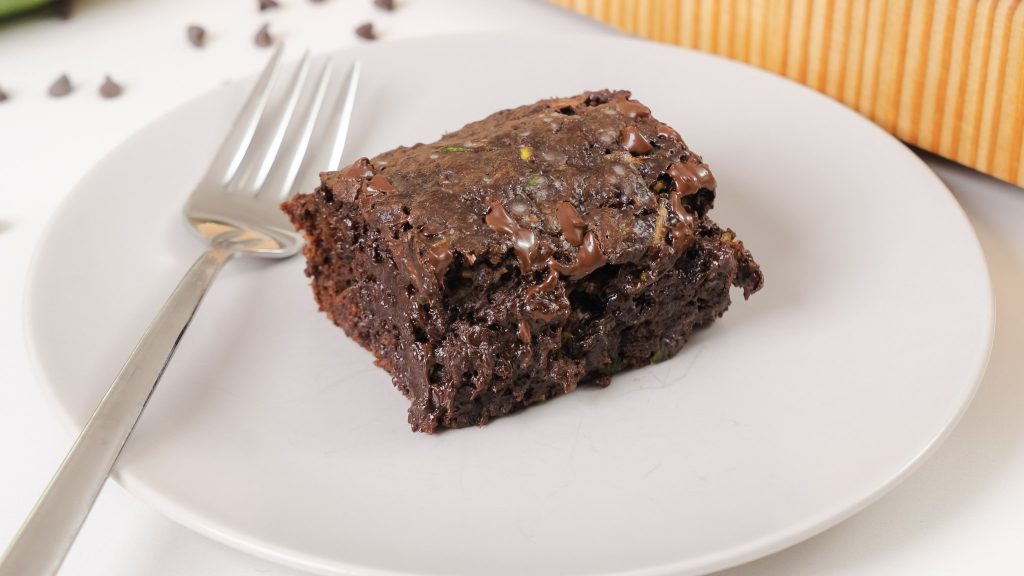 Other recipes you should check out.
If you liked the sound of these Quick and Easy Zucchini Brownies, here are a few other recipes we think you should check out!
Frozen Strawberry Yogurt Bites
Banana Peanut Butter Cinnamon Rolls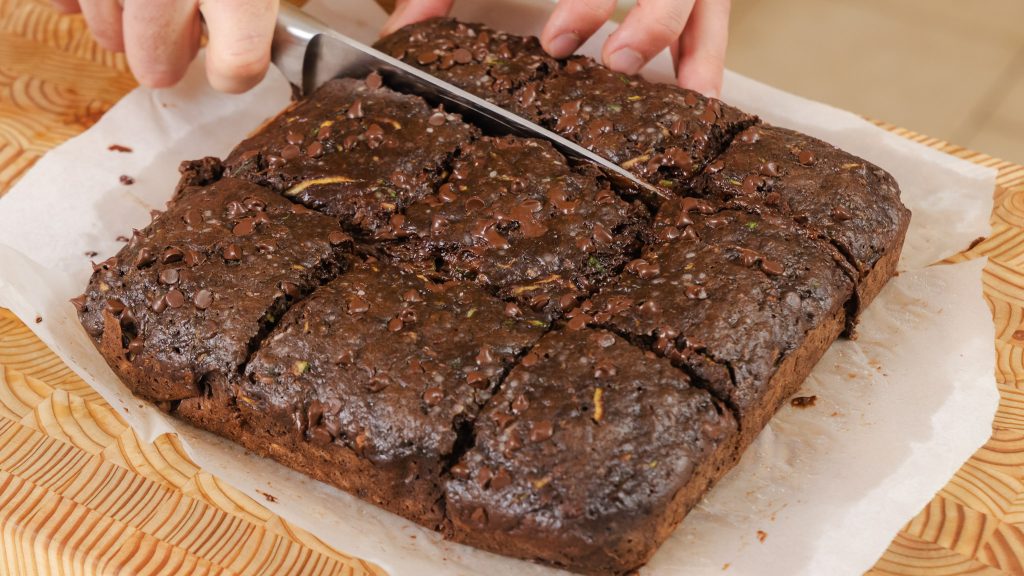 Quick and Easy Zucchini Brownies
Print Recipe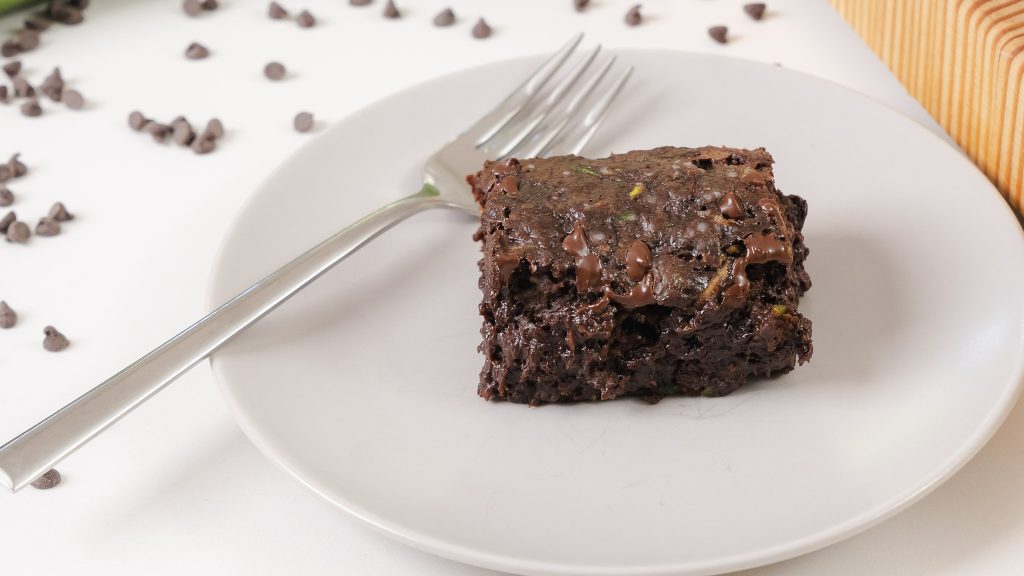 Ingredients
1/2

cup

Melted butter

1

cup

Granulated sugar

1

tbs

Vanilla extract

2

large

Eggs

1 1/2

cups

All-purpose Flour

1/2

cup

Unsweetened cocoa powder

1

tsp

Baking soda

3

cups

Finely shredded zucchini

Do not drain!

1

cup

Semi-sweet chocolate chunks
Instructions
Preheat oven to 350°F and prepare a 9×13 pan with butter (or use baking spray) and line with parchment paper.  (Allow parchment paper to go up the sides for easy removal.)


In a large bowl combine oil, sugar, eggs, and vanilla until fully incorporated.


Add flour, cocoa, baking soda, and salt.  Mix until combined, the batter will be very dry.

Fold in zucchini. Allow batter to rest for 5 minutes.

Add in chocolate chunks and stir again. Batter should appear more wet.

Spread brownie mixture into the pan and bake for 35 minutes Brownies are done when sides are set but centre is still jiggly. Let fully cool.
Print Recipe
(Visited 2,972 times, 7 visits today)