These banana peanut butter cinnamon rolls are something that you didn't know you should be craving, but now are absolutely craving. I am a well documented SUPER FAN of peanut butter. I love the stuff. So this fun twist on one of my already favourite baked goods, the cinnamon bun, got me very excited. This recipe is super fun and wildly moist, chewy, and just so dang delicious!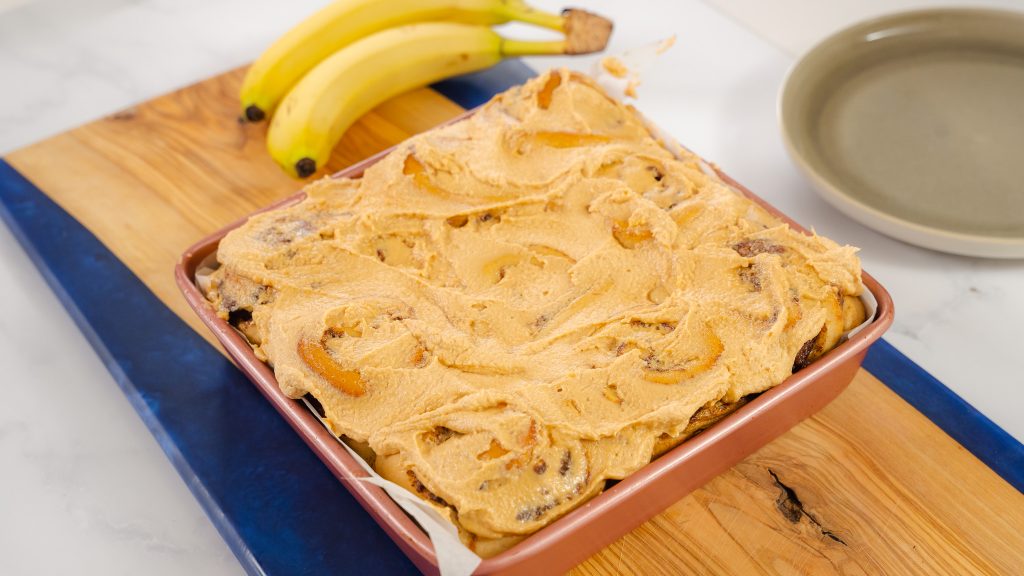 Cinnamon Buns + Banana Bread
Two members of the baked goods royal family. It just makes sense for the two of them to be combined!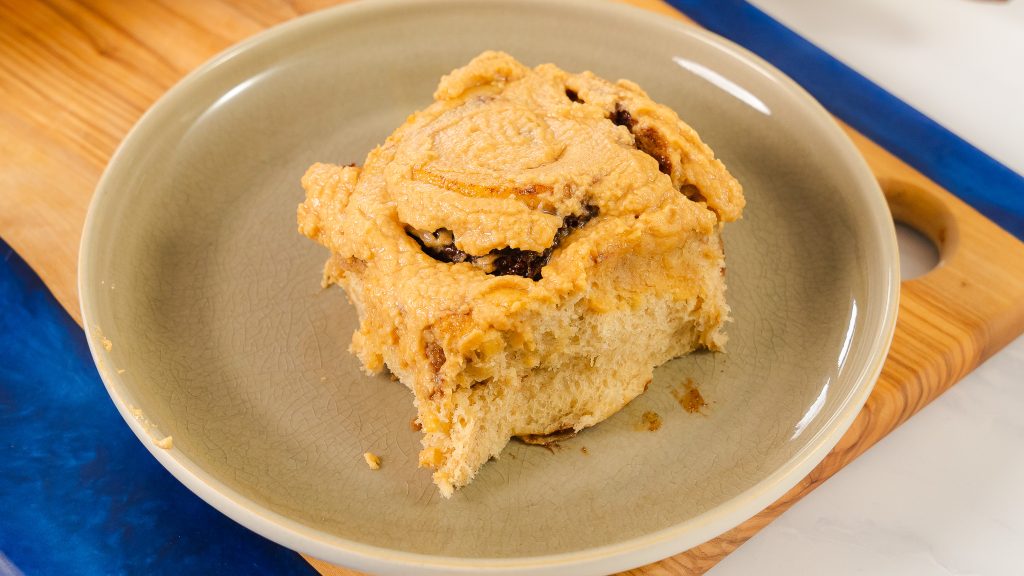 Adding in the banana flavour
What is very neat about this recipe is that we infuse the banana flavour in two different ways; 1) adding mashed bananas to the dough and 2) mashed banana is spread on top of the cinnamon brown sugar mixture for the center. The results are loads of delicious banana sweetness.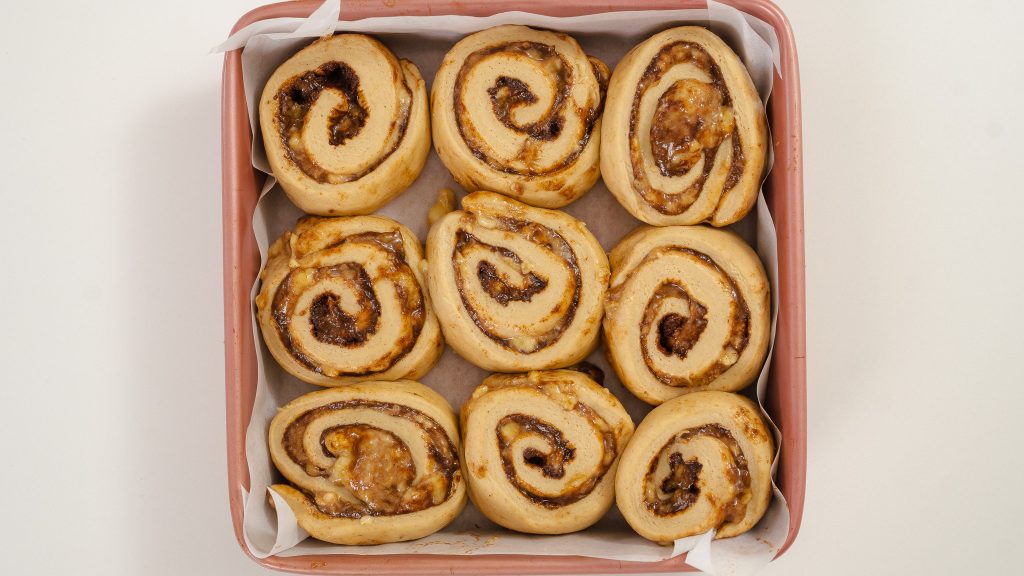 Process for making these Banana Peanut Butter Cinnamon rolls
Make dough infused with bananas
Let it rise and double in size
Roll dough into a rectangle and sprinkle with brown sugar + cinnamon then smear on mashed bananas.
Roll up cinnamon rolls into a log
Cut using a string or dental floss
Place in a 9X9 inch brownie pan for a second rise.
Bake 350 for 30 mins
Make peanut butter cream cheese icing
DIG IN
Peanut Butter Cream Cheese Icing
This might be my favourite part of this whole recipe. This icing is so incredibly delicious. This really does it for me and I love having this recipe up my sleeves. Easy, and really tasty. All you need to do is mix together smooth peanut butter (I like dark roasted), cream cheese, icing sugar, cream, vanilla.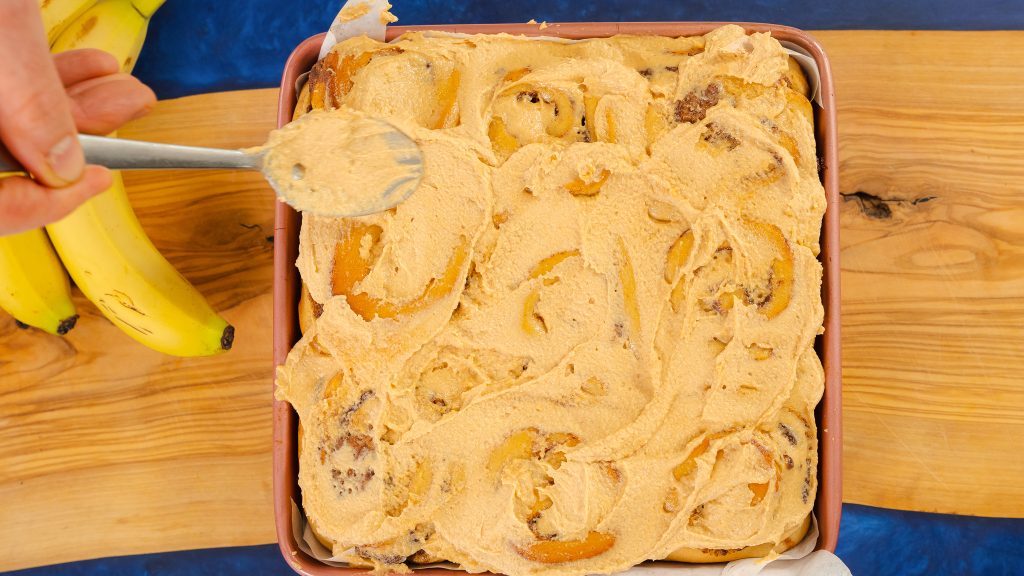 Other baked good recipes you might enjoy!
Banana Peanut Butter Cinnamon Rolls
Print Recipe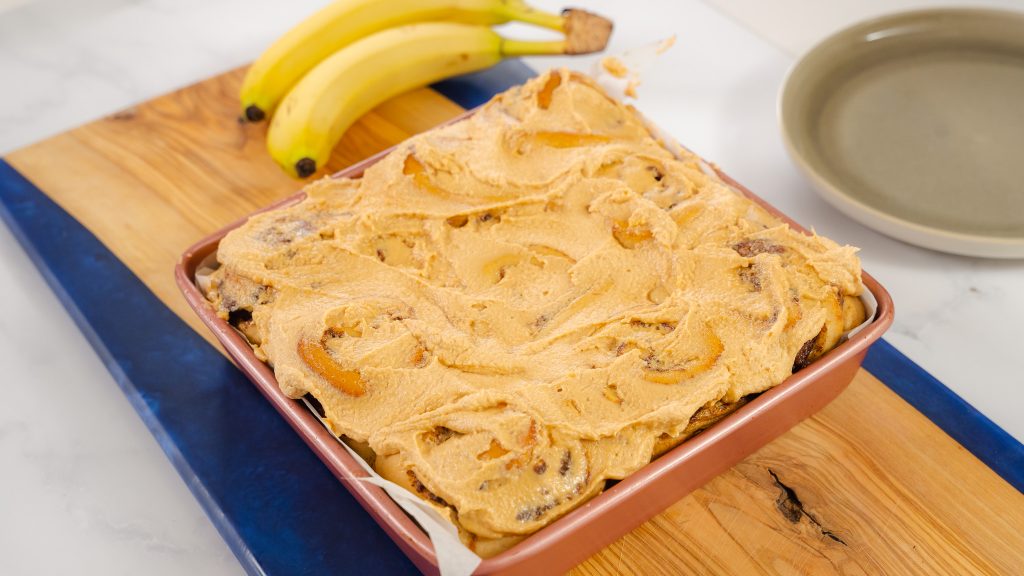 Ingredients
Dough
1

cup

milk

3

tbs

butter

2 1/4

tsp

dry active yeast

check expiry

1

tbs

sugar

1

brown ripe banana

Referred to as sketchy banana

3 1/4

Flour

more for dusting and adjusting

1

tsp

cinnamon

1/4

tsp

nutmeg

1/4

cup

brown sugar

1

tsp

vanilla

1/2

tsp

salt
Banana centre
2

Mashed yellow bananas

1

brown sketchy banana

extra flavour
Brown sugar + Cinnamon Centre
1

cup

brown sugar

2

tbs

cinnamon

1/4

cup

melted butter
Peanut Butter Icing
1/2

cup

room temperature cream cheese

1/2

cup

smooth peanut butter

1

cup

powdered sugar

1

tbs

cream

1

pinch

salt
Instructions
Ok let's start by activating the yeast. Warm milk to 110F using a sauce pan on the stove or a bowl in the microwave. Toss the butter and sugar in there to melt as well. You want the milk to be warm, but not hot or it will kill the yeast. Once milk is warm, pour into a large bowl or bowl of standup mixer and add in the dry active yeast and stir. Let sit on the counter for 10 minutes until it becomes frothy.

Next add in the 1 sketchy brown banana, 3 1/4 cups flour, cinnamon, nutmeg, brown sugar, vanilla, and salt into the yeast bowl. Mix the dough with a wooden spoon until it forms into a shaggy dough. Next, if you don't have a stand up mixer, tip out the dough onto a lightly floured surface and knead the dough for 10 minutes until it gets smoothish. If you are using a stand mixer, chuck on the dough hood and let the mixer to the kneading for around 8 minutes.

Now roll the dough into a nice ball and place it in a light oiled bowl and cover with a tea towel or plastic wrap. Let dough sit somewhere cosy to rise and double in size. I like the inside of a stove that is turned off with a pot of boiling water placed in there, this speeds up the rising process.

Once the dough has doubled in size punch out the air and drop the dough onto a floured surface. Using a lightly floured rolling pin, roll the dough into a rectangle that is about 1/4 inch thick. Brush on the melted butter and then sprinkle on the brown sugar and the cinnamon followed by smearing on the mashed bananas. I sugar using a rubber spatula here if you have. It is a bit of a messy job.

Next step is to roll up the dough into a log. Working from the long side of the rectangle, roll the dough over itself. Once you have the "log" formed, you can use a sharpe knife or a piece of string to cut the dough into individual logs. If using string or dental floss, slide the string under the log, cross the strings over the top of the log and pull each thread in its opposite direction. Place the individual rolls into a 9X9 inch baking pan allowing for some space between each roll. Once all of the rolls are in the baking pan, cover and allow to rise again for 30 minutes while the oven heats to 350F.

Once oven has reach 350F, Place rolls in over for around 30 minutes.

In a bowl mix together room temperature cream cheese, peanut butter, cream, and icing sugar, and salt using a hand mixer or a stand up mixer using the paddle attachment.

Remove cinnamon rolls from oven and allow to cool for 10 minutes before smearing on the peanut butter icing.
Print Recipe
(Visited 5,621 times, 5 visits today)