These buttery, pillow Soft Dinner Rolls are going to become a staple in your life. Perfect for family dinners, special occasions, soups, almost every meal is made better with a fresh soft dinner roll. Amazing to eat, and almost just as fun to make. You are going to be proud of yourself when you make these!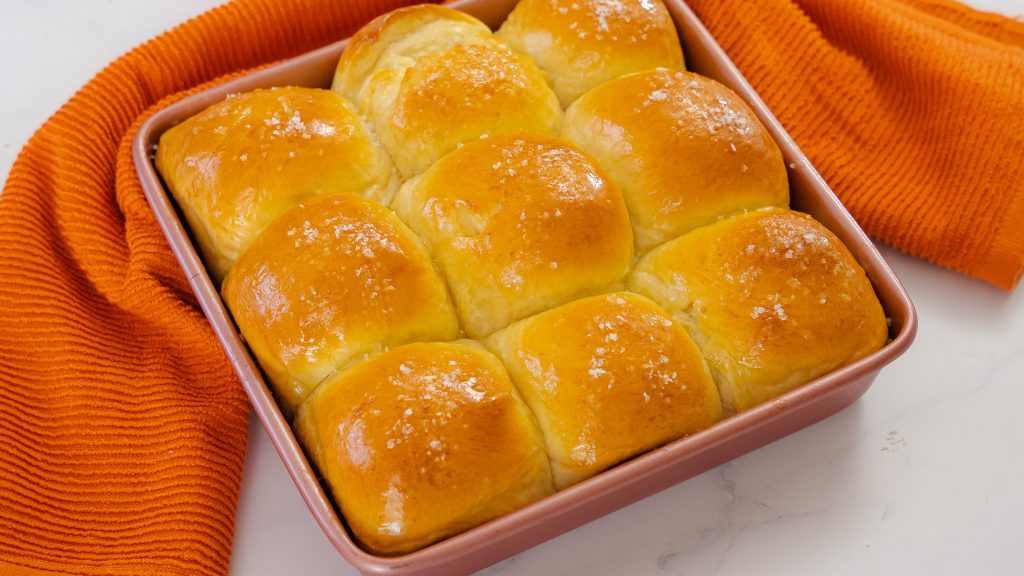 Don't be intimidated!
This may be your first time making a bread dough and you might feel a little nervous, but don't fret! We are going to nail this recipe together. Making bread doughs aren't as scary as you think. There are a couple key tips I can give you which will hopefully result in your nailing his recipe on your first attempt. Ready? Lets make some soft dinner rolls!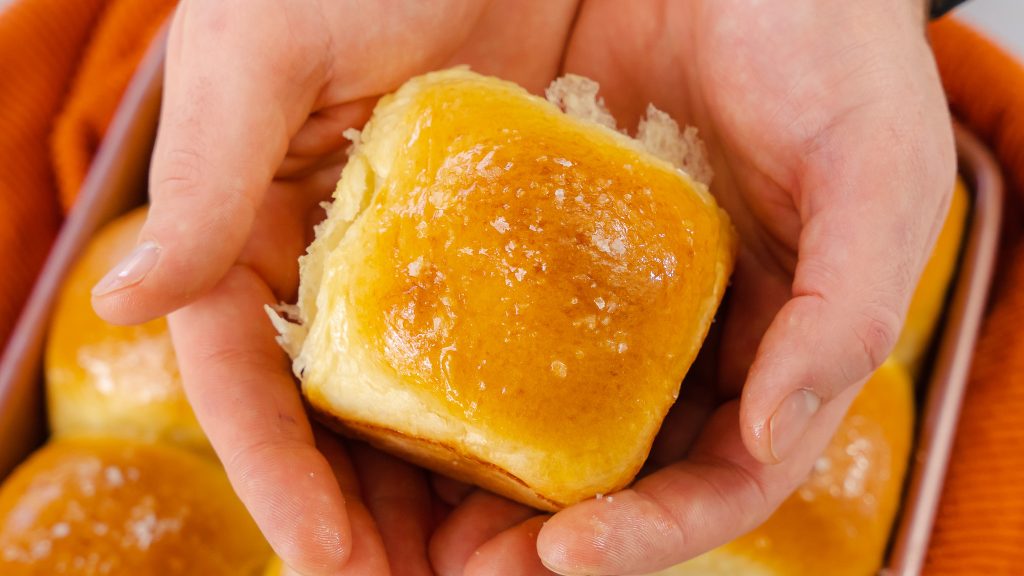 Steps involved in making these Soft Dinner Rolls
Mix the dough
Knead the dough. I do this by hand but it is easier to do with a standup mixer.
Let the dough rest and double in size.
Punch out the the air and divide into 9 small dough balls
Place in baking tray and allow to rise again
Eggwash
Bake the soft dinner rolls
Let's breakdown all of the ingredients
Milk – I use whole milk for baking. The higher fat content results in softer more delicious rolls. You can use any milk substitute here.
Dry Active yeast – Double check it is not expired. I learned this the hard way before.
Sugar – Sugar feeds the yeast and helps the bread rise faster.
Egg – Additional fat content which makes these rolls soft and delicious.
salt
Butter – Room temperature butter is added in chunks to the dough. This is key for making soft, pillowy rolls.
Flour – I used bread flour, but you can achieve similar results with all purpose.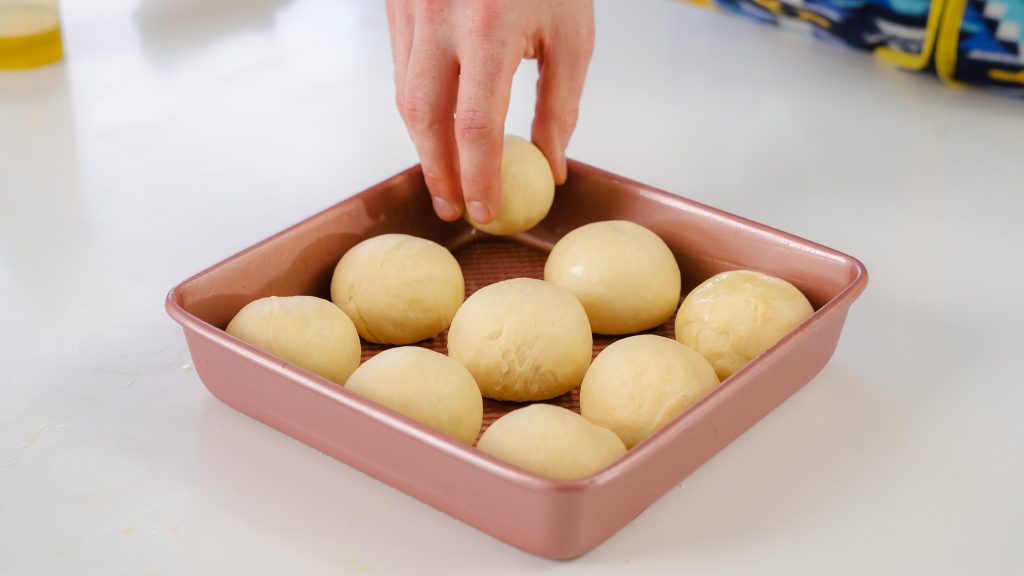 Shaping your dough balls
After your have punched out the following the first rise, you can divide the dough into 9 or 12 individual balls. Shaping can be done in a few ways, but the key is to make sure the top of the dough ball is smooth. Any open seems should be fasting downwards. I like to take a piece and stretch the top of the dough while pinching and sealing the bottom. From there I place the seem of the dough ball on the counter, create a C with my hands in a circular motion move the dough ball around. From there I place into a lightly greased pan. Be sure to space your dough balls apart as they will grow after they do their second rest.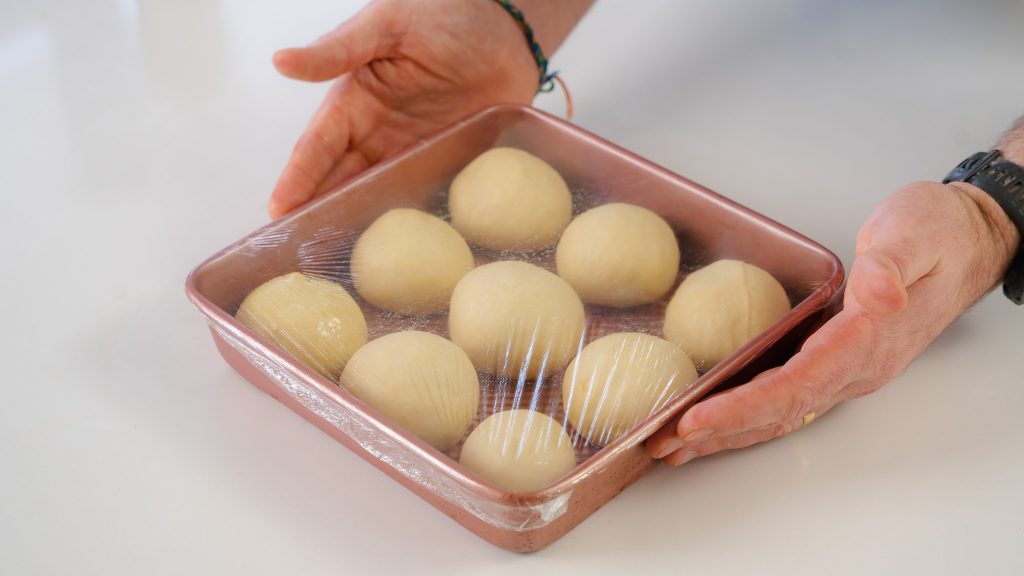 Baking your soft dinner rolls
After the rolls have done their second rise you are ready to bake. Prior to placing into the oven I highly suggest doing an egg wash in order to ensure your dinner rolls come out with a beautiful deep brown top. Simply scramble up an egg in a bowl and using a pastry brush or piece of paper towel, brush on the egg wash. Now pop the rolls into the oven and bake for 25-30 minutes.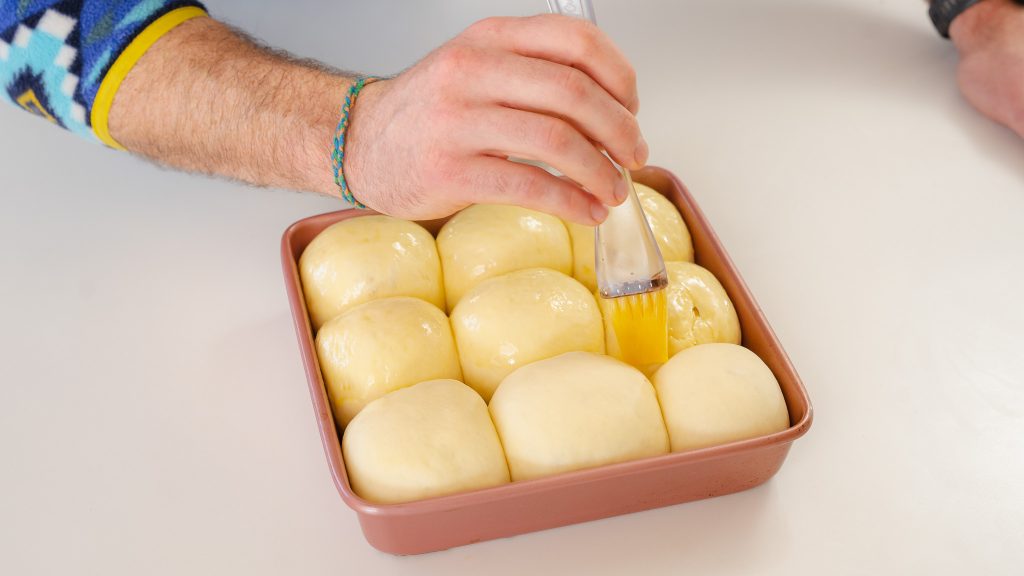 Other bread recipes you might enjoy baking!
Cheddar and herb no knead bread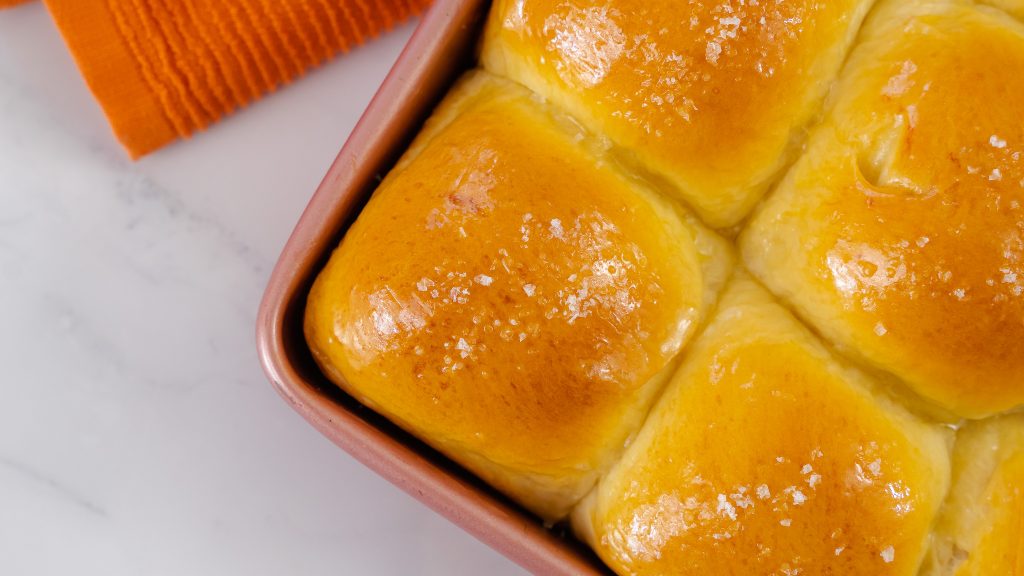 Soft Dinner Rolls
Print Recipe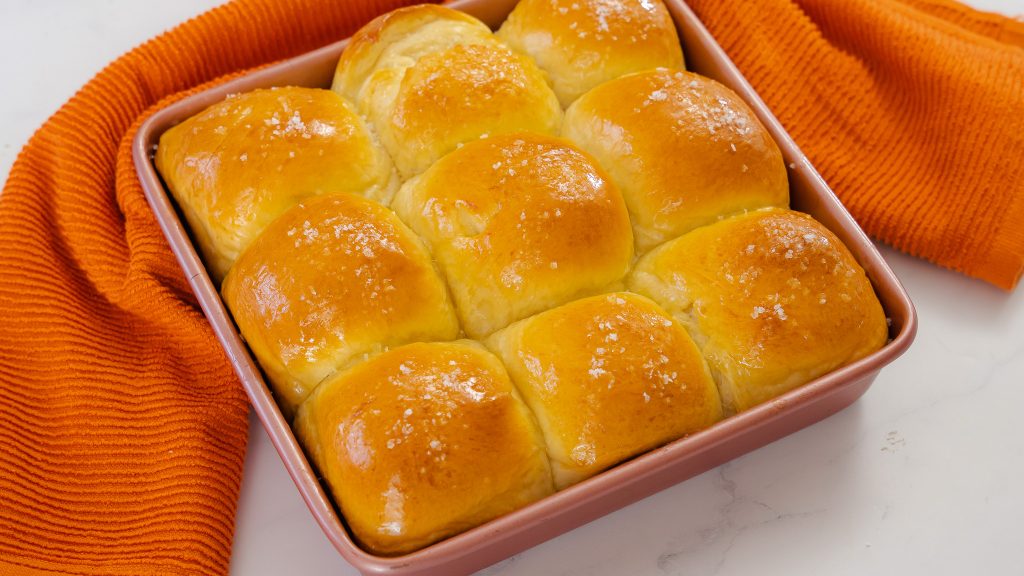 Ingredients
1

cup

Warm milk

95F-105F

2 1/4

tsp

Dry active yeast

check expiry

2

tbs

sugar

1

egg

1/4

cup

room temp butter, broken into pieces

1

tsp

salt

3

cups

bread flour (all purpose works too!)
Instructions
In a bowl mix together yeast, warm milk, and sugar. Set aside and allow to become frothy. About 5 minutes.

In a separate bowl add in flour, egg, salt, and butter. Add in milk and yeast mixture and mix with your hands or a spatula to form a shaggy dough. Once dough has started to come together, pour onto a light floured surface and knead for about 10 minutes. You can also use a standup mixer with a dough hook attachment if you have one.

After the dough has been kneaded for about 10 minutes, form into a ball and place into a lightly oiled bowl. Cover with plastic wrap and place it in a cosy spot in your kitchen and allow to double in size. It takes about 90 minutes. The yeast likes warm environments so find a warm spot to speed up the process.

After the dough has doubled in size, punch out the air and place dough into the counter. Cut the dough into 9 equal pieces and then roll them into a ball. Make sure the top of the dough ball is smooth. I like to take a piece and stretch the top of the dough while pinching and sealing the bottom. Make sure the rolls are smooth on top and sealed on the bottom. Place dough balls into a 9X9 inch baking pan and be sure to allow some space between dough balls as they will increase in size during the second rise.

After all of the dough balls have been shaped and placed into baking pan, cover with plastic wrap and allow them to rise again for about 30 minutes. This is a crucial step to ensure a pillow soft dinner roll.

After the dough balls have doubled again, brush the top of the roll with an egg wash and then place them in the oven to bake for 25-30 minutes or until the tops are beautifully brown.

Remove from oven, and while the rolls are still hot brush on some butter and sprinkle with salt. ENJOY!!!!
Print Recipe
(Visited 42,886 times, 31 visits today)