These Frozen Strawberry Yogurt Bites are the answer to summertime-sweet cravings. Made with simple ingredients and peak season fresh fruit, you won't want to stroll down the dessert aisle ever again. Keep them frozen and pull them out when the craving hits! Needless to say… Make it!
Key Ingredients for Frozen Strawberry Yogurt Bites
With a recipe this simple it's super important that all of the ingredient are top notch, it can really make or break this one folks, trust me!
Fresh is best– When it comes to strawberries, nothing is going to be better then fresh. This time of year the grocery stores should be bursting with fresh, ripe and juicy fruit. Frozen strawberries just don't have the same flavour and texture, if at all possible, go fresh!
The perfect chocolate shell– The chocolate you use if going to matter, we used a semi-sweet chocolate that balances rich, sweet and bitter; giving you the perfect bite every time. There's a whole world of chocolate styles out there for you to experiment with!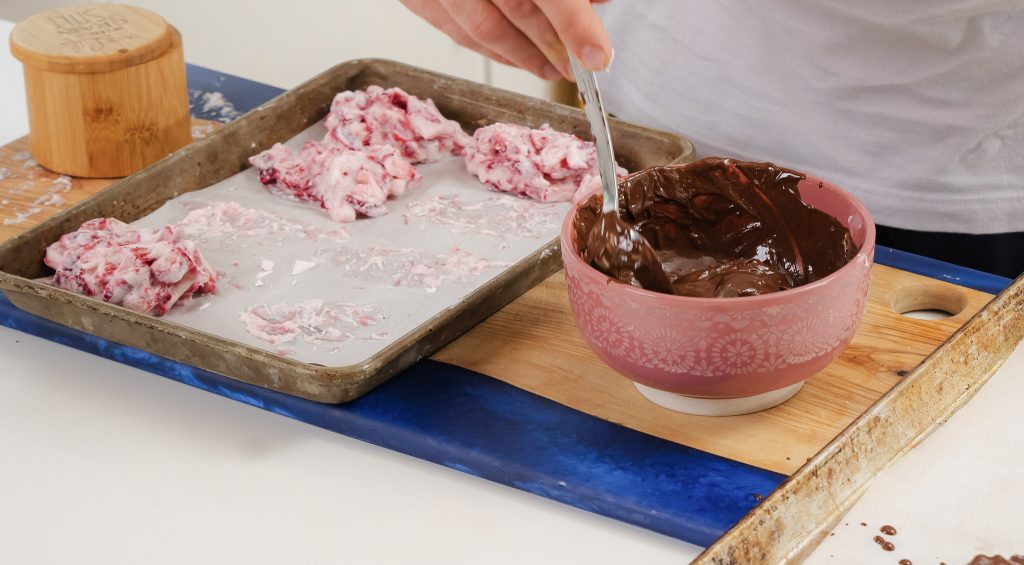 Tips on nailing these Frozen Strawberry Yogurt Bites
A super simple recipe like this still has a few key steps that if followed will make sure you get the perfect result every time.
Make sure you cut your strawberries evenly. An even dice is going to ensure an even texture and uniformed shape for all of your bars.
Make sure the chocolate is fully melted and your coconut oil is properly emulsified. This is going to make sure you have an even coating all the way around your bar.
Make sure your bars are fully frozen before you start to dunk them. We want to make sure they keep their shape and don't fall apart as you coat them in chocolate.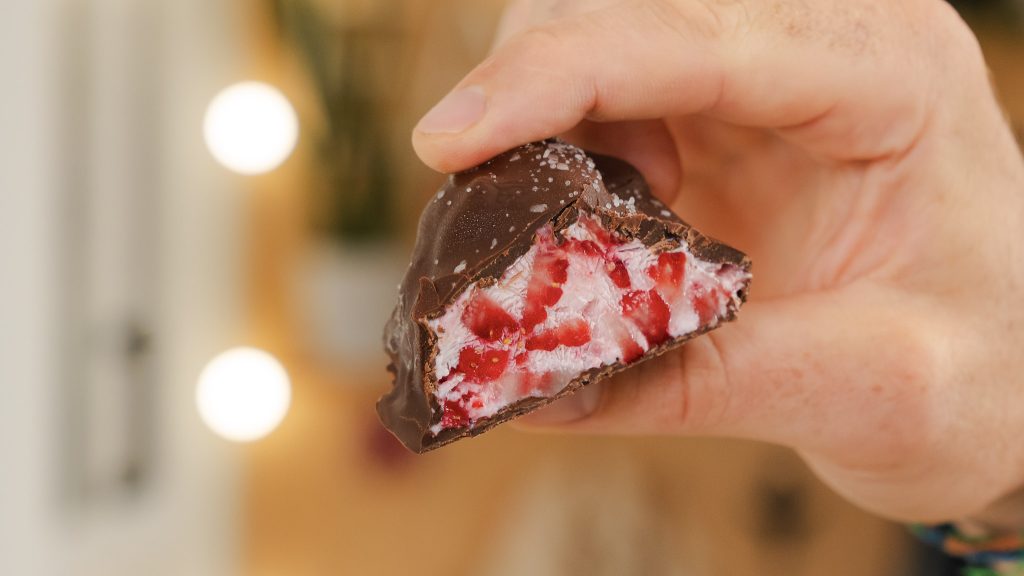 Make it your own
We love using strawberries this time of year, but maybe you don't have any on hand or they're out of season. Don't worry, this is one of those recipes that is so easily customizable to what you have and what you like. Any fresh fruit or berry thats ripe, juicy and in season will work perfectly.
The same goes for the chocolate, some like a rich and bitter dark chocolate while others prefer something sweet and light. Find what style you like and make it your own. There's a world of different chocolates for you to explore and experiment with.
Other recipes to check out
If you liked the sound of these Frozen Strawberry Yogurt Bites here's a few other desserts we think you should check out!
Strawberry Cheesecake Ice cream
Banana Peanut Butter Cinnamon Rolls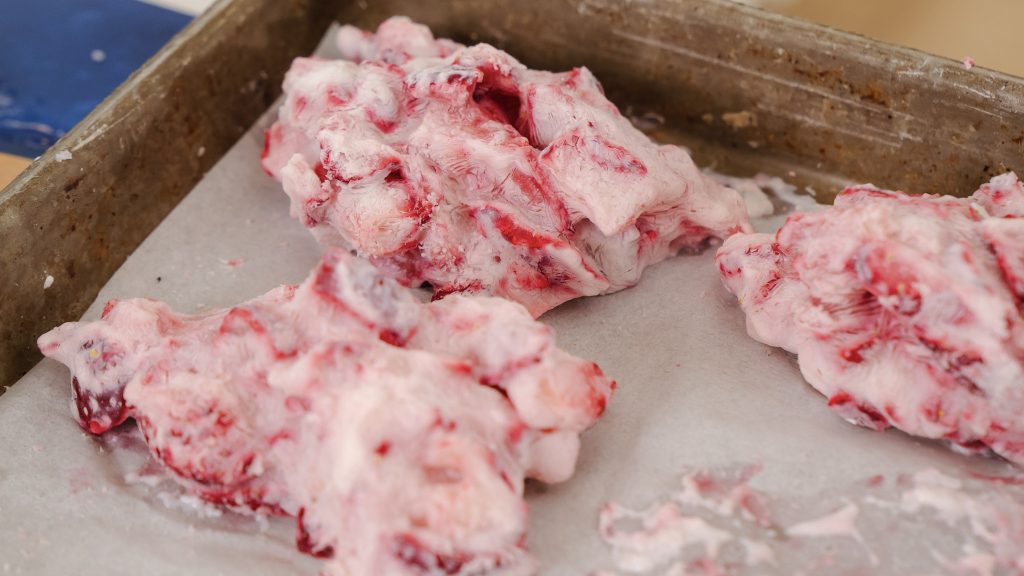 Frozen Strawberry Chocolate Bites
Print Recipe
Ingredients
For the strawberry filling
2

cups

Fresh strawberries

Diced

1

cup

Greek yogurt

1

tsp

Vanilla

1

tsp

Maple syrup
For the chocolate shell
1 1/2

cups

Semi sweet chocolate

1

tbs

Coconut oil

1

tsp

Flaky salt
Instructions
In a bowl mix together strawberries, greek yogurt, vanilla, and maple syrup. Scoop out bite sized balls onto a baking sheet that is lined with parchment paper. Place baking sheet in freezer.

After about 3 hours, remove from freezer.

In a bowl melt semi sweet chocolate and coconut oil. I did this in the microwave but you can use a double boiler.

Drop  the frozen yogurt bites into the chocolate to coat. Sprinkle with salt while chocolate is still melted. Allow the chocolate to cool and then enjoy!
Print Recipe
(Visited 5,891 times, 34 visits today)