This light, airy, chocolate soufflé is going to impress your guests, but more importantly, it's going to impress yourself when you pull this one off. Soufflés are up there as one of the most raved about french pastries. While I wouldn't describe making this soufflé as easy, I will walk you through all the steps and I am confident you can nail this on your first try!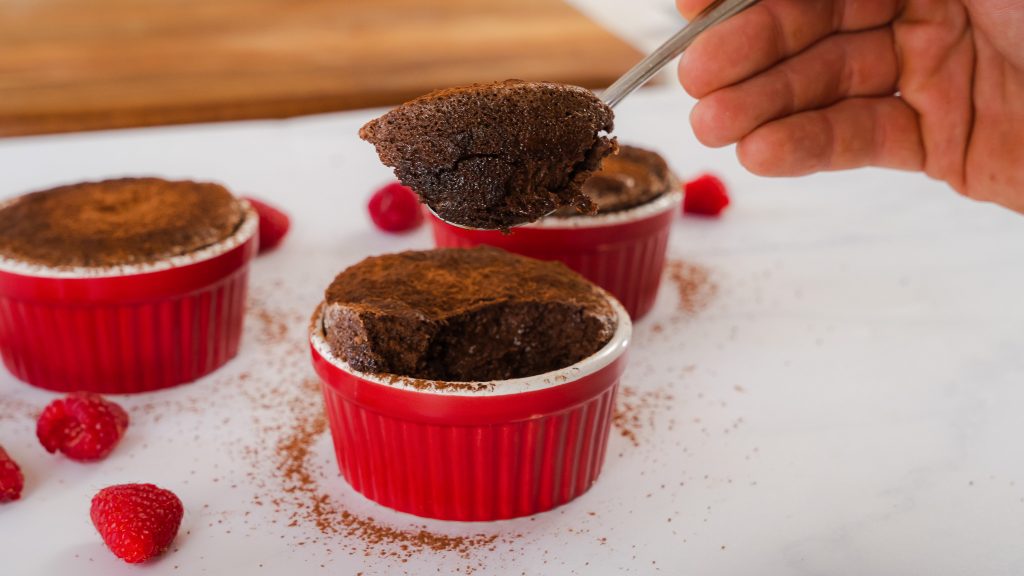 Tips on nailing this Chocolate Soufflé
This Chocolate Soufflé is only as good as the chocolate you use. Do not use chocolate chips for this recipe. I would suggest using baking chocolate which you can find in the baking isle. I used 70% dark chocolate. Baking chocolate comes in 4 oz blocks are easy to measure and take amazing in baked goods.
Whip the egg whites and fold in gently. You'll notice that baking powder and soda are missing. That's because all of a soufflé's rise is from the whipped egg whites. Beat egg whites and cream of tartar or lemon juice together until soft peaks form, then with the mixer still running, slowly add the sugar and beat until stiff peaks form. We only use a small amount of lemon juice, but it has a BIG job—it helps the egg whites hold their peaks. If you want to be extra sure the egg whites stay stiff I suggest using a 1/8 tsp of cream of tartar. After your egg whites reach stiff peaks, very slowly and gently fold them into the chocolate mixture in 3 additions, always being careful to avoid pushing out to much air out of the eggs. Be gentle.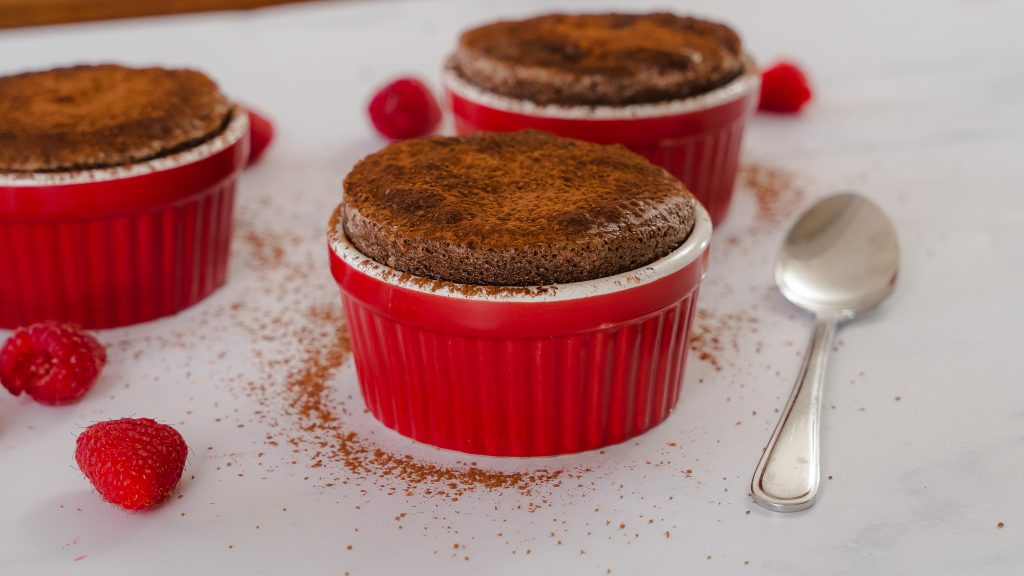 Step by step process for making this chocolate soufflé
Chop up quality chocolate and place in a double boiler over hot water. Allow the chocolate to melt. The water doesn't need to be much warmer than a simmer.
In a pan make a roux. Add the butter, flour, and cold milk to a pan until it forms a paste.
Separate egg yolks and egg whites
Mix together the melted chocolate and the roux.
Add egg yolks too the chocolate mixture and stir
Whip egg whites and lemon juice until they become frothy. Start slowly adding in sugar until the eggs whites form stiff peaks.
Prepare 5oz ramekins by brushing with melted butter and then sprinkling the inside with sugar. The sugar coating helps the soufflés rise straight up (no sticking!) and adds a pleasant crust around the exterior.
Fill ramekins 3/4's of the way up
Bake in an oven preheated to 375F for about 17-19 minutes
Sprinkle tops with cocoa powder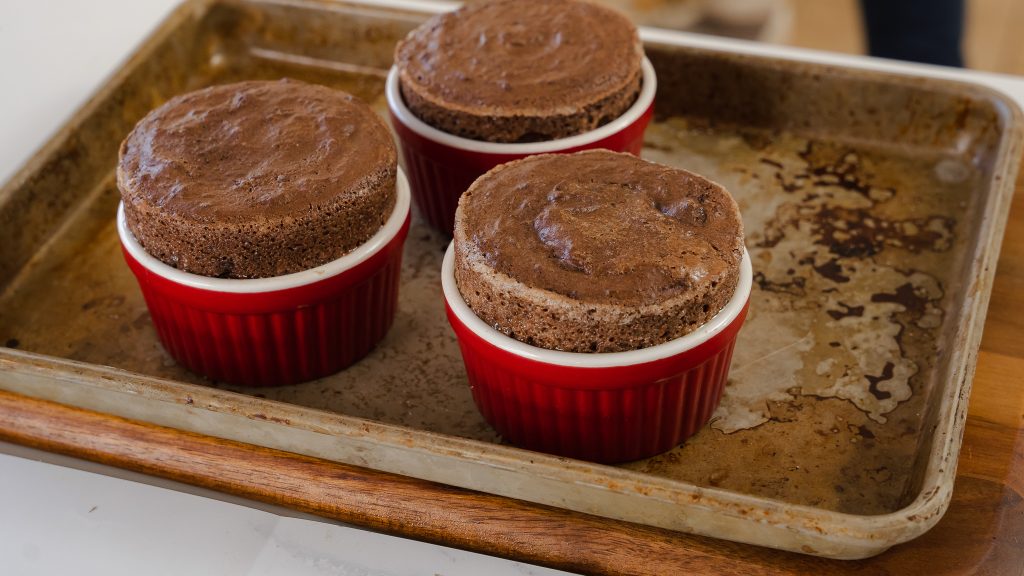 Why Did my Chocolate Soufflé Fall?
Under-whipped egg whites
Over-mixed + deflated batter: Slowly and gently fold the whipped egg whites into the chocolate mixture in 3 additions, always being careful to avoid over-mixing and excessive deflating.
Opening and closing the oven too much: You'll likely have to open your oven to check the doneness of your soufflé(s). Avoid checking excessively, though.
Waiting too long to serve: Serve soufflé as soon as it comes out of the oven because it begins to fall within minutes. Have your toppings ready to go before they're done. If they fall before serving, not much is lost except for that impressive height. You'll still have that sponge-like texture underneath a crackly top, though it settles into a denser texture as time passes.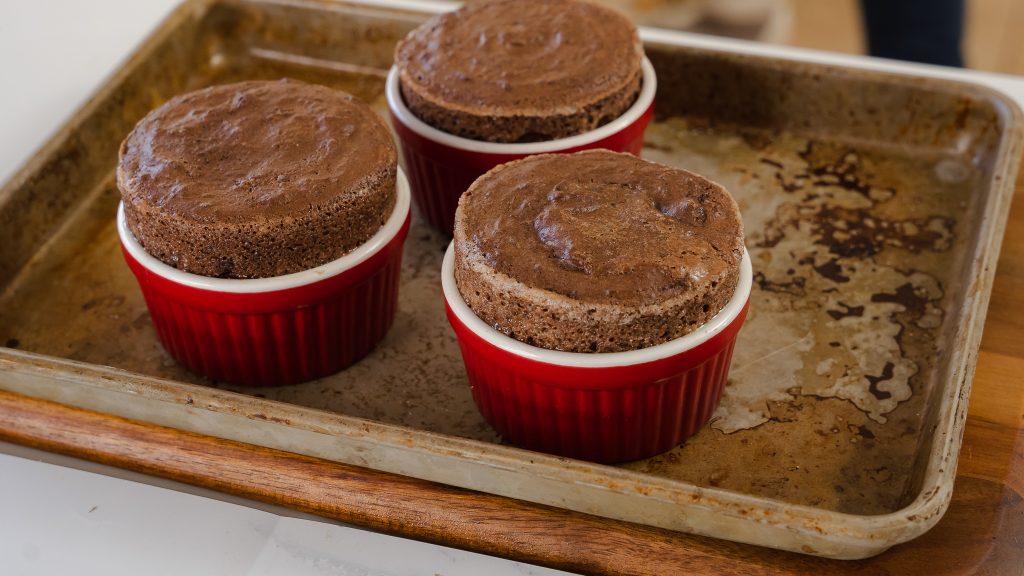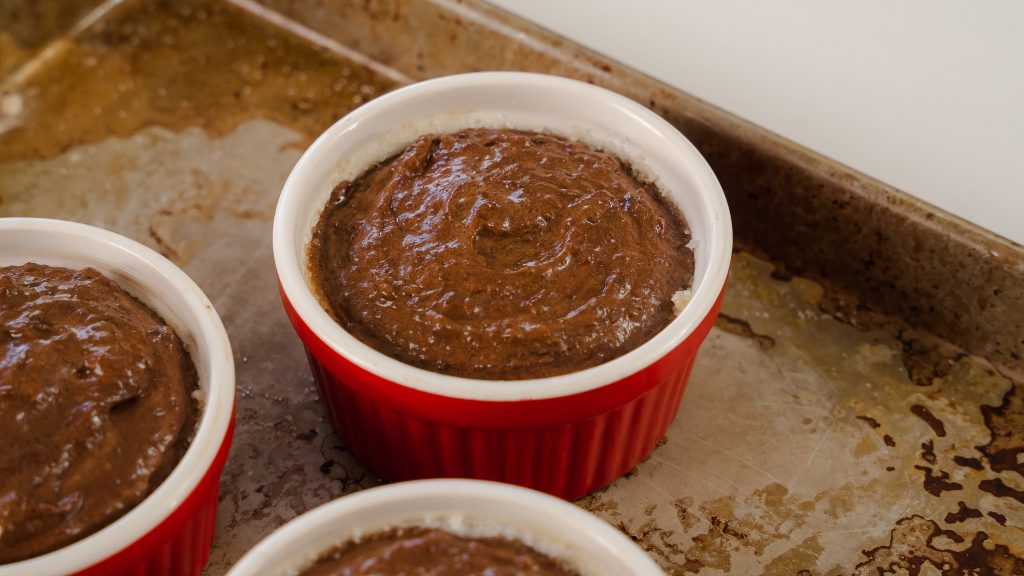 Other Chocolate Desserts you may enjoy
Chocolate Souffle
Print Recipe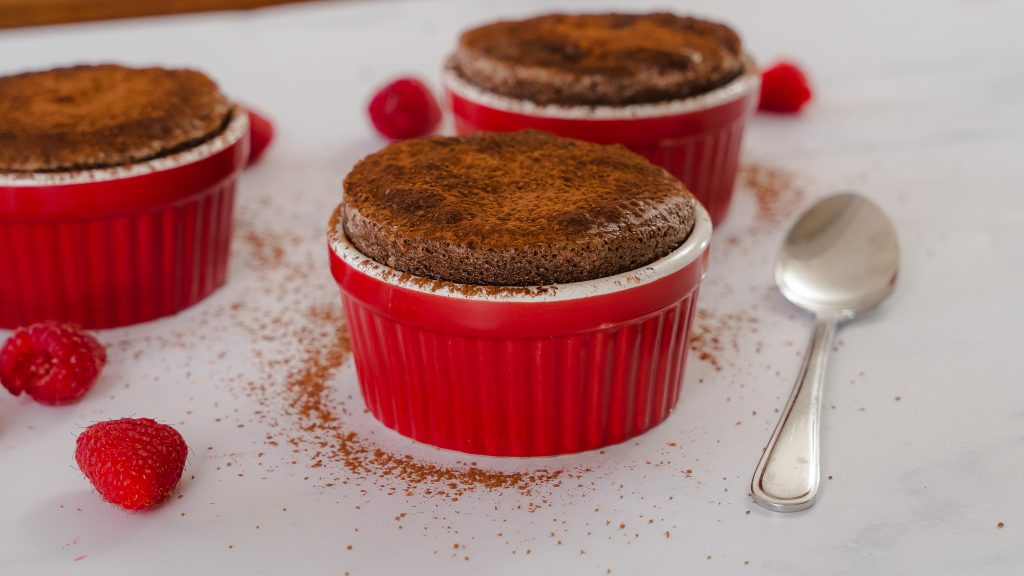 Ingredients
4

oz

dark baking chocolate, chopped

2

tbs

butter

2

tbs

flour

1/2

cup

cold milk

2

egg yolks

4

egg whites

1

tsp

lemon juice

or cream of tartar

2

tbs

sugar
ramekins
1/4

cup

melted butter

1/4

cup

sugar
Instructions
Place chopped chocolate into metal bowl and then place the bowl over a medium sized pot that is fill 1/4 with water. Bring water to a light simmer. This will gently melt the chocolate.

While chocolate is melting place a medium sized sauce pan over medium heat. Add in the 2 tbs of butter and once melted add in the 2 tbs of flour. Whisk together and cook for 60 seconds. Next add in cold milk and whisk until it forms in to a paste. Once paste has formed add that in with the melted chocolate and with a spatula fold them together.

Add egg yolks into the mixture and mix.

In a completely clean medium glass or metal mixing bowl, using a handheld mixer or stand mixer fitted with a whisk attachment, beat the egg whites and lemon juice (or cream of tartar) together on high speed until soft peaks form, about 2 minutes. With the mixer running on high speed, slowly add the sugar in 3 additions, beating for 5 seconds before adding the next spoon of sugar. After all of sugar have been added, beat until stiff glossy peaks form, about 2 more minutes. Do not over-beat.

Add one third of the egg white mixture in with the chocolate and mix together. Once full incorporated we will add the rest of the egg whites in. Fold the mixture together and be really careful not to deflate the egg whites. You need that air to remain in the mixture.

Brush four 5-ounce oven-safe straight sided ramekins with a generous coating of the softened butter. Sprinkle in the granulated sugar, then shake/rotate each to ensure every spot of the ramekin has a sugar coating. Place ramekins on a baking sheet. Discard excess sugar.

Spoon batter evenly into ramekins. Using a knife or icing spatula, smooth down the surface. Run a knife, icing spatula, or your thumb around the rim at the top, creating a "channel" between the batter and the rim of your pan. Feel free to wipe the edges clean with a towel, though I don't always do that and don't notice a difference in appearance or rise.

Place baking sheet with ramekins on top in the oven. 15-19 or until the edges are set and the centre just barely jiggles when you give the pan a light tap. Avoid opening/closing the oven too much.

Remove from oven and top with fresh fruit and serve immediately as it will start to deflate fairly quickly! Enjoy!
Print Recipe
(Visited 1,622 times, 1 visits today)