Nanaimo bars rank are one of the most iconic Canadian Dishes. Up there with poutine, butter tarts, and bannock, it is hard to think of a more Canadiana recipe than the Nanaimo Bar. Rich chocolate coconut base, a creamy and sweet custard centre, topped with melted chocolate. Hard to beat that! Amazingly delicious with perfect texture. You are definitely going to want to give these a try!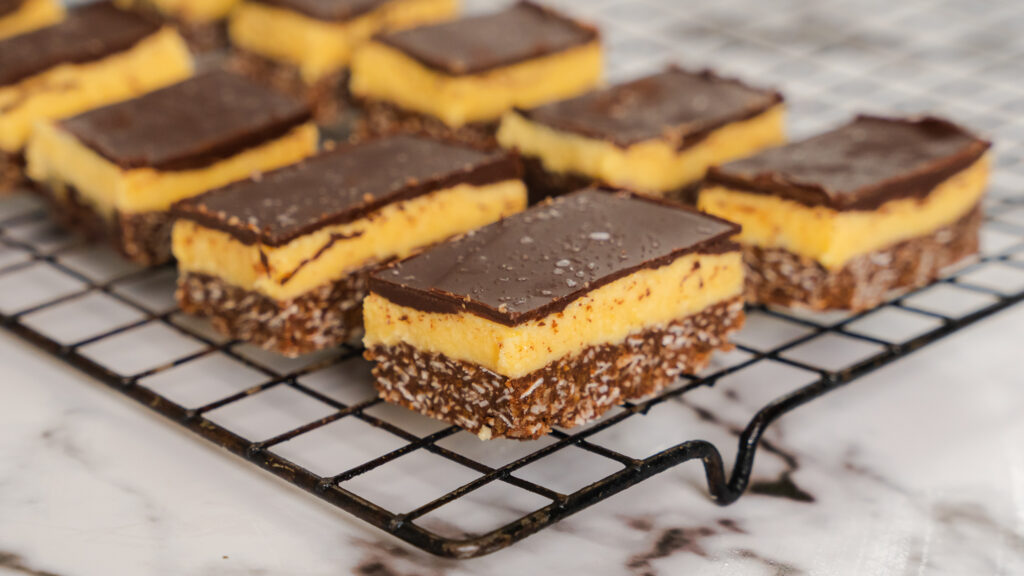 What is a Nanaimo Bar?
Great question. Nanaimo bars are a Canadian dessert that are made up of three very specific layers. The bottom is a chocolate, coconut, graham cracker layer that is the base for the entire bar. The second layer is a rich, sweet, buttercream custard layer that is smooth and silky. The final layer is a basic chocolate ganache that pulls everything together. All three layers work together to create a wildly crave-able, hand held dessert, that is a huge crowd pleaser.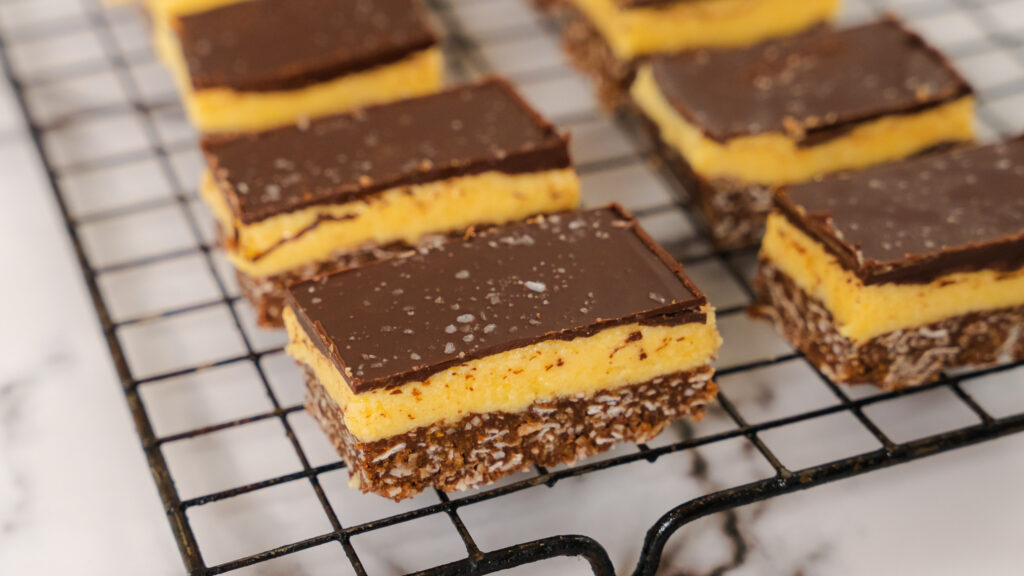 Where did the Nanaimo bar come from?
From my research the Nanaimo bar has been around since around the end of world war two. Named after the city is was created in, Nanaimo British Columbia, it was a local treat for a number of years before being featured in the 1986 World Expo in Vancouver where it was featured in the the World Expo Cookbook which was given out as a souvenir. There is a never ending debate on what the National dessert of Canada is and the Nanaimo bar is always in the conversation.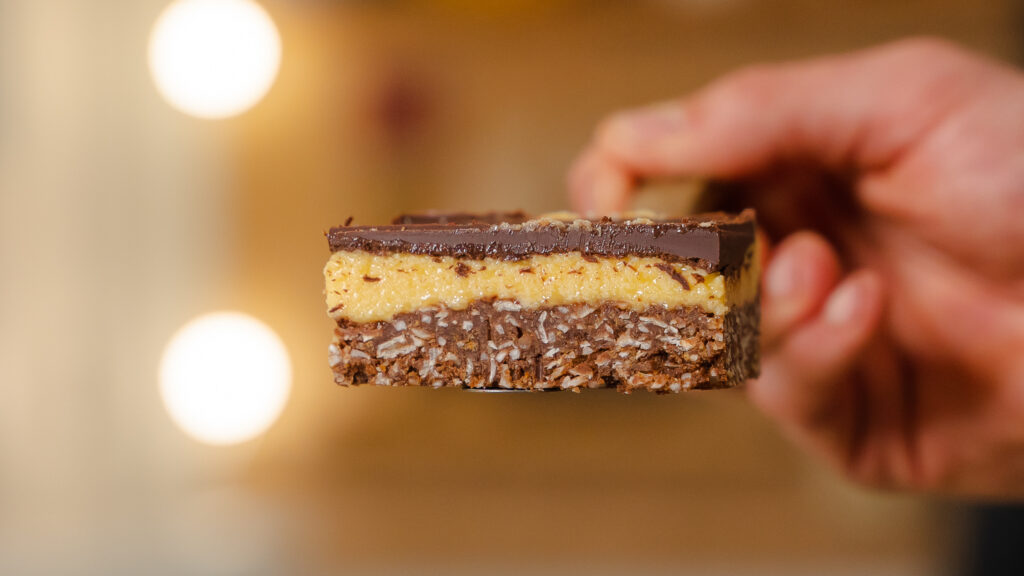 Let's breakdown the ingredients!
Ok let's start by talking about the the chocolate base. Really to throw together but here is what you will need.
Graham Cracker Crumbs. This is the main structural piece for this recipe. It provides great flavour and plays very well with chocolate.
Cocoa powder. I like using unsweetened cocoa as the custard layer is quite sweet so there is no need for the extra sugar
Flaked Coconut. I love the flavour of coconut and this is an integral part of this recipe. Again, sweetened is not necessary but if that's all ya got, all good!
Melted Butter & 1 egg. These act as the binding agents and hold everything together. By adding the egg, we do bake the crust for 10 minutes.
Walnuts or oats– Traditionally the recipe is made with chopped walnuts, but I decided to swag for oats. My daughters are big fans of nuts and I love adding oats to any recipe I can. It's a bit of my signature.
Next up let's chat middle layer or the buttercream custard layer.
Room Temperature Butter– Butter is the main ingredient for the butter cream and be sure to use room temperature butter to make mixing much easier.
Custard Powder– Custard powder is key and this brings lots of flavour and the classic orangey, yellow colour, we all know and love in a Nanaimo bar. You can find this powder in the baking section of any major grocery store.
Icing sugar– Icing sugar dissolves beautifully into the butter and gives an amazing texture.
Vanilla– This is how we add flavour to our custard centre.
Milk-Any milk will do the trick
Salt– For flavour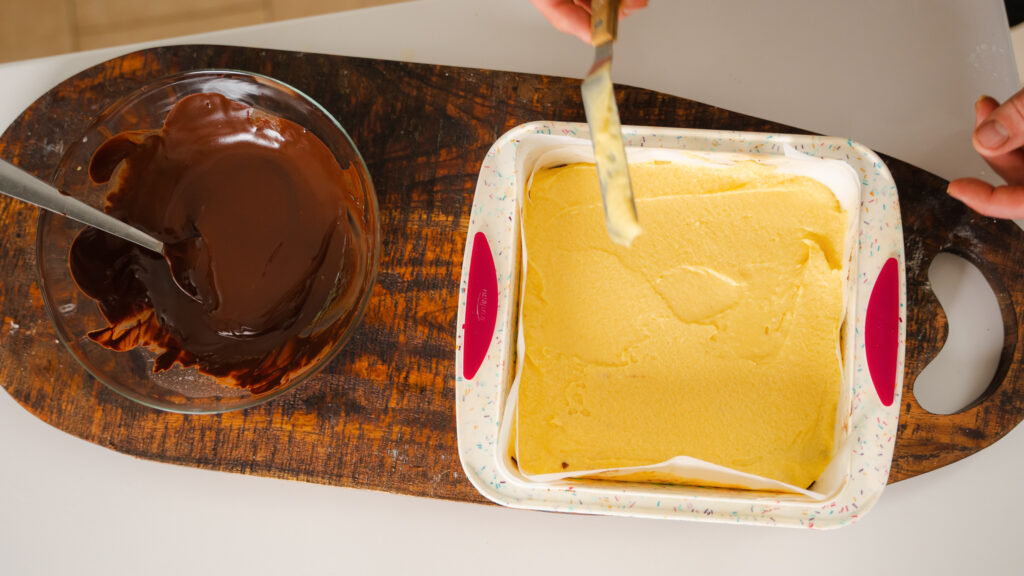 Lastly, the chocolate topping. I kept things super easy for this and simply melted some semi sweet chocolate chips with a scoop of butter to help keep it smooth and less likely to crack when cutting. I also topped the chocolate with a pinch of salt.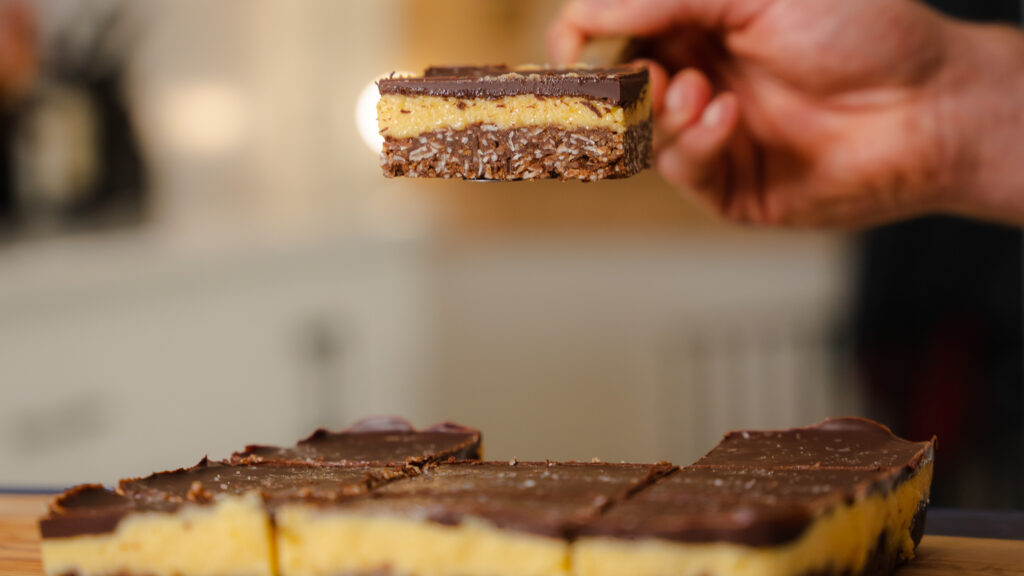 These Nanaimo bars are great to freeze and will be good for about 4 months. Simply pop them out of the freezer the night before and allow them to thaw in the fridge over night and you will be good to go!
Homemade Nanaimo Bars
Print Recipe
Ingredients
Chocolate crust
1

cup

graham crackers

3

tbs

cocoa powder, unsweetened

1

pinch

salt

1

cup

sweetened shredded coconut

1/2

cup

quick oats

6

tbsp

melted butter

1

egg
Custard Filling
1/2

cup

butter, room temperature

2

cups

icing sugar

2

tbsp

custard powder

available at most grocery stores

3

tbs

milk or cream

1

tsp

vanilla

1

pinch

salt
Chocolate Topping
1/2

cup

semi sweet chocolate chips

2

tbs

butter
Instructions
First things first line a 9X9 inch brownie pan with parchment paper and pre heat oven to 350F.

Let's start with the chocolate crust first. In a bowl add in graham cracker crumbs, cocoa powder, coconut, melted butter, egg, salt, and oats. Mix until combined. Pour mixture into brownie pan and using the back of a spatula push the crust down into the bottom of the pan and bake for 12 minutes. Allow to fully cool before scooping on rest of the layers.

Next up, the custard filling. In a bowl add in softened butter, 1 cup of the powdered sugar, custard powder, milk, vanilla, and salt. Using a handheld or stand mixer attached with a paddle, mix until smooth and then add in the second cup of the powdered sugar. Mix until incorporated and smooth. Place to the side.

In another bowl, pour in the chocolate chips and drop in the butter. Using a double boiler or a microwave, slowly melt the chocolate and butter. Stir to combine. The butter will give the chocolate a nice shine.

Once the chocolate crust is cooled, scoop on the vanilla custard and spread evenly over the chocolate crust. Now pour the melted chocolate over the vanilla custard and spread evenly. Sprinkle with some salt while chocolate is still melted.

Place pan into fridge or freezer and allow to set. I would give it an hour in the freezer. When ready to cut, remove from the pan and place on a cutting board. I used a bread knife to start the cuts to avoid cracking the chocolate. Enjoy!!!
Print Recipe
(Visited 14,133 times, 1 visits today)