This is a fantastic holiday dessert; it's my dad's favourite dessert for a good reason! It has a little bit of everything. Warm spices, a beautiful soft texture, add a dollop of your favourite ice cream and a few spoonfuls of homemade caramel sauce, and you have yourself a winner. Sticky Toffee Pudding all winter long!
Key ingredients for this super classic Sticky Toffee Pudding
Dates– The perfect way to add sweetness to any dessert without extra sugar. All natural, baby! When cooked down, they also give a great texture to the finished dish.
Spices: There are a few classic spices in a sticky toffee pudding, each as important as the next. Nutmeg, clove, ginger and cinnamon each add a depth of flavour and roundness, and the ginger adds a slight heat that helps cut the sweetness.
Ice cream: I don't think I've ever Sticky Toffee Pudding without a dollop of ice cream; it doesn't seem right. This is the time to break out your favourite ice cream flavour and enjoy it!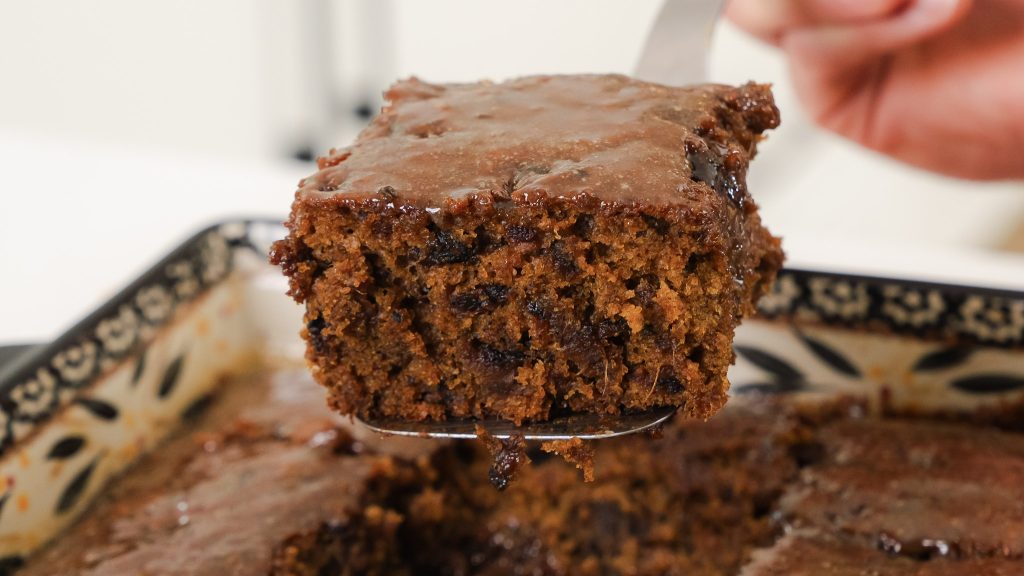 Tips on nailing this Sticky Toffee Pudding
This recipe is straightforward, but here are a few key steps to ensure your pudding is perfect every time.
Line your pan: A little sheet of parchment paper will help you scoop out your pudding and clean up way easier.
Soak your dates: An unoaked date is still beautiful, but for a recipe like this, we want them to be super soft and almost bake into the pudding.
A toothpick never lies: Much like a cake, you can test your Sticky Toffee Pudding by inserting a toothpick into it. It won't come out clean, but you'll be able to tell the difference between raw batter and sticky goodness.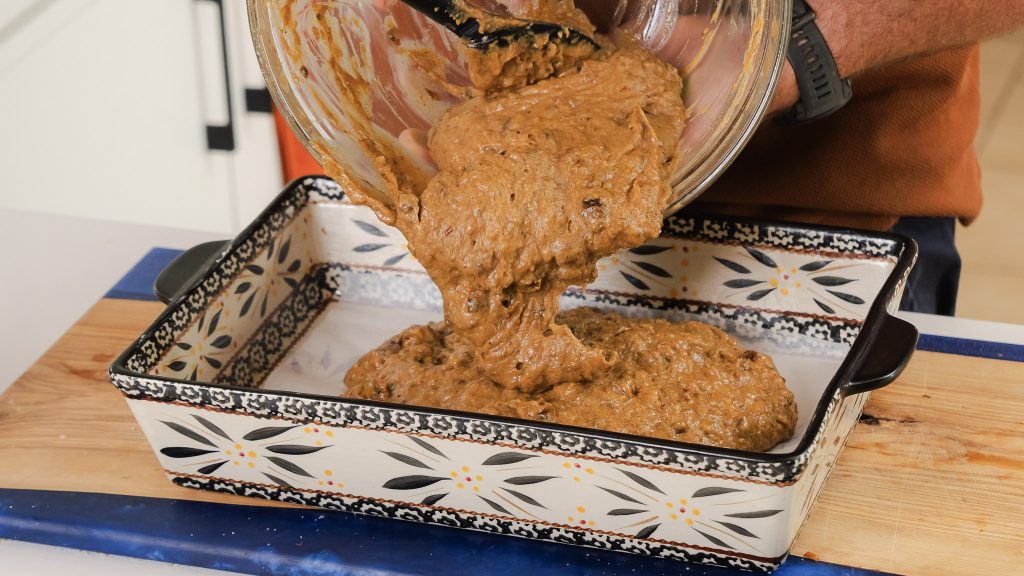 The sauce is just as good as the pudding!
We can't have a fantastic pudding and a poor-quality caramel sauce on the same plate. This is a super easy recipe that is sure to impress every time.
The key to a good caramel sauce is not walking away, taking time, and keeping your eyes vigilant. Keep your heat low and your cream ready at hand.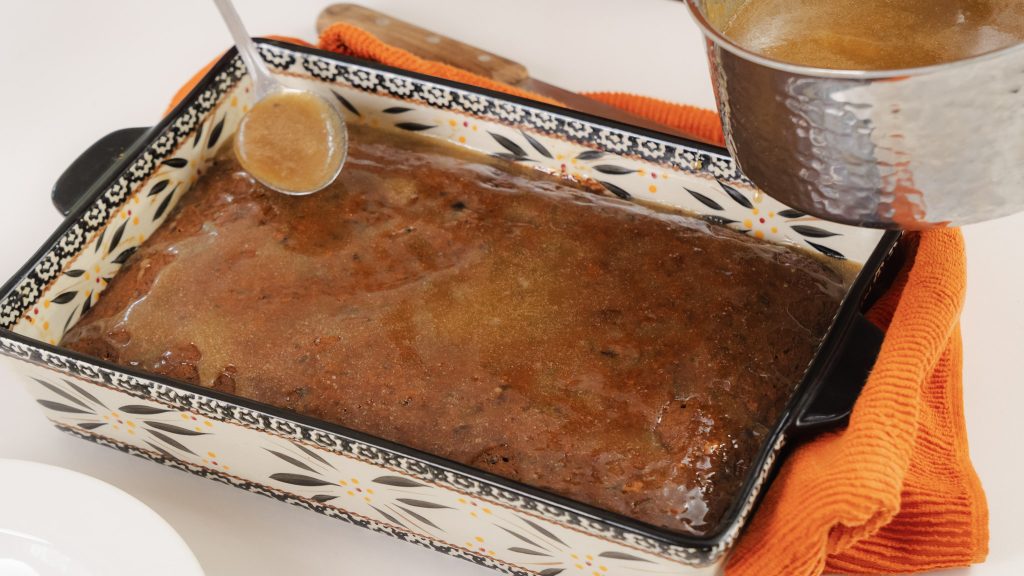 Other recipes to check out!
If you liked the sound of this sticky toffee pudding, here are a few other baked goods I think you'll love!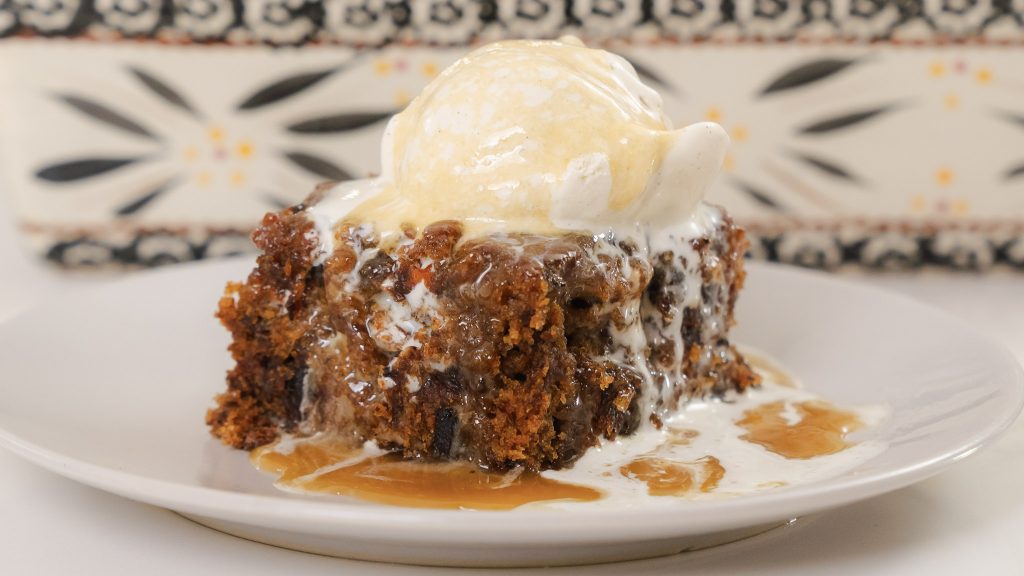 Sticky Toffee Pudding
Print Recipe
Ingredients
1 1/4

cup

Boiling water

2 1/2

cup

Chopped dates

1/2

cup

Milk

Plus 2 tbs

1 1/2

tsp

Baking soda

1 1/2

tsp

Baking powder

2 1/4

cup

Flour

3

tsp

Ground cinnamon

1

tsp

Ground ginger

1

tsp

Nutmeg

1/4

tsp

Ground clove

1/2

tsp

Salt

1/2

cup

Butter

Room temp (unsalted)

1/2

cup

Granulated sugar

1/2

cup

Brown Sugar

Packed down

2

tsp

Vanilla

3

large

Eggs
For the Caramel
2

cups

Brown sugar

Packed Down

1 1/2

cups

Whipping cream (35%)

2

tsp

Butter

1

tsp

Salt

1

tsp

Vanilla
Instructions
Preheat oven to 350 and grease and line a 13X9 baking pan with parchment paper.

Pour boiling hot water over chopped dates. Cover with plastic wrap and let steep for an l 5 minutes. Next stir in the milk, baking soda, and cover again with the plastic and allow to come to room temperature.

 While the dates are softening, let's kick on with the dry ingredients. In a large bowl, sift together the flour and the baking powder. Next add in the cinnamon, ginger, nutmeg, and cloves. Mix until combined.

Using a stand mixer fixed with the paddle attachment or in a bowl using a handheld mixer, cream together the room temperature butter, brown and granulated sugar. Take your time here to ensure the sugars dissolve as much as possible. Beat on medium-high for 5 minutes. Next up, beat in the eggs, one at a time until fully incorporated. Lastly, add in the vanilla.

Now, let's start adding in the dry ingredients. Start by mixing in about 1/3 of the flour mixture into the bowl, followed by 1/2 of the date mixture. Repeat this process with another third of the flour mixture, the rest of the date mixture, and then ending with the final third of flour. Mix until combined but do not over mix.

Pour the batter into the prepared baking pan and place in the oven for 40-50 minutes, or until a toothpick can be inserted into the center and come out clean.

While the cake is baking away we can get cracking on the caramel sauce. First things first, place a medium-sized pot over medium-high heat and add in the brown sugar, butter, cream and reduce the temperature to medium. Let the mixture boil for about 3-4 minutes and stir frequently. Keep a close eye on this as it could boil over. After 3-4 minutes, remove from the temperature and let cool slightly.

Serve each slice with caramel and a scoop of vanilla ice cream.
Print Recipe
(Visited 8,802 times, 2 visits today)