If you want to make the most out of the incredible late summer peaches flooding the farmers' markets and grocery stores, there's no better dish to make than a late August Peach Cobbler. Soft, bright, rich and fruity, add a perfectly baked crust, and you have an incredible dessert that will always hit. Make it once, and we're positive it'll be in your dessert rotations all year. Let's get cooking!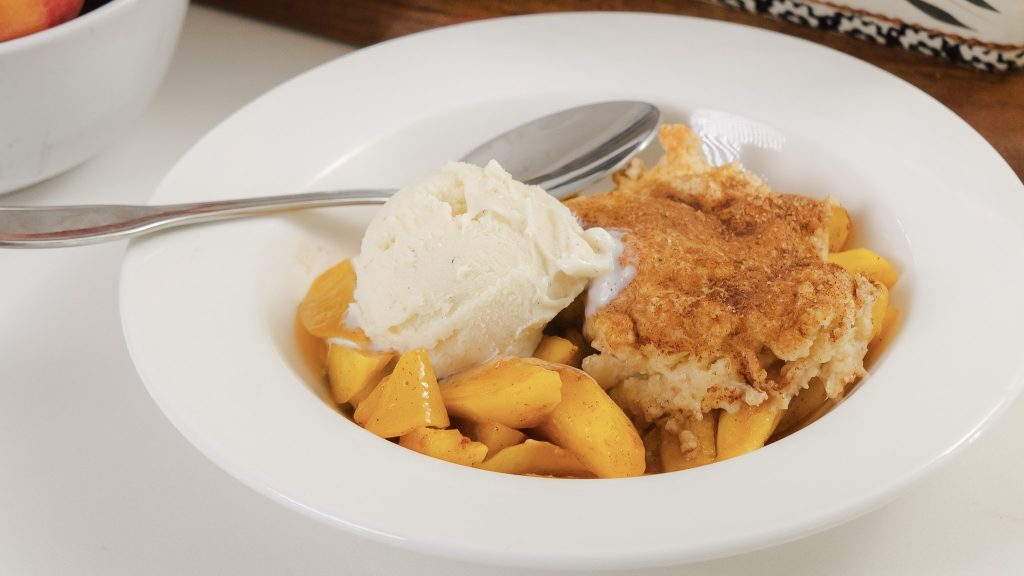 Key Ingredients
It's a super simple recipe but with a few key ingredients. Here's a rundown of some of the most stand-out ingredients.
Warm Spices– We used cinnamon and nutmeg; these spices are going to round out the cobbler and give it a bit of warmth.
Peaches – The star of the dish. Juicy and sweet, the perfect fruit to bake and become a cobbler.
Lemon Juice– Helps cut the sweetness and evaluate all other flavours with its bursting acidity.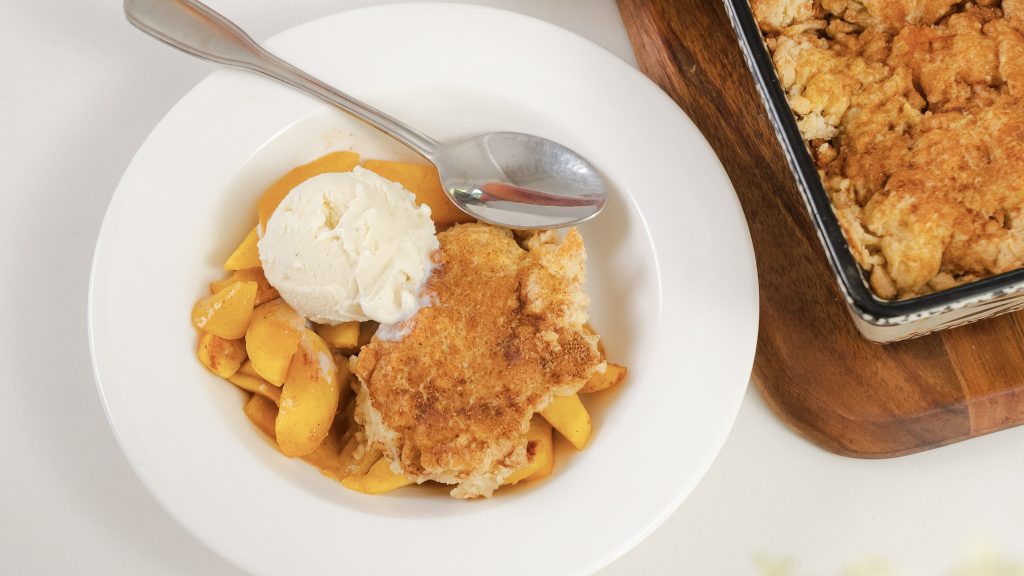 Picking the perfect peach
A perfect peach is such a beautiful, tender, soft and sweet thing. The flesh should be consistently ripe all around; with a recipe like this, a little bruise here and there isn't a bad thing. Here are a few tips to look out for when hunting for your perfect peach!
Soft but firm- We want the peach to feel like a peach. The flesh should be soft but not mushy—firm but not overripe.
A bruise here and there- Don't feel like you need to find textbook definition peaches; for a recipe like this, a few bruises won't hurt it.
Colour matching- For a recipe like this, where you need several peaches, it's always important to find ones that are as close to the same ripeness as possible. The best way to tell is by the colour. They should have developed a soft layer of fuzz and be vibrant yellow/red with beautiful soft orange flesh.
Here's a great guid to know when you're local area is peach season ready!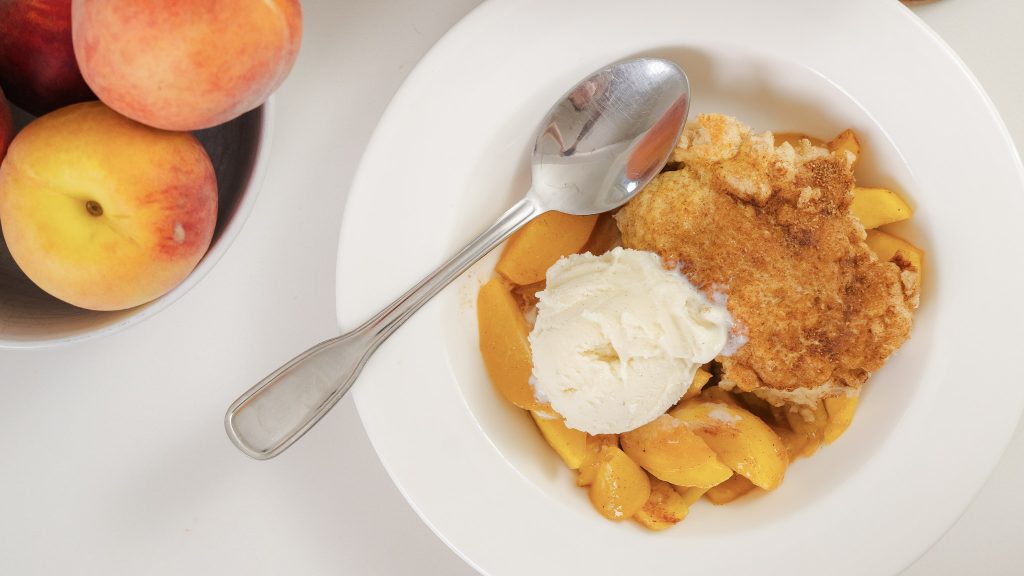 Making the crust perfect.
A peach cobbler has two main continents: the beautiful baked peaches and the perfectly baked crust. If a dough is on the top, can we call it a crust? Who's to say? We don't want to ruin beautifully ripe peaches with a dry, dusty old dough. Here are a few tips to make sure it's perfect every time!
Moist but crumbly- We want to make sure the dough has a shaggy consistency but will hold together.
A golden finish– If you're looking to add a bit more colour and shine, beat an egg and wash it across the dough. This is also going to help your cinnamon sugar stick better.
Other baked good you need to check out!
If you like the sound of this Peach Cobbler, here are a few other recipes we think you should check out!
No Bake Strawberry Cheesecake Squares
Quick and Easy Zucchini Brownies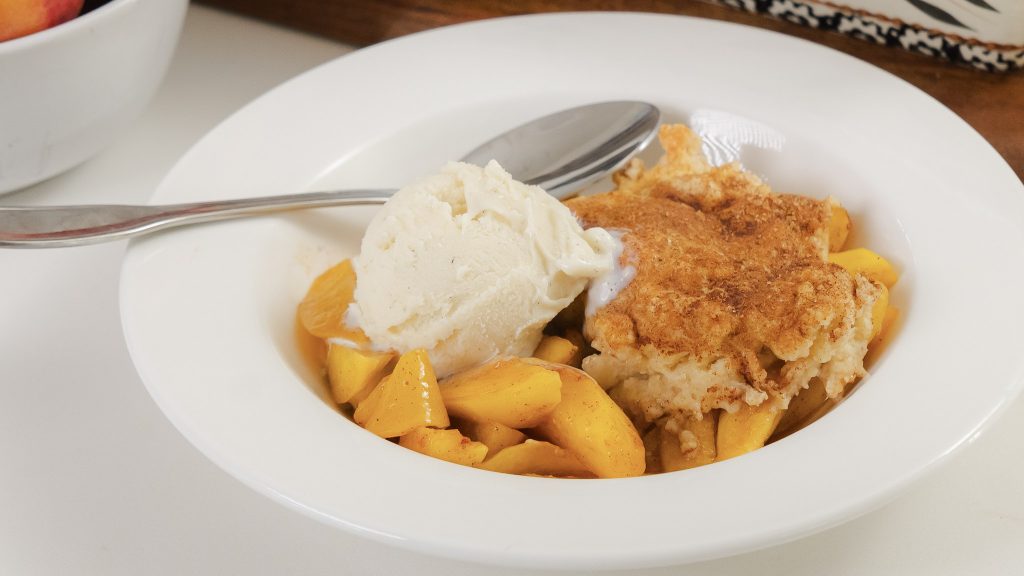 Peach Cobbler
Print Recipe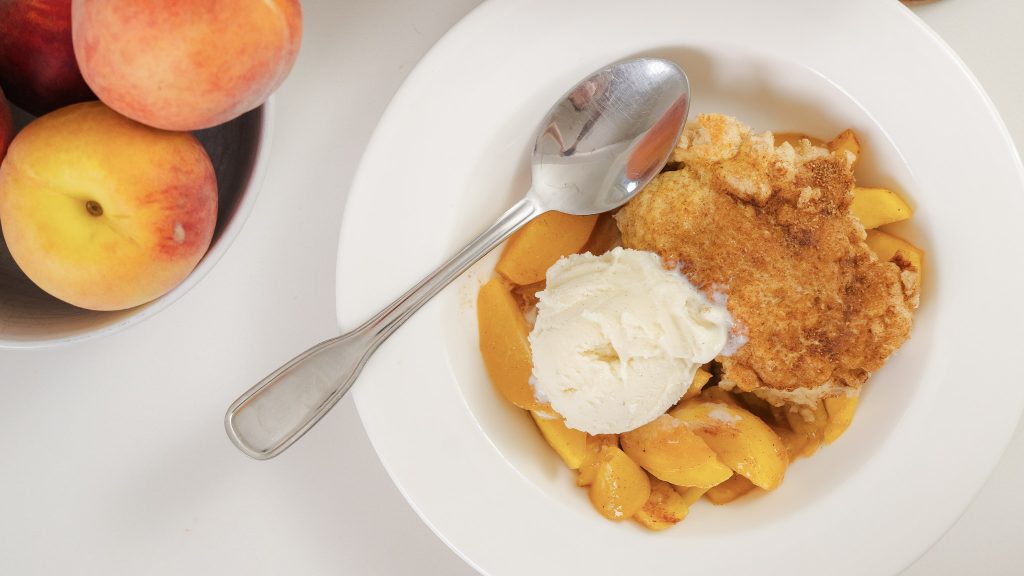 Ingredients
For the filling.
15

large

Peaches

Ripe

1/3

cup

Brown Sugar

1

tbs

Cornstarch

1

tbs

Lemon juice

Fresh

1

tsp

Vanilla extract

1 1/2

tsp

Ground cinnamon

Pinch of kosher salt

1/4

tsp

Ground nutmeg
For the topping.
2

cups

All-purpose flour

1/2

cup

Granulated sugar

2 1/2

tsp

Baking Powder

1/2

tsp

Kosher salt

1/2

cup

Butter

Cubed or shredded

1/2

cup

Milk
Optional
1

large

Egg

Beaten with 1 tbs of milk

2

tbsp

Sugar

Mixed with 1/2 tsp of cinnamon.
Instructions
Preheat oven to 350F.

Slice all peaches and remove stone. Place into a bowl and add in brown sugar, corn starch, lemon juice, vanilla extract, cinnamon, salt, and nutmeg. Stir and pour into a 9×13 baking dish. Place dish into oven and bake for 15 minutes.

In a separate bowl, mix together the topping ingredients. Add flour, sugar, baking powder, salt, cubed or shredded butter, and milk. Using a fork or even your hands, mix together. It should be crumbly, but if you squeeze it together it should hold.

After peaches have baked for 15 minutes, remove from oven and then top with flour topping. I like to grab a handful, flatten it out and lay on top of the peaches. Repeat until the top is covered.

Brush on the egg wash and sprinkle the cinnamon sugar.

Place baking dish back into the oven for 50 minutes.

Remove and allow to cool slightly before topping with a scoop of vanilla ice cream.
Print Recipe
(Visited 1,570 times, 9 visits today)