I can't believe sharing this recipe has taken me this long: my Mom's Ginger Poke and Pour Cake. I don't think there was a single-family gathering that it wasn't made or heavily referenced! Its rich, creamy texture and bright ginger burn are like a warm hug on a cool fall day. I feel safe and nostalgic every time I smell its hearty aromas wafting from the oven as it bakes. This is an extraordinary one, folks; you gotta try it out!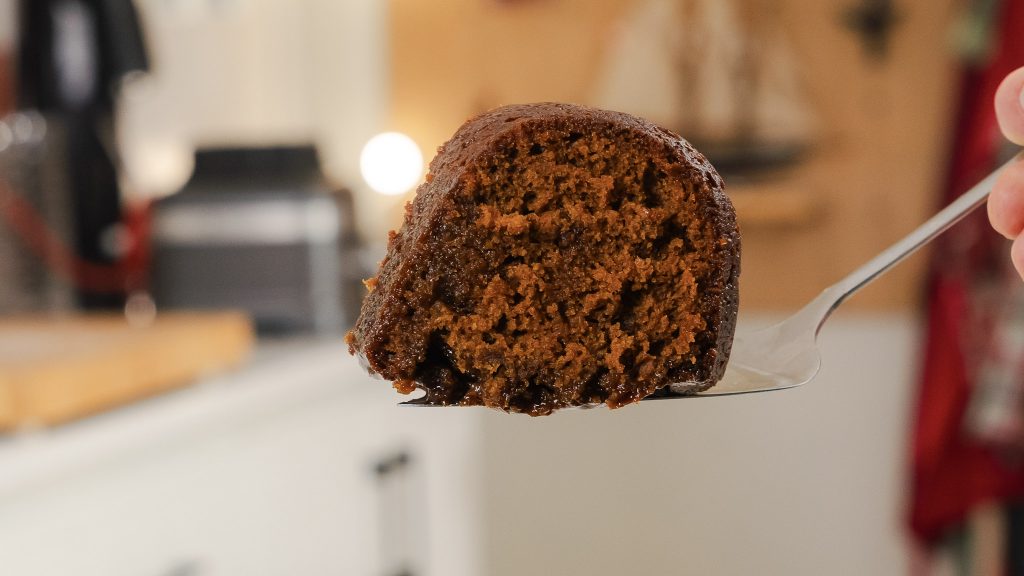 Why this Ginger Poke and Pour Cake is just so good!
Nostalgia aside, I do think this kind of dessert is world-class; it pretty much has everything!
Starting with the texture, it's not just soft; it's firm but fluffy and creamy. The bunt cake pan allows that outer shell to set so you get the perfect bite every time.
The flavours are just out of this world; there's plenty of sweetness and richness, but this incredible balance of warm spices and sharp ginger cuts it. We talk a lot about having a balanced flavour profile; this folk is the perfect example.
Why not add more butter?
There's nothing wrong with adding a bit more butter and sugar to this dessert, like I said above, there's so much spices and warmth going on it can take it!
All you have to do is add 1 cup of tightly packed brown sugar, 1/2 cup of butter and 1/3 cup of water. Heat it in a sauce pan and once it's melted and the sugar is dissolved, you're good to go!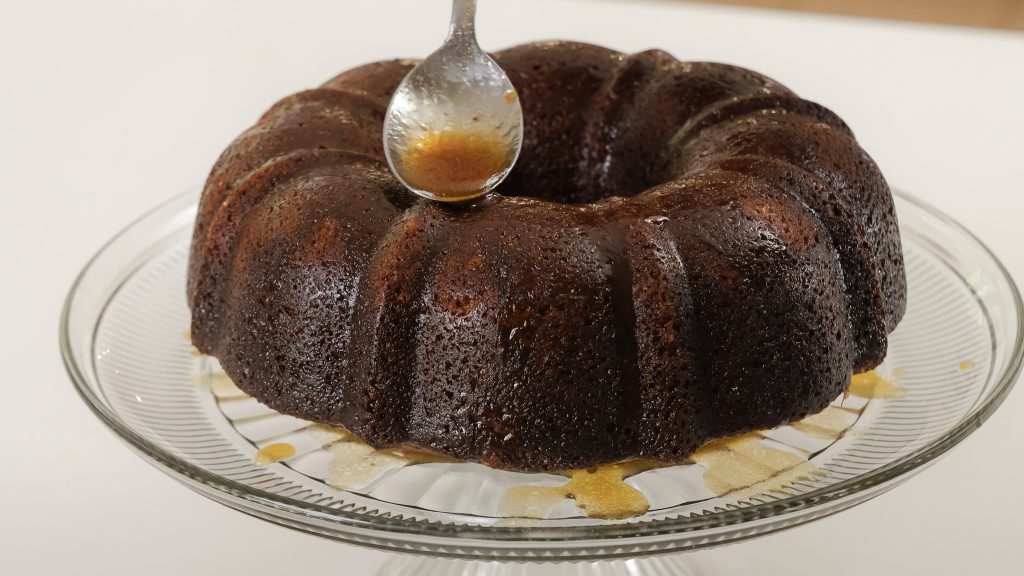 Don't forget to Poke and Pour.
Once you have your cake fully baked and pulled out of the oven, one crucial step MUST be done. The poke and Pour. It just is going to be different if you don't.
Push a long wooden skewer into the cake (make sure not to go all the way). The more holes, the better. Then, take your warm butter sauce and gently pour it all over your bunt pan. The holes allow the sauce to seep through the cake better and hydrate it with your rich, sweet, sticky sauce!
If you have kids, this is going to be the part they'll most likely want to help with.
Want more desserts like my Mom's Ginger Poke and Pour Cake?
If you liked this one, here are a few other desserts you have to try out!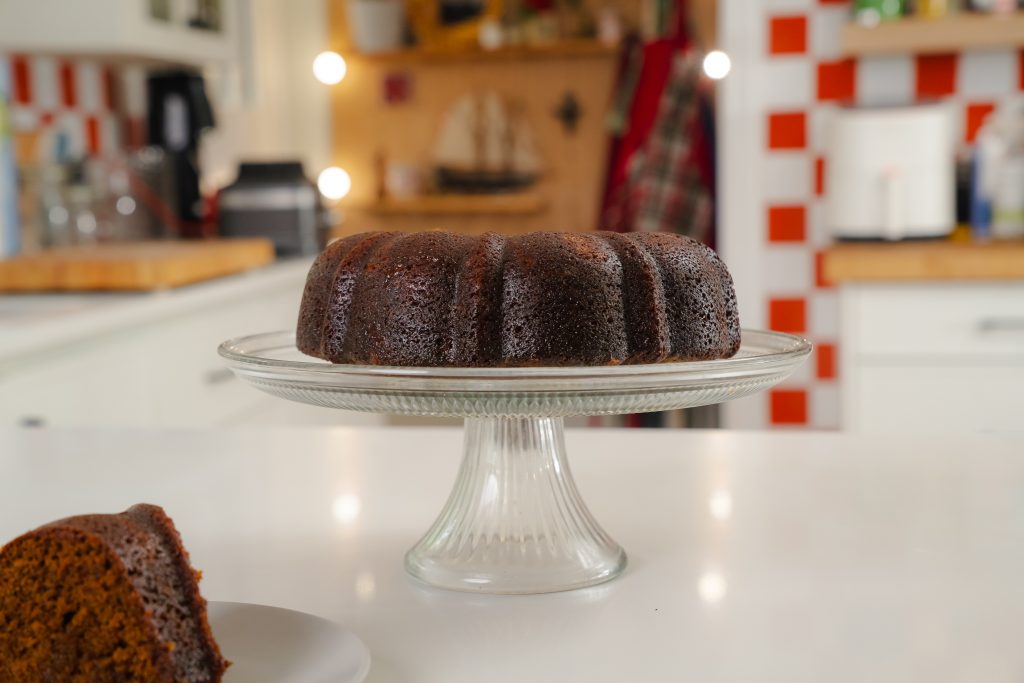 Mom's Ginger Poke and Pour Cake
Print Recipe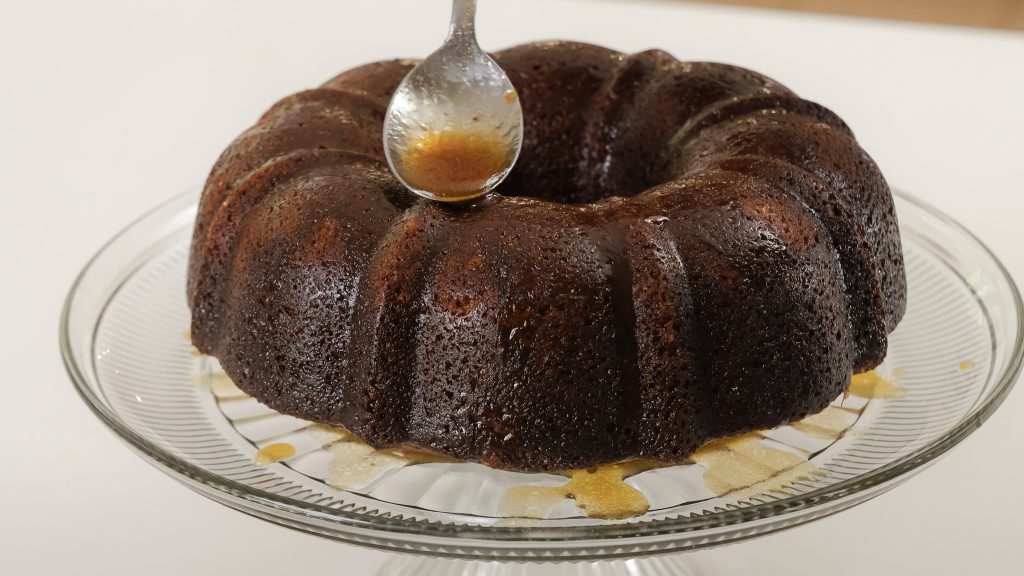 Ingredients
For the cake
2 1/4

cups

Flour

3/4

cup

Brown sugar

Firmly packed down

1

tsp

Baking powder

2

tsp

Cinnamon

1

tsp

Ginger

1/2

tsp

Baking soda

1/2

tsp

Salt

1/2

tsp

Nutmeg

1/4

tsp

Cloves

3/4

cups

Water

3/4

cup

Oil

3/4

cup

Molasses

2

large

Eggs
For the butter sauce
1

cup

Brown Sugar

Tightly Packed

1/2

cup

Butter

1/3

cup

Water
Instructions
Heat oven to 350F. With a nob of butter, generously grease your fluted bunt pan.

In a large bowl, blend your dry ingredients at a low speed until full incorporated.

Add in your wet ingredients and beat on medium for about three mins or until all of the egg, oil and water is fully combined.

Pour into your greased pan and place in your heated oven for 45-55 min or until an inserted toothpick comes out clean.

In a small sauce pan, combine all butter sauce ingredients and gently heat until the butter is melted and the sugar is fully dissolved. Don't let it boil or get to hot.

With a long wooden skewer or toothpick, prick holes around the bottom of the cake and gently pour your butter sauce into the holes to allow it to soak up all of the sauce.

Allow to sit in the pan for 30 min. Serve warm or cold.
Print Recipe
(Visited 4,905 times, 4 visits today)