This is a love letter to all of you chocolate lovers out there! Easy to make, and I would bet ya any money that you might just have all of the ingredients in your kitchen right now!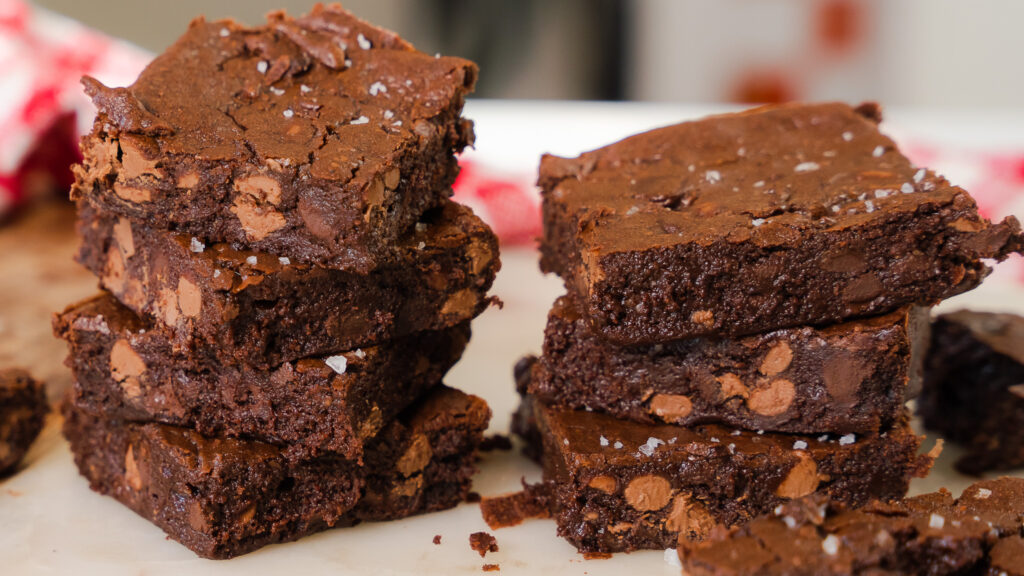 Chocolate Brownies
Brownies are one of the most made baked goods out there. Possibly only second to chocolate chip cookies, (if you are looking for a good chocolate chip cookie recipe check these out) every home baker needs to have a go to brownie recipe and I would be honoured if this becomes that recipe for you!
Tips for nailing these Brownies
There are a couple key tips for nailing these brownies. Follow the below steps and you are in for a real treat!
Hot butter – This is more crucial of a step than I first thought, but if you want that shiny, crinkly top, this is a must.
Mixing the sugar and butter – Like a lot of baking recipes, it is important to really take your time combining the melted butter and the sugar.
Don't over cook – No one is searching for a dry brownie, so be sure to take your brownies out of the oven when the centre is jiggy and not totally set. From there allow the brownie to fully cool and they will congeal beautifully.
Don't over mix. We are adding flour into this recipe so it is important to not over mix the batter after we add in the flour.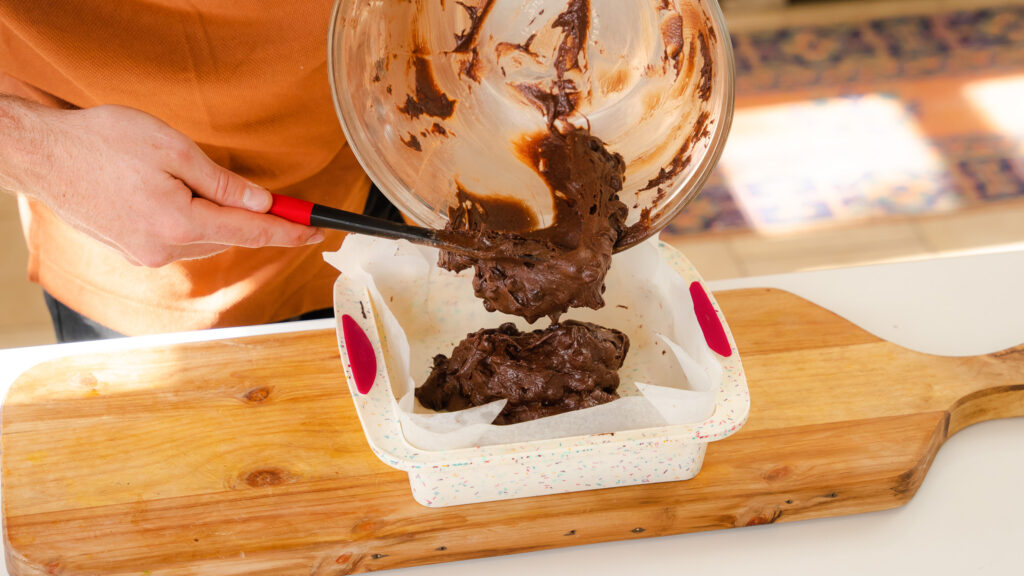 Let's breakdown the ingredients
Here is what you are going to need for this recipe. The best part is these amazing, fudgey brownies use ingredients you likely already have in your pantry.
Butter- The fat used in this recipe is non salted butter. Be sure to melt it in a small pot so it gets nice and hot.
Olive oil – To help with the shiny top, I added a small amount of olive oil. Any oil will do the trick.
Granulated sugar
Vanilla extract – If it's possible, use the good stuff. No artificial flavours here.
Eggs
Flour – I used all purpose, but if you wanted to substitute for a gluten free flour, go for it!
Cocoa powder
salt
Chocolate chips – I used semi sweet chocolate chips, but feel free to use what ever type of chocolate you like best.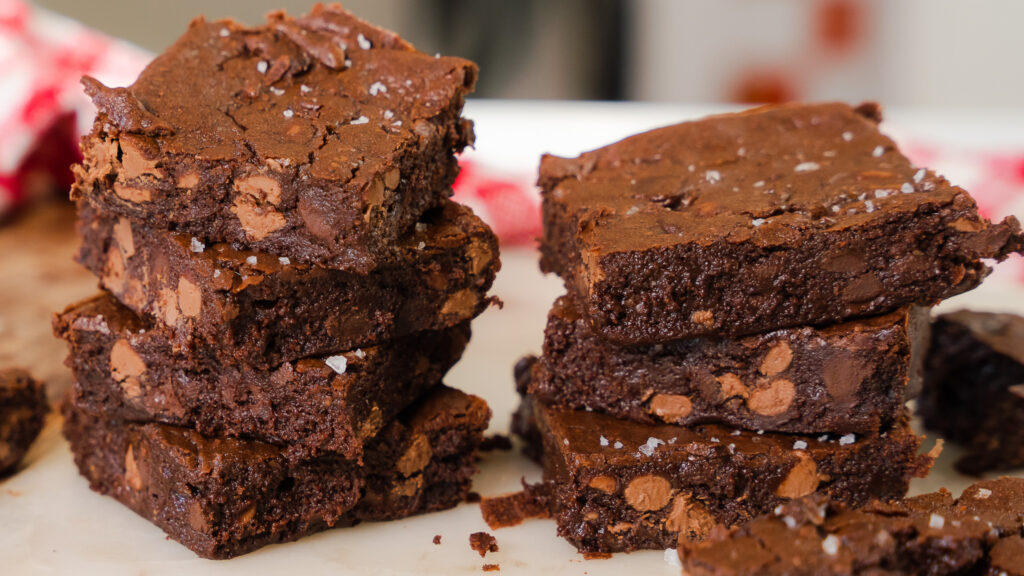 Homemade Brownies
Print Recipe
Ingredients
1/2

cup

butter, melted and hot

1

tbs

olive oil

1

cup

plus 2 tbsp white sugar

2

eggs

2

tsp

vanilla extract

1

cup

semi sweet chocolate chips

1/2

cup

flour

1/2

cup

cocoa powder

1

tsp

salt
Instructions
Pre heat oven to 350 and line a 8X8 inch brownie pan with parchment paper.

In a small pot, melt butter and allow for it to start to bubble. Once it is bubbling, remove from heat and pour into a large bowl. Immediately add in sugar, olive oil, and vanilla. Using a hand mixer or stand mixer, mix on high for 2 minutes.

Next up crack in the eggs and mix for two minutes or until the mixture is pale and creamy.

Add in the flour, cocoa powder, chocolate chips, and salt. Using a spatula, mix everything together just until all ingredients are incorporated. Do not over mix. Pour batter into prepared brownie pan and place in the oven for 25-28 minutes. You want the centre to be still very slightly jiggly when you take out of the oven.

After cooking, remove from oven and allow brownies to fully cool.

Enjoy these INSANE brownies with a glass of milk!
Print Recipe
(Visited 12,634 times, 3 visits today)