This turkey and spinach lasagna is comfort food on a plate. The kind of meal that will bring the whole family together, even the family you don't want to join. This lasagna is layered with ground turkey, a homemade tomato sauce slammed with herbs and spices, a rich parmesan ricotta layer, topped with melty mozzarella. This is great meal to make in advance if you are planning to feed a crowd, or if you want to do some weekly meal prep for your family.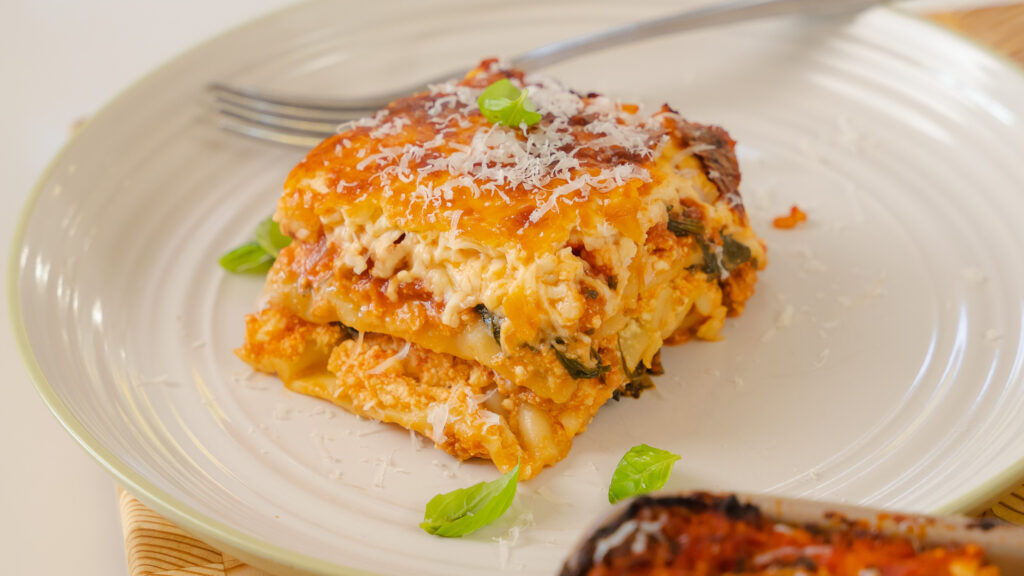 This recipe is a riff on my Mom's recipe. The one and only Cheryl Hay is known to throw down an amazing lasagna when there is a big crowd coming over. It is her go to. I am always excited when it's lasagna night at Moms. If you really want to make it a true Cheryl Hay night, you would serve this with homemade caesar salad and some freshly made bread.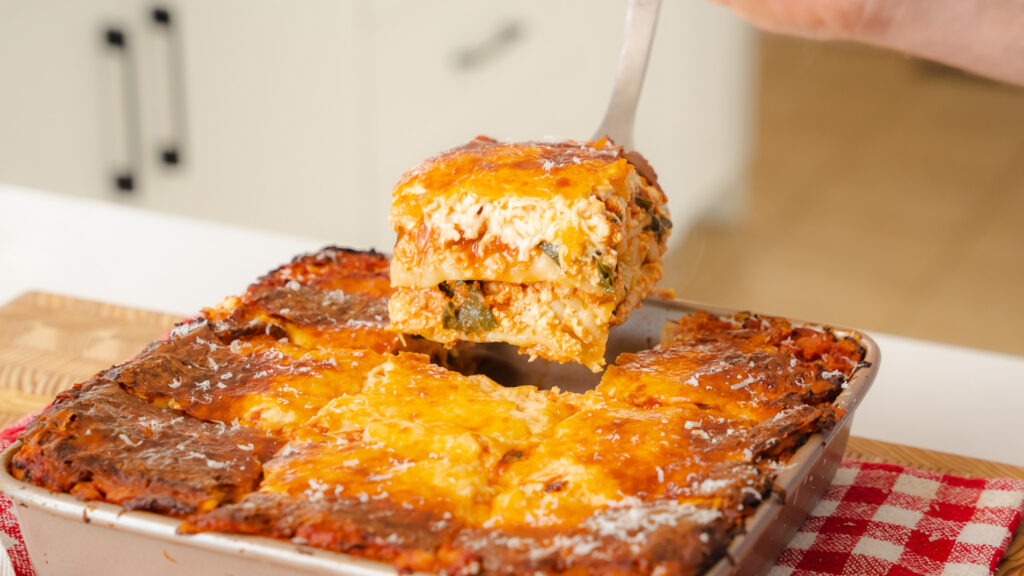 While I use ground turkey in this recipe you can feel free to use any ground meat as a replacement. I have used ground beef, chicken, or even crumbled tofu is a great replacement. The tomato sauce is also a great vehicle to add in more veggies. Shred up some carrots, chopped broccoli, whatever you got can be tossed in the sauce to amp up the veggie content!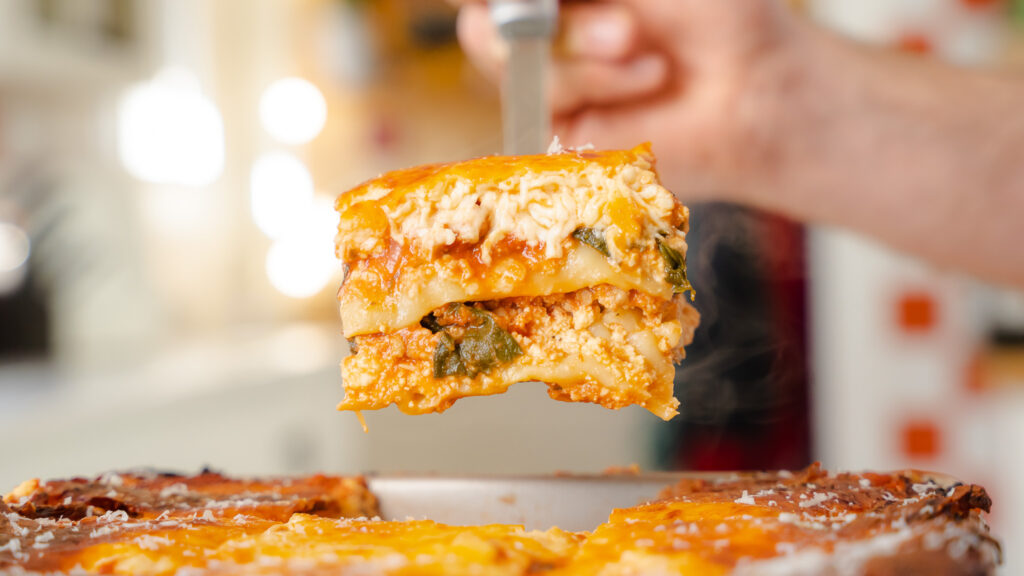 Let's breakdown the ingredients!
Lean Ground Turkey Meat– I like cooking this lasagna with turkey as it makes the whole dish lighter. You can easily use any other ground meat, but I like the flavour of the turkey.
Homemade Tomato Sauce– There is nothing too fancy about this tomato sauce. I try to keep the ingredient list relatively short and made up of ingredients you hopefully have in your pantry. Crushed tomatoes, tomato paste, a couple herbs, spices like oregano, garlic powder, and chilli flakes, and finally a little bit of parmesan cheese.
Ricotta Layer – This layer really brings the whole lasagna together. Creamy ricotta mixed with an egg, black pepper, and parmesan cheese. Let me tell you, it's lovely!
Mozzarella cheese – You can feel free to use fresh mozzarella or shredded pizza style mozzarella!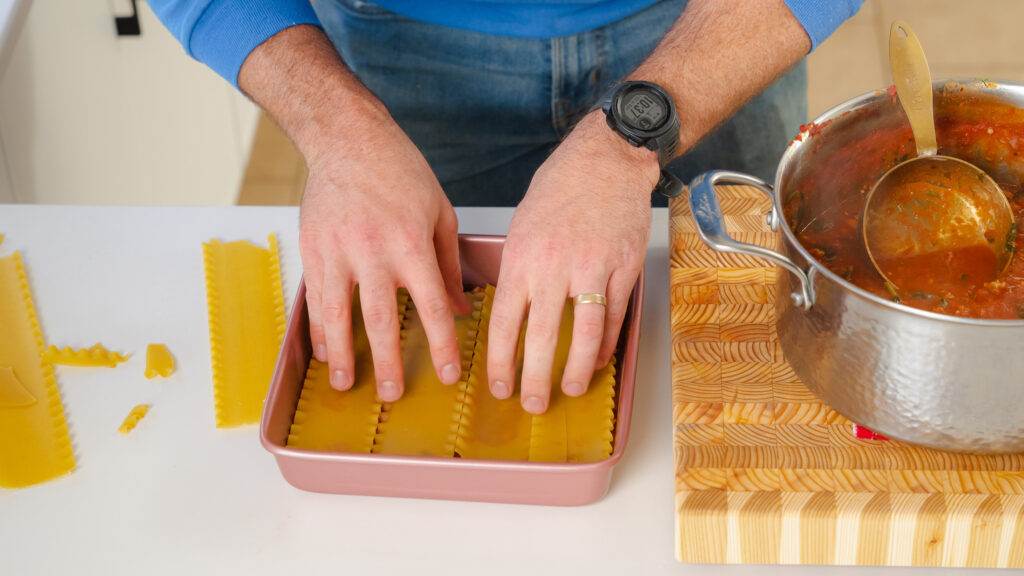 Building your layers of the lasagna
To keep the recipe that much easier I decided to use oven ready pasta noodles. This simply means the noodles don't need to be boiled prior to being layers into the lasagna. Check the noodle package to make sure you get the oven ready variety.
Once you have your turkey tomato sauce and your ricotta layer ready, we are ready to start building our lasagna. Grab your deep 9X9 inch square pan and layer in 1 1/2 cups of the sauce, followed by the noodles (make sure the noodles aren't over lapping with each other), and lastly the ricotta mixture. Now repeat this process over and over until you fill the pan. The last step is cover with mozzarella and then you are ready to bake!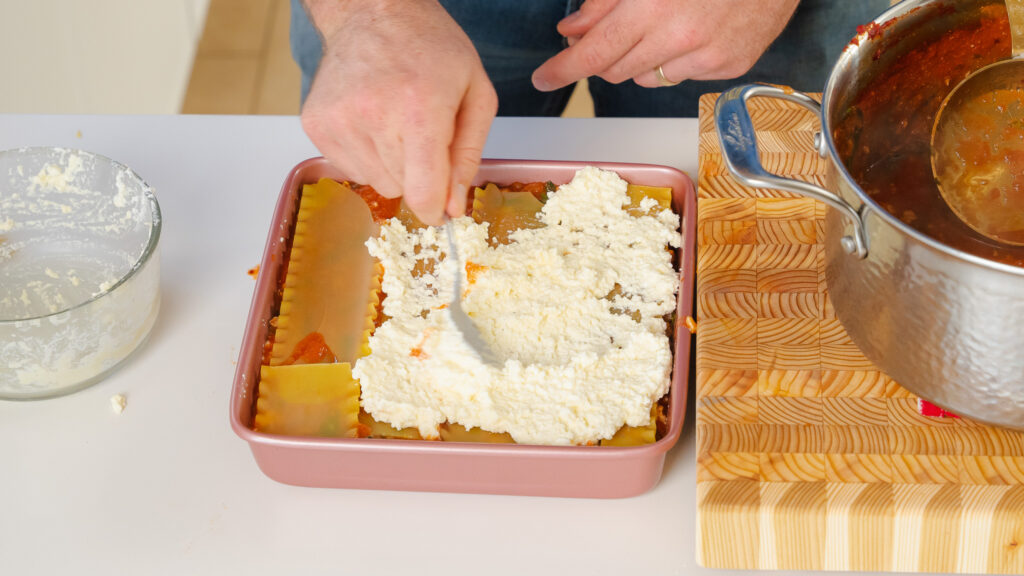 Baking your Turkey and Spinach Lasagna
Once you have your lasagna built it's time for the oven! You will want to cover your lasagna with tin foil so the cheese doesn't burn. When you have it foiled, place it into an oven preheated to 375F and bake for 55 minutes. From there, remove the foil and bake for another 15 minutes or until the cheese begins to brown.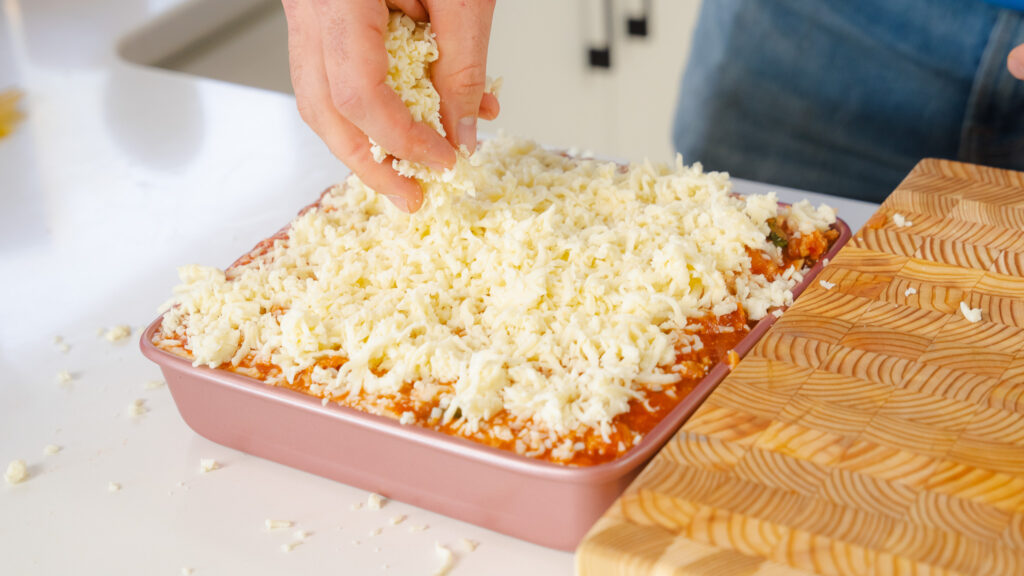 Turkey & Spinach Lasagna
Print Recipe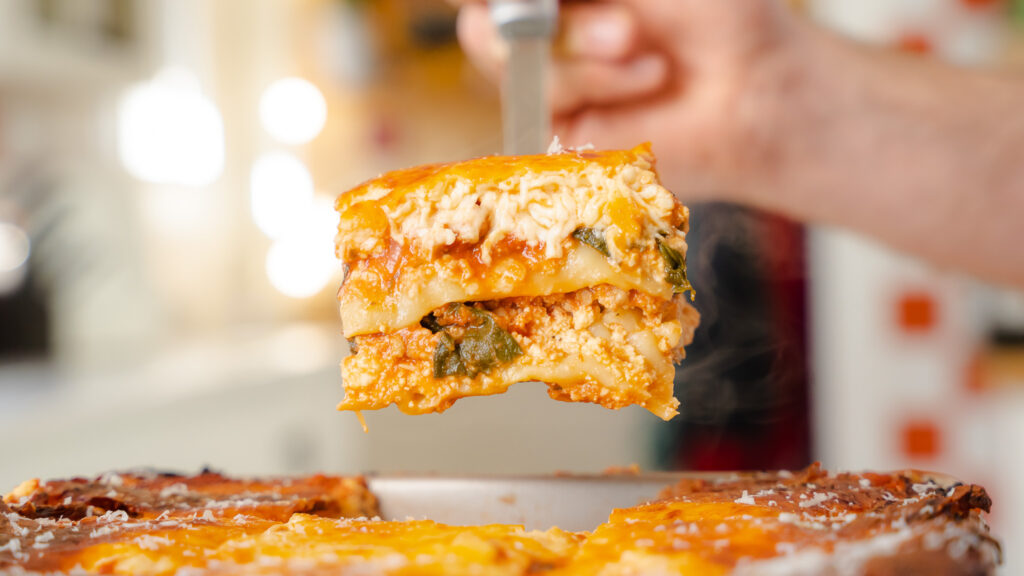 Ingredients
Ground Turkey Tomato Sauce
1

lbs

Ground Turkey

1

yellow onion, diced

3

cloves

garlic, minced

1

28 oz

canned crushed tomatoes

3

tbs

tomato paste

2

cups

water

Add less water if using non oven ready noodles

2

tsp

thyme

1/2

cup

fresh basil, sliced

1

tsp

oregano

2

tsp

garlic powder

1/2

tsp

red chilli flakes

2

tsp

salt

2

tsp

pepper

1/2

cup

parmesan, shredded

2

cups

spinach
Ricotta Mixture
1

15oz container

Ricotta

1

egg

1/2

cup

parmesan cheese, shredded

1

tbsp

pepper
Everything else!
10

Oven ready lasagna noodles

4

cups

Mozzarella cheese

1/2

cup

fresh basil
Instructions
Let's kick things off with the turkey tomato sauce. Place a large pot over medium heat. Add in 2 tbs of olive oil and followed by the ground turkey. Using a spoon break apart the turkey meat and cook until browned. Once browned, drop in the diced onion and minced garlic. Stir to combine and saute for 2 minutes.

Into the pot add in the tomato paste, crushed tomatoes, and the water. Stir together and allow to simmer for 5 minutes. Now add in the thyme, basil, oregano, garlic powder, red pepper flakes, salt, pepper, parmesan, and spinach. Stir everything together and allow to simmer for 10 minutes. Boom, sauce is ready.

Next up let's move onto the ricotta mixture. In a bowl mix together ricotta, egg, black pepper, and parmesan cheese.

Grab your 9X9 inch pan and let's start building this bad boy. Start with 1 1/2 cups of sauce into the bottom of the pan. Next up layer on oven ready noodles. You may need to bream off an inch or two of the noodles so they fit in this size pan. Next up smear on 1/2 of the ricotta mixture, followed by the sauce, followed by the noodles. Repeat the layers until pan is full. Last step is to cover top of lasagna with mozzarella cheese. Cover lasagna with tin foil and then place in the oven for 55 minutes.

After 55 minutes of baking, remove from oven, remove tin foil, and bake for another 15-20 minutes or until cheese is browned and crispy.

Remove lasagna from oven and allow to sit for 10 minutes. Serve and enjoy!!!
Print Recipe
(Visited 7,648 times, 1 visits today)